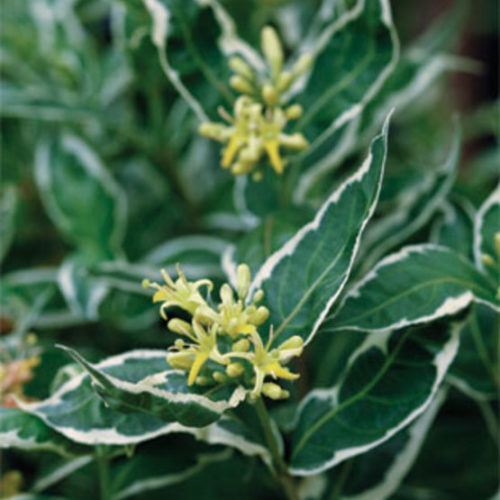 A small shady nook is one of the hardest areas in which to design a garden. Whether it's under a large tree or in a tiny bed alongside a sheltered patio, this area needs a dwarf shrub that magnetizes the senses in order to become a focal point. Although the go-to shrub for these situations is often a small rhododendron, Cool Splash™ bush honeysuckle is much more exciting.
 This deciduous shrub brightens up dark landscapes and stays compact. Although it can handle shade, it will also thrive in a sunny border. Summer clusters of perfumed, trumpet-shaped yellow blossoms sit atop creamy-white-and-pea-green leaves. You'll often see butterflies and hummingbirds anywhere this shrub grows. And although I love wildlife, I get a kick out of seeing deer shrug and turn away from this plant. Dry shade and hard clay soil are conditions this shrub can handle. Cool Splash™ has an extensive root system, which makes it great for erosion control, too
ProblemsThis plant spreads through underground suckers, so it may need to be edged back from time to time. It will not tolerate standing water or continually moist soil conditions.   -Julia Shutt is a co-owner/designer of Maple Leaf Landscaping in Bay Village, Ohio.
Plant Height

:

1 to 3 feet

Plant Width

:

1 to 3 feet

Zones

:

4, 5, 6, 7, 8

Light

:

Full Sun to Partial Shade

Growth Rate

:

Moderate

Characteristics

:

Showy Foliage

Bloom Time

:

Spring

Moisture

:

Well-drained soil

Flower Color

:

Yellow