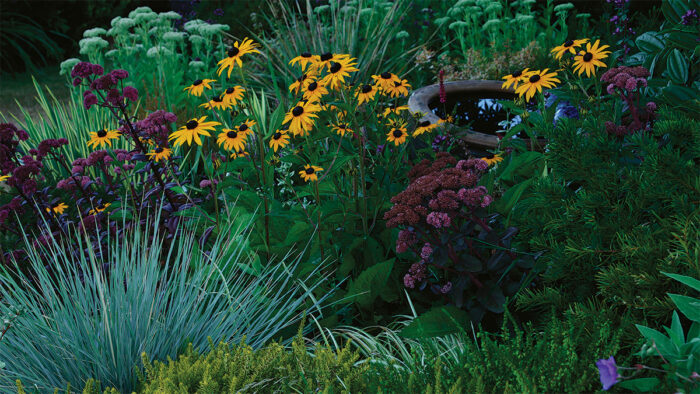 Not all landscapes need to be bright and cheery. In fact, we gardeners crave more complexity, even a note of gravitas, in our gardens. Deep, richly colored foliage brings drama to a garden like nothing else, and few flowers have the stop-and-look-at-me impact that black flowers do. Adding a few moody hues to your plant palette is often a slick design move, but there are a few tricks to doing it well.
As in any landscape design, a successful planting is never about just one plant; it is in the combining of many plants that artistry is achieved. Don't be swayed by the faux drama you see in parking-lot plantings, where concentric stripes of dark-leaved plants butt against long stripes of bright-blooming annuals—this is an easy cheat. It's far better to mix and mingle black plants throughout your beds and borders. If you take a stagger-and-scatter approach to planting and adopt the design guidelines that follow, you'll have a garden that is bold but subtle, elegant yet playful, and altogether more enticing.
That is the magic of black. Come to the dark side—you won't regret it.
Expand your definition of black
When playing with black plants, opening up your palette is a must. A garden using a strict range of only the blackest of the black not only has painfully few plant options but also looks murky. You're better off letting the entire range of darkness creep into your design.
One plant that is the height of chic is 'Red Sensation' cordyline (Cordyline australis 'Red Sensation', Zones 10–11)—a somber fountain of reddish-black foliage. It is the hint of burgundy in its leaves that allows this perennial to shine reflectively in a garden rather than to absorb light, as true black plants do. Black mondo grass (Ophiopogon planiscapus 'Nigrescens', Zones 6–11) is an example of one of those light-absorbing plants. It's a true black, and its leaves suck in light, giving it a matte quality that is almost aloof. When contrasted with a ground cover that is more reflective, however, like 'Ogon' sedum (Sedum makinoi 'Ogon', Zones 6–9), the combination is as cool as it is rambunctious.
It's all in the combination
Green is the default color for foliage, so when incorporating black plants it's important to give thought to smoothly transitioning from the greens of most plants to the darkness of your garden's star attractions. Some color pairings make this task easier than others. Here are four that offer plenty of contrast without ever looking overdone.
Black and blue is stylish yet unexpected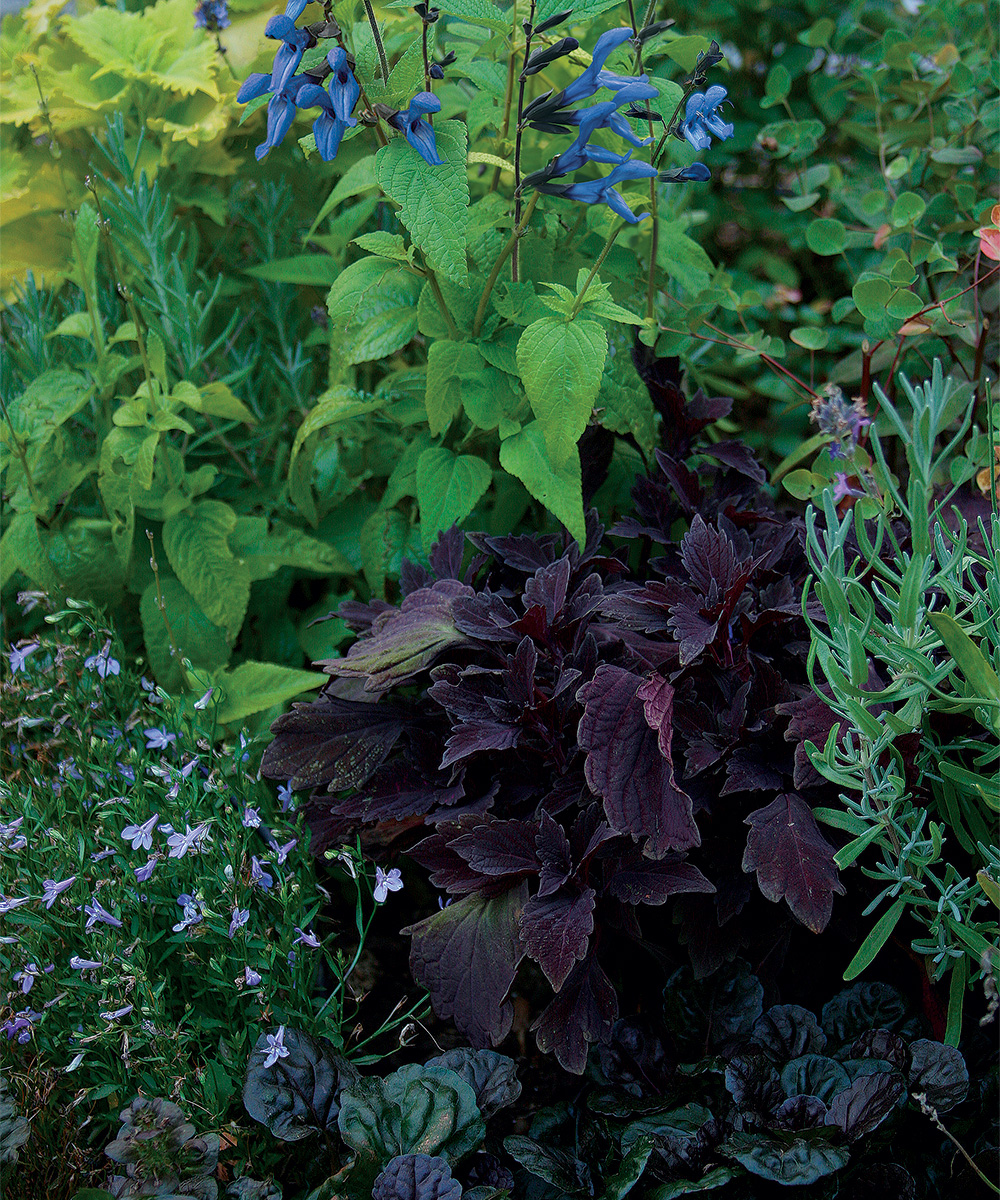 Don't be afraid of your garden looking like a bruise—this combo is painless. Adding a splash of black foliage to blue flowers gives a punch to an otherwise soft planting. Most black leaves have undertones of blue and purple in them, so these combinations are simultaneously harmonious and bold. In this combo, a darkly hued ColorBlaze® Marooned™ coleus (Solenostemon scutellarioides 'Marooned', Zones 12–13) bridges the vastly different blues of 'Hot Waterblue' lobelia (Lobelia erinus 'Hot Waterblue', annual), 'Black  and Blue' salvia (Salvia guaranitica 'Black and Blue', Zones 7–10), and 'Munstead' lavender (Lavandula angustifolia 'Munstead', Zones 5–8).
Black and chartreuse keeps the mood upbeat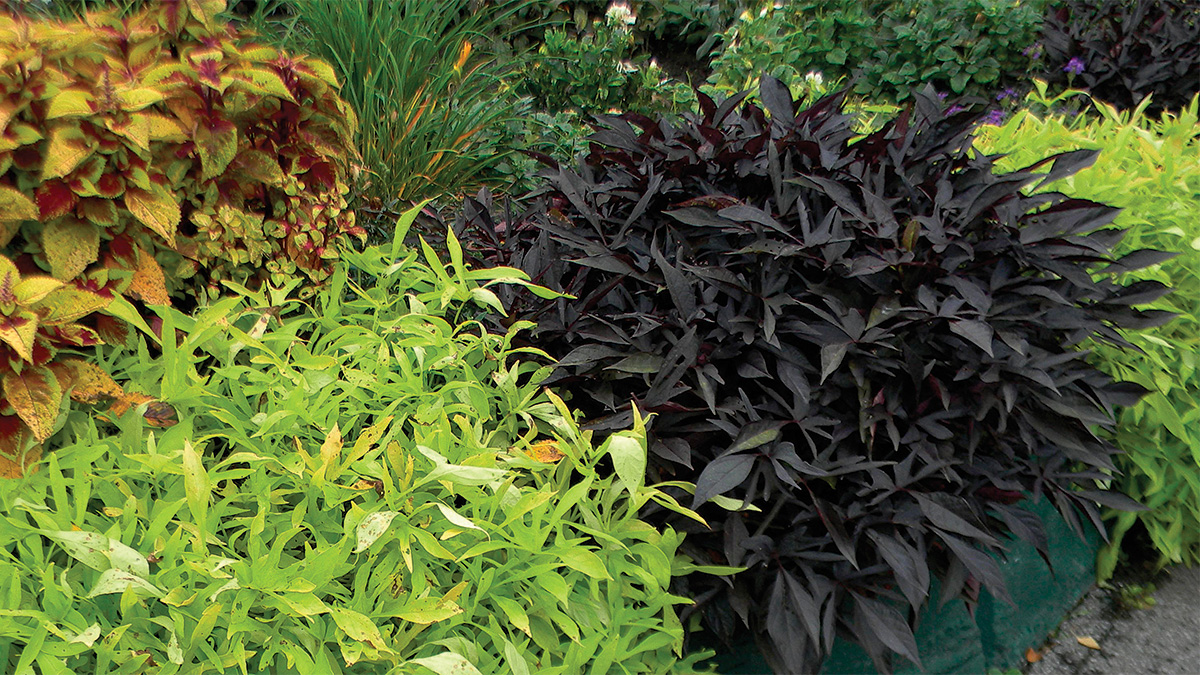 Using chartreuse as a planting companion is a way to use black without committing to a somber mood. One of my favorite pairs of black and chartreuse plants is actually a sibling pair: Illusion® Midnight lace sweet potato vine (Ipomoea batatas 'NCorNSP011MNlC', Zone 11) and Illusion® emerald lace sweet potato vine (I. batatas 'NCorNSP012eMlC', Zone 11). The shape of their foliage is exactly the same, but their high color contrast creates a wonderful tension, elevating any planting scheme.
Black and white is always chic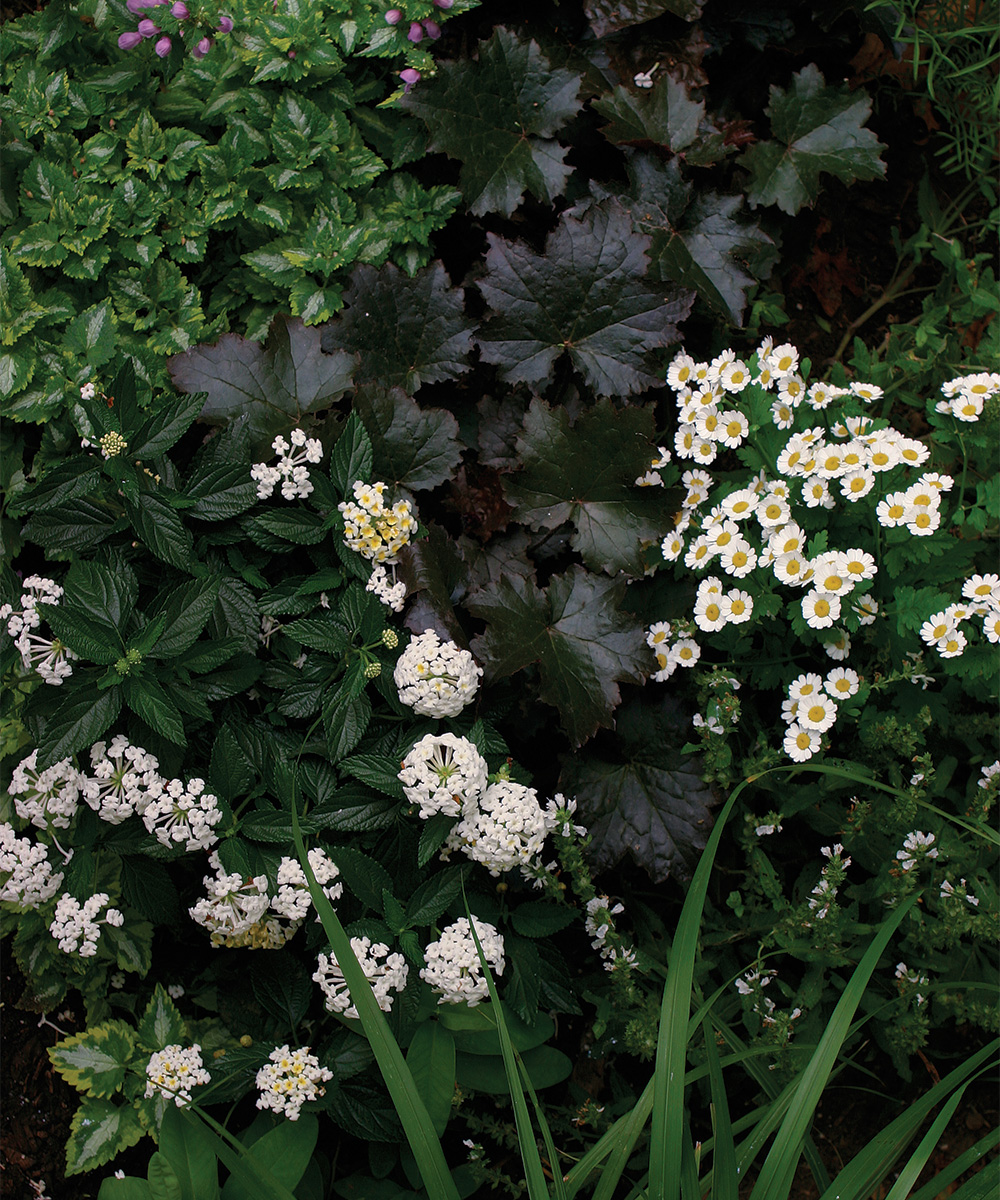 Side by side, this high-contrast power couple amplifies each other's best qualities: The black looks darker, and the white looks crisper. Here, the edgy foliage of 'Blackout' heuchera (Heuchera 'Blackout', Zones 4-9) ties up a blanc et blanc floral combo like a velvet bow. Coco Chanel would be proud.
Black and silver sets a swanky vibe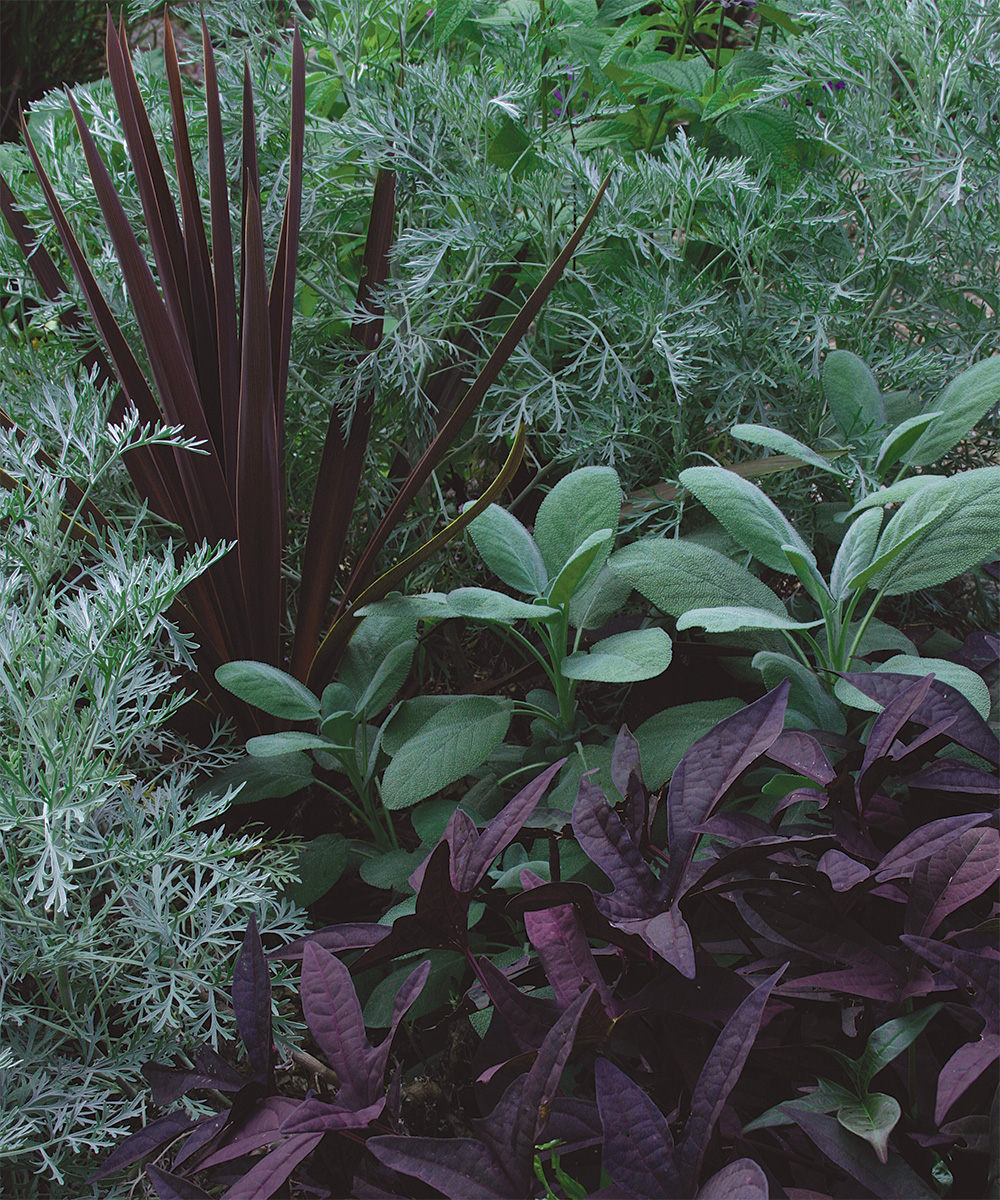 This is a moody combination—no doubt about it—but it's an association that is exquisitely stylish and modern. Gray shines in gardens, creating an easy foil for leaves of many colors, but its talent is used to the fullest when it is mingled with darker leaves. This combo is as high contrast as black and chartreuse, but rather than being cheerful, the gray component creates an elegance. Wormwood (Artemisia spp. and cvs., Zones 3–9) is a go-to best friend for many a dark leaf. Here, it mingles with 'Blackie' sweet potato vine (Ipomoea batatas 'Blackie', Zone 11) and 'Red Sensation' cordyline.
Don't go overboard
There is a reason black is a mainstay of fashion designers: It is always appropriate, and other colors pop against it. The only real mistake one can make is creating a heavy-handed look better suited to an amusement park haunted house than a chic garden with gothic flair. Be sparing; be choosy. Don't overuse your new dark power by making a landscape that smacks of a theme. Decide on a few black plants that will serve as the starring attraction of your outdoor space, then surround them with a supporting cast.
---
Ivette Soler is a garden designer from Southern California and the author of The Edible Front Yard.