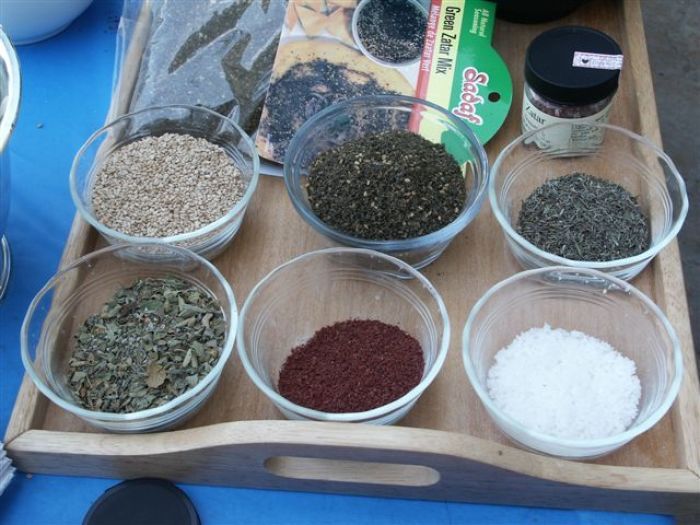 Ingredients:
Makes a generous 1/2 cup dried herb blend
1/4 cup sesame seeds
2 to 3 teaspoons Kosher or coarse sea salt
2 tablespoons dried thyme
2 tablespoons dried marjoram and/or oregano
About 1 tablespoon sumac
The following recipe was inspired by a few sources—Julie Sahni's 'Zataar Dip' in her book Savoring Spices and Herbs, William Morrow, 1996—and my friend and colleague Rexford H. Talbert in his article "Za'atar" in The Herbarist #60, who cites the ratio of herbs for the mixture as 4 parts each Origanum syriacum (known as Za'atar or Syrian oregano) and Sesamum indicum (roasted sesame seeds) to 1 part each Rhus coriaria (sumac) and salt.
I find a good substitute is to use an equal part of thyme to an equal part of marjoram and/or oregano. Try the recipe below and sprinkle it in or on everything from pita bread to steamed or grilled vegetables, grains, legumes or beans, chicken or fish, eggs, salads, soups and sauces. Add the blend to bread dough or crackers for a savory treat, or brush the tops or rolls, flatbread, pitas or pizzas with olive oil and sprinkle with the za'atar. I often use it as a dipping sauce by adding about 1/4 cup of the herb blend to 1/4 cup of olive oil.
To toast the sesame seeds, put them in a small, heavy-bottomed frying pan over medium heat. Shake the pan and stir as the seeds toast; as soon as you start to smell the seeds—pay close attention—let them just begin to turn a pale gold color. Do not let the seeds overcook—if they brown at all they will taste bitter. Transfer to a small bowl to let them cool.
At this point you can mix all of the ingredients together. However, I like to put the toasted seeds along with the 2 teaspoons salt into a mortar and pestle to grind them lightly, which releases some of the nutty flavor of the seeds and makes the salt crystals smaller.
Add the thyme, marjoram and/oregano and sumac and stir to combine well. Store the blend in a jar and label, or combine it with equal parts of olive oil and use as a dipping sauce. The dipping sauce is good made in advance so the herbs have time to flavor the oil. Add more salt to taste if desired. Once mixed with oil, store in the refrigerator for up to 1 week.