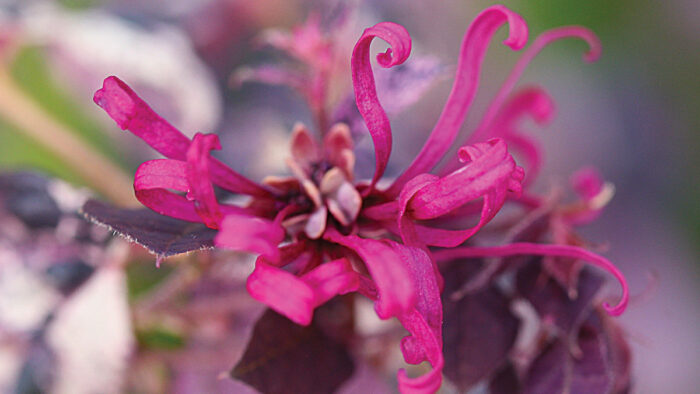 In Paul Westervelt's article on perennial upgrades, he explains the benefit of stepping out of your comfort zone and trying new versions of tried-and-true plants:
"After whiffing a few times, consumers and pros alike may be tempted simply to stick to time-tested varieties. But some of those varieties aren't what they once were. In other cases, they've been upgraded in meaningful ways that improve the gardening experience—better habit, longer bloom time, enhanced disease resistance. Before you swear off new plants forever, consider these classic upgrades."
To help you find plants that won't make you say, "Ugh, I should have just stuck with the original," we asked regional experts to pick four improved versions of fan-favorite plants. All of these plants have at least one of the characteristics that Paul lists above—better habit, longer bloom time, enhanced disease resistance—and sometimes all three. Find improved plants for the Southern Plains below, and for even more improved classics, check out Paul's article 8 Better Perennial Plants to Grow Over the Classic Varieties.
---
1. Hot Pink Wonder® ice plant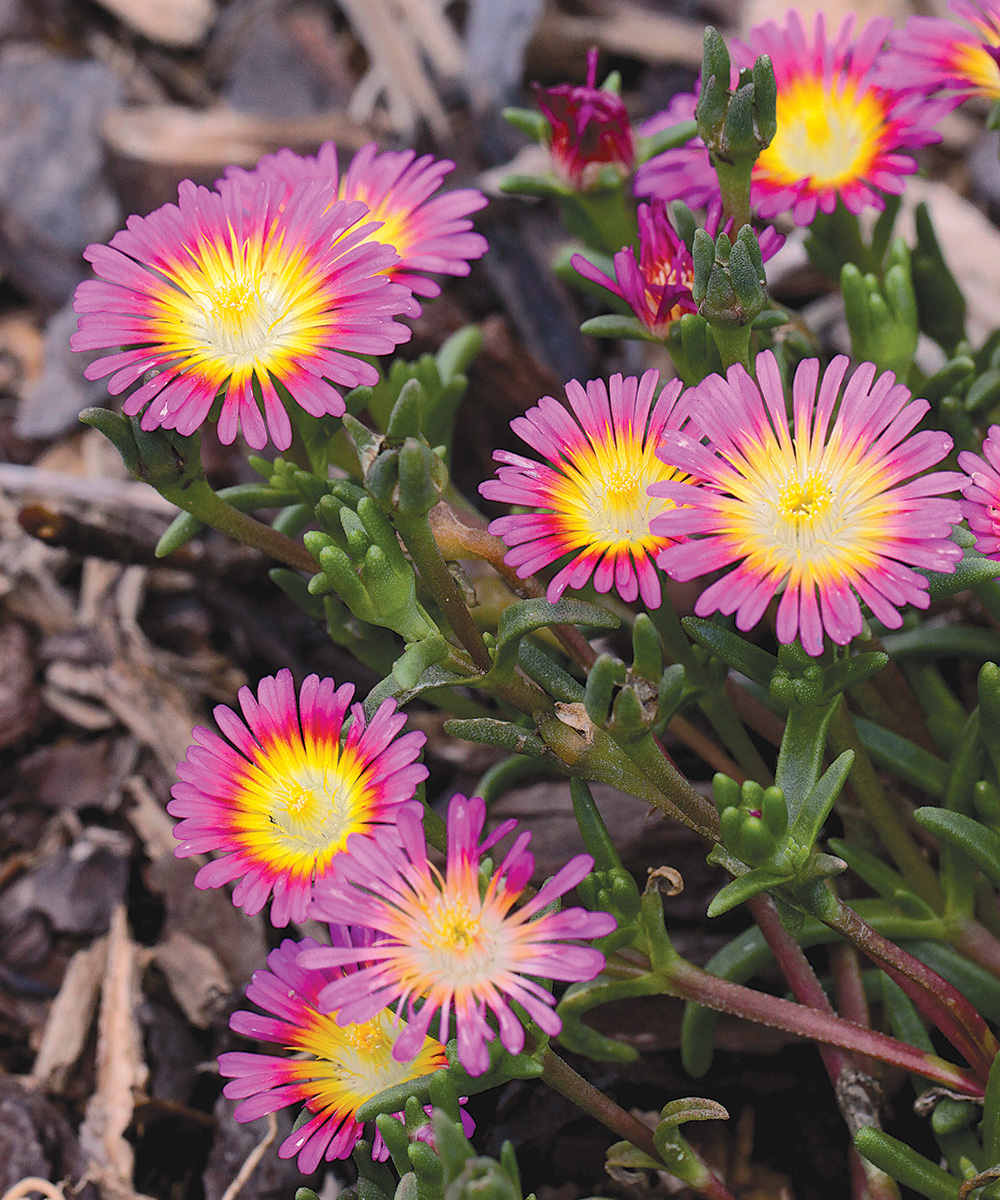 Name: Delosperma cooperi 'Wowdry1'
Zones: 5–9
Size: 4 to 6 inches tall and 18 to 24 inches wide
Conditions: Full sun; dry, well-drained soil
Native range: South Africa
Ice plant has a number of uses in the landscape, including but not limited to rock gardens, xeriscapes, foreground plantings, and container gardens. The showy succulent foliage (I've seen it likened to green jelly beans) always is a crowd pleaser even when the plant is not flowering. However, like others of the Wheels of Wonder  series, Hot Pink Wonder  has made a name for itself by having larger flowers and greater heat tolerance. Known for blooming profusely throughout the growing season, the pink flowers with yellow centers provide stunning eye candy for us and are equally irresistible to pollinators. Winter interest is achieved via its evergreen foliage.
2. 'Summer Carnival' hibiscus
Name: Hibiscus 'Summer Carnival'
Zones: 4–9
Size: 3½ feet tall and 5 feet wide
Conditions: Full sun; evenly moist to wet soil
Native range: Hybrid
'Summer Carnival' hibiscus should be sought out for its variegated foliage alone. The deeply cut (incised) trilobed leaves have white and pink streaking that breaks up the monotony of typical hibiscus with ordinary green (occasionally purple) foliage. This tricolor effect is a show-stopper and distinguishes this cultivar from any other hibiscus on the market today. Yet there's more! In late summer through midfall, maroon-colored flowers 7 inches in diameter adorn this already beautiful plant. Bees, hummingbirds, and other wildlife frequently visit the flowers. Most U.S. gardeners can grow this plant thanks to its wide range of zonal hardiness.
3. 'Blue Butterflies' bluebeard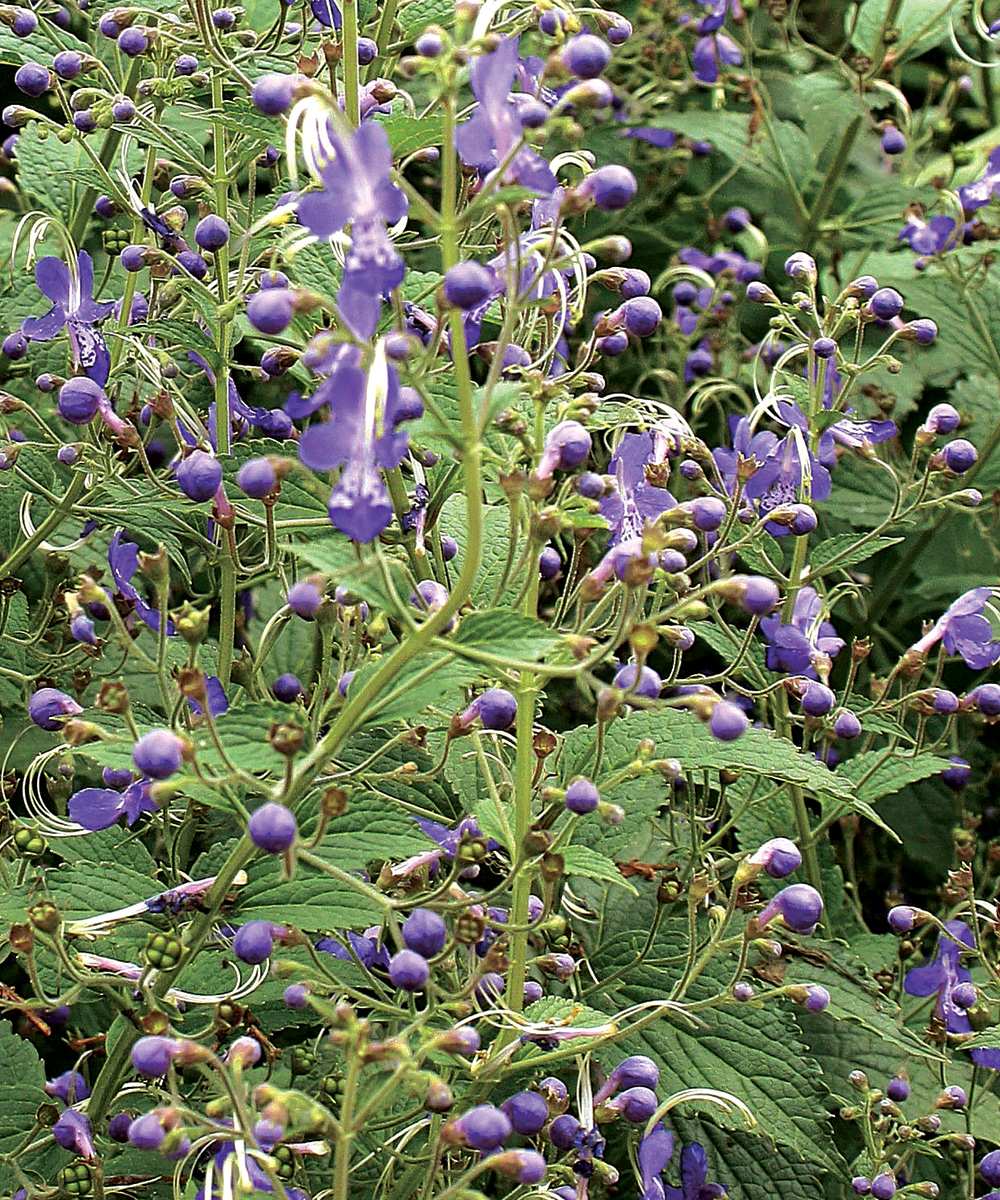 Name: Caryopteris divaricata 'Blue Butterflies'
Zones: 6–9
Size: 5 to 6 feet tall and 5 feet wide
Conditions: Full sun to partial shade; moist, well-drained soil
Native range: Eastern Asia
Bluebeards in general are underutilized in American landscapes. However, 'Blue Butterflies' bluebeard is especially outstanding for its significant splash of true blue color late in the season (August through October). If people are new to this plant, internet descriptions sometimes can lead them to believe that the flowers, while pretty, are quite small. This is somewhat true, but the real "flower power" is achieved from the sheer number of nearly 1-inch-long blooms found up and down its stems. Although this plant is deciduous, don't prune back the dead flowers; the seed capsules will persist into winter for some modest ornamental appeal.
4. Jazz Hands Variegated® Chinese fringe flower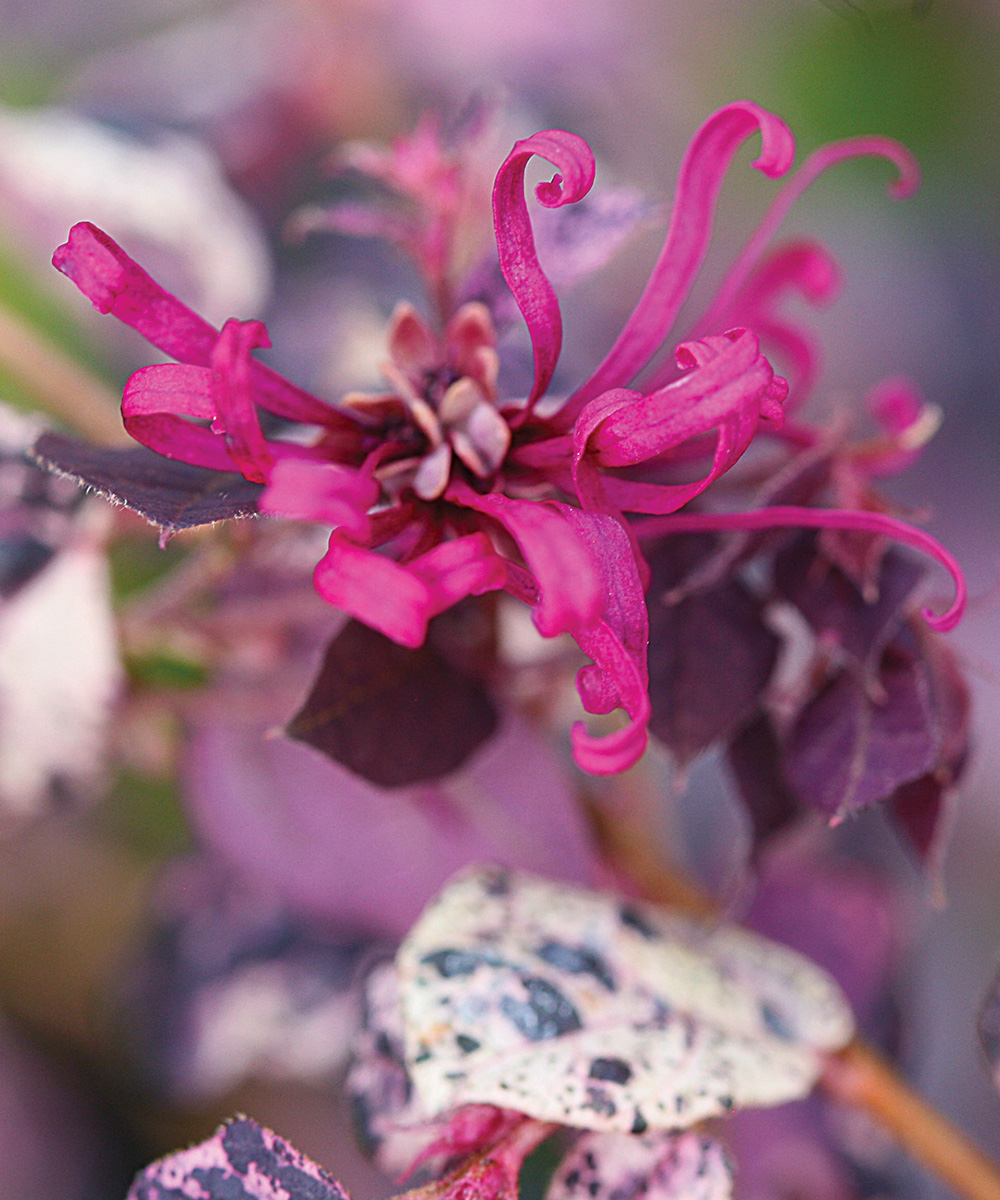 Name: Loropetalum chinense 'Irodori'
Zones: 7–9
Size: 4 feet tall and 4 to 6 feet wide
Conditions: Full to partial shade; acidic, moist, well-drained soil
Native range: Japan, China, the Himalayas
Even the most ordinary fringe flower grabs the attention of most gardeners given its tidy growth habit, free-flowering reputation, and relatively pest-free nature. This shrub asks very little of us, yet it provides almost year-round beauty in return. Just when you thought it couldn't get any better, along comes Jazz Hands Variegated  to blow the competition away. New foliage for this fringe flower unfurls with splashes of pink and white, with leaves ultimately maturing to an attractive purple hue. Given its consistently outstanding variegation, this fringe flower stands out from others because it can be justified on its foliage alone even before flowering commences. Lightly fragrant pink flowers are borne up and down stems from April through June and, as is the case with all Loropetalum, it can bloom intermittently until the first freeze.
---
Mike Schnelle is an extension specialist at Oklahoma State University in Stillwater, Oklahoma.