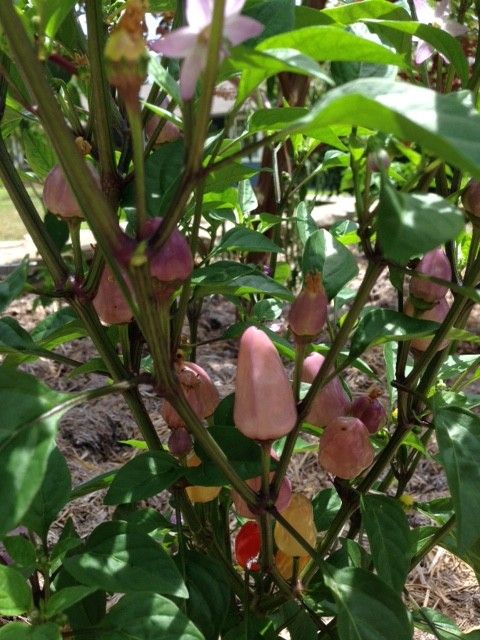 I'm still here in the Ozarks after teaching summer folk school classes last week at the Ozark Folk Center. This gardening season, the gardeners planted lots of plants here with the upcoming Herb Harvest Fall Festival in mind. Last year we celebrated South America along with Chile Peppers as Herb of the Year 2016. This year, we are heading just a little bit north to the featured countries: Central America, the Caribbean basin and Mexico. Plants from those regions are growing in the gardens here–those regions of the world are hot and tropical and the plants seem to be doing well here in the Ozarks where the hot temperatures have been extreme.
The chile peppers, of course, don't mind the hot weather–in fact they seem to thrive. Herbs like amaranth, lamb's quarters, some of the sages and oreganos, and Mexican mint marigold and papaloquelite are doing fine. Cilantro & Coriander, which is Herb of the Year 2017, was planted in the spring and has been consumed and gone to seed, which has been harvested and saved. Another round will be planted out in August, so that we will have it to harvest for the fall festival the first weekend of October.
In one of the shadier spots, we've moved some of the plants in containers to make a sort of jungla (jungle) to give the feel/idea of tropical forest shade plants, since we can't create a real rainforest in this climate. Yesterday it was 103 degrees F here; today has cooled to 99! Plants are a bit ahead of schedule due to the heat and a wet spring. I'll tell you I've had some of the best, mouthwatering peaches, tomatoes and watermelon since I've been here, that I have tasted in a long time! I hope that y'all are keeping cool and enjoying the fruits and vegetables of the season.
Put the Herb Harvest Fall Festival, the first weekend of October 2017 on your calendar. Details will be posted on the Ozark Folk Center website around the first of August, as we are finalizing the feast and luncheon menus, as well as the schedule, right now.