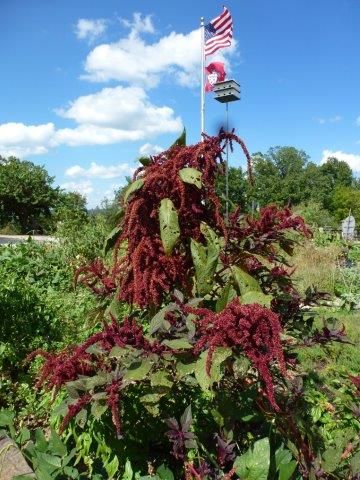 It's hot down here in the Ozarks–really hot and humid–with temps mostly in the high 90s everyday. There has been a good bit of rain, though gardens are thirsty and some are parched if they haven't been watered. However, there is still a great deal of garden bounty to be had.
Last week, I taught folk school with a couple of fun classes. Students and I harvested herbs and plant material in the morning before the sun got too hot. We harvested lots of herbs to dry, make syrups and vinegars, and basil to make pesto, as well as wild greens like 'Magenta Spreen' lambs' quarters and purslane, to make a wild green salsa verde. /item/9876/lambs-quarters-enjoying-wild-weeds /item/61630/purslane-portulaca-oleracea
I was thrilled that the elderberries were ripe just in time for the "Spirited Infusions" class and we harvested them to use in elderberry shrub and elderberry cordial. They are still ripening from green to purple, so we harvest them as they mature and put them in the freezer, which makes the berries much easier to remove from the stems. Only the purple berries should be eaten–green berries and all other plant parts contain prussic acid which can cause cyanide poisoning. /item/13198/elder-herb-of-the-year-2013
Whipporwill cowpeas have been saved and grown in the OFC Kitchen Garden for years; the seed was brought from Williamsburg by gardener Tina Marie Wilcox about 15 years ago.  Vigna unguiculata 'Whippoorwill' was originally brought by African slaves to America and Thomas Jefferson cultivated them at Monticello. There are many kinds of cowpeas, sometimes referred to as Southern peas–they are related to black-eyed peas and crowders, however they are different from them.
Fresh cowpeas, if small and tender, can be snapped and eaten like a green bean. Fresh cowpeas in pods can be shelled and cooked like a fresh bean. Or they can be dried and saved for winter meals or sowing. Often in the past and still today, cooks snap the small beans and puts them in the pot with the shelled beans and cooks them together, long-simmered, until tender. Their pot liquor is thick and gravylike. Recipes of old, might have seasoned with fatback and perhaps some onion, salt and pepper. I cook them with olive oil, onion, garlic, hot peppers, and season with savory, salt and pepper. As they say down here in the South: "They are good eatin!"

Keep cool and enjoy the harvest season!