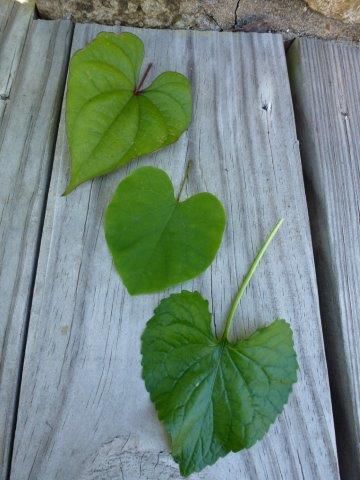 I'm here again in the Ozarks–one of my favorite places for herborizing. Most of us travel with field guides in the vehicles we are traveling in and pull over on the sides of dirt roads whenever we see a plant that grabs our attention or needs identifying. When walking or hiking, I mostly carry a backpack with a few books, a water bottle, and a walking stick is handy for steep grades and for crossing creeks and rivers with slippery rocks. Although in hot weather, I'd prefer to dress in less, one cannot walk here in flipflops and shorts. Besides thorny and prickly vines and trees, there are ticks and chiggers, so it is prudent to apply insect repellent oils and wear long sleeves, long pants tucked into boots, and a hat on your head.
I am attracted to plants with heart-shaped leaves. I bet you can't imagine how many of them are out there with this leaf shape. Just a quick glance on the roadsides one can see greenbrier, air potato vine (close relative to the similar-looking cinnamon vine), redbud leaves, morning glory vines and violets to name a few. How can you tell the difference between these plants?
You have to get out there and botanize! You can do it alone or go with like-minded folks or take a hike with some wild weed eaters. It's good to have a couple of guidebooks to help you figure out what you are looking at. Not only is this so much fun–it is good eating! This weekend we are going to a gathering featuring greenbrier-tip tacos and wild greens salsa verde.
If you are in or near Arkansas–we're about to take a hike as well as learn about medicinal herbs–and there is still time to sign up. This weekend is the annual Medicinal Herb Field Trip and Workshop at the Ozark Folk Center in Mountain View, Arkansas. On Friday morning, teachers will lead about 70 people out into the woods to see and learn about wild plants. After an herbal lunch at the Skillet, students can choose between five different classes. Phyllis Williams will explain the basics of identifying edible mushrooms. Sasha Daucus will be talking about what it means to be a village herbalist. Susan Belsinger will be making herbal products with Capsicum. Katrina Bogdon will teach students how to make remedies with plants from their own gardens. Or, Tina Marie Wilcox will take a walk around the Heritage Herb Gardens and talk about growing medicinal plants.
Saturday Tina Wilcox will demonstrate some uses for essential oils in the garden. Susan Belsinger will talk about growing and using chile peppers for medicine and supporting good health. Katrina Bogdon will explain how individuals can search for health care providers that have herbal training. Merry Schepers raises hogs and improves the soil and plant diversity on her pasture at the same time-she will share her methods. Both days feature herbal luncheons-Saturday's menu highlights chile peppers-that are included in the workshop fee. Go to www.ozarkfolkcenter.com to the herb calendar for specific details and call 870-269-3851 to register.
Don't eat any wild foods unless you are sure that you have properly identified them!