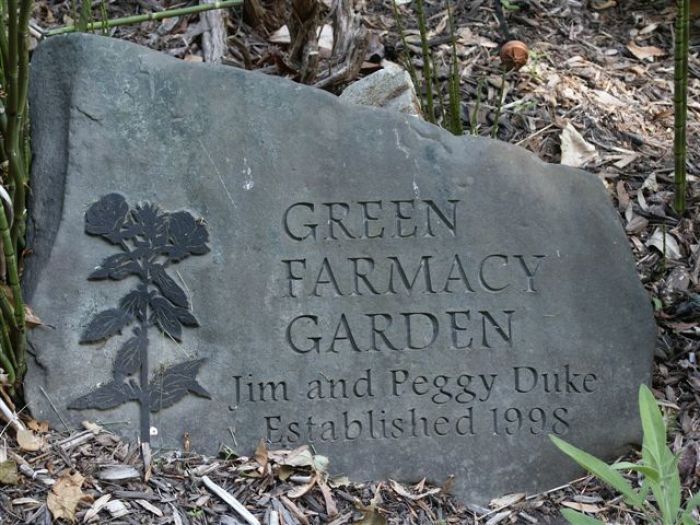 The Green Farmacy Garden
Last weekend, the Potomac unit of the Herb Society of America held its annual picnic at the Green Farmacy Garden. We are so fortunate that Jim and Peggy Duke allowed us to have our picnic and meeting in such an amazing place. Dr. James Duke is a renowned herbalist, ethnobotanist and teacher, author of many books and has a poetic way with words which he sings as he strums his guitar. I am blessed to have him as a mentor and friend.
The Green Pharmacy, written by Dr. Duke, illustrated by his wife Peggy, and published by Rodale in 1997 has sold over two million copies and this has helped the Green Farmacy Garden to be created, planted and maintained. As far as I know, there is no other garden like it in the world and it is here, in Fulton, Maryland, not far from where I live.
The garden is situated on a slope, so it is comprised of four terraces, with a pond at the bottom and a valley full of herb and woodland plants. It contains eighty plots representing most of the ailments of humankind. Each plot has a large rock that has been etched with the name of a particular ailment or disease; surrounding each rock are the herb plants that help to heal or combat that particular malady.
Plants in the garden vary from medicinal and culinary herbs to vegetables, fruits and wild edibles to perennial and annual flowers, shrubs and trees. Most of the garden is in full sun, so tender and shade-loving plants often have little shade protectors built from bamboo and/or burlap over them. The plants that are not winter hardy or from tropical climates are grown in pots and are moved into the greenhouse for the winter here in zone 7 Maryland.
This garden is maintained by garden manager, Helen Lowe Metzman and interns like herbalist Pat Kenny. It is used as a learning classroom for students at the nearby Tai Sophia Institute for the Healing Arts and for visiting students from around the world. A recent pavilion has been installed on the property in order to hold classes. I have had the pleasure and good fortune of walking the gardens with a barefooted Jim Duke while listening to him extol the virtues of various herbs as we stop to touch, smell, and taste plants from around the globe. He is a walking encyclopedia of botany and plant information and he makes learning fun and interesting.
To quote Dr. Duke: "gardening is one way to accomplish five things useful at slowing the ravages of old age: (1) exercise, (2) fresh air, (3) relaxation, (4) sunshine (not too much now), and (5) communion with Nature and Nature's Herbs."