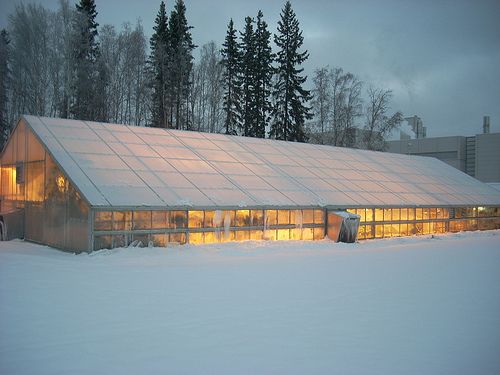 A while back I mentioned that I'd like to add some heat to our small, 6×8 greenhouse this winter for the first time. The planning stage is one of my favorite parts and I tend to drag it out as long as I can. Should I grow orchids in there? Pretty houseplants like poinsettias? Tomatoes? Or encourage my fascination with the man-eaters, grow a little shop of horrors all my own? Yes, beginnings hold all the promise and I'm keeping a list of some exciting possibilities.
On a more practical note while I do want to keep the greenhouse toasty inside, I'm also interested in keeping my electric bill down to a manageable size. Which isn't as simple as it sounds. Here in Northern California we pay in spades for our gas and electric, and "manageable size" in other states translates to enough power to run a small corporation. So, my first goal is to make sure I'm using the most efficient heating source.
Some gardeners heat their greenhouse by building a hot compost pile smack-dab in the middle if it. I've heard some great things about using this technique and being the compost freak that I am – seems like the natural way to go. The problem is that my greenhouse is paved with brick and I intend to keep it that way. Our low-class cats, Puma and Nike (so named after tennis shoes brand names while we went through our gym phase) seem to enjoy using the greenhouse as a kitty-potty. So, a brick floor it is.
What's the best way to heat a small greenhouse? Greenhouse enthusiasts, shout out your thoughts here. How do you heat it, and why did you choose that heat source. Also, if you had it to do again, would you have done it differently?