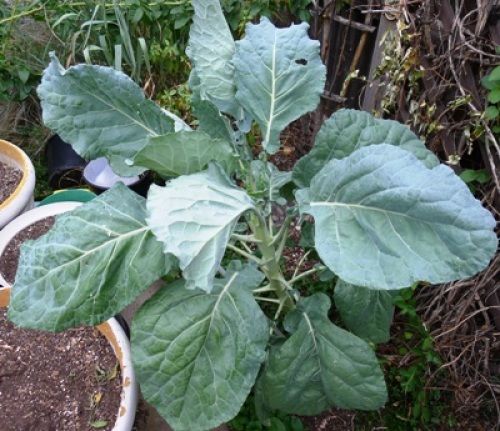 Early last year I wrote about planting the seeds for a Walking Stick kale (Brassica oleracea longata) with the goal of growing a 7-foot-tall cabbage. Even though this plant didn't reach the heights it does when grown in the Channel Islands, it did grow tall enough by the end of summer to pull it up by its roots as the first step in turning it into a real walking stick.
Now, after hanging for a year in the basement to dry, it was time to see if what I had read was true: the stems of Jersey kale dried so hard they were strong enough to use as rafters or baseball bats. Could a tall kale, part of the cabbage family, really be used as a walking stick? 
When the leaves were removed, I was surprised to see how straight the stem had grown. It was difficult to see that with the large leaves still intact. I was also delighted that the stem had grown to just the perfect height for me to actually use.
The roots were a little difficult to saw off, so it probably would have been a good idea to remove them while the plant was still fresh. It took just a bit of effort to cut them off–and that left the room smelling like cooked cabbage!
The stem was lightly sanded to remove any spurs from the leaf scars. Because the stick is still a bit green, I'll wait until it turns completely brown before varnishing to preserve it. A cap called a ferrule was added to the tip to prevent wear.
The process I followed for growing a Walking Stick kale and preparing it for use is the same method used in the 1800s to create a unique product available only in the Channel Islands. Several of those walking sticks were sent to England and the Kew's Economic Botany Collections still has four sticks in its possession. And now I have one in mine.