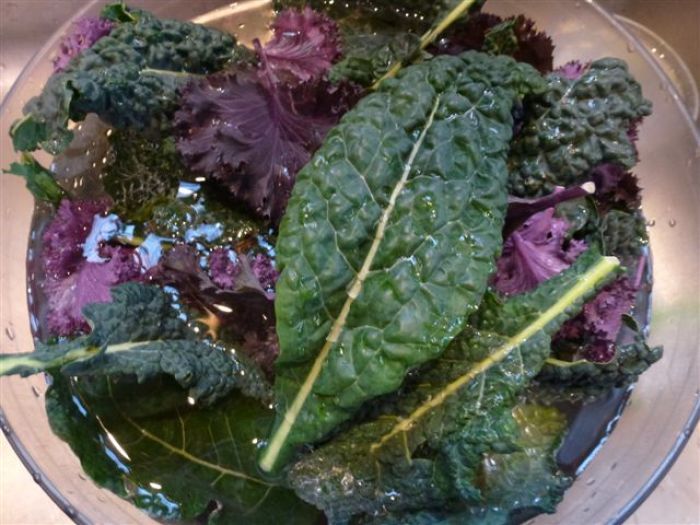 Ingredients:
Makes 4 to 6 servings
1 bunch kale or a generous quart of leaves
2 tablespoons tamari soy sauce
2 tablespoons apple cider vinegar
2 tablespoons extra-virgin olive oil
2 tablespoons pure maple syrup
2 large cloves garlic, pressed or finely minced
2 tablespoons sesame seeds
about 1/4 tsp crushed red peppers
I first ate a version of this salad at the Green Restaurant in San Antonio, Texas. Everything that I tasted there was very good, however this salad just made my taste buds tap-dance. Evelyn Penrod, who took me there, procured the recipe for me. It was for a larger amount and had a lot of dressing, so I scaled it down and made less dressing. The original recipe used canola oil and brown sugar, however, I prefer olive oil and pure maple syrup. Also the original was more like a salad since the kale was torn into bite-sized pieces; I like shredding the kale and making it more like a slaw. I also added garlic and increased the sesame seeds. You can use the pale brown, unhulled seeds, or I used a mix of black and white—any will do—and I lightly toasted them for a few minutes in a skillet on the stovetop over low heat. This is a great way to enjoy kale raw; one could substitute Napa cabbage to make this slaw.
Wash and dry kale, remove stems and chiffonade into shreds as for slaw; there should be about 6 cups shredded kale, loosely packed. Transfer to a bowl.

In a small bowl or measuring cup, combine tamari, vinegar, oil, maple syrup, garlic, half of the sesame seeds and the crushed peppers. Stir with a fork until combined.
Pour the dressing over the kale and toss well to cover the greens. Sprinkle the remaining sesame seeds over the top of the salad. The salad is best if made at least 30 to 60 minutes in advance and up to 4 to 6 hours.