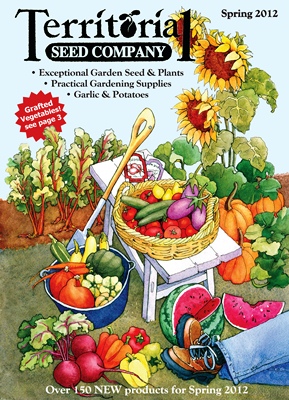 Whenever I browse through a new-to-me seed catalog, my fingers automatically take me to the pages of my favorites–tomatoes and peppers. I'm always looking for the newest, most interesting, and fun-to-grow varieties.
It didn't take long for me to find some intriguing choices among Territorial Seed Company's offerings.
I especially liked the assortment of tomatoes that includes some ultra-early varieties, like Glacier and Beaverlodge, that set fruit in cool weather and mature in 55 days. Tested at the Beaverlodge Research Center in Alberta, Canada, I'm sure these tomatoes are used to cool temperatures and may do well in my finicky Zone 5 garden.
Territorial Seed is offering a beautiful new tomato this year that's sure to cause gardeners to look twice because it's almost blue. "Indigo Rose" was bred at Oregon State University and is the first widely available tomato with a high amount of anthocyanin, a naturally-occurring pigment that causes the skin to be an incredible dark purplish-blue. The tomato's flesh is said to be a beautiful rose color.
I also saw a couple of unusual varieties in the pepper category. The "Bulgarian Carrot" pepper looks just like a miniature carrot that starts out green and turns brilliant orange as it ripens. It's described as having a fruity flavor with a hot finish. The new "Hot Claw" pepper is compact and the peppers grow straight up so it can be planted as an edible ornamental.
Another new offering is a grafted "Prospero" eggplant. This eggplant is an Italian heirloom that grows deep purple fruit on tall, vigorous plants. Organic gardeners use grafted vegetables to improve plant health and yield; Territorial Seed grafts its vegetable plants by hand.
Of course, Territorial Seed has a well-rounded stock of other vegetable selections, including nice choices of beans, corn, lettuce and melons. There's a little something for every kind of gardener including herbs, seed potatoes, garlic, and 13 kinds of sprouting seeds.
The company offers open-pollinated, heirloom, and conventional (hybrid) seed choices, live plants (including mushrooms), and gardening supplies. I appreciated the nice selection of seed-starting equipment and indoor lighting systems.
Territorial Seed is located in Cottage Grove, Oregon, and has been a family-owned business since 1979. The owners, Tom and Julie Johns, have signed the Safe Seed Pledge and offer only untreated seed.
The new catalog ships the last week of December and gardeners can order a copy on the company website. The site has extras features including a free vegetable garden planner, instructional videos, and winter growing guides.