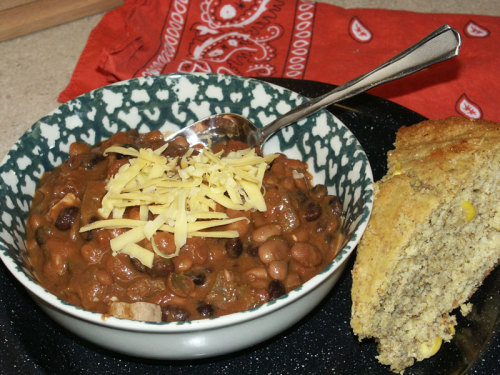 Ingredients
2 tablespoons olive oil
1 large onion, diced
1 large stalk celery, diced
1 medium red or green bell pepper, diced
1 pound firm tofu, frozen, thawed, and crumbled, fresh and cubed, or 1 package tempeh, crumbled
6 to 8 cloves garlic, minced
2 to 3 serrano or jalapeno peppers, seeded and minced
About 2 teaspoons good quality chili powder
About 1 teaspoon fresh toasted cumin seed, ground
1½ teaspoons dried winter savory
½ to 1 teaspoon salt
1 to 2 teaspoons tamari soy sauce or Bragg's Aminos
3 15-ounce cans dark red kidney, pinto, or black beans (or start with 1 pound, dried)
28-ounce can tomatoes, chopped
1 to 2 tablespoons molasses
Few dashes Angostura bitters
About 1 ounce bittersweet chocolate
¼ cup each fresh chopped parsley and cilantro
This is no wimpy chili; it is packed full of flavor—a hearty, satisfying version without meat, using tofu or tempeh, which are good for us. If you freeze the tofu for a few hours, and then thaw it, it gives it a rather meaty texture; it crumbles nicely and it seems to absorb more of the cooking liquid. If you want to omit this step you can; I just cut it into squares. Tempeh has a great texture—just crumble it. Add the chiles according to how hot you like it! Serve this with assorted garnishes: -chopped scallions, lowfat sour cream or a little grated sharp cheddar, and slices of jalapeno peppers, and of course, corn bread. It is even better made a day ahead.
Note: If you want to use dried beans, soak 1 pound of kidney beans covered with water overnight. Pour off the soaking water and add enough water to cover by about 1-inch. Bring the beans and water to a boil with a bay leaf, reduce heat and simmer beans, stirring occasionally for about 40 minutes. Then proceed with the recipe below. Cooking dried beans like this gives the chili a better texture and taste, but using the canned beans is quick and easy and pretty good.
Serves 6 to 8
Heat the oil in a large skillet and sauté the onion for a minute. Add the celery and bell pepper and sauté 2 or 3 minutes.
Add the tofu or tempeh and stir for 5 minutes. Add the garlic, chiles, chili powder, cumin, savory and ½ teaspoon salt and sprinkle with the tamari or Bragg's Aminos; stir for a few minutes. Add the beans, tomatoes, molasses, and bitters, stir well and cook over medium heat, just simmering for 15 minutes.
Taste for seasoning, add more chili powder, cumin, salt, tamari, or molasses if necessary.  Add the chocolate and fresh herbs, stir well, and cook for 5 minutes more.  Serve hot with optional garnishes, if desired.