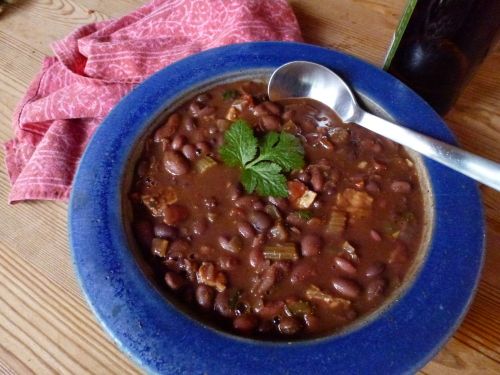 We welcome the winter solstice on Monday, December 21–it is the shortest day and longest night of the year. Although winter is still upon us for the next few months, the days will be getting longer–so we celebrate the light with a bonfire–and a pot of this warming chili.
I've been preparing this veggie chili for many years now–and so have tweaked and perfected the recipe. I recently made it at the IHA conference featuring Capsicum, Herb of the Year 2016 and I had more than a handful of folks tell me that it was the best chili that they had ever eaten. Every year, I attend a local potluck, solstice party held by some friends and I bring the chili–here is the updated recipe–be sure to try it soon. Happy Solstice!
Vegetarian Chili
This is a hearty, satisfying version of chili without meat, and it is good made a day ahead. Tempeh has a sort of meaty texture-it can be crumbled or sliced. It doesn't have a lot of flavor so it is good to sauté it with vegetables and season it with spices and herbs. Use whatever chile peppers you grow or like best and adjust amounts for as hot as you like it.
Traditionally, chili is made with kidney beans, however I add black or pinto beans, or a combination of beans. I often serve this with assorted garnishes-chopped scallions, low-fat sour cream or a little grated sharp cheddar, and slices of jalapeno peppers, and of course, corn bread.
Note:  If you want to use dried beans, soak 1 pound of kidney beans or 1/2 pound each kidney and black or pinto beans, covered with water overnight. Pour off the soaking water and add enough water to cover by about 1-inch. Bring the beans and water to a boil, reduce heat and simmer beans, stirring occasionally for about 40 to 60 minutes until tender. Then proceed with the recipe below. Cooking dried beans like this gives the chili a better texture and taste, but using the canned beans is quick and easy and pretty good.
The recipe is easily doubled or tripled for large numbers of guests–I often soak three pounds of beans–using a pound of each: black, red kidney and pinto. If you have leftovers it can be frozen.
Serves 8
2 tablespoons olive or vegetable oil
1 large onion, diced
2 large stalks celery, diced
2 or 3 serrano, jalapeno or your choice of hot chiles, diced
1 medium red or green bell pepper, diced
1 package tempeh, crumbled
6 to 8 cloves garlic, minced
About 1 tablespoon good quality chili powder
1 1/2 teaspoons freshly toasted and ground cumin seed
1 teaspoon ground chipotle pepper, smoked paprika or 1 of your own smoked chiles
3 15-ounce cans beans: dark red kidney, black and/or pinto
28-ounce can tomatoes, chopped
1 to 2 tablespoons molasses or sorghum
1 1/2 teaspoons dried savory or oregano, crumbled
1/2 to 1 teaspoon salt
Few dashes Angostura bitters
1 to 1 1/2 ounces bittersweet chocolate, chopped into small pieces
About 1/4 cup each: fresh chopped parsley and cilantro
Heat the oil in a large skillet and sauté the onion for a minute. Add the celery, chiles and bell pepper and sauté about 3 minutes. Add the tempeh, stir, cover and cook for about 3 minutes. Add the garlic, chili powder, cumin and chipotle or smoked paprika; stir and cover for 3 to 5 minutes. Add the beans, tomatoes, 1 tablespoon molasses, savory or oregano, salt, and bitters, stir well and cook over medium heat, just simmering for 15 minutes. (You may need to add more water-I like my chili to have enough liquid to dunk cornbread in.) Stir in the chocolate so that it melts.
Taste for seasoning, add more chili powder, molasses, bitters or salt, if necessary.  Add the parsley and cilantro, stir well, and cook for 5 minutes more.  Serve hot with optional garnishes, if desired.