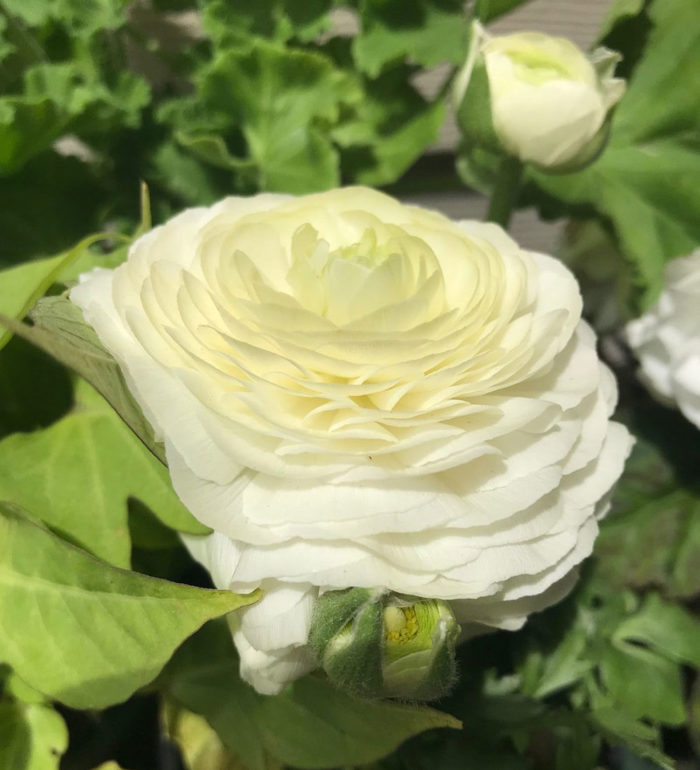 Are you getting tired of planting your spring containers with the same plant palette of pansies (Viola × wittrockiana cvs., annual), hyacinths (Hyacinthus orientalis, Zones 5–9), and sweet alyssum (Lobularia maritima, annual) we often seem to reach for spring after spring? Those flowers may represent the first signs of spring that many can't seem to do without; however, adding some underused plants this spring will transform your familiar spring container into an eye-catching feature of your porch.
The bright green shades of 'Ascot Rainbow' spurge contrast sharply with black mondo grass. Photos: Michele Christiano
Flowering spurge
Flowering spurge (Euphorbia spp. and cvs., Zones 4–11) is a perennial with interesting foliage and texture that will bloom in late spring. A variety of cultivars with different foliage colors are available. Some great choices are 'Ascot Rainbow', 'Blackbird', and 'Little Tom'. The bright chartreuse of 'Ascot Rainbow' looks striking with black mondo grass (Ophiopogon planiscapus 'Nigrescens', Zones 6–11). Look for your favorite spurge species or variety here.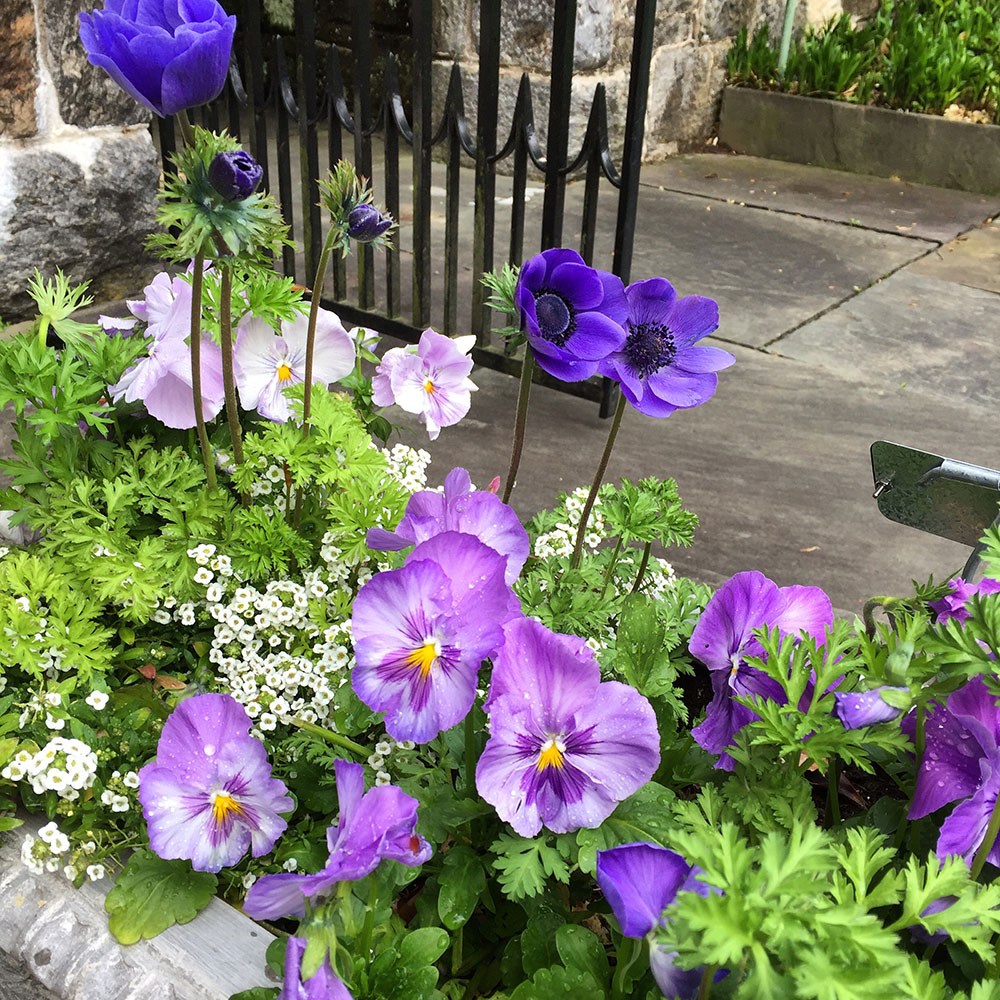 'Mr. Fokker' poppy anemone
Blooming in early to late spring, this striking violet blue anemone is a wonderful addition to a spring container. Growing to about 12 inches high, the corms of 'Mr. Fokker' poppy anemone (Anemone coronaria 'Mr. Fokker', Zones 8–11) can be planted in pots in late fall. Once the foliage emerges in the spring, other plants can be planted around them. If planting in a pot in fall or early winter, make sure there is adequate drainage, as the corm can rot with too much moisture.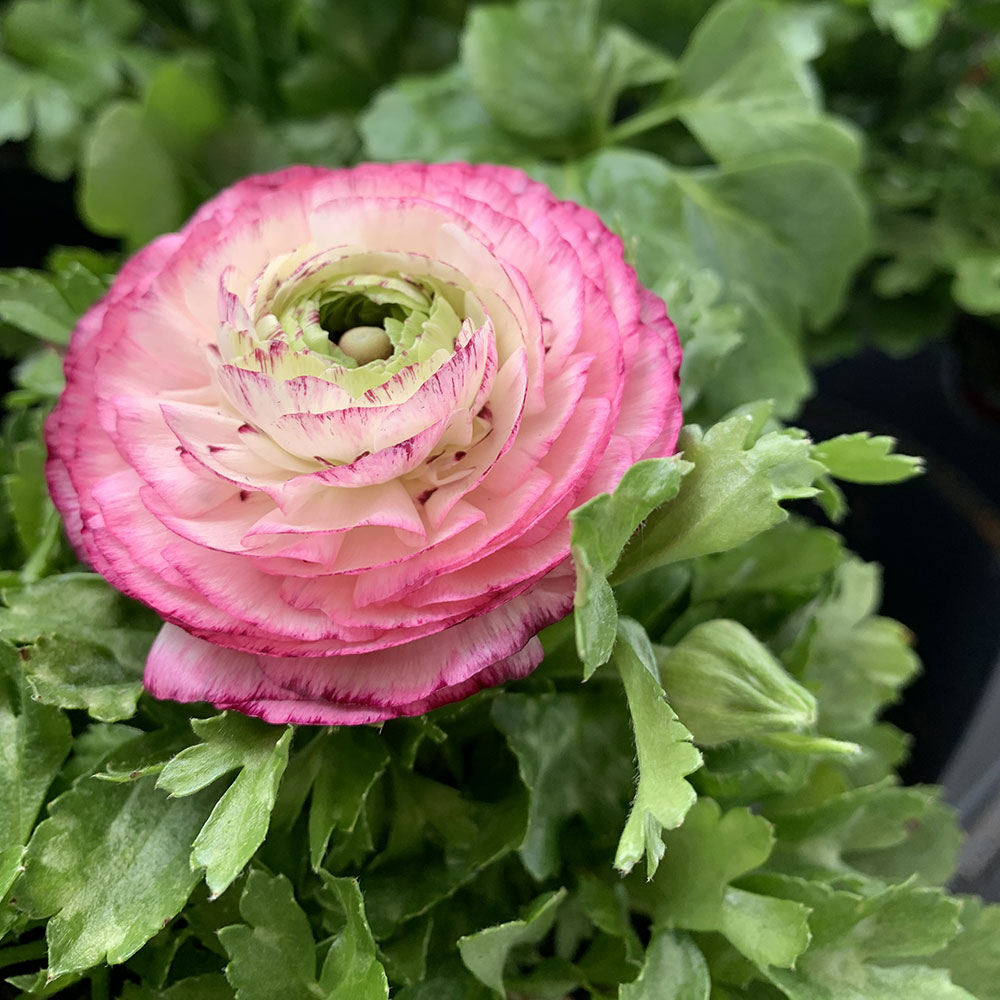 Japanese ranunculus
The effect of a large, bold statement is often missing among the delicate flowers of spring. Japanese ranunculus, or Persian buttercup, (Ranunculus asiaticus cvs., Zones 7–11) is a great pick to add as a focal point of your spring container. The big blooms will blend nicely with the fine textures of a sedge or grass, and the fernlike basal foliage is a great filler.
The bright orange of 'Totally Tangerine' geum and the mellow purples of 'Palace Purple' heuchera contrast sharply for another eye-catching combination.
'Totally Tangerine' geum
'Totally Tangerine' geum (Geum 'Totally Tangerine', Zones 5–7) is a long-blooming plant with beautiful texture and delicate flowers. This cousin of the strawberry is an excellent choice for a spring container. The lesser-used orange color looks great with the dark foliage of 'Palace Purple' heuchera (Heuchera micrantha var. diversifolia 'Palace Purple', Zones 4–9) as well as with brightly hued pansies and spring-flowering bulbs. At a mature 30 inches tall, this plant gives container plantings the height that many spring annuals lack.
I encourage gardeners to think outside the box when designing spring containers. Try to break the habit of buying pansies first; maybe think about those traditional go-to plants as accents or fillers. Think instead about rich contrasting colors of both foliage and flowers, as well as the ultimate height of the containers. Creating these color combinations with foliage will add more variety in spring containers.
—Michele Christiano is a horticulture assistant at Longwood Gardens in Kennett Square, Pennsylvania.