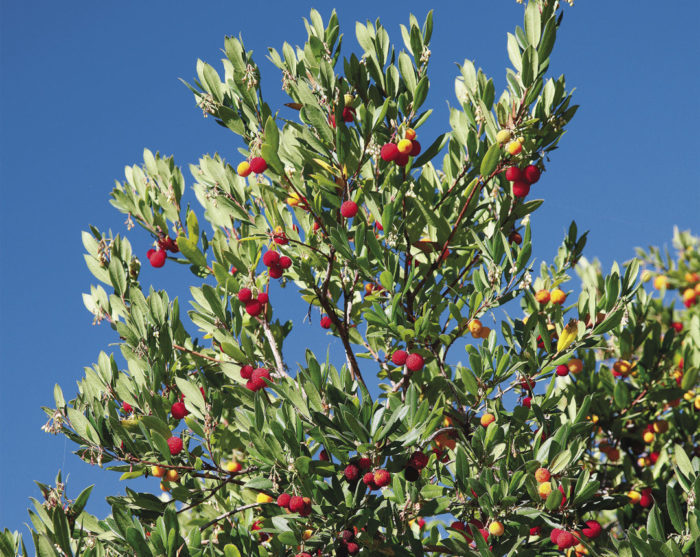 The descriptions "rare" and "unusual" are too often synonymous with "delicate" and "fussy"—a warning to any gardener that a plant might take more effort than it's worth. And yet, there are a host of marvelous plants to consider that are underused and undemanding—as long as you choose both the plant and its site wisely.
When it comes to plants, taking the road less traveled can bring exceptional texture, form, color, and fragrance to our gardens, without adding to our already lengthy list of chores. The following uncommon and unfussy plants aren't as difficult to find as you might think—in fact, they could very well be sitting at your local nursery. And they'll certainly prompt friends and neighbors to point and exclaim, "What is that plant?"—a question every gardener loves to hear.
Unfussy qualities key
Drought tolerant =


Salt tolerant =

Pest resistant =


Poor soil =


Resilient after pruning =


No pruning/deadheading =


Deer resistant =

An attractive autumn bloomer
'Elfin King' dwarf strawberry tree
Name: Arbutus unedo
'Elfin King'
USDA Hardiness Zones: 7 to 9
Size: 6 feet tall and wide
Conditions: Full sun to partial shade; neutral to slightly acidic, well-drained soil with medium to lean fertility
Unfussy Qualities:





Native to the Mediterranean and the southwest coast of Ireland, 'Elfin King' is a pint-size version of the more common 'Compacta', which isn't all that compact at 15 feet tall. Technically a small shrub, dwarf strawberry tree grows well in a large pot or makes a year-round hedge. No clipping or shearing is required when you site it where there's room for it to spread. It's seldom bothered by pests, and it rewards the gar­dener with autumn flowers while the bright red fruit develops. It's best grown away from sidewalks and driveways, however, because the red fruit—edible but insipid—drops.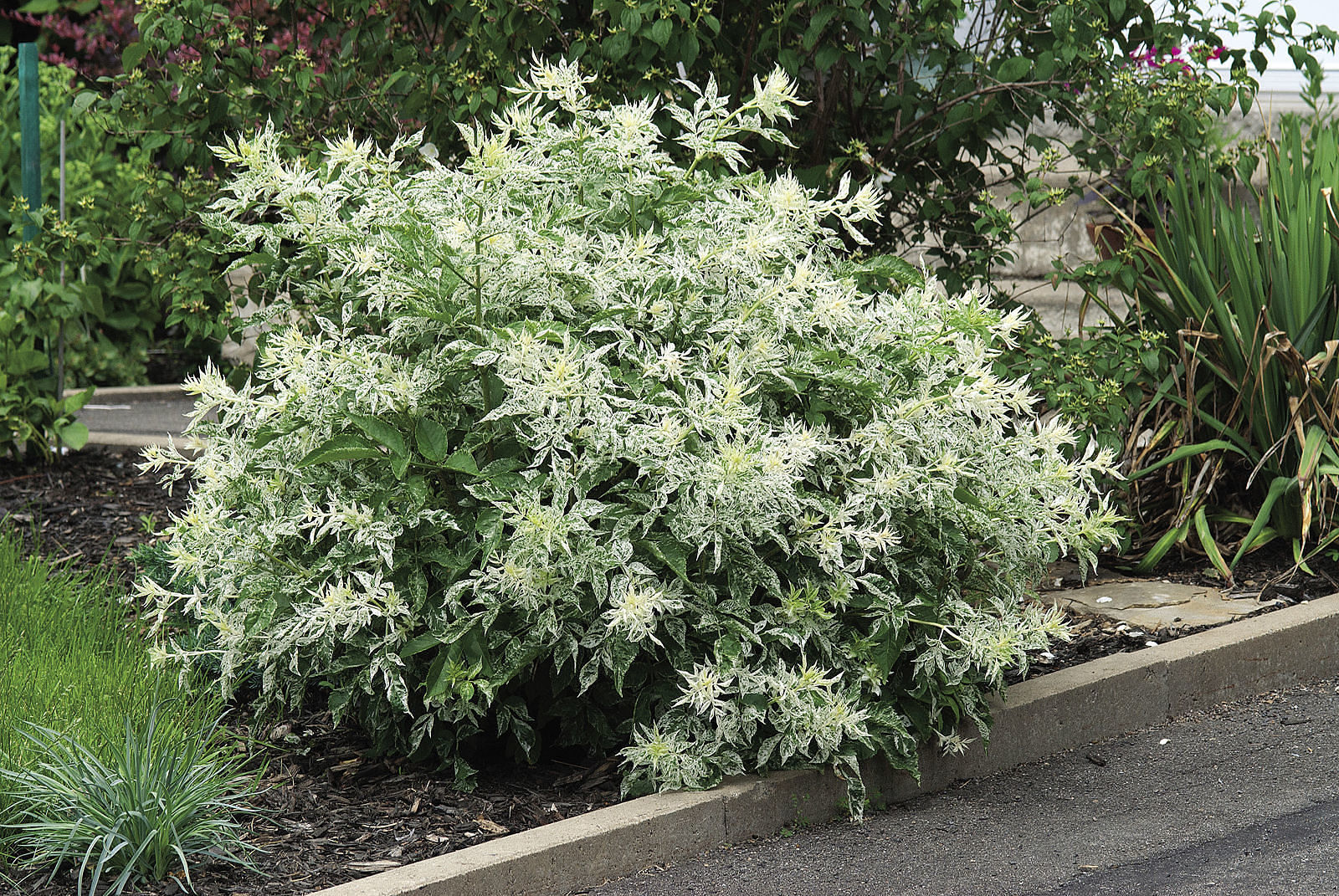 A lot of color from a little bit of sun
Mottled-leaf elderberry
Name: Sambucus nigra
'Pulverulenta'
Zones: 5 to 9
Size: 5 to 8 feet tall and wide
Conditions: Full sun to partial shade; moderately fertile, well-drained soil
Unfussy Qualities:

The mottled foliage of this elder­berry brightens partly shaded beds and provides a nice contrast to the shrub's dark-colored summer fruit. In May, pick some of the flat flower clusters to make elder cordial, and in summer, use the black berries for jelly. Consider other elderberry cultivars, as well, such as 'Madonna', which has leaves splashed with gold, and 'Laciniata', the green-leaved form of 'Eva' (Black Lace™). Mottled-leaf elderberry is a low-water-use plant when given partial shade and mulch. And it takes pruning well, so feel free to cut it back to the ground if it starts dominating its corner of the garden.
Plenty of blooms, but no deadheading
'Single Apricot Korean' chrysanthemum
Name: Chrysanthemum
'Single Apricot Korean'
Zones: 5 to 9
Size: 2 to 3 feet tall and 3 feet wide
Conditions: Full sun; slightly alkaline, well-drained soil
Unfussy Qualities:


Always a surprise at the end of the season, 'Single Apricot Korean' chrysanthemum rewards us with fall flowers beginning as late as October in mild regions. The coppery pink petals and golden center blend beautifully with the colors of autumn. Let this late bloomer spill over a sidewalk for a casual look, or prop it up with a sturdy neighbor, like Hint of Gold™ bluebeard (Caryopteris × clandonensis 'Lisaura', Zones 6–9). The only thing you'll need to remember concerning maintenance is to cut the plant back in late winter. And be aware that new spring growth often doesn't emerge until May.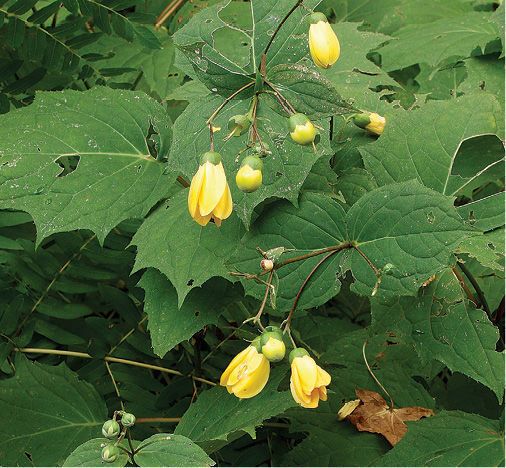 Rare color for the shade
Yellow wax-bells
Name: Kirengeshoma palmata
Zones: 5 to 8
Size: 3 to 4 feet tall and 3 feet wide
Conditions: Partial to full shade; moderately fertile, moist, well-drained soil
Unfussy Qualities:


The clusters of late-summer flowers of yellow wax-bells help keep interest high in the shade garden, long after the spring ephemerals have faded. Its large leaves contrast well with more finely textured foliage, and the plant is big enough to serve as a small shrub. In late winter, simply cut the stems down to the ground to get the plant ready for spring.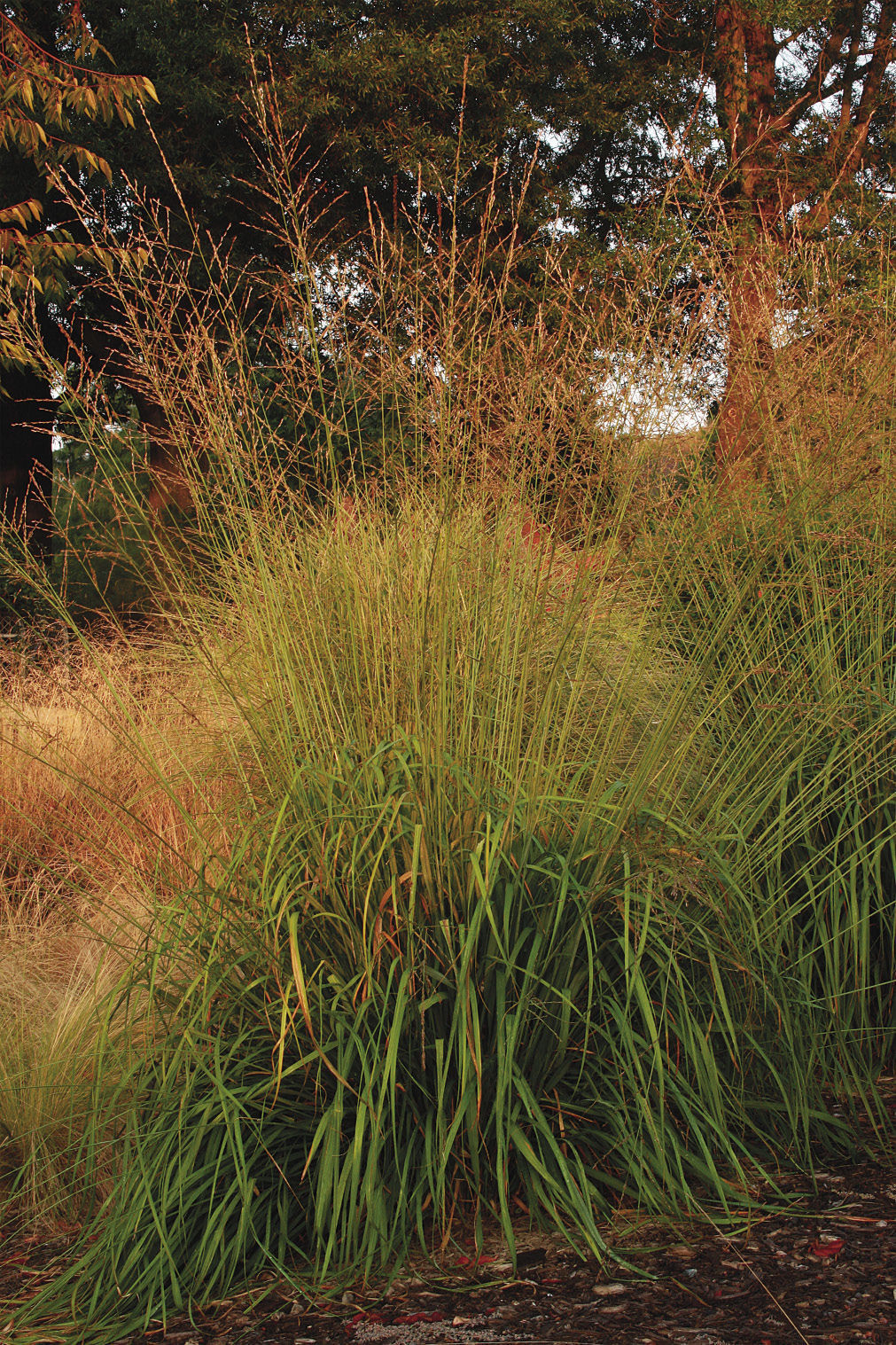 A perfect vertical, airy accent
'Skyracer' purple moor grass
Name: Molinia caerulea ssp. arundinacea
'Skyracer'
Zones: 5 to 9
Size: 3 feet tall and wide with 8-feet-tall flower stems
Conditions: Full sun to partial shade; neutral to slightly acidic, moist, well-drained soil
Unfussy Qualities:



In mid- to late summer, the flower stems of 'Skyracer' purple moor grass shoot skyward, providing a surprising vertical element to any bed full of mounding perennials. The clumps of finely textured foliage turn golden in autumn and usually look good until January. The only act of maintenance you need to do all year is to cut the foliage down to the ground in early spring—although if winter weather breaks the plant apart, it's fine to cut it down sooner. Supplemental water is needed only in hot periods when planted in full sun.
Chores you can skip, if you think ahead
Filling your beds with low-maintenance plants only wins half the battle. By taking a few preemptive steps in spring, you can make your garden easier to manage for the rest of the season.
Stake floppy perennials
Consider cutting back lanky summer-blooming perennials by a third every spring. This delays bloom time slightly, but it also results in stockier plants, which means you won't need to worry about staking. Good candidates include sneezeweed (Helenium spp. and cvs., Zones 4–8), coneflower (Echinacea spp. and cvs., Zones 3–9), garden phlox (Phlox paniculata cvs., Zones 4–8), and upright sedums (Sedum spp. and cvs., Zones 3–11).
Apply mulch
Laying a 2- to 3-inch-deep blanket of compost over bare soil will help suppress weeds and will moderate soil temperature and moisture, saving you time with weeding and watering. Nestle the mulch up against perennials, but keep it several inches away from the trunks of trees and shrubs.
Hide fading bulbs
Instead of fussing with dying-bulb foliage, disguise it with the spring emergence of a mounding perennial, like 'Brookside' geranium (Geranium 'Brookside', Zones 4–8).
Water containers efficiently
Cluster pots for an impressive show, and install a drip-irrigation system in the containers to save you time. You can install a timer at the hose bib to make vacations worry-free.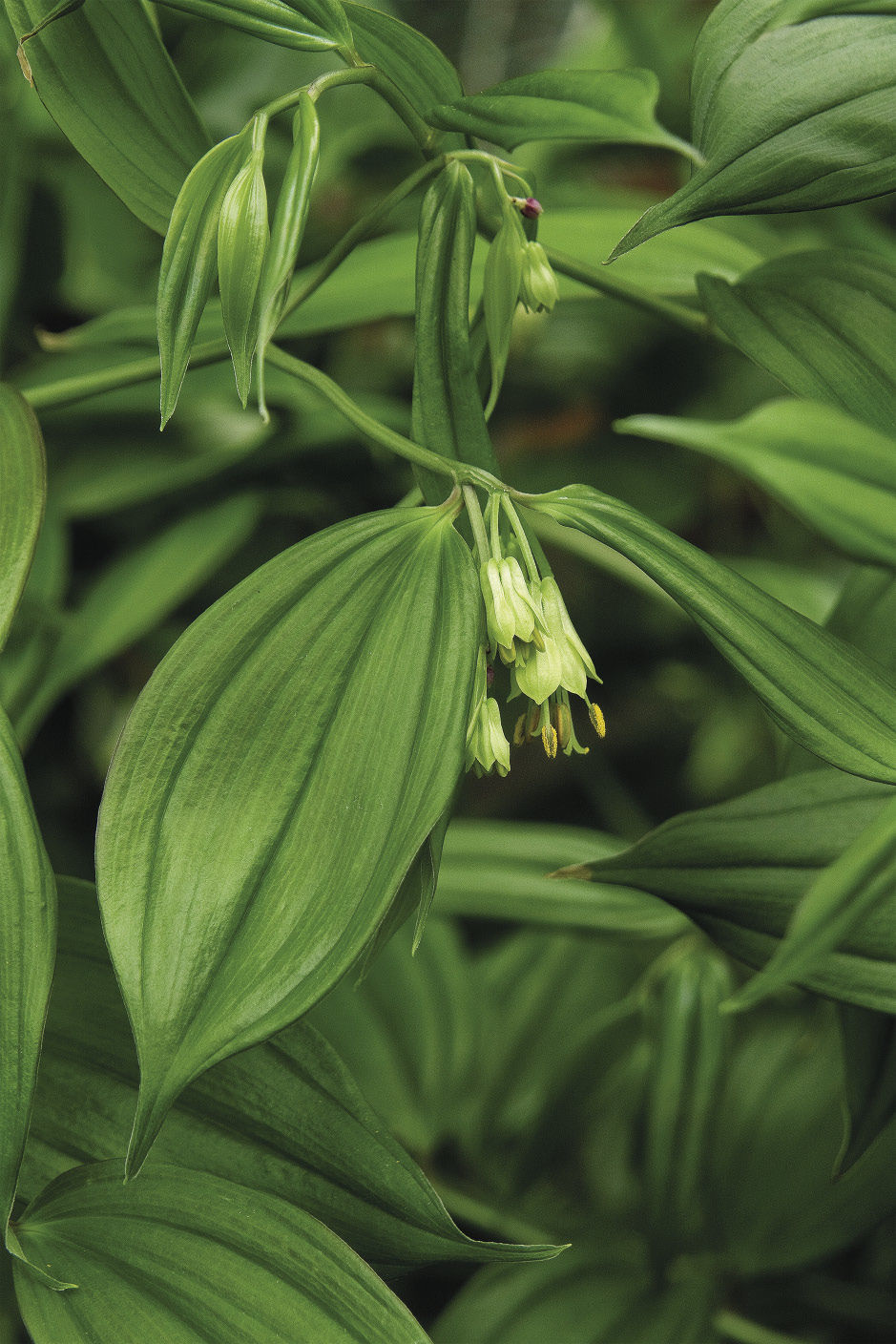 A slow woodland spreader
Evergreen Solomon's seal
Name: Disporopsis pernyi
Zones: 6 to 9
Size: 16 inches tall and wide
Conditions: Partial to full shade; moist, humusy, well-drained soil
Unfussy Qualities:

The arching stems of evergreen Solomon's seal hung with bell-shaped flowers in late spring and glossy leaves all season add a lush note to the woodland garden. It slowly spreads by rhizomes, forming a full clump. Although evergreen, fresh foliage looks best, so cut down all the stems in late winter to make way for new growth. If slugs or snails are a problem in your garden, sprinkle a phosphate-based slug product around the plant.
A care-free blooming ground cover
'Green snake' rose
Name: Rosa
'Green Snake'
Zones: 4 to 10
Size: 6 inches tall and up to 10 feet wide
Conditions: Full sun; moderately fertile, well-drained soil
Unfussy Qualities:




This ground-hugging rose grows in my parking strip where it never gets a drop of supplemental water, yet its foliage is always a glossy deep green. 'Green Snake' rose blooms only once—sporting upward-facing, white to shell pink flowers—but provides sprays of tiny red-brown hips for winter. The stems scoot along for 10 feet or more, flat on the ground unless they hit an object, in which case they will hop up and over. Let it intertwine with lavender (Lavandula spp. and cvs., Zones 5–9) or hebes (Hebe spp. and cvs., Zones 8–11) and swarm around tall low-water-use perennials, such as globe thistle (Echinops spp. and cvs. Zones 3–9). Cut back as needed.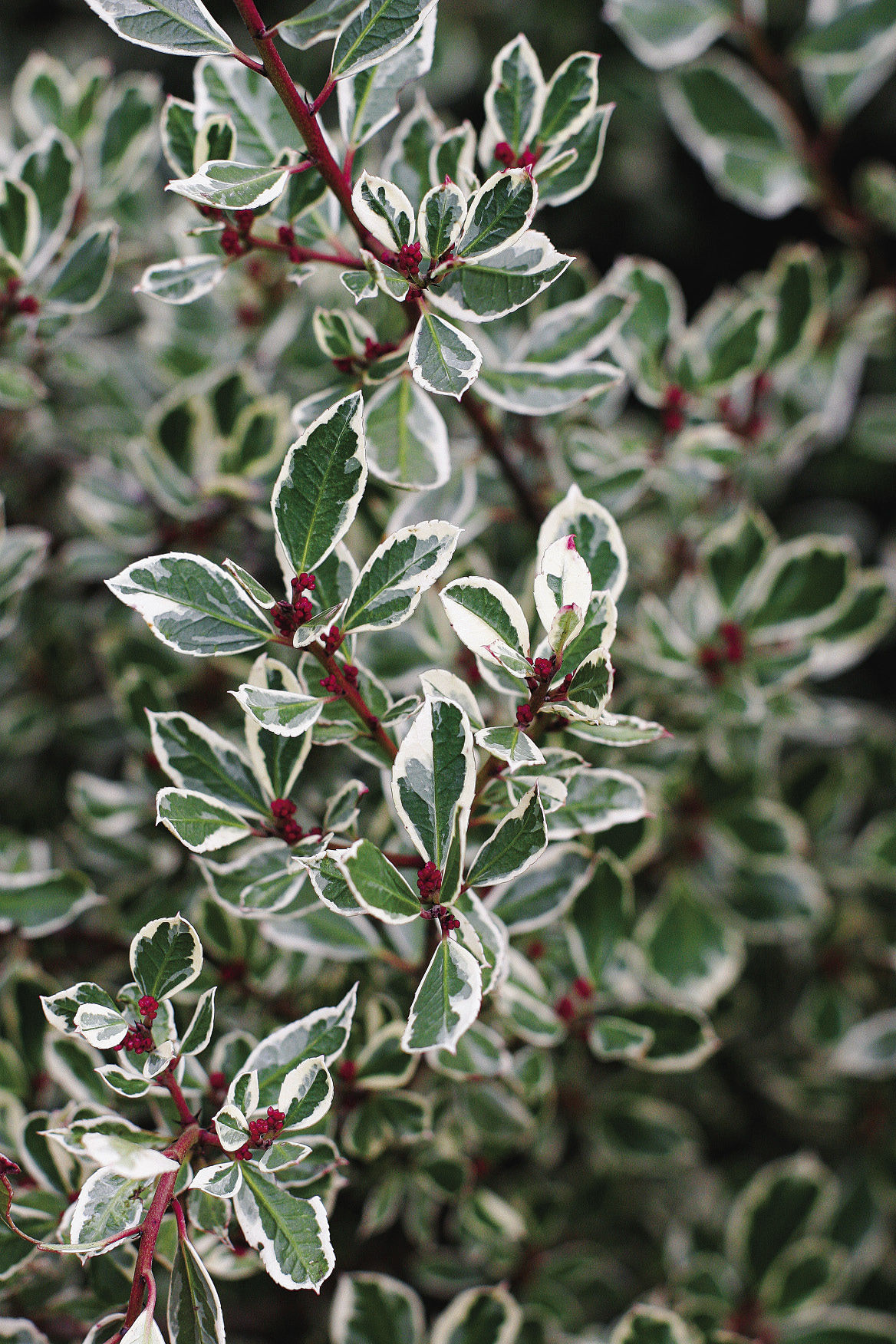 Add unexpected beauty to winter
Variegated Italian buckthorn
Name: Rhamnus alaternus
'Argenteovariegata'
Zones: 7 to 9
Size: 15 feet tall and 12 feet wide
Conditions: Full sun to partial shade; moderately fertile, well-drained soil
Unfussy Qualities:




This is one shrub that requires no shearing or pruning, with the exception of an occasional broken or dead branch. The white margins of its gray-green leaves add a bright note in dim situations, so choose a spot on the shady side for best effect. Variegated Italian buckthorn's evergreen presence helps fill out the winter garden, and throughout the year, it acts as a foil to all-green foliage. For a striking off-season show, surround it with a winter-blooming ground cover, like cyclamen (Cyclamen coum and cvs., Zones 5–9).
[Sources]
The following mail-order plant sellers offer the widest selection of the plants featured:
Far Reaches Farm, Port Townsend, Wash.; 360-385-5114; farreachesfarm.com
Forestfarm, Williams, Ore.; 541-846-7269; forestfarm.com
Gossler Farms Nursery, Springfield, Ore.; 541-746-3922; gosslerfarms.com
Niche Gardens, Chapel Hill, N.C.; 919-967-0078; nichegardens.com
Secret Garden Growers, Canby, Ore.; 503-651-2006; secretgardengrowersstore.com
Marty Wingate is an urban horticulturist and the author of two books, Landscaping for Privacy and The Big Book of Northwest Perennials. She lives in Seattle, Washington.