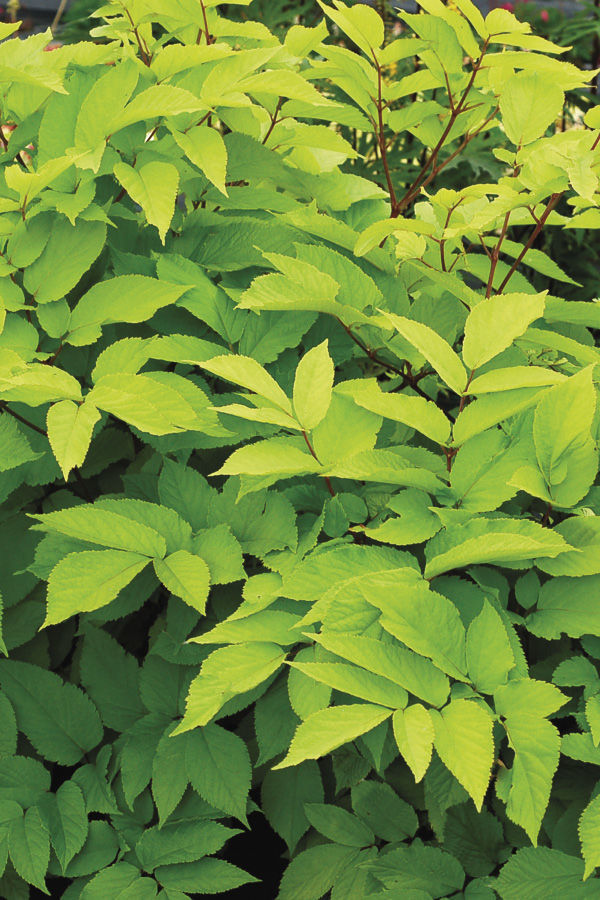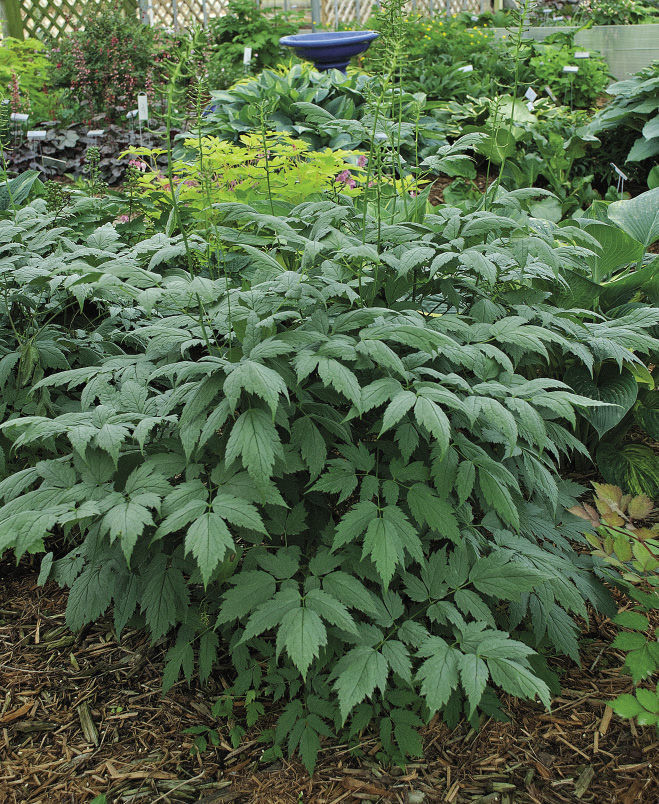 'Misty Blue' baneberry
Name: Actaea pachypoda 'Misty Blue'
USDA Hardiness Zones: 3 to 8
Size: 2 to 3 feet tall and wide
Conditions: Partial shade; moist, well-drained soil
This new cultivar of a native East Coast perennial provides three seasons of interest. 'Misty Blue' baneberry has beautiful pewter-colored foliage with a slight sheen to it, which lends a soft look to any shady spot. The glaucous clumps are topped in spring with short stalks of fuzzy white flowers followed by white berries in fall. Once it establishes a sizable multistemmed clump, 'Misty Blue' is low maintenance and long-lived.
'Sun King' spikenard
Name: Aralia cordata 'Sun King'
Zones: 4 to 8
Size: 5 to 6 feet tall and 3 feet wide
Conditions: Partial shade; moist, well-drained soil
If you are looking for a tropical-looking—yet entirely hardy—plant for your garden, this is the ticket. 'Sun King' spikenard emerges in midspring with bright gold leaflets, which can grow to be 3 feet long. It has a shrublike appearance and will eventually form a wide clump. In mid- to late summer, 2-foot-tall spikes of tiny white flowers appear before giving way to purplish black berries. Provide the plant a minimum of two to three hours of sun so that it retains its glowing yellow foliage all summer. As a bonus, 'Sun King' spikenard is also deer resistant and attracts honeybees.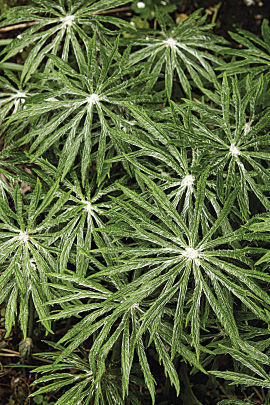 Shredded umbrella plant
Name: Syneilesis aconitifolia
Zones: 4 to 8
Size: Up to 2 feet tall and wide
Conditions: Partial shade; moist, fertile soil
I love shredded umbrella plant because I love to say its name: "Syneilesis aconitifolia" just kind of rolls off the tongue, and I'm guilty (like many of you, I'm sure) of planting something just because I like the name. Nonetheless, this woodland beauty is a relative of ligularia (Ligularia spp. and cvs., Zones 4–8) and native to dry hillsides of the Far East. When it emerges in early spring, the first 4 inches of the plant look like tiny cocktail umbrellas needing a shave, with a fuzzy felt gray over the green. As the plant matures, the umbrella opens and the foliage, changing to a medium green, displays finely dissected leaves with serrated margins.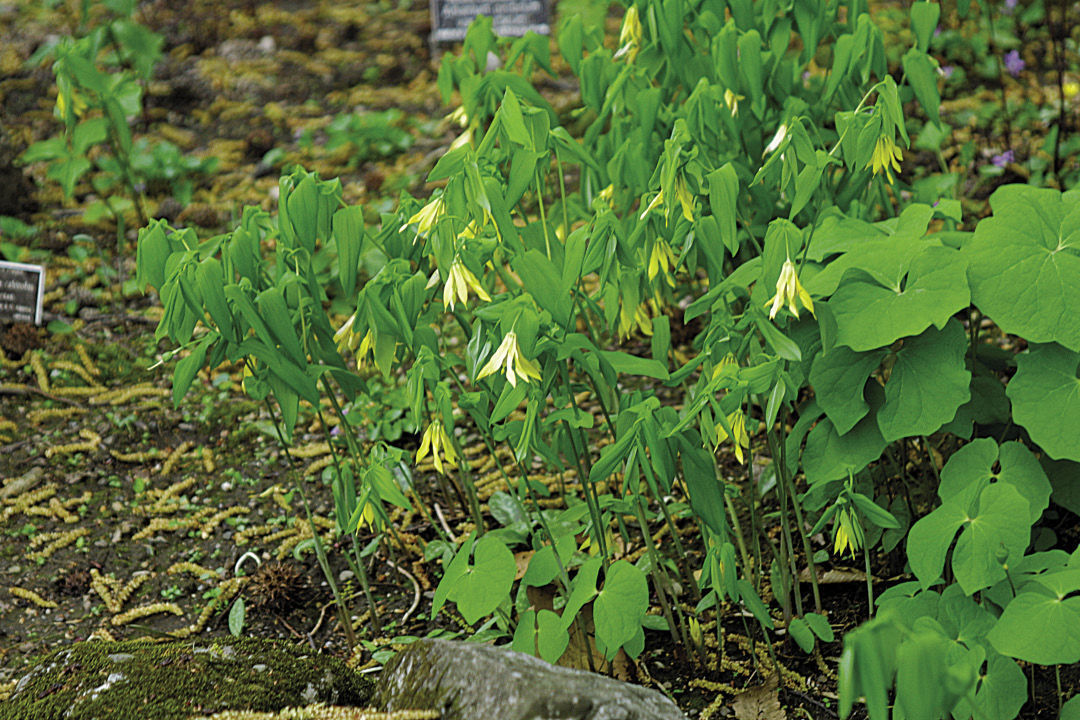 Merrybells
Name: Uvularia grandiflora
Zones: 3 to 7
Size: Up to 30 inches tall and 1 foot wide
Conditions: Partial to full shade; moist, well-drained soil
An exquisite spring wildflower that is related to Solomon's seal (Polygonatum spp. and cvs, Zones 3–9), merrybells is native to the central and eastern United States. It naturalizes slowly by rhizomes to eventually form attractive beefy clumps. In midspring, the plant displays dainty, bell-shaped, moonlit yellow blooms on branching stalks. Because of the weight of the leaves and flowers, the upper portion of each plant nods downward in a merry dangling dance. Plant it under shade trees or along a woodland edge.
Lori Davis is a horticulturist at Sunny Border Nurseries in Ken­sington, Connecticut.