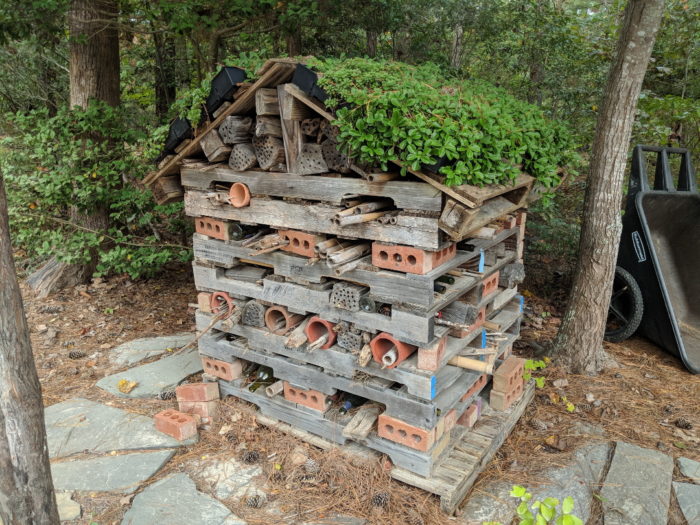 Honeybees get a lot of the attention when it comes to pollinators, but there are many other native bees and wasps that are very important pollinators. Unlike honeybees, which make large hives, many of our native pollinating bees and wasps are solitary. Instead of making a large hive, they find small holes, in which they stash a supply of food (sometimes pollen from flowers, sometimes insect prey such as caterpillars) and then lay an egg. The egg hatches, the larval bee or wasp grows up eating the food that has been stored up by its parent, and then it flies off to start the cycle all over again.
I was recently at the Williamsburg Botanic Garden in Williamsburg, Virginia, where I saw the "Pollinator Palace," a structure specifically designed to provide suitable holes for pollinators.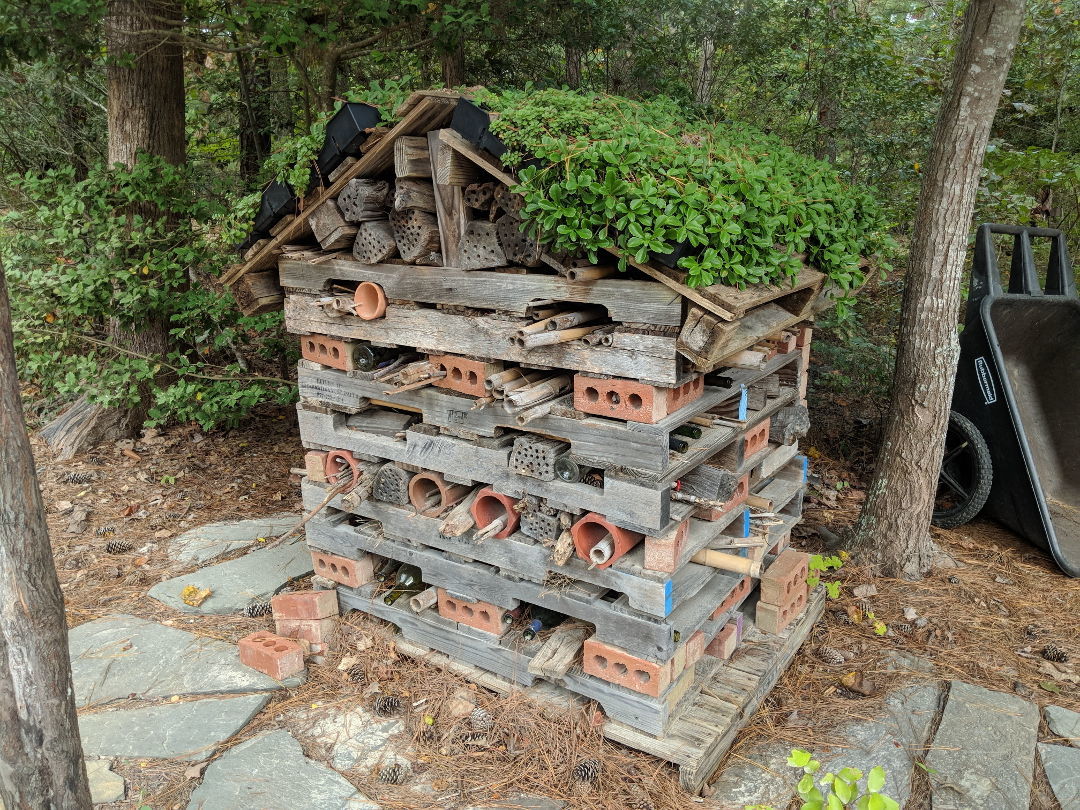 The Pollinator Palace in all its glory! It is a simple structure, made from old wooden pallets, bricks, and other scrap materials. I love the living green roof and the wide range of different possible homes for different pollinators. The bamboo sticks and blocks of wood with holes drilled in them seem to be the most popular with the local insects.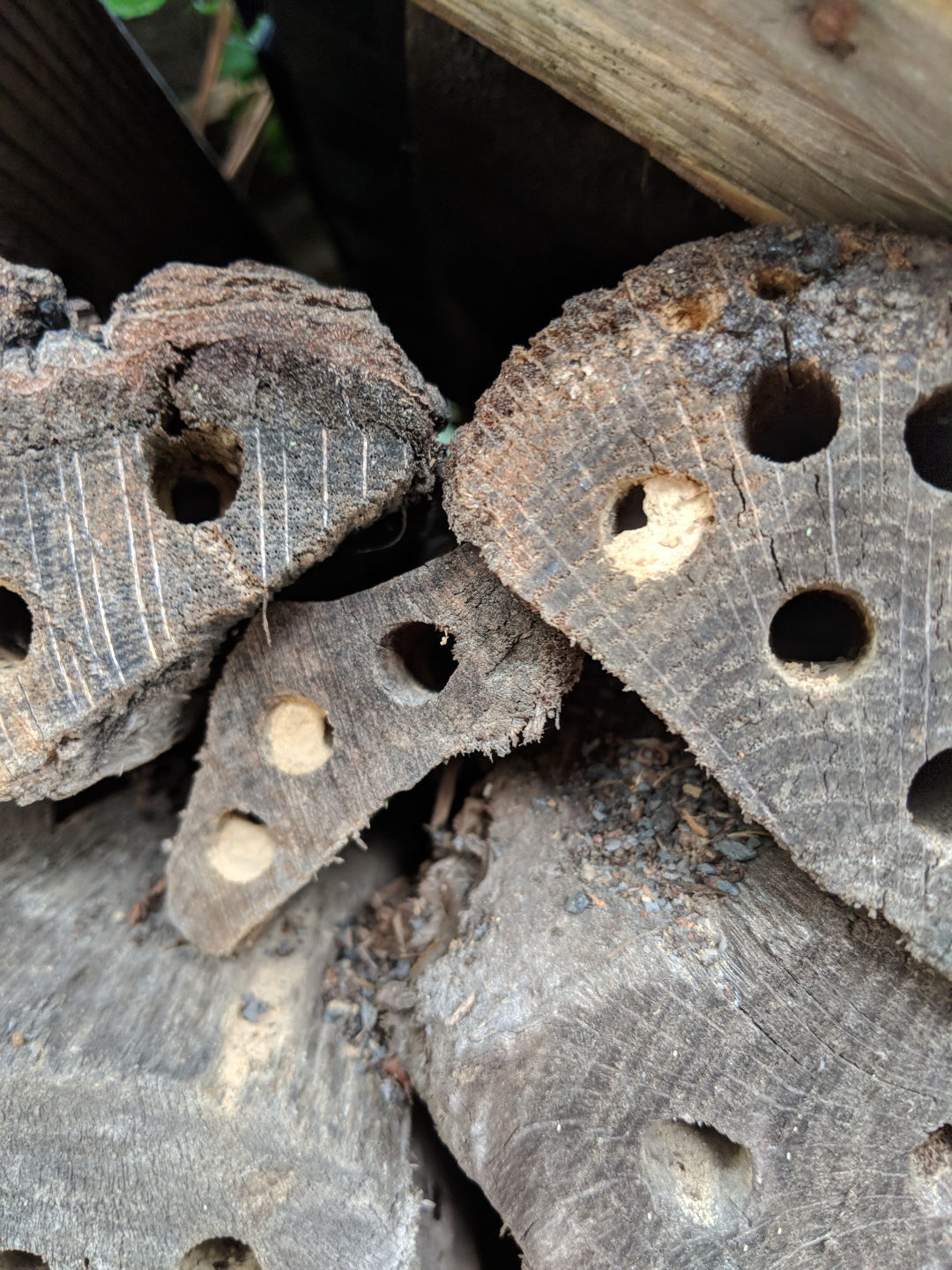 Many of the insects using the palace seal their hole with a plug of mud once they've finished storing food and laying their eggs. When the adult insect emerges, it chews its way through the mud plug, which slowly crumbles, leaving the space ready for the next occupant.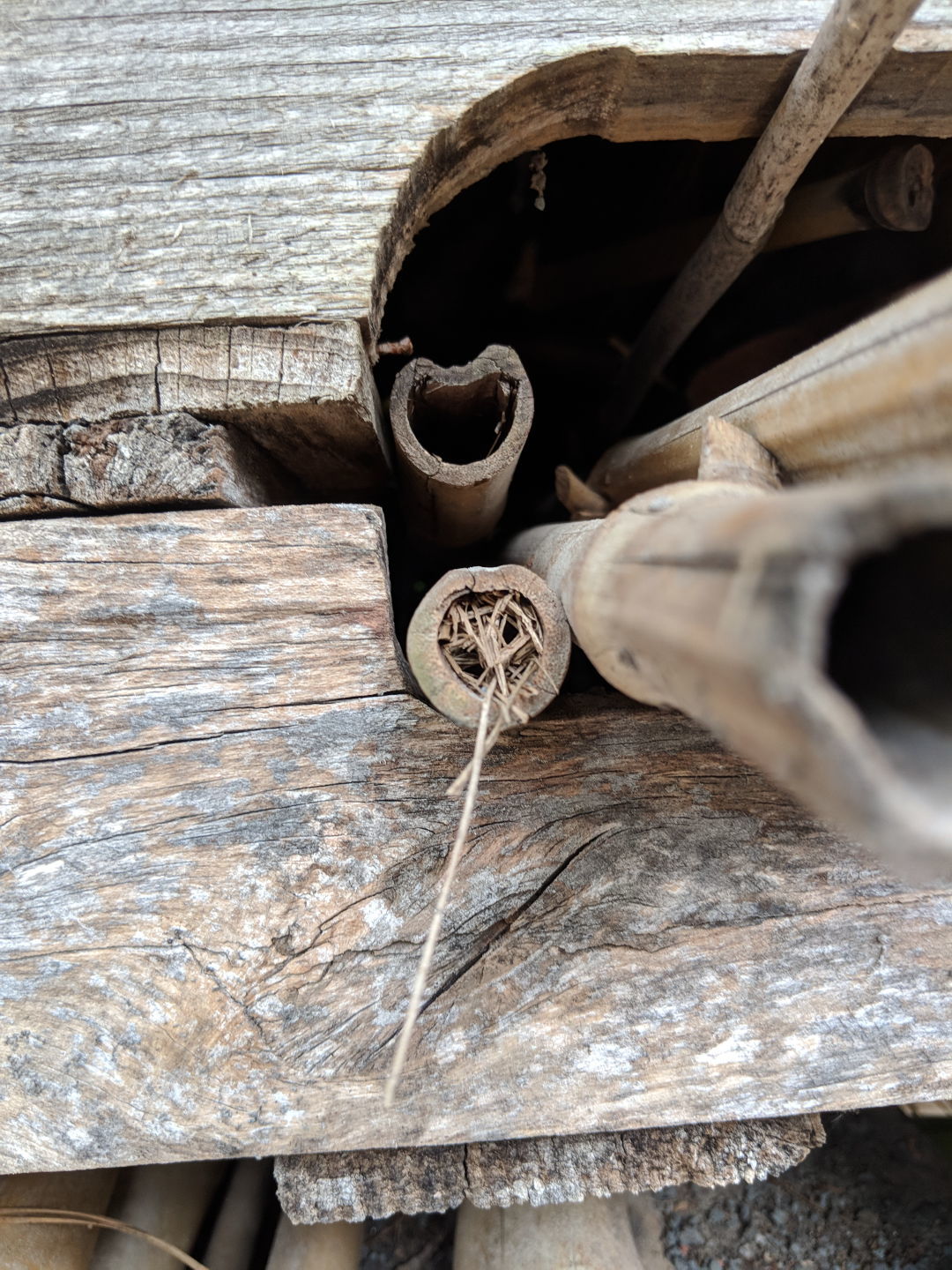 Rather than mud, other insects prefer bits of grass or other materials to seal off the entrance to their nest.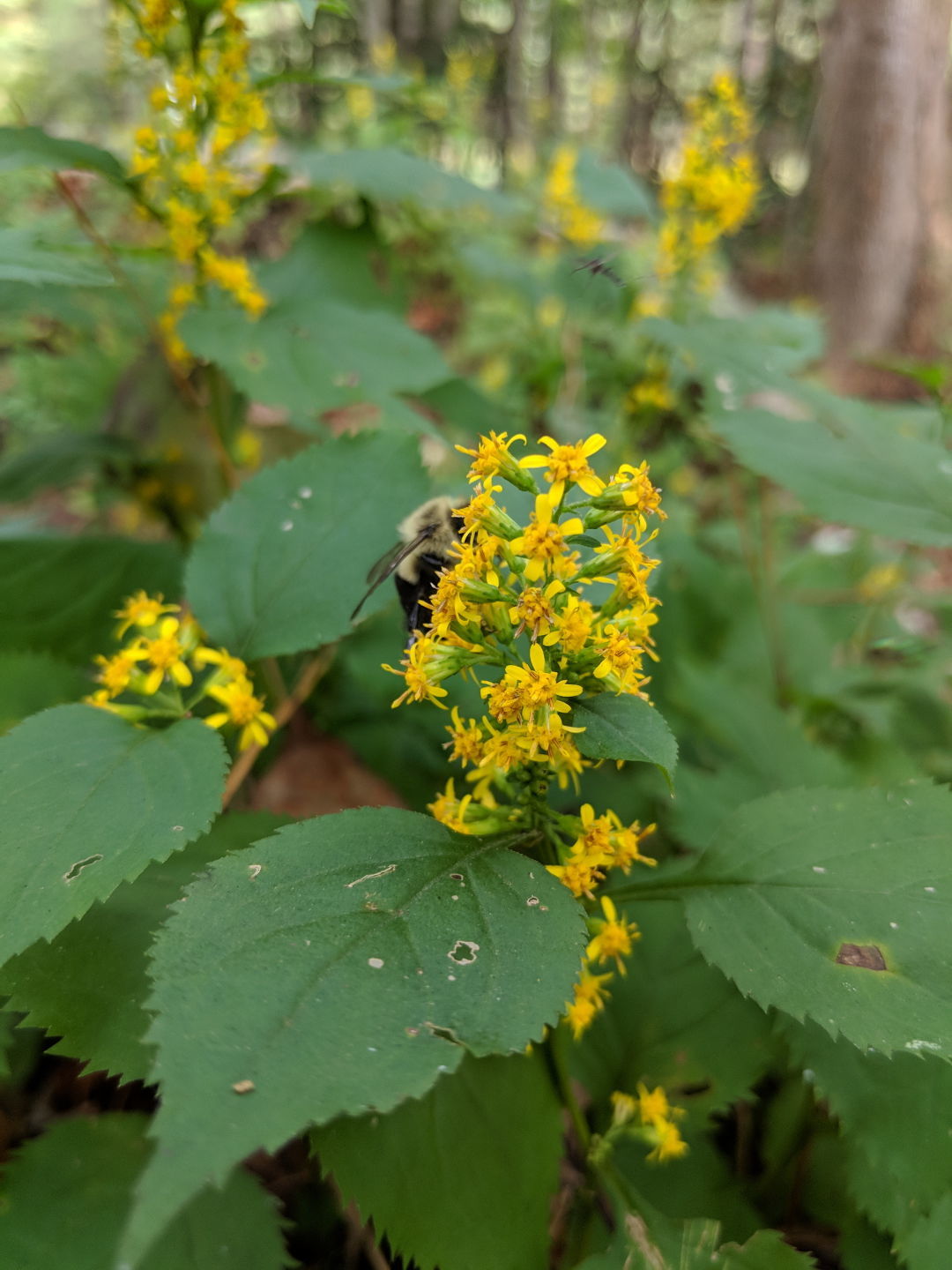 Providing homes for pollinators isn't enough—you also have to have food for them! The garden is full of great pollinator plants, but this zig-zag goldenrod (Solidago flexicaulis, Zones 3–8) was the one that seemed to have the most insects on it the day I visited. Unlike most goldenrod, this is a shade-loving species that provides a valuable supply of nectar in the autumn when there isn't much else blooming in native woodlands. Here a bumblebee is having lunch.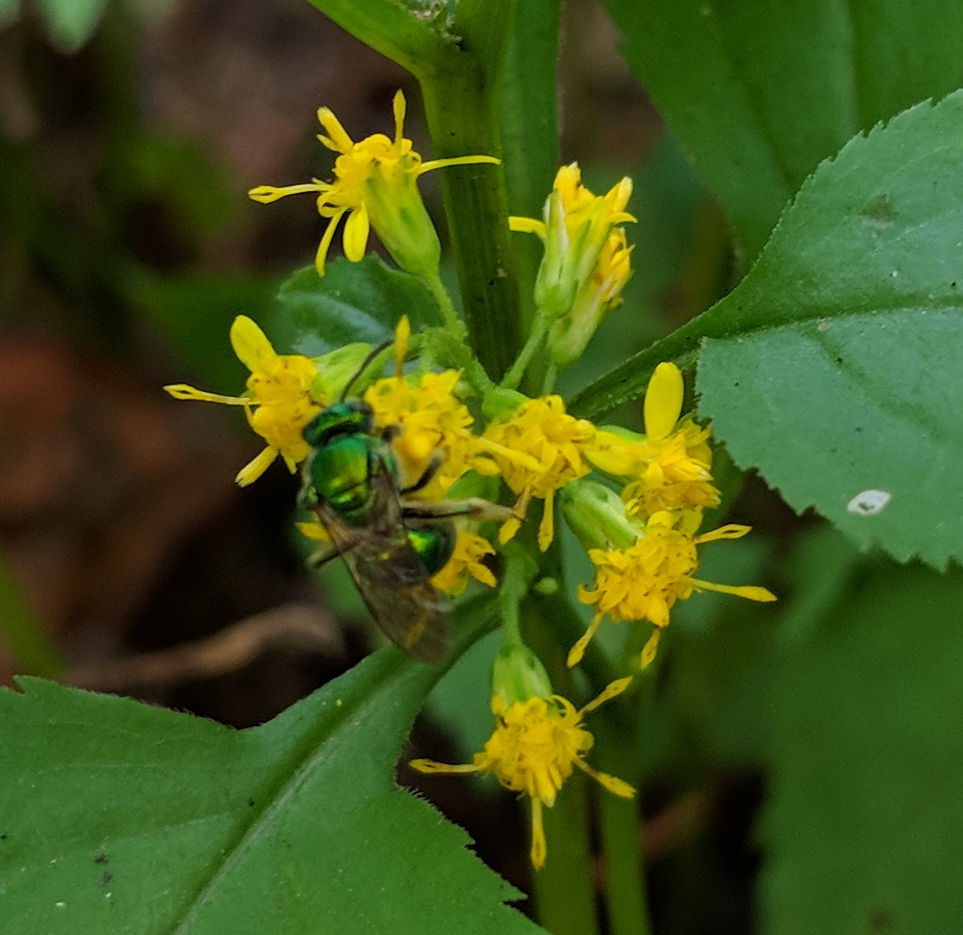 And here a beautiful metallic-green sweat bee digs in as well.
Have a garden you'd like to share?
Have photos to share? We'd love to see your garden, a particular collection of plants you love, or a wonderful garden you had the chance to visit!
To submit, send 5-10 photos to [email protected] along with some information about the plants in the pictures and where you took the photos. We'd love to hear where you are located, how long you've been gardening, successes you are proud of, failures you learned from, hopes for the future, favorite plants, or funny stories from your garden.
If you want to send photos in separate emails to the GPOD email box that is just fine.
Have a mobile phone? Tag your photos on Facebook, Instagram or Twitter with #FineGardening!
You don't have to be a professional garden photographer – check out our garden photography tips!
Do you receive the GPOD by email yet? Sign up here.