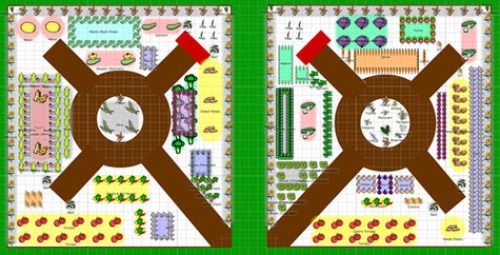 We are at that place again. That sweet spot on the calendar where everything is possible in our gardens; not quite the end of winter, not yet the early spring. But we gardeners can feel it in our bones, it's close and we're on our marks.
Every sunrise from here on has us poised with personal garden ideas and strategies. We have plant lists, photos, and dog-eared seed catalogs. Web pages of gardens we intend to create have been book marked, because we have to have just one more bed. Like good scouts, we've solemnly sworn that our gardens will be better than ever this year. For some, it will be their first gardening season.
As far as I can tell, we're all going to need a leg up. Here's where a cheat sheet comes in handy.
Use A Vegetable Garden Planner
Depending on which one you use, garden planners can help:
Prevent over-crowding plants.
Allow you to make the most out of every inch of garden space.
Offers a better picture of how many vegetables can be grown in a particular bed.
Decide on which vegetables to plant based on sun exposure
Based on your zone it can also tell you when to plant (depending on the planner)
Offer guidance on when to apply fertilizers. (depending on the planner)
When to harvest vegetables.
The following free online vegetable garden planners are the perfect place to start (you may never even need to move on).
If you're brand new to vegetable gardening, you're going to enjoy the vegetable gardening online site. It not only offers free garden planning, but has zone charts, planting worksheets, a diary, and growing information for individual veggies, as well as berries. There's a ton of free printable here, including worksheets and coloring pages for kids.
This veggie garden planner is just about as simple as they come, but it does the trick. The tool allows you to make a custom garden plan, but also has some great pre-planned gardens available. There's a rainfall calculator, a soil calculator for filling a raised bed, and a pest and disease directory, as well.
SmartGarden builds your gardening profile and makes you part of is an entire gardening community. It also connects you to other gardeners that live in your area, so that you can share and trade vegetables in real life.
As a freebie planner (unless you buy "add-ons") this site has a lot to offer. SmartGarden  is associated with seed vendors and boasts 3,000 vegetable varieties that you can purchase right from the site. Very clever.
If You're Willing to Fork Out a Couple of Bucks…
GroVeg
is the place to be.
So much eye candy here. A well-thought out planner that can be accessed from your computer, Ipad, and smart phone.
It's intuitive (even sends you reminder emails), flexible, and has 200 adorable little garden objects to place into your virtual garden such as greenhouses, drip irrigation, fencing and footpaths. It even has its own gardening community.
GroVeg is free to try for one week, but once you're hooked, you'll need to commit and pay a $29 annual fee.
This is another nice veggie garden planning tool that offer all the bells and whistles that the free sites are lacking. Mother Earth News planner could bring out the architect in anybody. Complete with succession planting and crop rotation plans, you could get lost in here for hours.
This planner is also free for you to play with for 1 week and $29 a year after that.