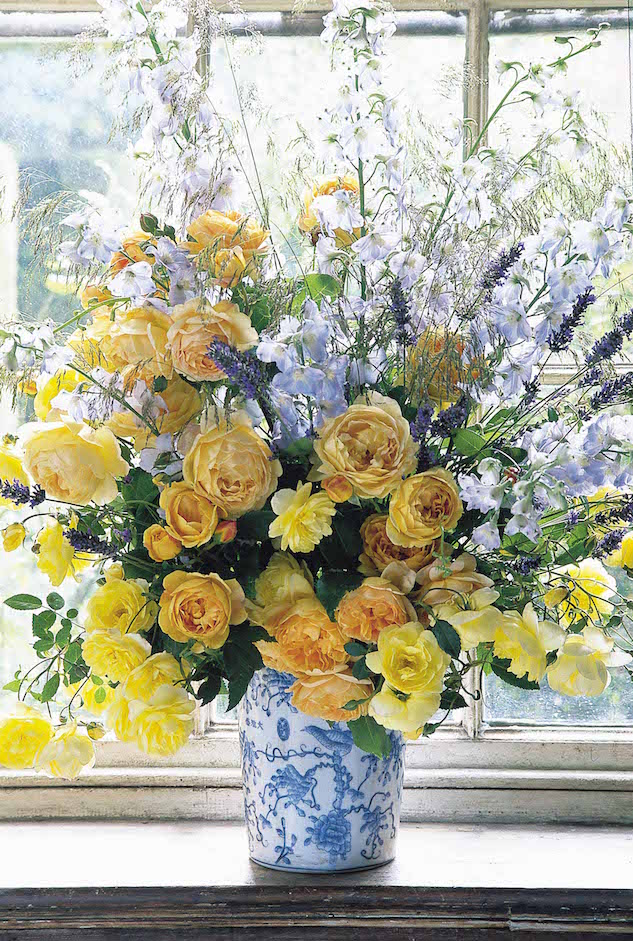 One of the joys of growing roses is bringing them in the house. Be it a single bloom in a vase, an arrangement, or blooms floating in bowls on the table, roses brighten up any room. When they are also fragrant, so much the better! A cutting garden of roses is wonderful to draw from for floral arrangements, but you'll want to know how to keep your cut rose blooms looking fresh for as long as possible. There are a couple of simple things you can do. Michael Marriott is the technical manager and senior rosarian for David Austin Roses, which is a fancy title for simply saying he knows a lot about roses! I first met Michael around 10 years ago, and we've stayed in steady touch ever since.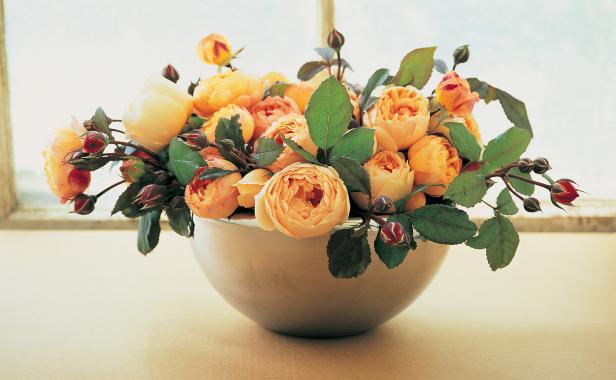 Michael's rose-growing philosophy is similar to mine, and we've always enjoyed comparing notes and discussing roses—mainly why we shouldn't fuss over them so much. Michael recently was interviewed for a series of articles on cutting garden roses to bring them in the house. I enjoyed them and so asked permission to share one of them with you. With permission from David Austin Roses, here is the article about Michael. Enjoy!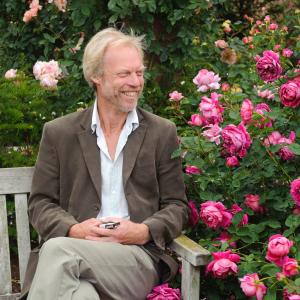 Tips for Keeping Cut Garden Roses
Fresh no-cut roses are fresher than the ones you cut from your own garden. You grew them: that's part of their allure. Now, it's up to you to help them stay fresh longer, as they make the trip from bush to the vase. According to Michael Marriott, technical director of David Austin Roses of Albrighton, UK, there are several ways to lengthen the vase life of cut flowers, especially roses, beginning with how you cut them. "For cutting single roses or clusters of blooms, choose better-quality garden scissors or, better yet, hand pruners with sharp blades," says Marriott. "The idea is to cut the stems neatly without compressing their water uptake channels. Their ability to take up plenty of water is the key to keeping them fresh." Good cutting tools, he insists, are not a place to skimp. Higher quality tools have sharper cutting edges that stay sharp longer, and often worn parts and blades can be replaced. For cutting flowers and light deadheading, he uses a small hand pruner—or secateur, as they're known in England. His personal favorite is Felco's #6 bypass pruner, a first choice of many florists, with a small cutting head that reaches easily into dense bushes. "They're quite small, and fit easily in a pocket. I keep mine on me all the time so it's handy for cutting flowers and for quick maintenance too. If you prefer a hand pruner specifically for cutting roses, he suggests, look for one with a "cut and hold" feature that makes it easiest to retrieve stems once you've cut them."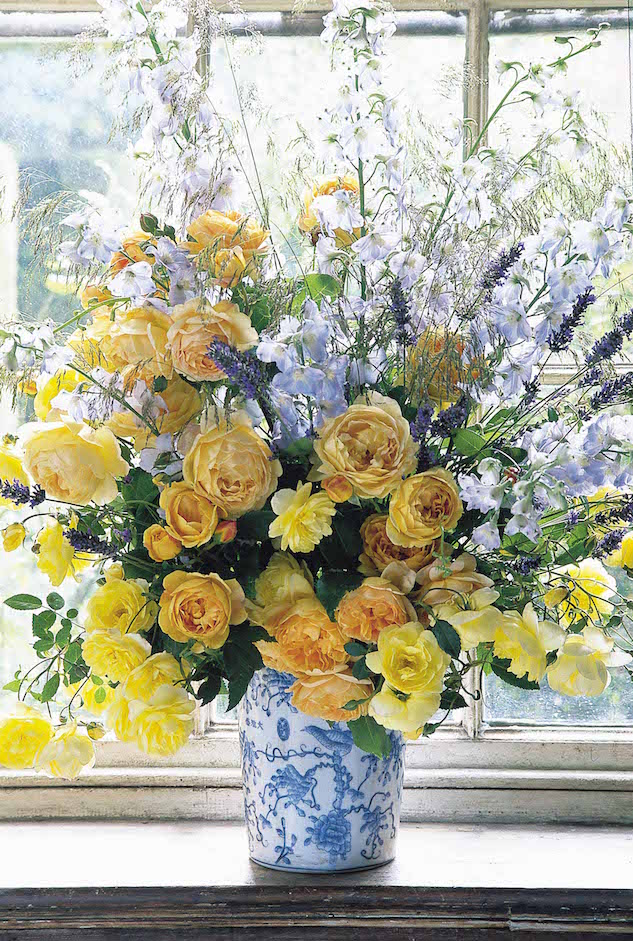 Marriott's tips for cutting roses and keeping them fresh in the vase
Cut flowers in early morning when they're fully hydrated.
For longest vase life, choose flowers in the late bud stage, outer petals already open, flowers not fully open.
Avoid the temptation to cut from the back of the bush, thinking it will be less obtrusive. You want lovely blooms with strong stems, which are more likely to grow where the sun is best.
Carry a clean container filled with cool water so you can immerse stems fully, immediately after cutting: Best are containers with handles for easy carrying. Having a few favorite containers is fun, says Marriott, whose own favorites are: A big-handled white enamel jug he found at a second-hand shop, sized just right for 3 or 4 stems. Galvanized French-style flower buckets for more.
Once taken inside, re-cut the stems another inch or so, while holding them under water: This step ensures that no air bubbles are blocking the water uptake channels. Once re-cut in this way, keep the stems fully immersed in water until ready to arrange.
Strip off lower leaves, as foliage standing in water can lead to bacterial growth. For longest vase life focus on keeping tools and containers clean.
Be scrupulous in cleaning containers and vases: after use, wash well; before next use, rinse again. Fill vases nearly full with cool fresh water so that all the stems including the shorter ones are immersed as much as possible.
Add flower food to the water to keep bacteria growth at bay, improve water flow and help flowers open and last longer. Refresh vase water every day or so.
Lift flowers from the vase to recut stems every 2 to 3 days, to refresh water uptake.
Once flowers are arranged, place the vase out of direct sunlight, as cut flowers last longer when kept cool.