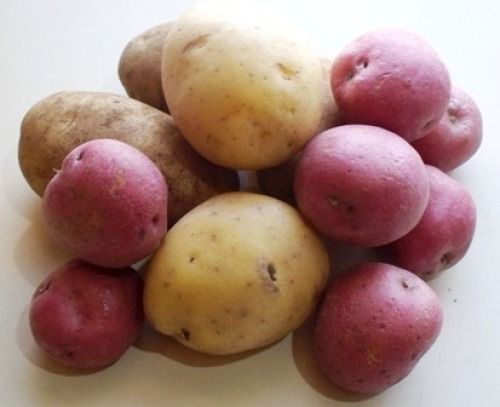 It's Time for Spring Planning
The first time I saw purple potatoes, it was love at first sight. I was immediately smitten with the idea of surprising my family by scooping little mounds of purple mashed potatoes onto their plates. I can't remember what I paid per pound for those All Blue potatoes, but I do remember my family's response to them. Priceless.
I'm still in love in purple potatoes—and red, gold and brown ones, too. I especially like the fingerling potatoes, those narrow little tubers shaped like fingers or crescents.
Potatoes are one of the easiest root crops to grow and home gardeners can harvest their own potatoes if they plant them, keep them moist and hope the weather cooperates. I usually think about planting potatoes when the weather has already warmed and it's too late to plant them and long past time to order them. However, this year I've decided to plan ahead for potato planting.
Companies that sell certified seed potatoes will take orders now, ask for a shipping date and then send them when it's the right time for planting in your area.
Something Old, New and Blue
The advantage to planting and growing your own potatoes is that you can grow many different colors, shapes and flavors that aren't usually seen in the produce department at the grocery store or are too pricey at the farmer's market. There are many heirloom varieties, new potatoes and my favorite blues.
For gardeners who want to grow their own specialty potatoes, start by thinking about how you'll use them in the kitchen. Some potatoes are naturally better for frying and baking; others are better for boiling. It all depends on how much starch they contain. For example, Red Sangre can be used for frying while the Yellow Finn is better for mashing. Yukon Gold is a good frying and baking potato, as is the beautiful All Blue.
As with growing other vegetables, check the number of days from planting to harvest and look for early, mid-season or late-season varieties depending on whether you have a short or long growing season. Potatoes are also a good vegetable for gardeners who are short on patience because new potatoes can be harvested while the vines are still green.
Early season potatoes take between 60 and 70 days and include Early Rose, Irish Cobbler and Yukon Gold. Mid-season varieties take between 70 and 90 days and include All Blue, All Red and Red Gold. Late season varieties, like Russets, take from 90 to 120 days.
Fingerlings, like Russian Banana, Austrian Crescent and Red Thumb, can take as long to grow as some late season varieties.
When to Plant Potatoes
Potatoes like cool weather and spring is the time for planting. If you order seed potatoes now from an online retailer, indicate a date 2-3 weeks before you're able to plant in your area, which is usually 2 weeks before the last spring frost. If you're not sure about the date, check with the county extension office in your area.
If don't think you have enough space to plant potatoes, there are some clever alternatives like planting in a bushel basket or 30-gallon plastic trash bag. That's what I'm planning to try next year and I hope you'll join me for some potato growing fun.