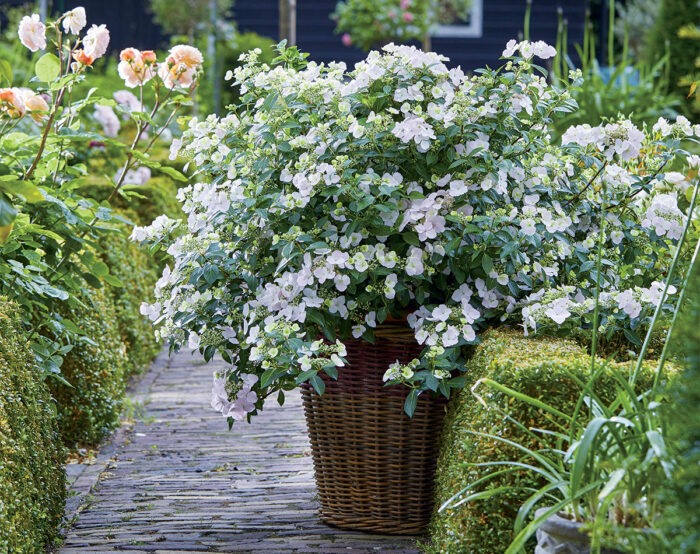 A breeding breakthrough, Fairytrail Bride® is the first hydrangea with the ability to produce flowers from every leaf joint, and it has a unique trailing habit to boot. White lacecap blossoms appear down the graceful trailing stems like garlands of lace in late spring to early summer. The flowers start out as green buds that open to pure white. In cooler climates, they may become tinged with pink as they age.
Fairytrail Bride® is a hybrid of several species, including bigleaf hydrangea (Hydrangea macrophylla and cvs., Zones 5–9), and it produces flowers on the previous year's growth, so be careful when pruning. Once the flowers have faded you can cut back the old panicles, but no further. The new shoots that develop after flowering will bear next year's flowers. Unlike bigleaf hydrangea, however, the flower color is not affected by soil pH.
To bloom well, Fairytrail Bride® needs sun. In cooler regions it will grow in full sun, but in hotter climates it does best in morning sun and afternoon shade. Provide this shrub with moist, well-drained, good garden soil and more fertilizer than you would use with the standard hydrangea. Apply a multipurpose, slow-release fertilizer in early spring just when the danger of frost has passed and again as the flowers begin to fade. The jury is out on what size Fairytrail Bride® will mature to, but 4 feet tall and wide is the current estimate.
Because this plant has a trailing habit, it works well near the front of the border or tumbling over a wall. It looks great in pots but requires more winter protection as compared to plants in the ground. In Zone 7 and colder, container-grown plants should be moved to a place that stays cool but does not drop below 20°F, such as an enclosed garage, a crawlspace, a cold frame, or an unheated basement. This beauty is so new to the United States that its true winter hardiness is still being tested. In Zone 6 trials conducted in Michigan, the stems were more winter hardy than those of bigleaf hydrangea, but late frost still damaged the flower buds.
In Europe, where Fairytrail Bride® was introduced first and is sold as Runaway Bride®, it was awarded the 2018 Chelsea Flower Show Plant of the Year by the Royal Horticultural Society. This plant was bred in Japan by Ushiio Sakazaki, a plant-breeding genius with 155 patented plants, including the first vegetatively produced trailing petunia (the Surfinia® series) and the very first "mini petunia" (Calibrachoa cvs., annual), the Million Bells® series. Just as the above have become some of the most recognizable plants on the market, I believe Sakazaki's Fairytrail Bride® will soon join them because of its unique cascading habit and masses of flowers.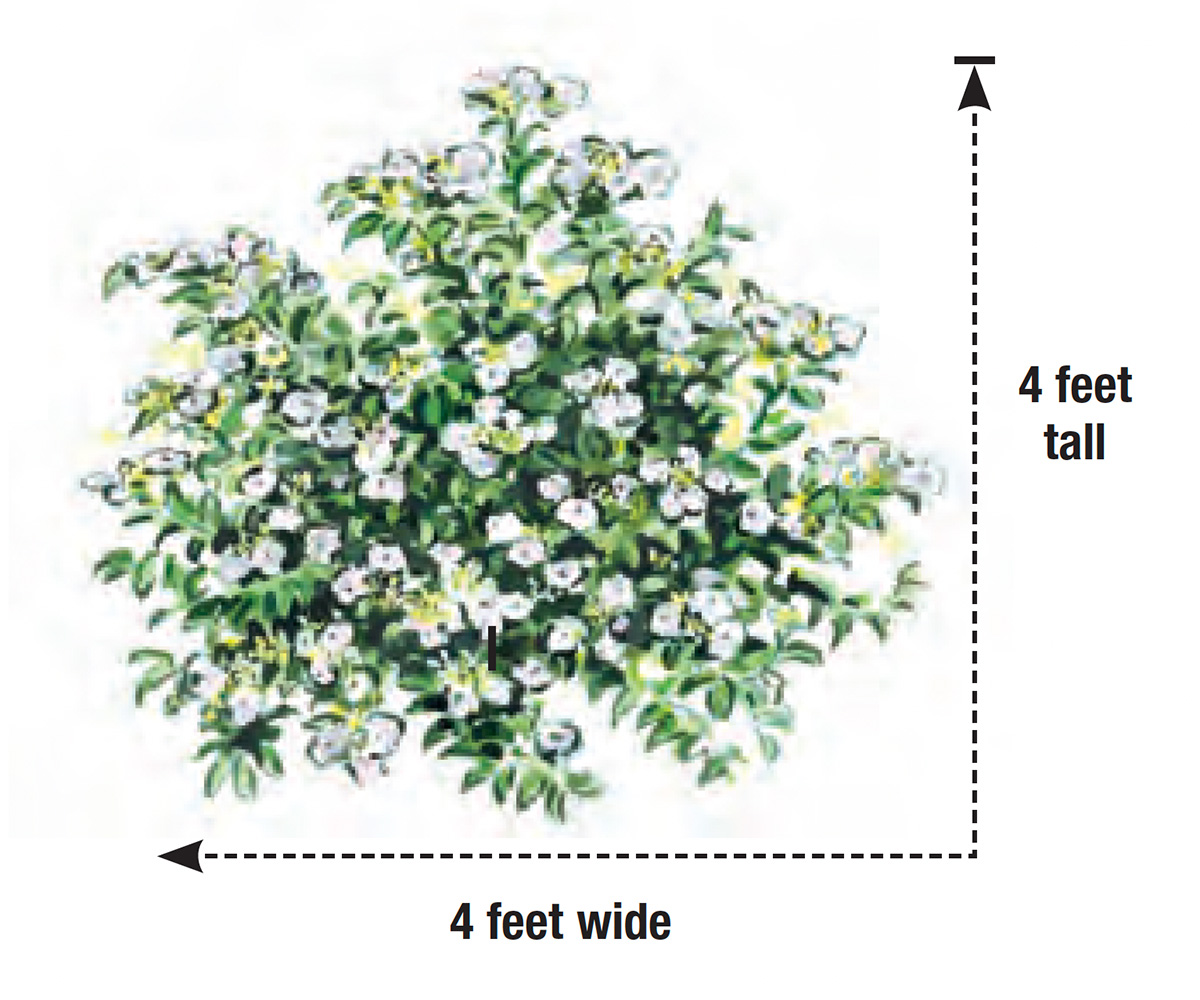 Fairytrail Bride® hydrangea
Hydrangea 'USHYD0405'
Zones: 6–9
Conditions: Full sun to partial shade; average, moist, well-drained soil
Native range: Hybrid
---
Jason Reeves is a horticulturist with the University of Tennessee in Jackson, where he has been cultivating killer, imaginative display gardens since 2002.
Sources