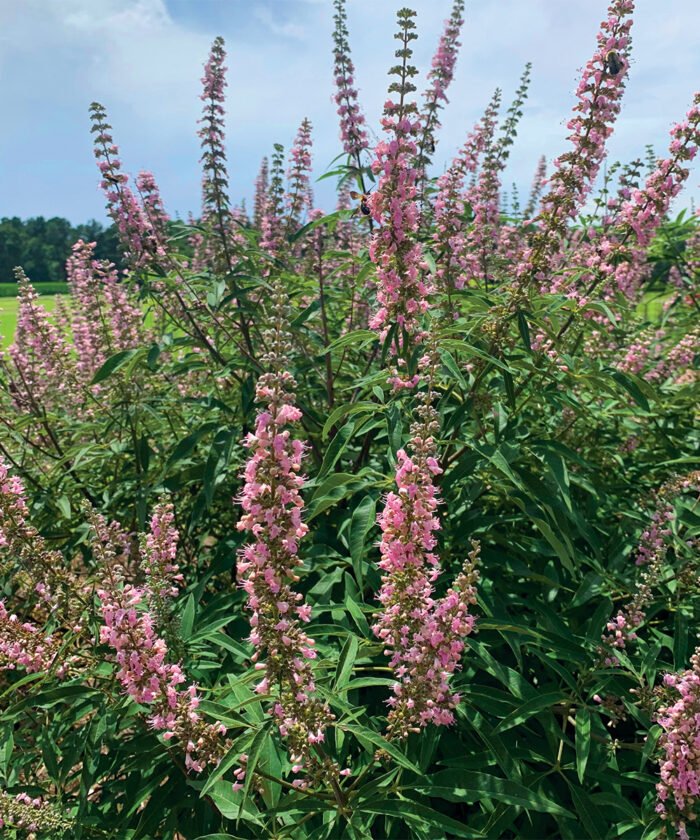 It is not often I am smitten by a new shrub its first year in the garden, but when Galactic Pink® chaste tree bloomed for the first time, it was love at first sight. In spring 2018, I was sent four Galactic Pink® shrubs to trial in the University of Tennessee Gardens in Jackson. I planted them in unamended soil in a lawn setting and watered them a few times the first couple of weeks. Four years later, they are blooming machines. Among the dozen or so chaste trees in the collection at the gardens, Galactic Pink® has become a standout.
Native to Southern Europe and Western Asia, Vitex agnus-castus was first introduced into what is now the United States in the late 1500s. Large, aged specimens can be found at old homes across the South, particularly in coastal regions. They had fallen out of favor for years, but more recently, thanks to new cultivars, this low-maintenance, durable, heat- and drought-tolerant plant is seeing a revival. These selections vary in form and growth habit, from compact round shrubs to small trees.
Galactic Pink® originated from seed collected in Watkinsville, Georgia, in 2014 and was found to be outstanding among hundreds of other seedlings. It was selected for introduction in 2016 for its dense, well-branched form and large quantities of beautiful, pink flowers.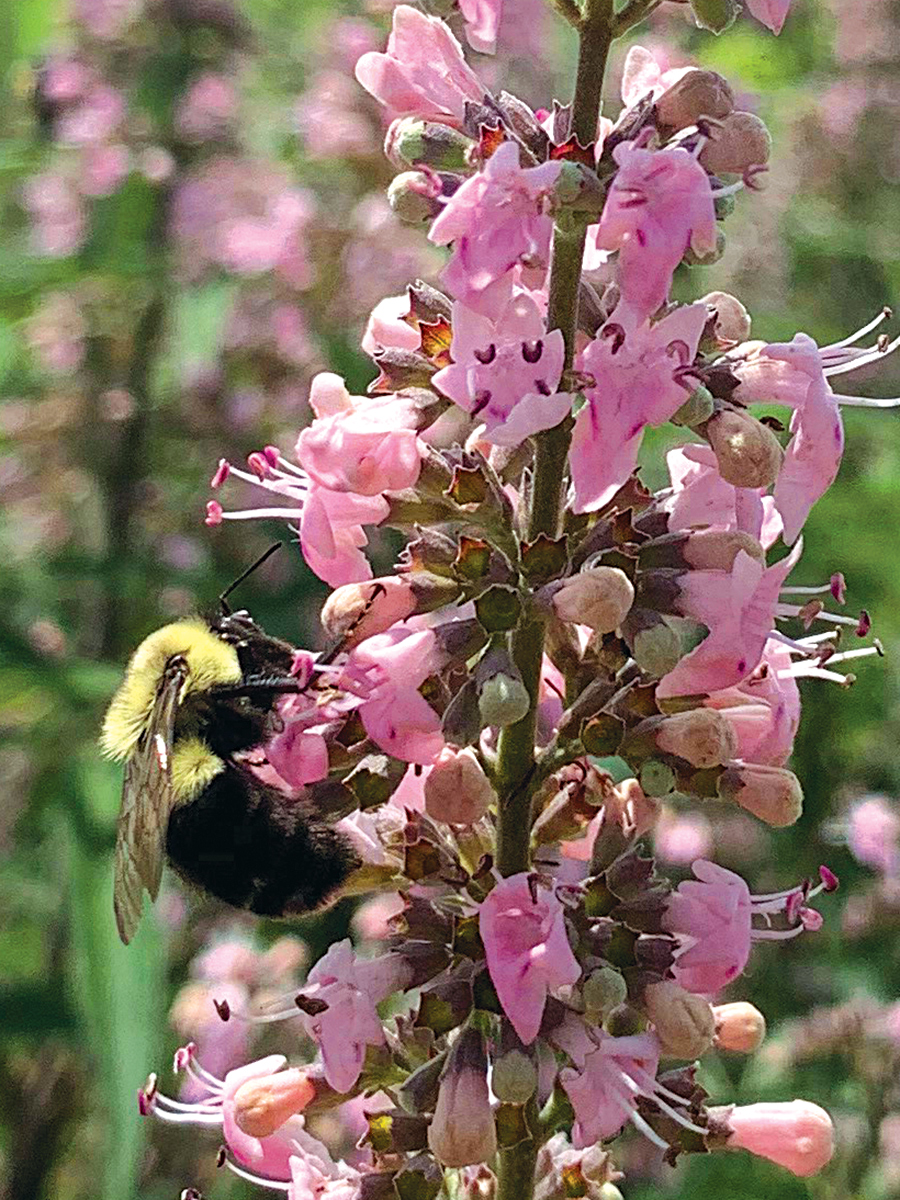 Chaste tree is known for attracting pollinators and is often planted by beekeepers; Galactic Pink® lives up to this reputation. The 5- to 8-inch-long panicles are made up of hundreds of small, medium-pink flowers adored by pollinators. In Tennessee, Galactic Pink® begins to flower in late spring or early summer with a huge flush that continues until fall. After the initial flush, the number of flower spikes is fewer, but greater quantities can be encouraged by removing the fading bloom stalks. The fragrant, gray-green compound leaves are made up of five to seven leaflets. The tough yet lacy foliage shimmers in the breeze, adding to the appeal.
On occasion, chaste tree stems may be killed by an early-fall or late-spring freeze, but don't fear—they will rebound quickly. Since they bloom on new growth, you will still have an abundance of blooms. The plant size can be controlled when needed by pruning back in late winter; this won't affect its ability to flower. Some people even treat chaste trees as cutback shrubs, trimming them back hard each year to keep them to their desired size. In colder regions, where they are not stem hardy, they are often grown as herbaceous perennials.
Like all chaste trees, Galactic Pink® is salt tolerant, insect and disease free, and deer resistant. It is extremely drought tolerant once established and even thrives in poor soil. If you're looking to further diversify your full-sun landscape, this plant makes a good alternative for or companion to panicle hydrangea (Hydrangea paniculata and cvs., Zones 3–8).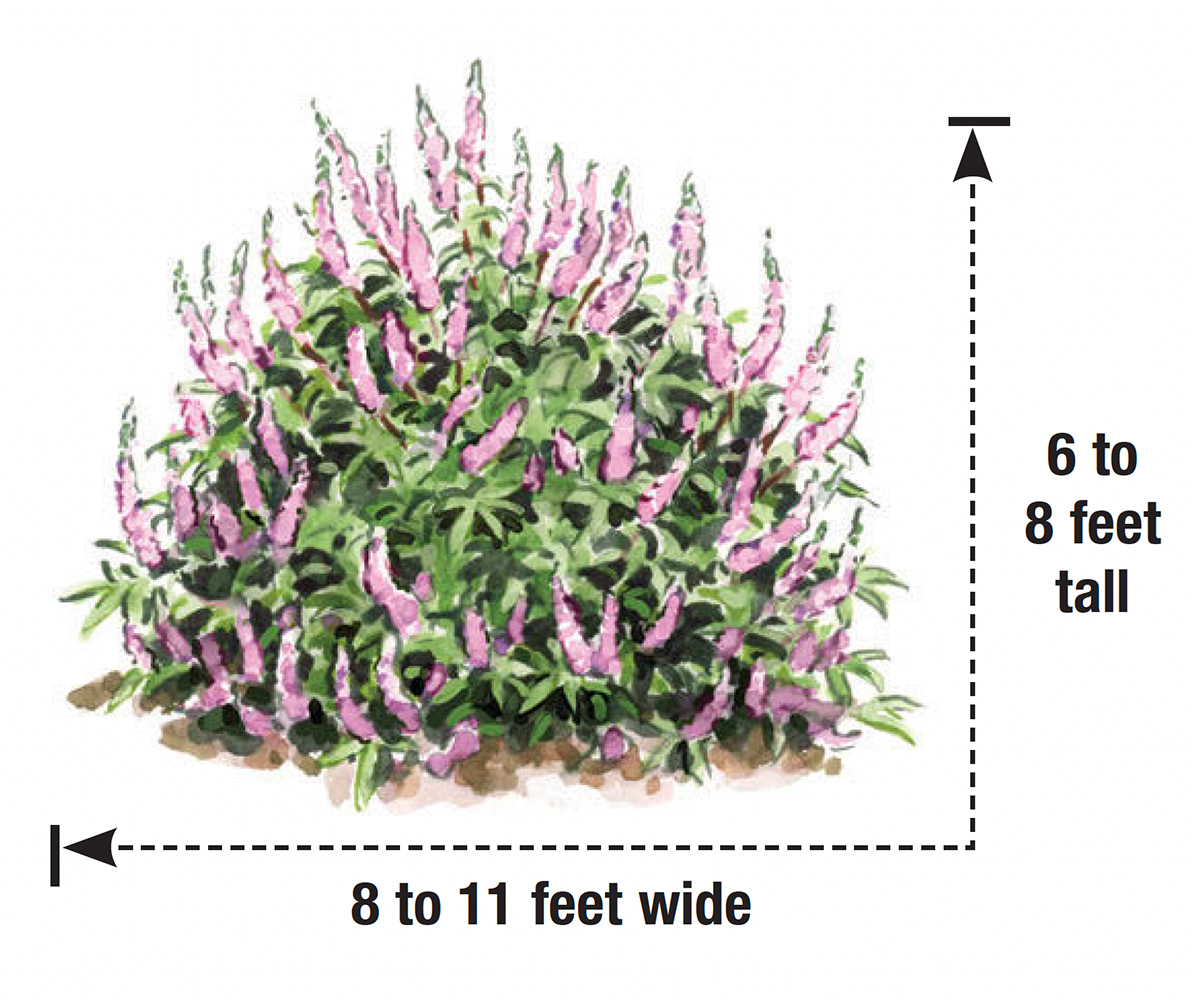 Galactic Pink® chaste tree
Vitex agnus-castus 'Bailtextwo'
Zones: 6–9
Conditions: Full sun; well-drained soil
Native range: Southern Europe, Western Asia
---
Jason Reeves has been putting plants to the test at the University of Tennessee in Jackson since 2002 and can be followed on Facebook at "Jason Reeves – in the garden."
Photos: courtesy of Jason Reeves
Illustration: Elara Tanguy
Sources