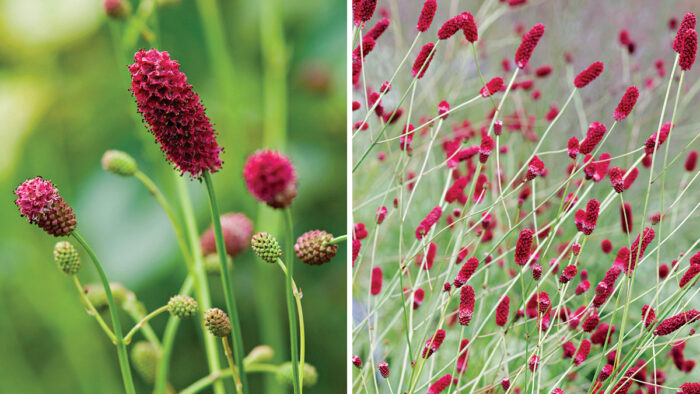 These burnets are new on the scene, but they're already showing promise.
'Blackthorn' burnet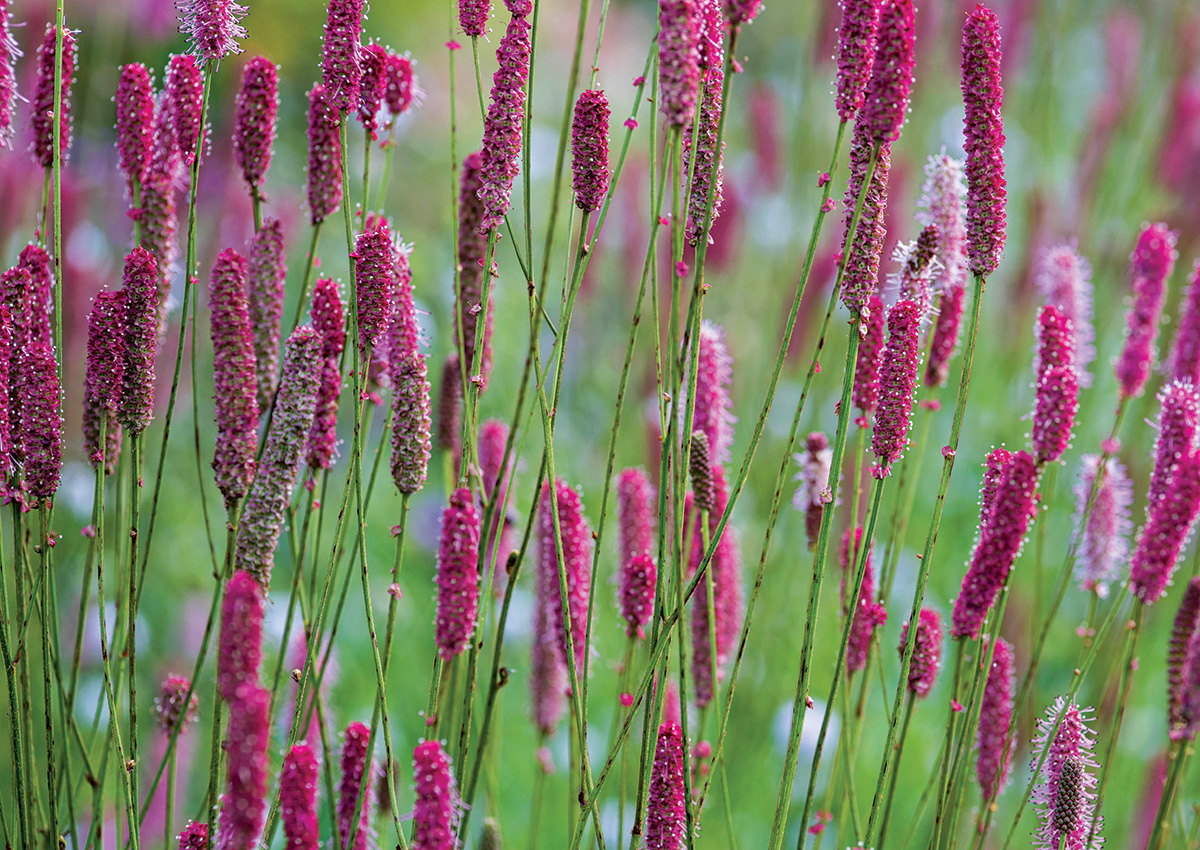 Robust 'Blackthorn' burnet (S. 'Blackthorn') was one of the largest of all the burnets after just two years in the garden. In fact, it's now only about 20 inches shy of its expected 6-foot height. The crown of pink flowers accentuates the drama— 3-inch-long vertical spikes sit atop tall, red-tinged stems beginning in late summer. Black-tipped, light pink stamens create a hazy nimbus over the rosy pink sepals, which in turn darken slightly after the stamens drop and remain colorful into late fall. Sturdy stems were the rule, with one or two leaning stems in midfall the exception. 'Blackthorn' was the last burnet to bloom naturally (not due to deer browsing), giving us plenty of time to appreciate its lush, shiny green foliage.
'Pacific Pewter' burnet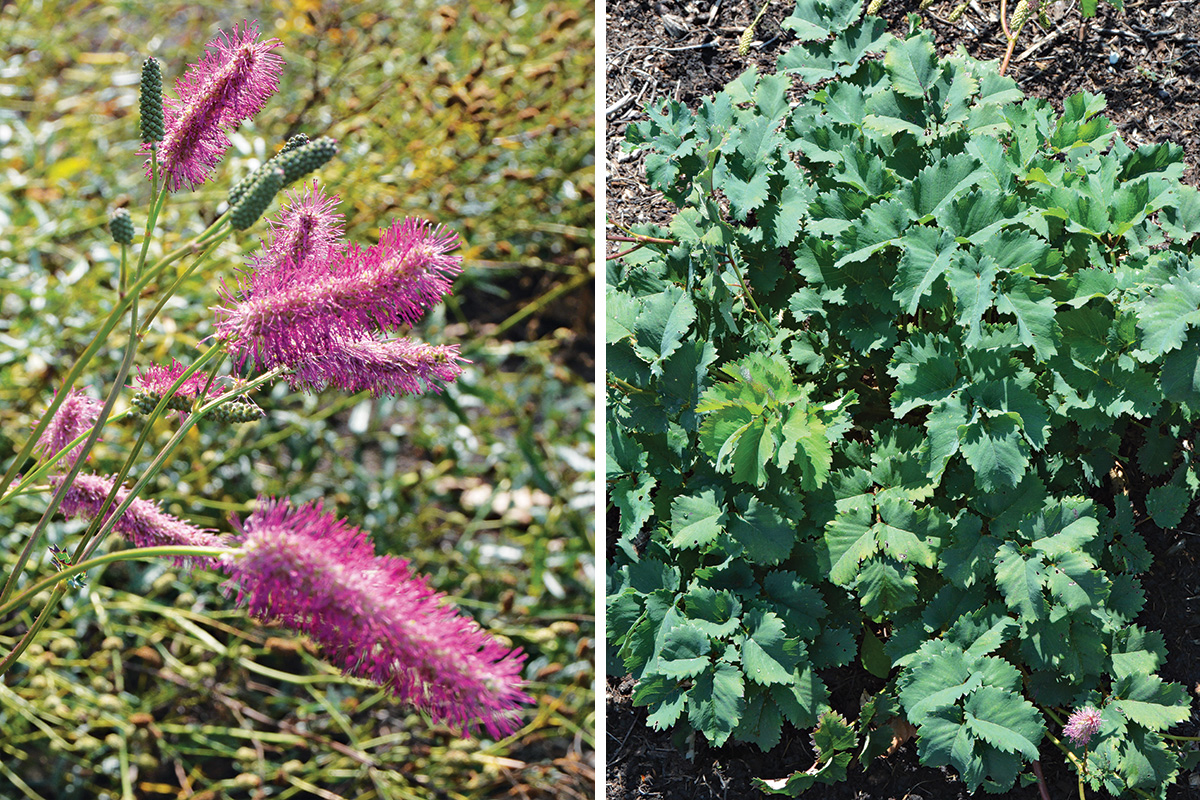 'Pacific Pewter' burnet (S. 'Pacific Pewter') caught my eye before it ever flowered—it has by far the most beautiful foliage of the burnets, which is saying a lot. The large, powder blue–green leaves are reminiscent of honeybush (Melianthus major, Zones 8–11), a South African native plant with exotic blue foliage. 'Pacific Pewter' has more than a passing resemblance to 'Lilac Squirrel'—it is a hybrid between S. hakusanensis and S. menziesii—although at 3 inches long, its lovely purple flowers are not nearly as flamboyant. The blooms rise up on red wiry stems above neat mounds from midsummer to late fall. The flower show is pleasant, but the nodding spikes pull down the stems, resulting in a relaxed look. This is one time I might sacrifice some flower stems late in the season to improve the view to the handsome foliage.
'Candlelight' Canadian burnet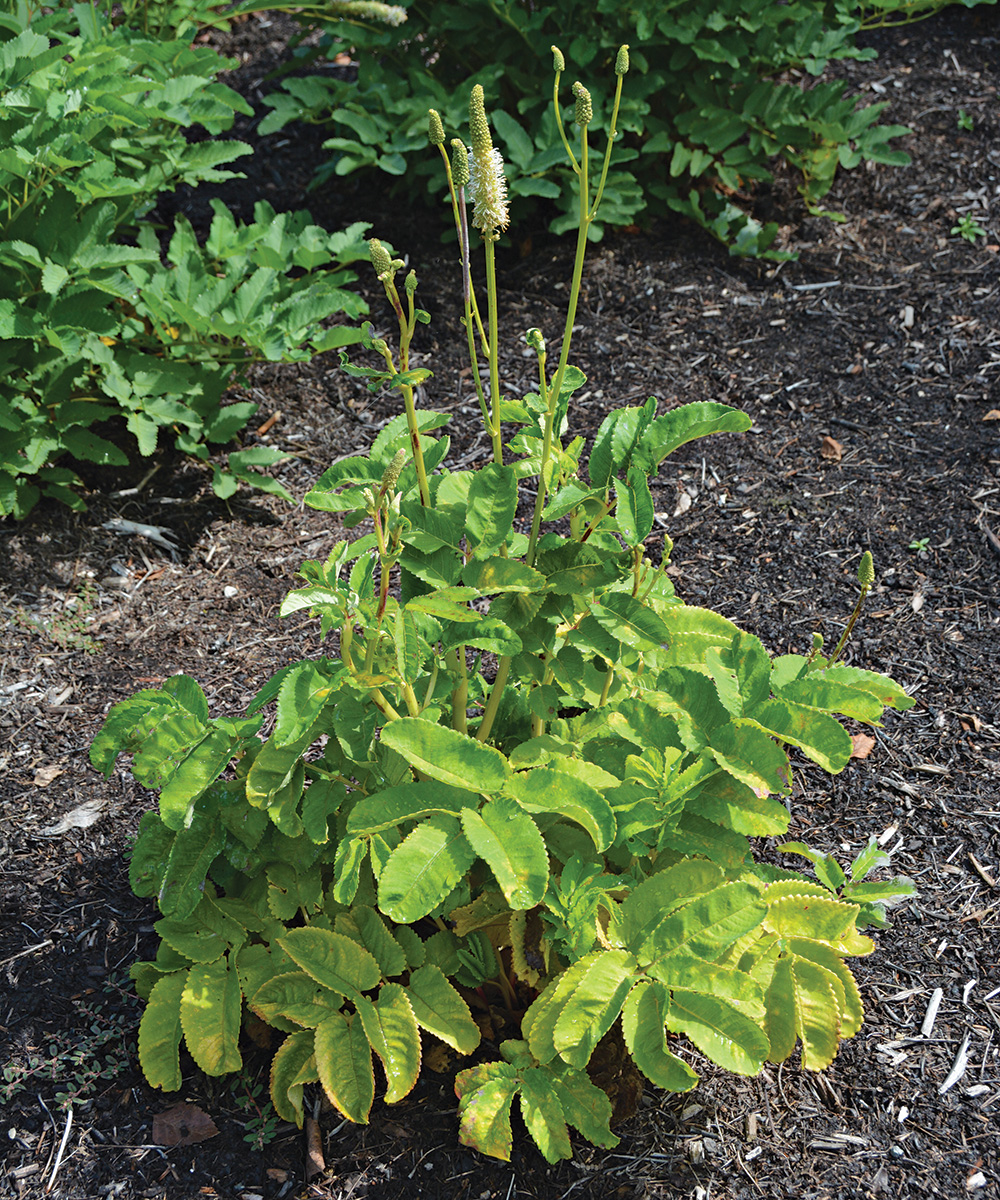 Knowing nothing about a plant when a trial begins ensures objectivity, but sometimes it just confuses us. It took me a year to discover that 'Candlelight' Canadian burnet (S. canadensis 'Candlelight') was supposed to have yellow foliage—and yes, the name should have been a clue. My first impression was that it was sick, although the color certainly did not point to any nutrient deficiency I knew. 'Candlelight' has the striking texture of Canadian burnet foliage, but lovely hints of glowing yellow suffuse the green leaflets—many are fully golden! White bottlebrush flowers beginning in late summer (this is one of the last burnets to bloom) play nicely off the colorful foliage. The burnished glow is enhanced as days shorten. In its second summer, it formed bushy mounds with flower stems doubling the overall height. Powdery mildew was a minor issue in midsummer but was not distracting.
'Red Thunder' great burnet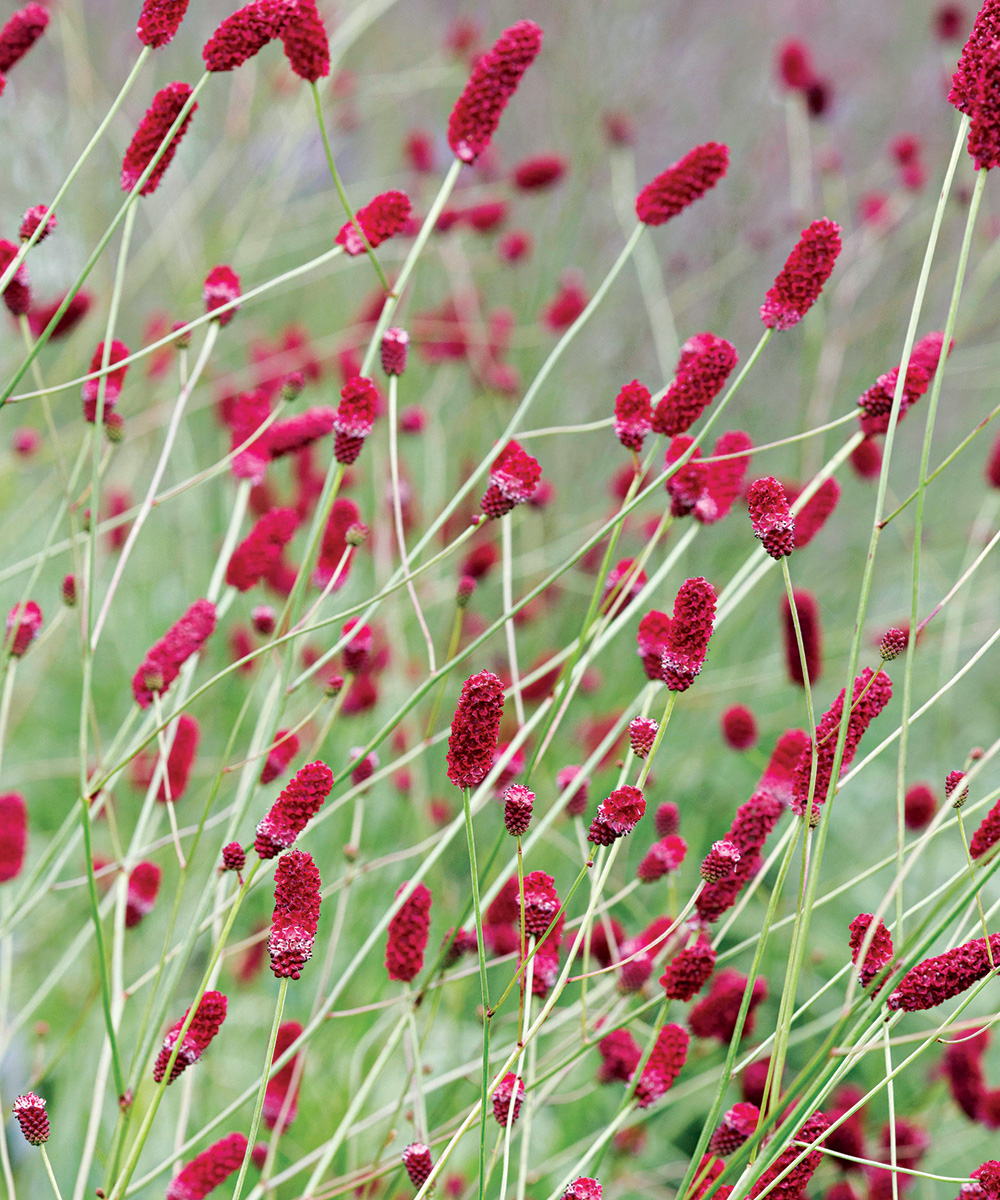 'Red Thunder' great burnet (S. officinalis 'Red Thunder') is a superior form of great burnet that was selected by Piet Oudolf from seed collected in Korea. I had the good fortune of seeing this species growing in the wild in South Korea, a truly magnificent sight. Thus far, 'Red Thunder' has kept a dense, compact habit but is expected to top off at 3 to 4 feet tall. Bushy mounds of green leaves were smothered in a cloud of deep burgundy-red drumstick flowers from midsummer to early fall. 'Red Thunder' was one of the stars of 2020, notable for its uniformity and strong floral show.
'Arnhem' great burnet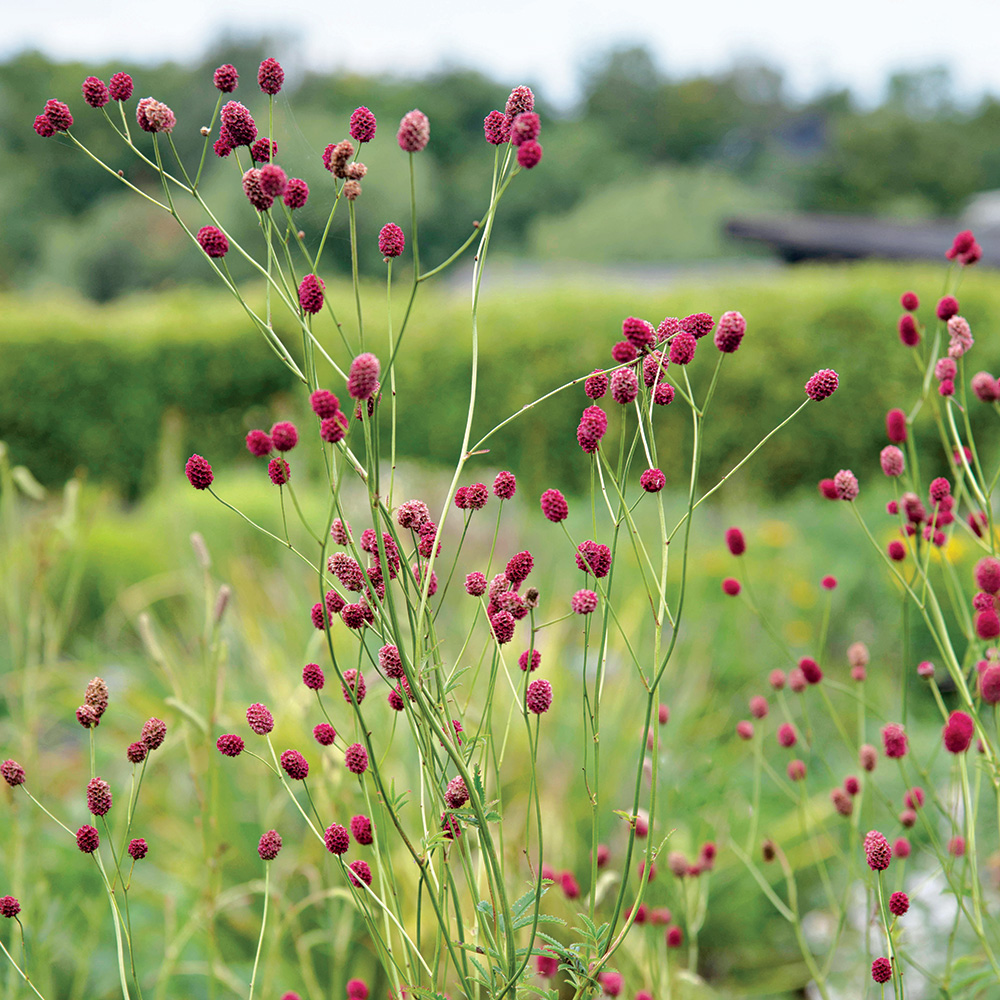 The vibrant, raspberry pink flowers of 'Arnhem' great burnet (S. officinalis 'Arnhem') are a delicious departure from the usual burgundy. The compact 1-inch spikes are borne generously on strictly upright, branching stems from early summer to early fall. The green pinnate foliage is densely packed into bushy mounds about half the height of the nearly 3-foot flower stems. I am most excited by the prospect of 'Arnhem' soaring to over 6 feet in the coming years—the smallish flowers will be more dramatic at eye level or bobbing above my head. Leaf spot was a slight problem beginning in midsummer, but the plants reacted by putting out an abundance of new leaves that masked the damaged ones. The flower stems turned brown and twiggy later; you can live with it (like I did) or remove the unsightly parts.
---
Check out the top performers from the Chicago Botanic Garden burnets trial in Burnets are Tough and Beautiful Plants
And learn more about this whimsical perennial in Get to Know Burnets
---
Richard Hawke is plant evaluation manager at the Chicago Botanic Garden in Glencoe, Illinois.