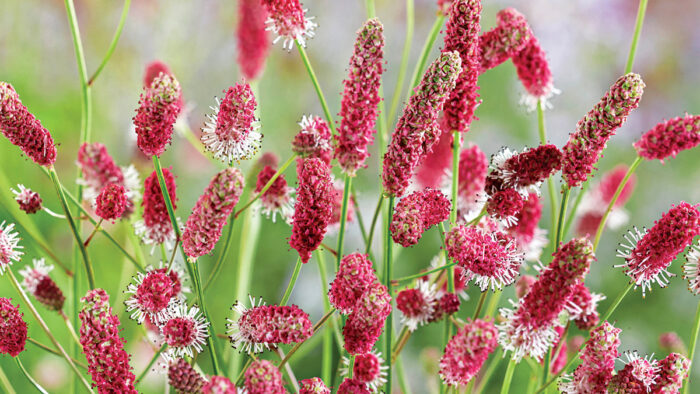 I have no recollection of burnets—native or cultivated—before my back-to-back encounters with great burnet (Sanguisorba officinalis) in the South Korean countryside and on the grassy steppes of Siberia. The sight of its curious purple-red flowers wind-dancing on tall wiry stems stayed with me, kindling thoughts about burnets in the garden and wondering why they weren't more commonly grown—or even known—back home. It was an encounter with 'Tanna'—a seriously scaled-down version of great burnet—several years later that piqued my interest in doing a trial. The neat, dwarf mounds made the species seem almost unruly by comparison, and contrary to my usual dislike for miniaturizing tall perennials, I found 'Tanna' to be a charming exception.
Burnets at a glance
Sanguisorba spp. and cvs.
Zones: 4–9
Conditions: Full sun to partial shade; moist, well-drained soil
Native range: Northern regions of North America, Europe, and Asia
Pests: Deer, rabbits, and Japanese beetles
Diseases: Leaf spot, powdery mildew
Propagation: Seed or division
But burnets still feel a bit obscure to me, which is not a commentary on their traits or garden value but has more to do with their lack of availability or visibility. My appreciation for burnets has grown steadily as more and more selections have come to market, but burnets are still less common here than in England and continental Europe. In 2019 at the Chicago Botanic Garden, we amassed a collection of burnets that was nearly four times larger than the original trial we conducted twenty years earlier. Gardeners' interest in burnets must be growing too, with new cultivars showing up in nursery catalogs every year. It's easy to understand why their popularity is increasing, especially when these whimsical plants burst into bloom in early summer, attracting pollinators aplenty. For me, great burnet's burgundy drumsticks are botanically intriguing, but Korean burnet's (S. hakusanensis) bushy squirrel tails wriggling in the breeze are simply fabulous. You can decide which one you like most; of course, nothing says you must limit yourself to just one. There were plenty of top performers in our trial.
'Pink Tanna' burnet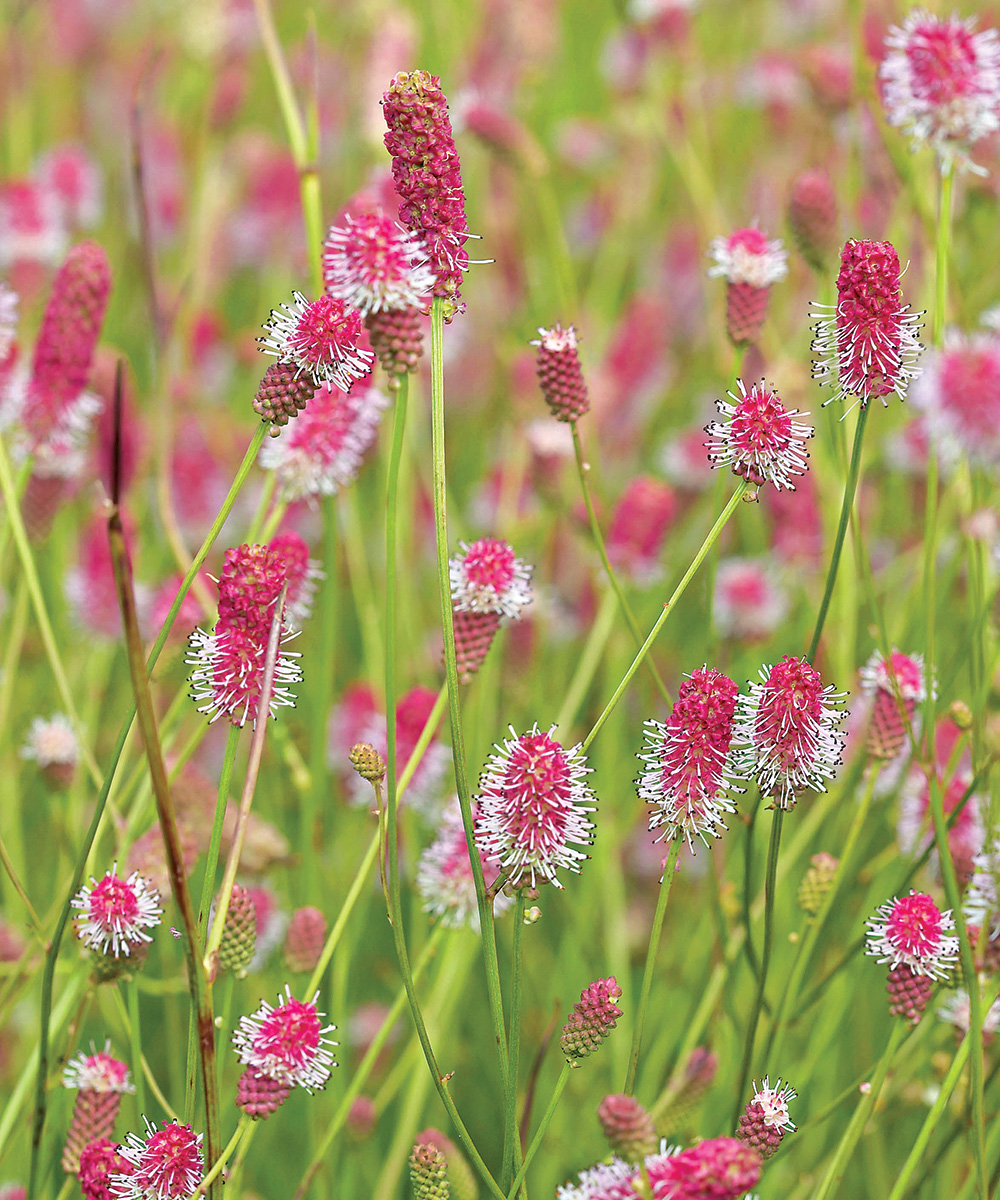 'Pink Tanna' burnet (S. 'Pink Tanna') is a fantastic plant, but that is where its affinity to 'Tanna' ends. Pretty pink flowers with long pale-pink-to-whitish stamens have a soft, shaggy look. The vertical or slightly curved bottlebrushes—up to 1¼ inches when elongated—profusely cover the plants from midsummer to early fall. The flowers were always lighter in color than I expected and aged to a darker pink for what seemed like just a minute before turning brown. The narrow, pleated green leaves held on red stems were always healthy and lush. Japanese beetles occasionally marred this burnet's complexion but were never too troublesome. At 50 inches tall, 'Pink Tanna' was one of the tallest, sturdiest burnets, admirably holding itself upright all summer long.
'Tanna' burnet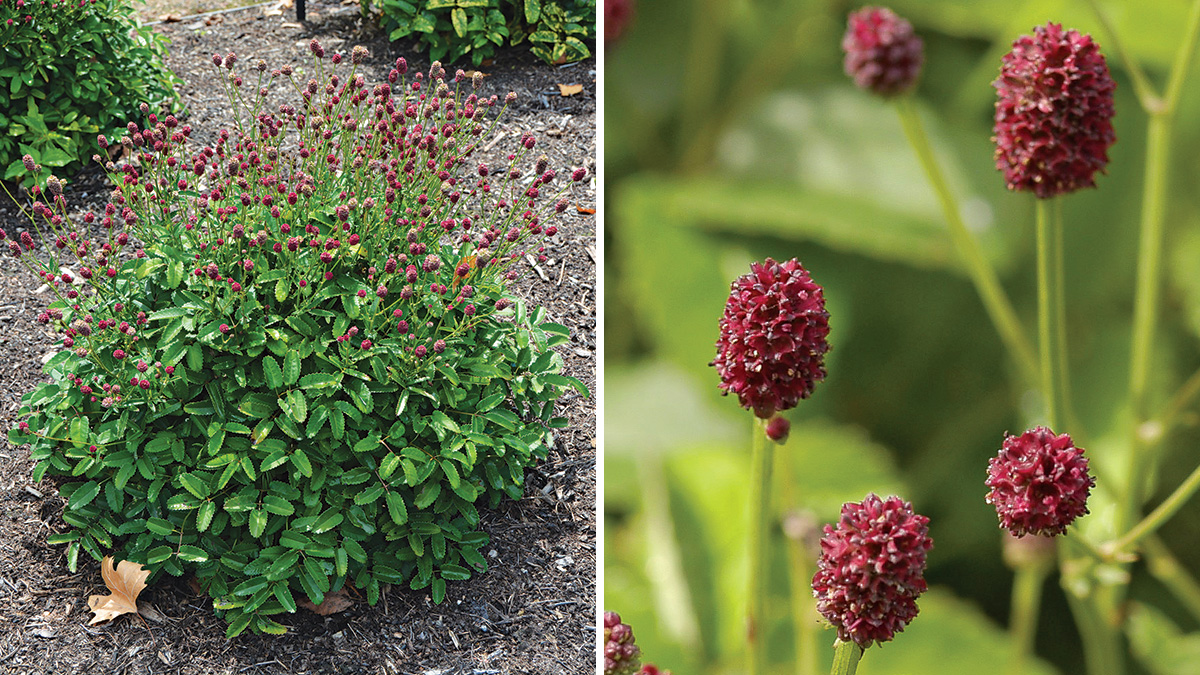 The likeness to great burnet is clear, but 'Tanna' burnet (S. 'Tanna') is more than just a dwarf version of the taller species. 'Tanna'—sometimes listed as a hybrid, sometimes not—has a compact, refined habit. It showed signs of its rhizomatous nature but never spread widely. The dark burgundy, egg-shaped flower heads look more like fruits than flowers; in fact, the rich color remains into midfall as seed is developing. In my mind, 'Tanna' has tiny flowers perfectly matched to its small ferny leaves and dwarf habit, but the reality is that its flowers were a bit larger than those of great burnet. As much as I like 'Tanna', some might still favor the full-size heft of great burnet a little more.
'Little Angel' dwarf burnet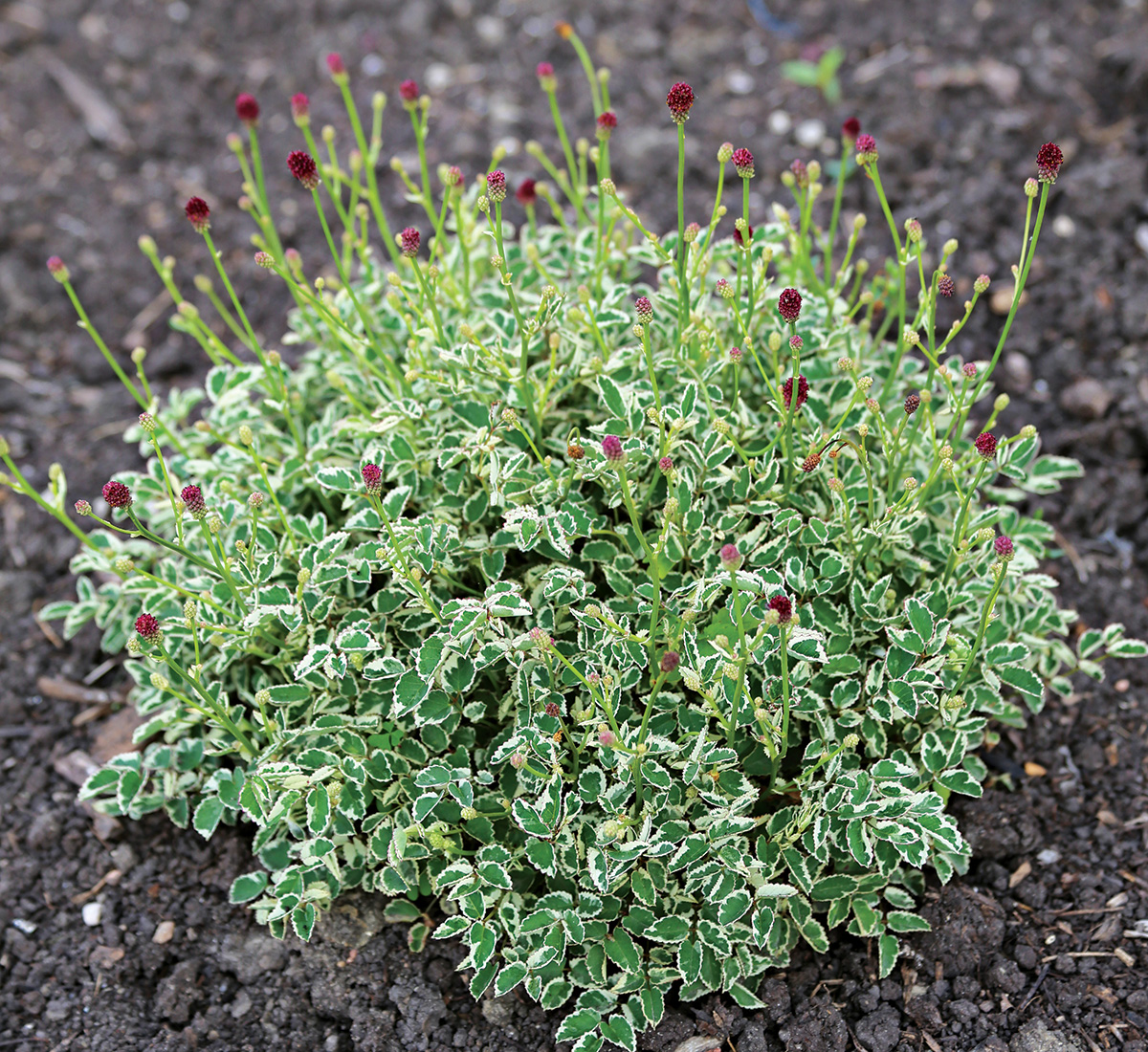 'Little Angel' dwarf burnet is cute. (There, I said it.) Diminutive in all aspects, 'Little Angel' (S. officinalis var. microcephala 'Little Angel') isn't even a foot tall. The small leaves are trimmed in white and densely held in tight, compact mounds. Variegation aside, this tiny burnet closely resembles 'Tanna'. The purple-red flowers are little, though (only half an inch long), but they blanket the plant from mid to late summer. The color fades more quickly than that of 'Tanna', but the deadheads are not really distracting. 'Little Angel' was not nibbled by deer like taller burnets; I wonder if it was just too short for alert deer eating on the fly to notice.
'Lilac Squirrel' Korean burnet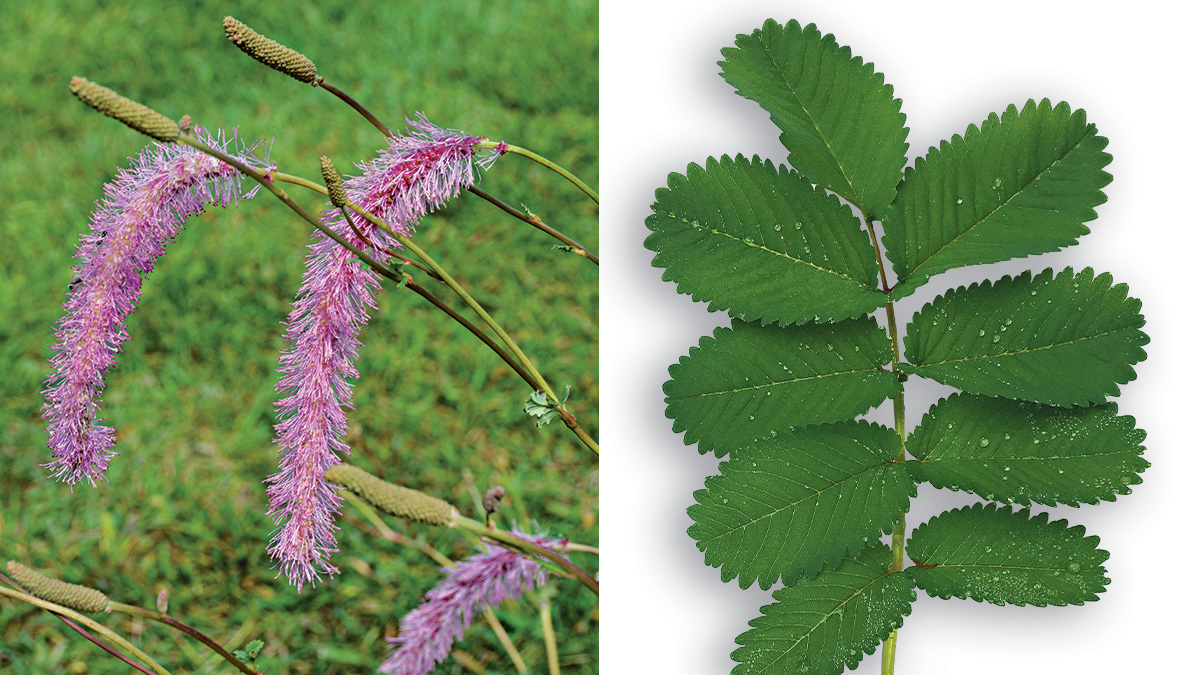 'Lilac Squirrel' Korean burnet (S. hakusanensis ' Lilac Squirrel') has the most dramatic flowers of them all. Playful purple-pink squirrel tails on raspberry-hued stalks nod elegantly from early summer nearly to frost. An abundance of long pink stamens give 'Lilac Squirrel' its signature shagginess. The pendulous blooms gradually elongate to an impressive 8 inches before the color fades from light pink to drab white; prompt deadheading is time well spent. The tidy mounds of handsome gray-green leaves are 20 inches tall and 24 inches wide, and the floral stems reach a lax 34 inches tall. At full size, the hefty flowers bow the stems, which lean sharply to nearly horizontal at times, making the plant look borderline messy or, at best, informal. Giving it close neighbors—something it does not have in a well-spaced trial—is the support it needs to kiss the sky rather than the ground.
Canadian burnet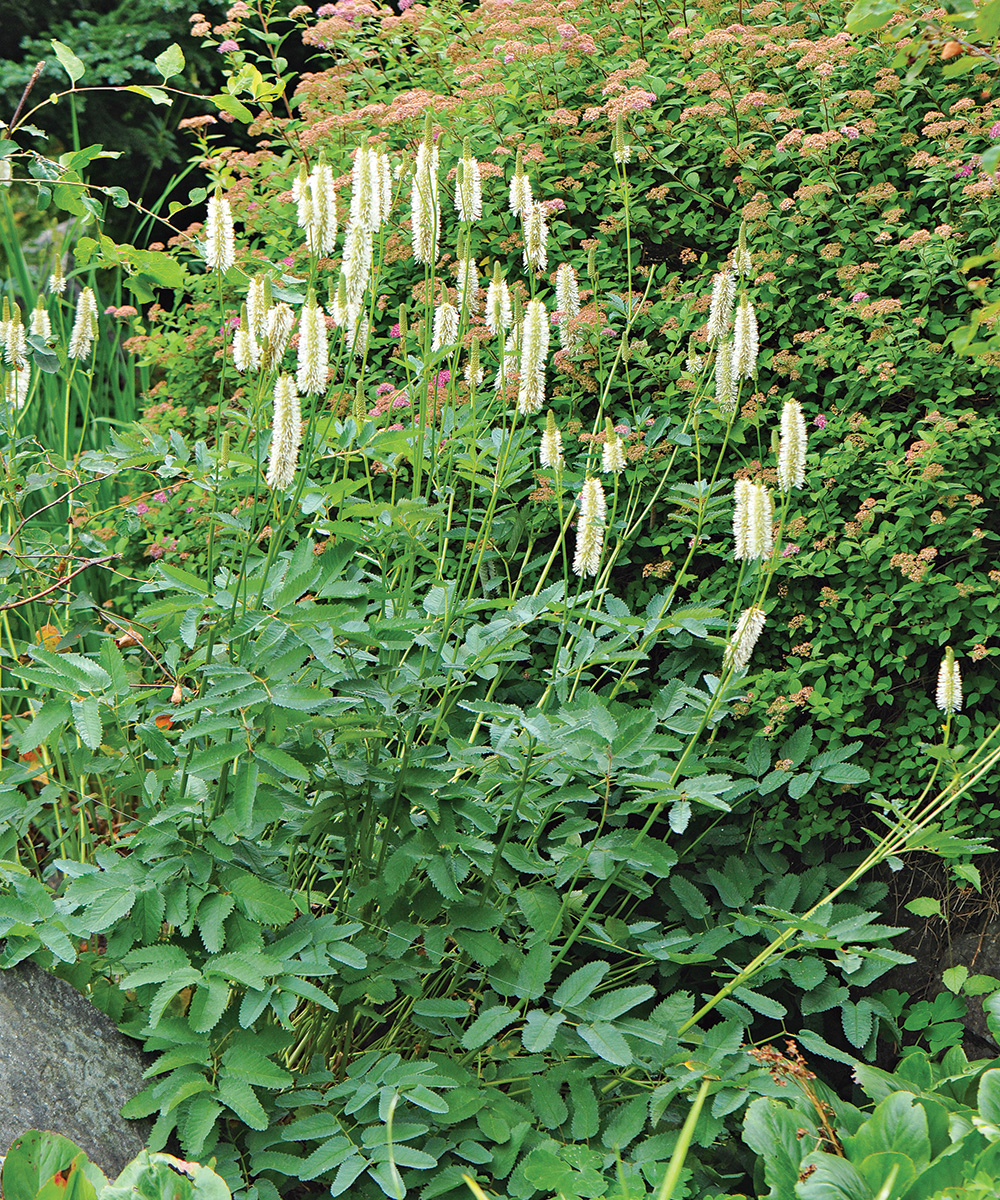 Canadian burnet (S. canadensis) is big, although at 34 inches tall, our plants have only gained half their potential height. The green pinnate leaves and robust bushy plants look great from spring to fall—no lax stems here. Erect white spikes, to 5 inches at full length, sport shorter stamens than 'Lilac Squirrel' and so are not as bushy. The flowers open along the spikes from the bottom upward rather than the top down like many burnets. The long bloom season starts in midsummer, with new flower spikes continuing to open into mid-autumn. Deadheading is key, however, because the aging flowers are distracting when there are more brown spikes than fresh blooms visible.
'Pink Elephant' Oriental burnet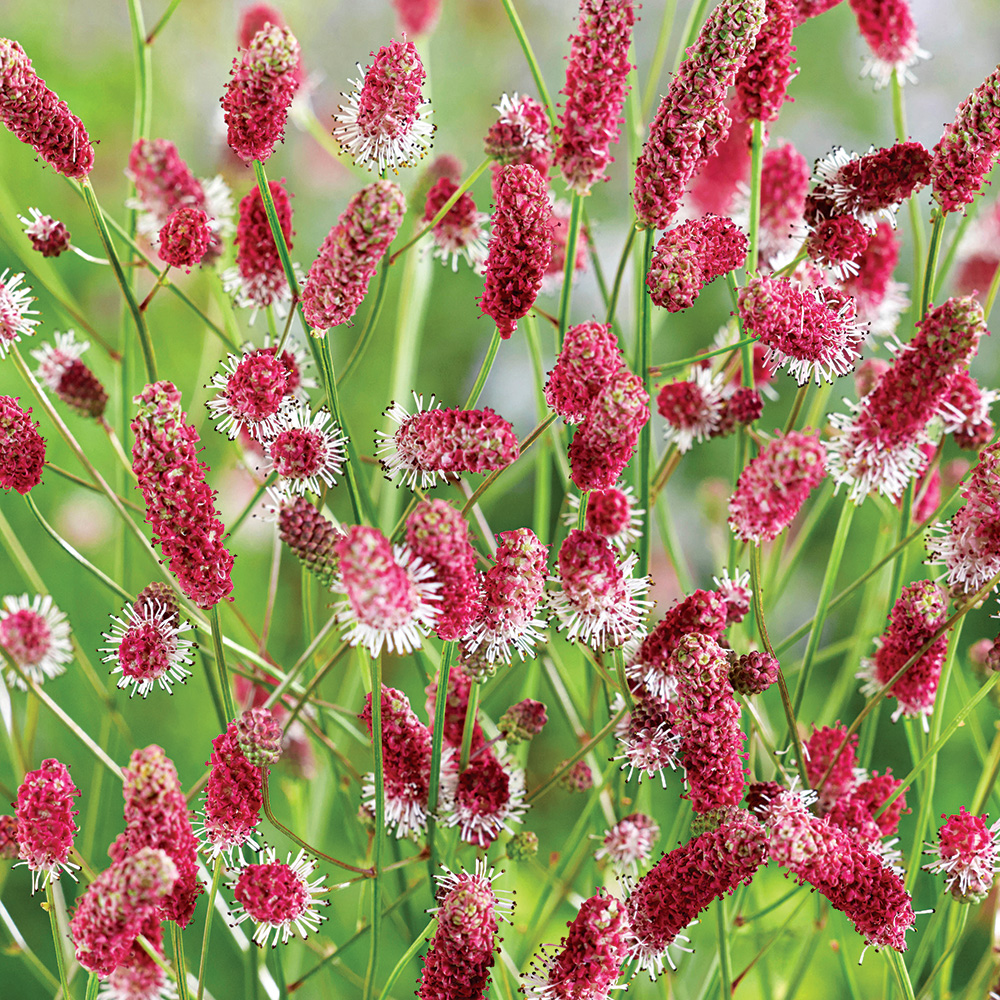 The flowers of 'Pink Elephant' Oriental burnet (S. tenuifolia 'Pink Elephant') open pink, then turn light maroon with whitish stamens in 2-inch-long curved to pendent plumes. While not as dramatic as 'Lilac Squirrel', this burnet has an eye-catching profusion of slim spikes atop tall stems from midsummer to early fall. The narrow plants were erect throughout the summer months; however, browning flower stems right down to the light green leaves in early fall were a low point. The robust bushy mounds displayed a unique trait among the burnets: The lowest tier of leaves rested on the ground, while the others were strictly vertical. Unfortunately, the tall stems were buffet height for roaming deer, so flowers were occasionally browsed.
Trial parameters
The Chicago Botanic Garden is currently evaluating 26 different burnets in comparative trials, which started in 2019. Since 2000, 35 burnets have been evaluated in two separate trials.
How long: Minimum four years
Zone: 5b
Conditions: Full sun; well-drained, alkaline, clay-loam soil
Care: We provided minimal care, allowing the plants to thrive or fail under natural conditions. Besides observing their ornamental traits, we monitored the plants to see how well they grew and adapted to environmental and soil conditions while keeping a close eye on any disease or pest problems and assessing plant injury or losses over winter.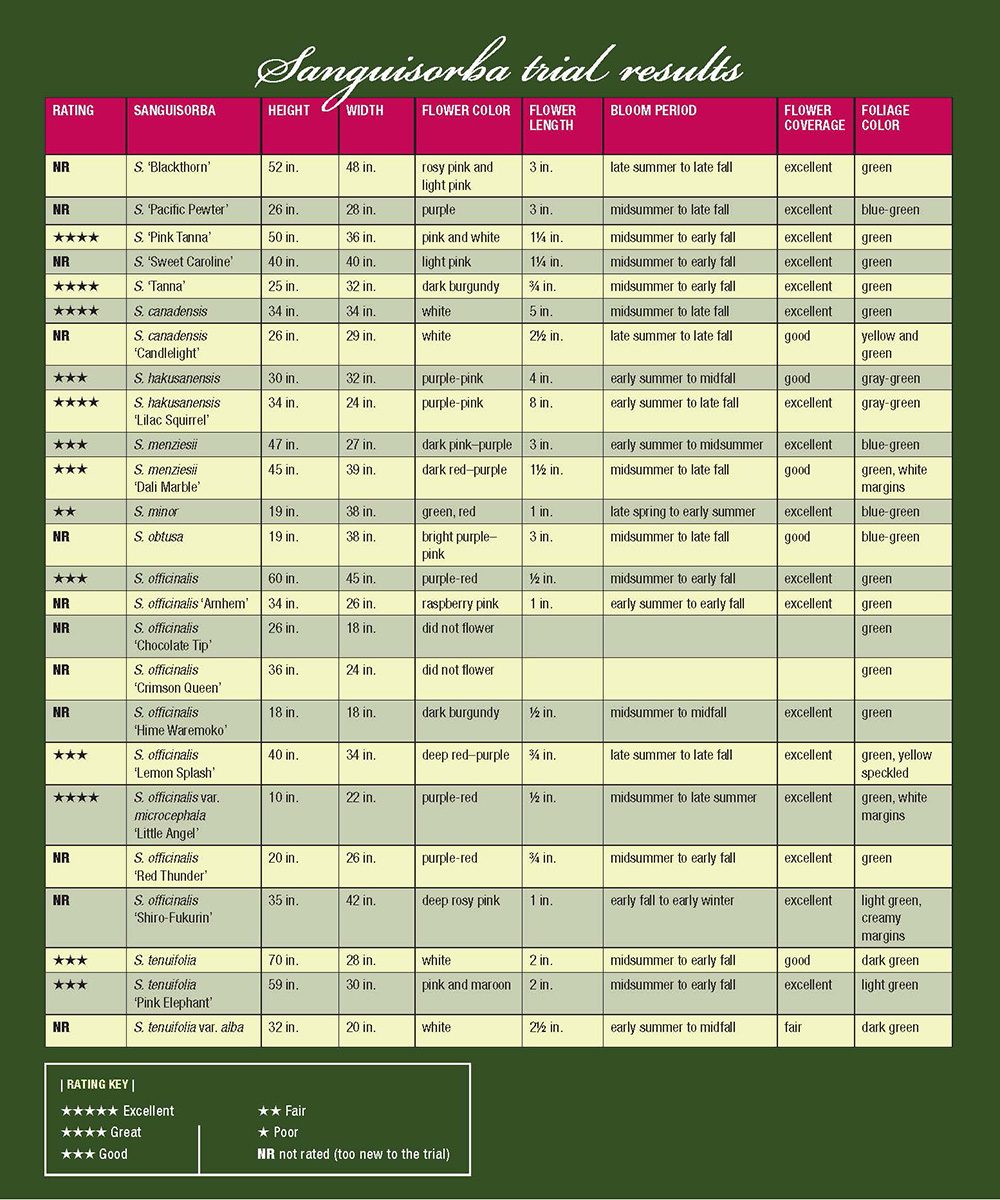 ---
More on burnets
---
Richard Hawke is plant evaluation manager at the Chicago Botanic Garden in Glencoe, Illinois.
Sources