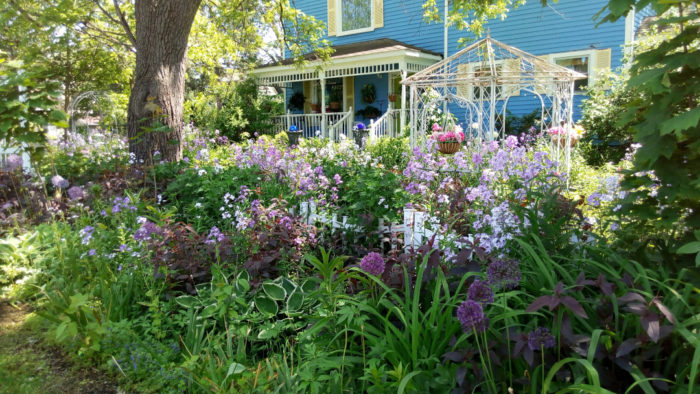 Today Michele Krause is sharing her garden with us.
I live in Lake Country area, in Delafield, Wisconsin. My home was built at the turn of the century. Up until 1987, when I purchased this home, Delafield was a town with a population of about 3,000. My yard was overgrown with weeds because it was a foreclosure. I had to ask the bank to have the weeds cut down so we could get the moving truck in. I didn't even own a lawnmower at the time.
My yard is full of black walnut trees (Juglans nigra, Zones 4–9), some that are a century old! Through trail and error over the years, I found that only certain plants grow well around black walnut trees. I have almost one acre of land, so I had to design my garden in sections or rooms, and spread it out over time.
I was a Realtor and mortgage lender for most of my career, which left little time for gardening. Now I have a job that allows me more time to dream up new projects and begin to dig in. I love to shop in garden centers, salvage stores, and resale stores for unique items for inspiration. My brother and sister joke about my shopping habits. My garage and potting shed are full of treasures. I am single, so I also had to haul all the soil, stones, and pavers into the yard by myself.
I wanted to add color and interest for several months. I started out with spring bulbs, some years planting as many as 7,000! I purchased them at local stores late in the fall when they were on sale. People around town call me the Tulip Lady! I work at a local diner now, and many customers are so excited when they find out I'm the lady who owns that blue house on Main Street with all the flowers. Sometimes a neighbor will drop off a note with a picture they took. Some have painted pictures of my flowers, some have used pictures as screen savers on their phones or computers because the images cheer them up.
I have also found a love for daylilies and have surrounded my flower beds in the back gardens with them in the last few years. My most recent projects are a secret garden for my two grandsons, with wood chip paths, and old iron bed frames that lead to a playhouse and tire swings. My grandson Nicholas loves blue, so many of the flowers in that garden are blue, white, and yellow.
I love gardening, and I love to have a different-style garden for my neighbors to enjoy. Some may think I am a little crazy, but it is worth all the sore joints and cold wet days preparing the gardens when I hear from a neighbor that they drive by just because it cheers them up so much!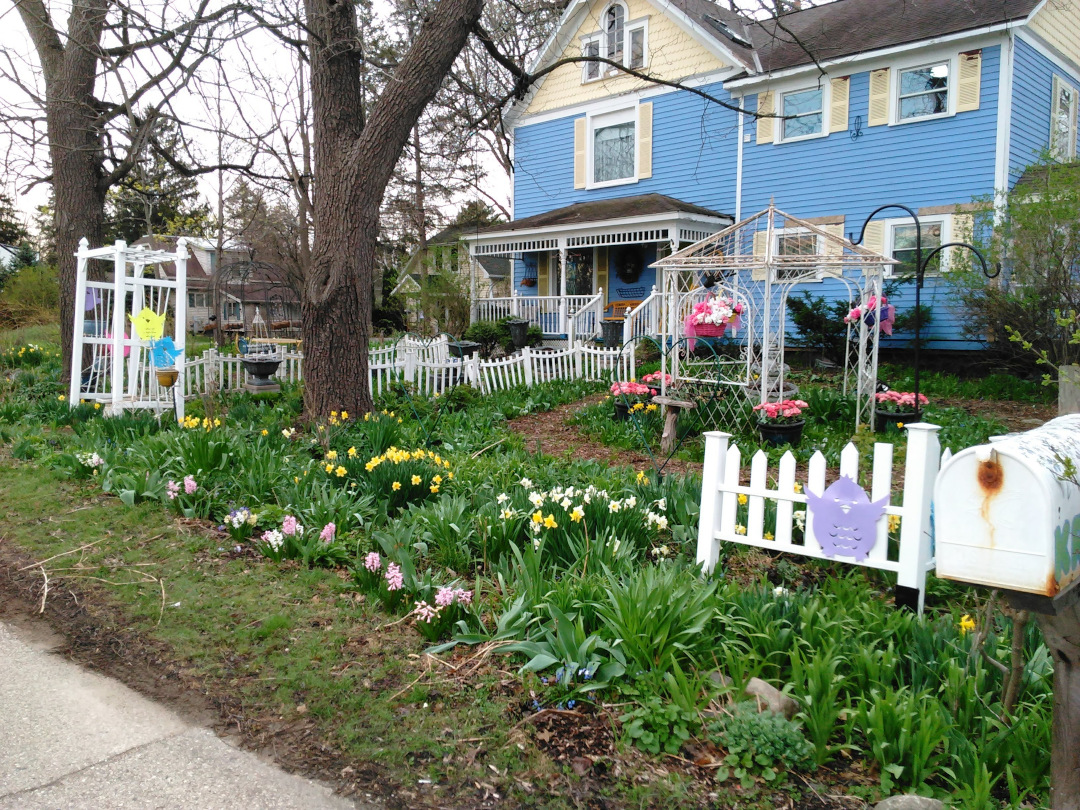 The front yard in early spring, with the bloom just beginning.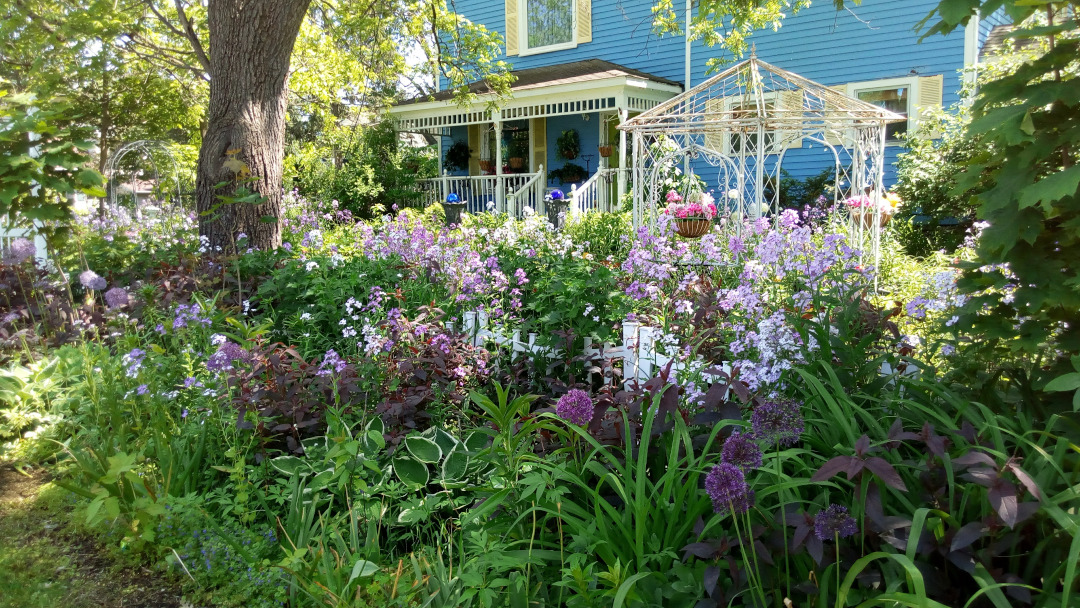 The same view, later in the growing season, full of flowers and foliage in shades of white and purple.
Thousands of spring bulbs put on an unforgettable display.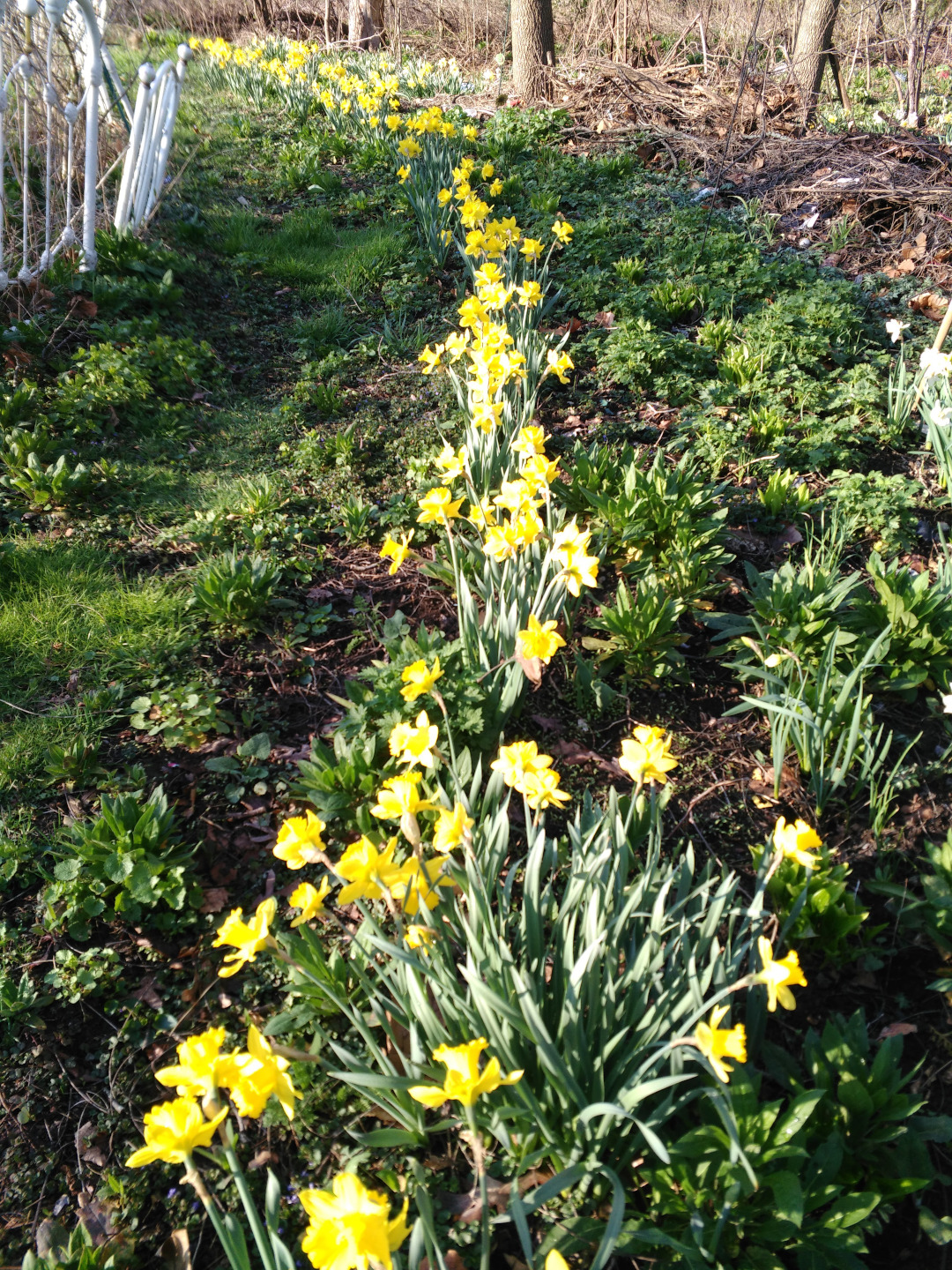 A line of daffodils in full flower.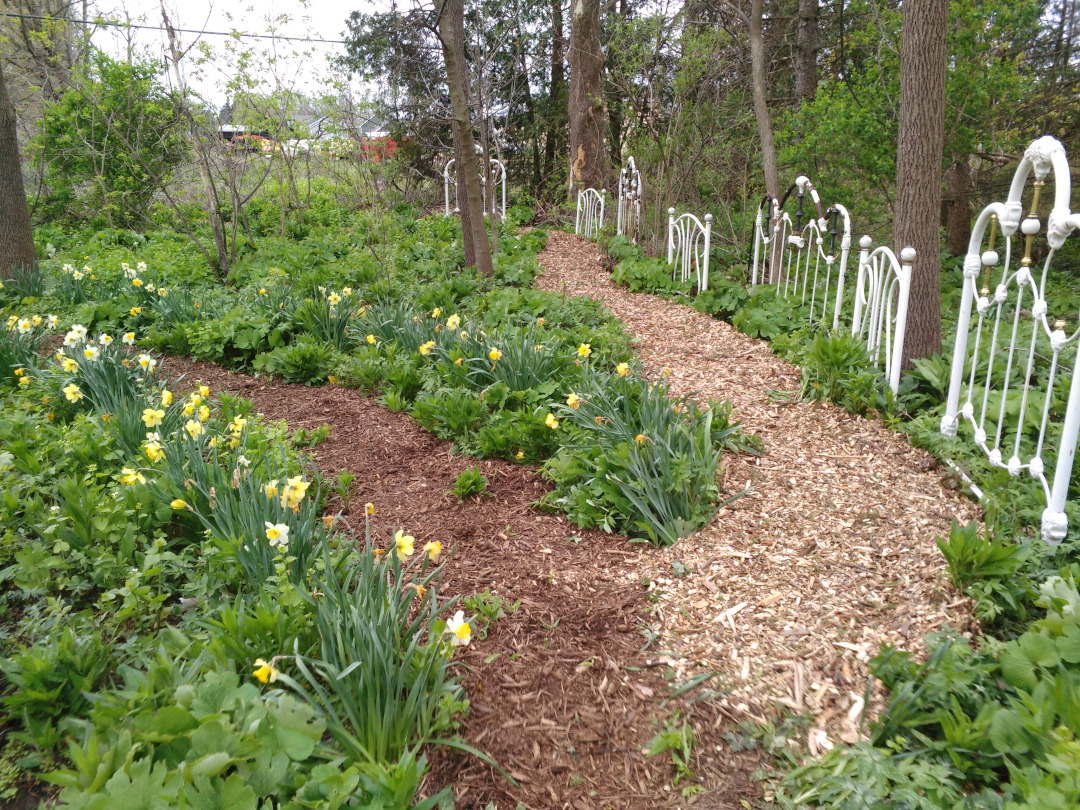 Old iron bed frames make an unusual accent along a path to the secret garden for the grandsons.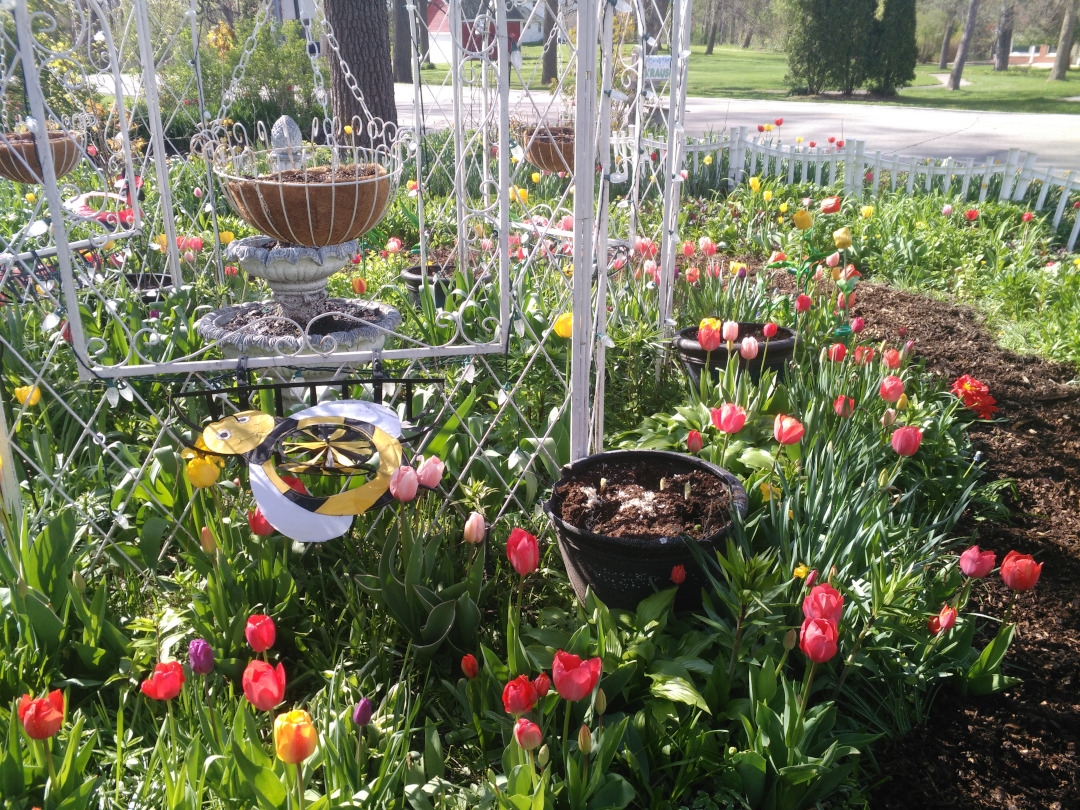 No wonder the people in town call Michele the Tulip Lady!
Have a garden you'd like to share?
Have photos to share? We'd love to see your garden, a particular collection of plants you love, or a wonderful garden you had the chance to visit!
To submit, send 5-10 photos to [email protected] along with some information about the plants in the pictures and where you took the photos. We'd love to hear where you are located, how long you've been gardening, successes you are proud of, failures you learned from, hopes for the future, favorite plants, or funny stories from your garden.
If you want to send photos in separate emails to the GPOD email box that is just fine.
Have a mobile phone? Tag your photos on Facebook, Instagram or Twitter with #FineGardening!
You don't have to be a professional garden photographer – check out our garden photography tips!
Do you receive the GPOD by email yet? Sign up here.