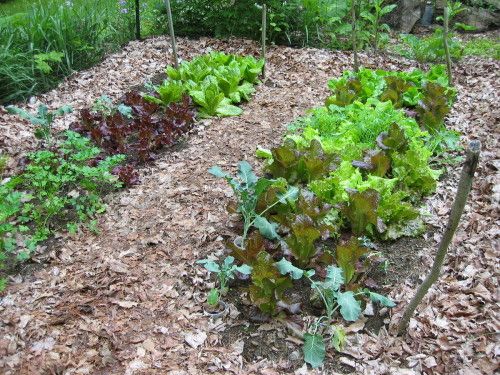 If you've never grown vegetables before and want to give it a try, here are five relatively easy ones that will keep fresh produce on your table from spring to fall.
Homegrown lettuce is a welcome relief from insipid supermarket fare. Here's something you might not know: Exotic-looking lettuce is just as easy to grow as plain green varieties. Here in Connecticut, you can plant seeds as early as mid-April. It's a cool weather crop that matures quickly and usually bolts (goes to seed) by July. Plant the seeds in shallow furrows, as directed on the back of the seed packet, and thin or transplant when the plants start to grow. Instead of harvesting whole plants, just pick a leaf or two from several plants. Thay way, your lettuces will go on producing for several weeks.
Green beans produce bountifully over a long period of time. You can plant bush beans or filet beans in rows, or you can plant pole beans along a fence or tepee structure. Seed can be planted after the last frost-free date for your area. For a late-summer crop, plant mid-June. Once the beans ripen, harvest frequently, or the plants will stop producing. Frost kills beans, so pick whatever you have when you expect the temperature to drop below 32 degrees.
Tomatoes can be started from seed, but for the simplest experience, just buy sets at the local garden center. You'll find plenty of offerings to choose from: cherry tomatoes (great for salads and snacking), plum tomatoes (for sauce), mid-sized, beefsteak, and maybe even some heirloom varieties. No need to pay big bucks for huge plants, either. The little six-pack seedlings will do just fine, if you plant and stake them properly. And by August, you should have plenty to eat. You can harvest tomatoes into the fall. When frost threatens, bring them all inside, where they will continue to ripen. Tomatoes can also be grown in containers, if you like.
Cucumbers and zucchini (or other summer squash varieties) are best started from seed about Memorial Day. You can get compact plants (bush varieties), but most are vines that need a lot of space. I like to grow cukes on fence sections. Plants will bear fruit in August. Cukes and zukes should be picked at peak ripeness, before they become tough and seedy.