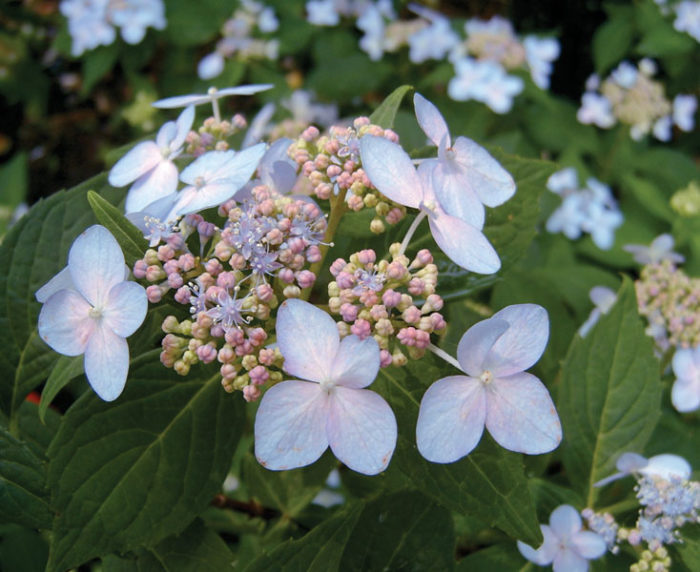 After 25 years of watching my bigleaf hydrangeas (Hydrangea macrophylla and cvs., USDA Hardiness Zones 6–9) consistently lose their buds to late frost, I took it upon myself to search for hardier alternatives. A friend suggested 'Blue Billow', which is a cultivar of a completely different species, Hydrangea serrata, or Japanese mountain hydrangea (also commonly called a serrata hydrangea).
I planted it next to my sorry, burned-out and blossom­­less bigleaf hydrangea, and the little darling serrata bloomed—year after year—with better results than my bigleaf. I know late frost is not a problem for all gardeners, but in my Zone 7 garden, where spring warms up seductively and then slaps you bru­tally with one last freeze, loss of blooms is a tragic reality. Serratas have limited my worry of bud freeze because they hit the spring snooze button and stay dormant longer to protect themselves against late frost. The additional beauty rest helps them shine stronger and brighter than other hydrangeas. My love affair with this smarter species has compelled me to collect every variety I can get my hands on. In my opinion, these are the best of the best.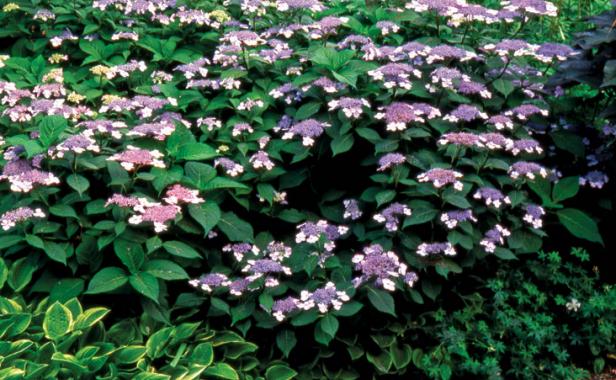 My first love, 'Blue Billow' is a reliable performer. Abundant, iridescent, indigo blue lacecaps cover the 4-foot-tall and up to 10-foot-wide mound. It's known to be hardy to Zone 5 with slightly less bloom consistency than in warmer climates.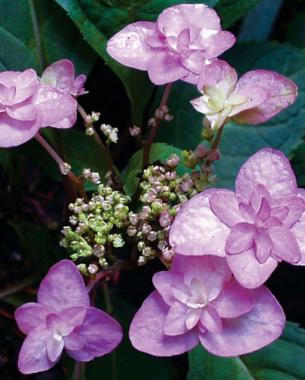 The flowers on 'Purple Tiers' are small but intense. The double, star-shaped blooms poised atop the foliage can range from chartreuse, hot pink, or purple to screaming blue. I recommend showcase-planting them along a walkway.
'Tiara' is a favorite of mine—and I'm not alone. I can't keep it stocked in the nursery. It's loved partly for its compact, 4-foot-tall and 4-foot-wide habit but even more for its abundant rows of blue flowers with mauve eyes.
Serrata hydrangeas at a glance
Hydrangea serrata cvs., Zones 6–9
Size: 3 to 5 feet tall and up to 10 feet wide
Conditions: In northern, cool climates, serratas can handle full sun, whereas in southern, warmer regions, they prefer full shade. They thrive in morning sun and afternoon shade in areas with moderate temperatures. Always provide fertile, well-drained, moist soil.
Pests and diseases: They are susceptible to the occasional outbreak of black spot or powdery mildew when overwatered or overcrowded but no more than any other hydrangea species.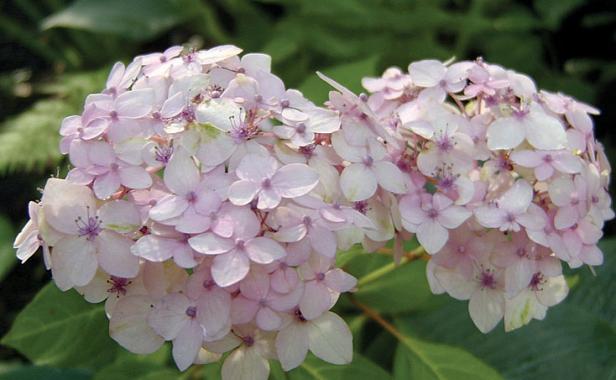 'Little Geisha' sports tennis ball–size mopheads that change from pink to blue, depending on the pH of the soil. Even though pink is not my color, I still adore this sturdy, 2-foot-tall and 3-foot-wide little stunner because it is always weighted in blooms.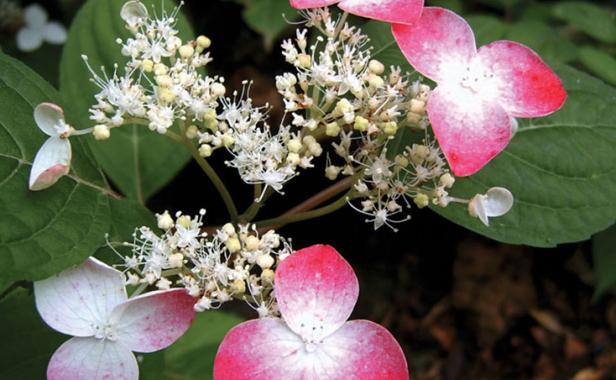 Give 'Kurenai' morning sun for knockout color. This 3-foot-tall number sports white lacecaps for about two weeks, then the bloom margins begin to turn pink or red if given more sun.
Pruning is optional
If you're going to prune, it had better be to cut a bouquet. I don't encourage trimming hydrangeas, but if you want to tweak the shape or encourage fullness, you can shear your serratas immediately after they flower. You may benefit with a few more bud tips the following year because they set buds on old growth.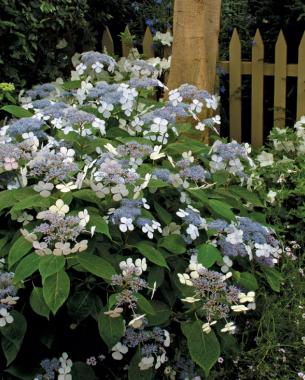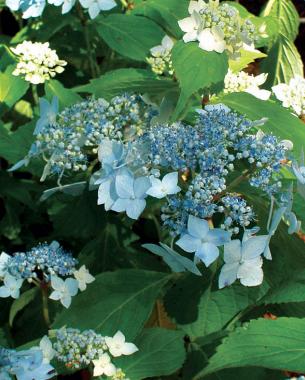 'Blue Bird' makes a showy statement, even from a distance. The entire shrub is 4 to 5 feet tall and wide and is covered in blue or pink lacecaps. The flowers are a little smaller than other cultivars, but they last longer into the season.
Make your grandma proud with 'Blue Deckle'. The tight, showy blooms look the most like the old-fashioned hydrangeas she grew. Its large ser­rated, light blue flowers surround fertile center flowers that cover its compact form, which maxes out at 4 feet tall and wide. A light second bloom in fall is not uncommon.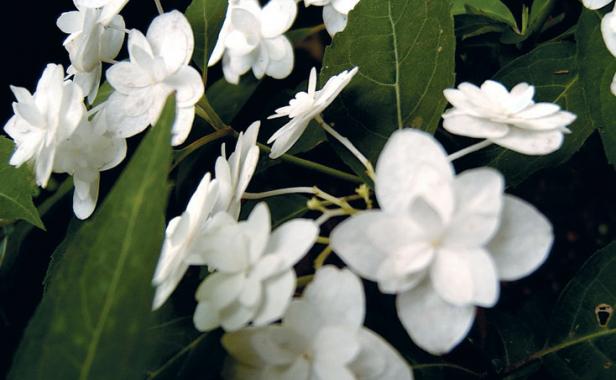 'Shirofuji' dances at the feet of the large cultivars. At 2 feet tall and just slightly wider, it has a subtle grace. Great alone or in drifts, it oozes delicious star-shaped, double white blooms.