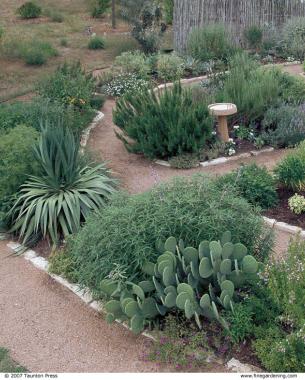 I don't believe anyone would use the word formal, predictable, or traditional to describe my style of gardening. After all, I live in a purple cottage with whimsical, folk-art-filled gardens embellishing almost every inch of my property. I was delighted when the equally adventurous John Dromgoole asked me to help design an herb garden at his nursery, because I knew his visionary mind would complement my own eclectic style of design. This would not be a run-of-the-mill foursquare garden.
Although a nursery is not a typical location for a large herb garden, The Natural Gardener is not your typical nursery. In addition to retail-sales areas, it boasts several display gardens that encompass the ornamental, healing, aromatic, and spiritual aspects of organic gardening. Located on 8 acres of natural savanna in Austin, Texas, it showcases native plants, xeriscape landscapes, and well-tended organic vegetable plots. We agreed that an herb garden would be a great supplement to the existing gardens.
I decided to create an herb garden where the beds would feature different herbs from around the world. The outside circle is a collection of my favorite Mexican herbs. The inside beds showcase Southeast Asian herbs, lemon-lime herbs, Provençal herbs, and Mediterranean herbs. Visitors can see both common and unusual herbs in every bed and become familiar with the cultural requirements of growing herbs in the challenging Texas climate.
Organize plantings by themes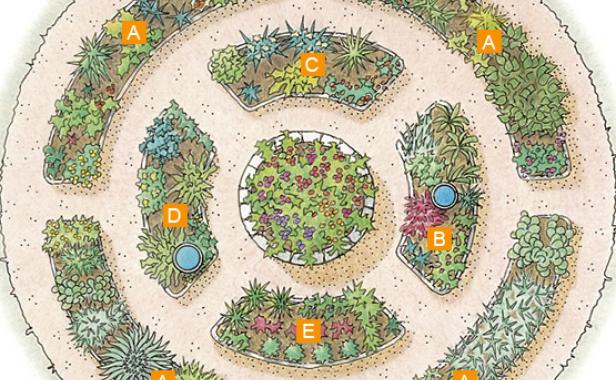 This design includes herbs you would typically find in an herb garden as well as nontraditional ones from various cultures.
Circular design encourages exploration
John and I planned the design on-site at the back of the nursery in a virgin pasture sprinkled with wildflowers and a few cedars. For this design, I envisioned a circular garden with larger herbs planted along the outside rim, creating a secret-garden effect from both inside and outside the circle.
We decided on a wide outside circular bed, with entrances at the four cardinal directions. Inside, four curved beds create another circle that surrounds a central raised bed. Visitors can wander in and out of the concentric circles, catching glimpses of the native savanna beyond the garden or of other beds across the circle. The continual flow of the path encourages leisurely strolls through a maze of aromas, colors, and textures.
We found this plan more appealing than a traditional cross or four-square garden because it had no sharp angles, rectangles, or squares. And, instead of being on the outside looking in as you walk by, you become a part of the whole. The garden lends itself to contemplation and relaxation and is the perfect setting for customers and students to smell, touch, and taste herbs as they walk around.
After clearing the land, gardeners at the nursery laid out the 50-foot-diameter circle using string and stakes. The beds of the outer circle (each 35 feet long by 5 feet wide) and the four inside beds (each 14 feet long by 7 feet wide) were edged with native cut-limestone bricks buried halfway in the ground. Crushed granite walkways surround each bed, making them easily accessible for planting and harvesting.
We then raised the circular bed in the center of the garden by making a 3-foottall wall with larger slabs of cut limestone to create a bench. It is essentially a large planter, in which prostrate rosemary trails over the sides and colorful seasonal annuals contrast with the silvery-green hues of most of the herbs. Before planting the beds, we added fertilizer, soil, and compost from John's Lady Bug line of custom soil amendments, developed especially for Texas soils. We also mounded the beds slightly in the center to provide the drainage herbs require.
Mexican herbs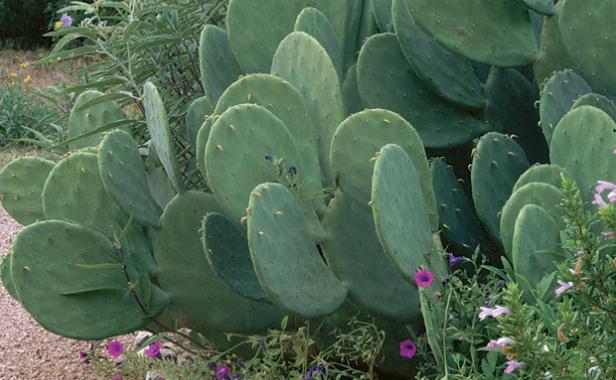 Many of the Mexican herbs are well suited to the Texas climate and have both culinary and ornamental virtues. They range from a sprawling mint called yerba buena to the 10-foot-tall hoja santa and offer a wide choice of forms, textures, fragrances, and flavors. 
Aztec sweet herb Lippia dulcis

Nice edging plant with fragrant foliage and small, saccharin-sweet, cream-colored flowers. Zone 11+
Chile pequín Capsicum annuum var. glabriusculum
A pretty ornamental shrub when covered with small, oval, bright-red, ferociously hot chiles; favored in Mexican salsas. Annual
Copper canyon daisy Tagetes lemmonii
Large, shrubby bush with pungent foliage and copious golden daisylikeflowersblooming throughout the fall. Zones 8-10
Epazote Chenopodiumambrosioides
Goose-foot shaped leaves; reseeds everywhere; used in Mexican cooking as a digestive and as flavoring for beans and soups. Annual
Hoja santa Piper auritum

This shrubby plant may attain 10 feet or more and appreciates afternoon shade; heart-shaped leaves with musky flavor. Annual
Mexican bush sage Salvia leucantha
This 3-foot-tall shrub has pleasantly scented, lance-shaped leaves; purple velvet flower spikes bloom in the fall. Zones 10-11
Mexican mint marigold Tagetes lucida
Edible anise-scented foliage is used like tarragon in recipes; produces cheerful golden blossoms all fall. Zones 8-10
Mexican oregano Poliomintha longiflora
Small, glossy, oregano-flavored leaves enliven recipes, while vivid pink trumpet-shaped flowers adorn the plant in summer. Zones 8-10
'Mexican Spice' basil Ocimum basilicum 'Mexican Spice'
Gives good color with its emerald leaves and pretty purple flowers and seed spikes; spicy cinnamon-scented leaves are tasty in recipes. Annual
Nopal cactus  Opuntia engelmannii
Edible species of cactus—both the succulent pads and the juicy,oval-shaped fruit called "tuna" are Mexican delectables. Zones 9-11
Pineapple sage Salvia elegans
Spikes of scarlet flowers in the fall attract hummingbirds; pineapple-scented leaves make wonderful garnishes. Zones 8-11 
Soft-leaved yucca Yucca recurvifolia
Striking architectural presence in the border; edible flowers for sautés and stuffings. Zones 7-9d
Tea hibiscus Hibiscus sabdariffa
The magenta (dried) calyxes of this plant are renowned for a tart,  ruby-colored tea called "jamaica" in Mexico. Zones 10-11 
Yerba buena (mint) Mentha spicata
A sprawling, low-growing aromatic spearmint that fills in edges of  beds; flavorful in drinks, desserts, and soups. Zones 6-10
Southeast Asian herbs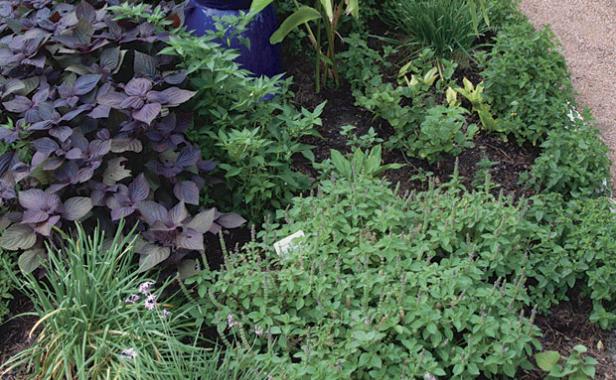 Taking center stage in the Southeast Asian bed is Thailand's beloved kaffir lime. It needs winter protection in Texas, so we grow it in a pot and place it in the bed during the growing season. To the delight of visitors, its doublelobed leaves emit an incredible citrus scent when crushed.  
Kaffir lime Citrus hystrix
The intense lime scent and flavor of the leaves of this thorny bush make it indispensable in Thai soups. Zones 9-10  
Lemongrass Cymbopogon citratus
Grows in clumps with 4-foot-long grasslike leaves; use in teas and stir-fries. Zones 9-10
Purple shiso Perilla frutescens 'Atropurpurea'
Also known as perilla; crinkled burgundy leaves with a spicy aroma; use in stir-fries and salads. Annual.
Society garlic Tulbaghia violacea
Reedlike leaves and lilac flowers; use leaves in spring rolls and stir-fries. Zones 7-10
Thai basil Ocimum basilicum 'Siam Queen'
Emerald leaves and purple flowers; spicy anise-clove flavor prized as a seasoning and garnish for Thai dishes. Annual
Vâp cà Houttuynia cordata
Heart-shaped leaves adorn this sprawling plant; cilantro-lime flavor to leaves. Zones 6-10
Vietnamese balm Elsholtzia ciliata
Grows like lemon balm in a large clump and has aromatic citrus-scented leaves. Zones 6-10
Vietnamese coriander Polygonum odoratum (rau ram)
Pungent flavor reminiscent of cilantro; lance-shaped leaves; likes afternoon shade and plenty of water. Zone 11+
Vietnamese mint Mentha x gracilis
Refreshing apple-mint flavor serves as foil in hot Southeast Asian dishes. Zones 7-9
Lemon-Lime Herbs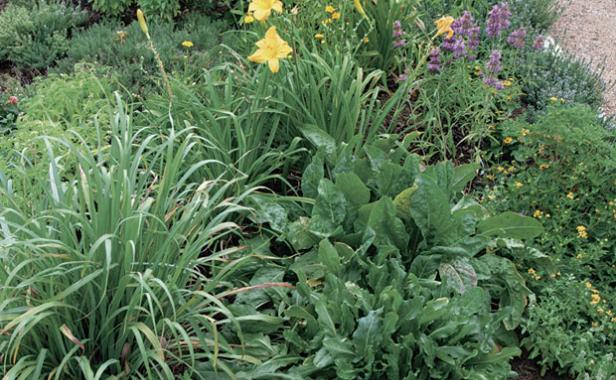 The Lemon-Lime bed features herbs with citrusy fragrances from around the world. Sunny annuals like calendulas, lemon marigolds, and zinnias, and purple-hued violas and pansies add contrast and cheer and provide garnishes for punches, salads, and desserts.
East Indian lemongrass Cymbopogon flexuosus
This species has a very concentrated lemon essence; thrives in warm climates. Zone 11+
Lemon eucalyptus Eucalyptus citriodora
Rough-textured leaves emit a strong lemon fragrance when crushed. Zones 9-10
Lemon verbena Aloysia triphylla
Luscious lemony aroma; good in cold drinks, desserts, sorbets, and fruit dishes. Zones 8-10
'Lime' balm Melissa officinalis 'Lime'
Similar to lemon balm, with an intense lime scent to its heart-shaped leaves. Zones 5-9
Lime basil Ocimum americanum
Similar to lemon basil but lower-growing, with smaller leaves; strong lime scent. Annual
'Lime' thyme Thymus x citriodorus 'Lime'
Perhaps even more seductive in flavor than its cousin, lemon thyme; intense flavor. Zones 4-9
Sorrel Rumex acetosa
Large bright-green leaves grow from a clump; sour lemon flavor good in soups. Zones 4-8
Wild bergamot (bee balm) Monarda fistulosa
Bright-pink blossoms adorn this native lemon-scented bee balm; keep in check. Zones 3-9
Provençal herbs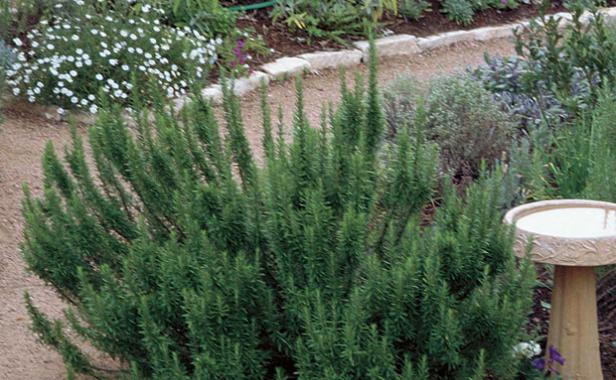 Because the Texas Hill Country reminds me of Provence, with its rolling limestone hills and similar climate, I was particularly interested in showcasing these plants. Good drainage is of utmost importance in this garden, so we added pea gravel when planting lavender, sage, rosemary, and thyme.
Bay laurel Laurus nobilis
Plant next to a wall for afternoon shade and winter protection; use in soups, stews. Zones 8-10
French lavender Lavandula stoechas
May have trouble with heat and humidity; plant in gravel for proper drainage. Zones 8-9
French tarragon Artemisia dracunculus var. sativa
Likes cool weather; summer heat and humidity are challenging; keep its feet dry in a loose, well-draining soil. Zones 4-7
French thyme Thymus vulgaris
Narrow grayish leaves renowned for their sweet and pungent flavor. Zones 4-9
Lemon verbena  Aloysia triphylla
The intense lemony leaves flavor verveine, France's beloved tisane. Zones 8-10
Marjoram Origanum marjorana
The leaves of this oregano cousin have a much milder and sweeter perfume. Zones 4-8
Myrtle Myrtus communis
Shrub with small, glossy, sweet-scented leaves and small white flowers in spring. Zones 9-10
Provence lavender Lavandula x intermedia
High oil content; fragrant and lovely, this lavender abides the Texas heat. Zones 5-8
Rosemary Rosmarinus officinalis cvs.
Many cultivars of this herb from which to choose; myriad uses. Zones 6-10
Silver thyme Thymus x citriodorus 'Argenteus'
The silver color adds contrast in the garden; nice edging plant, more ornamental than culinary. Zones 5-9
'Tricolor' sage Salvia officinalis 'Tricolor'
Variegated purple, green, and white leaves make a lovely contrast to other herbs. Zones 6-9
Mediterranean herbs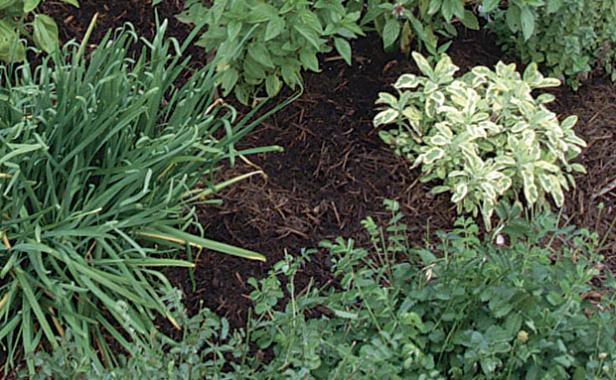 We also refer to this bed as the kitchen garden because it contains the herbs we most commonly use when cooking. It includes several types of each of the following herbs: basil, oregano, sage, thyme, rosemary, and parsley.  
Arugula Eruca vesicaria ssp. sativa
Spicy/nutty salad green in spring and fall; bolts and becomes fiery in summer. Zones 8-10
Golden sage Salvia officinalis 'Aurea'
Bright, variegated gold/green leaves; more ornamental than culinary. Zones 7-9
Greek oregano Origanum vulgare ssp.hirtum
Piquant and flavorful essence highly admired in Mediterranean cuisine, both in its fresh and dried forms. Zones 5-11
Italian parsley Petroselinum crispum var. neapolitanum
Dark-green, glossy, flat-leafed parsley is rich in vitamins and more flavorful than curly parsley; thrives in fall and winter in Texas. Zones 6-9  
Oregano thyme Thymus pulegioides
Bright-green leaves reminiscent of spicy oregano; does not like the heat. Zones 5-9
'Osmin' basil Ocimum basilicum 'Osmin'
The darkest of the purple basils; flavor is sweet and delicious. Annual
Rosemary Rosmarinus officinalis cvs.
Both upright and prostrate varieties can flavor roasted meats, potatoes, breads. Zones 6-10
Salad burnet Poterium sanguisorba
Small serrated leaves with a cucumber essence; use in salads, sandwiches, cold drinks. Zones 5-8 
'Spicy Globe' basil Ocimum basilicum 'Spicy Globe'
This small-leafed basil grows in a dome shape and makes a pretty border plant; sprinkle leaves on pizzas and salads. Annual
Sweet basil Ocimum basilicum
Bright-green leaves with inimitable flavor; sow seeds in warm weather. Annual
Repeating plant forms unite the garden
When designing the planting schemes, I followed some general guidelines. Id placed an assortment of low-growing herbs of various textures along the edges to creep over the limestone borders. Then I dispersed short, upright plants among them to give some variation in height. Several larger perennial herbs in each bed serve as anchors. And finally, I reserved room for seasonal annuals. We planted in curved patterns instead of rows, often grouping three or more plants for fullness and effect.
On a stroll through this enchanting circular garden, all your senses are brought to life. You can touch the downy leaves of silver sage, nibble on a resinous sprig of rosemary, and inhale the tropical scent of pineapple sage. You can hear the buzzing of bees gathering nectar from fragrant mounds of lemon thyme. Most visitors depart with a sense of peacefulness and a new appreciation for herbs. And perhaps they are inspired to recreate some small part of this garden at their own home.