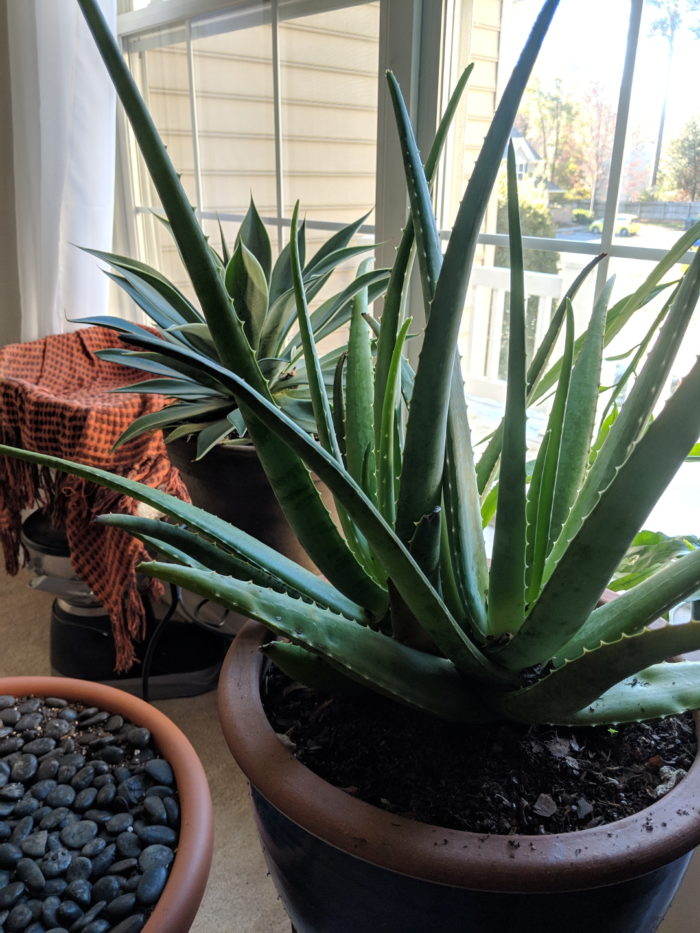 I'm not much of a houseplant person during the warm part of the year. In fact, virtually all my house plants spend the summer outside on the patio, where they're easy to care for and where they enjoy the extra light. But come winter and freezing temperatures, there is a mass migration of plants inside. I love being surrounded by green all winter!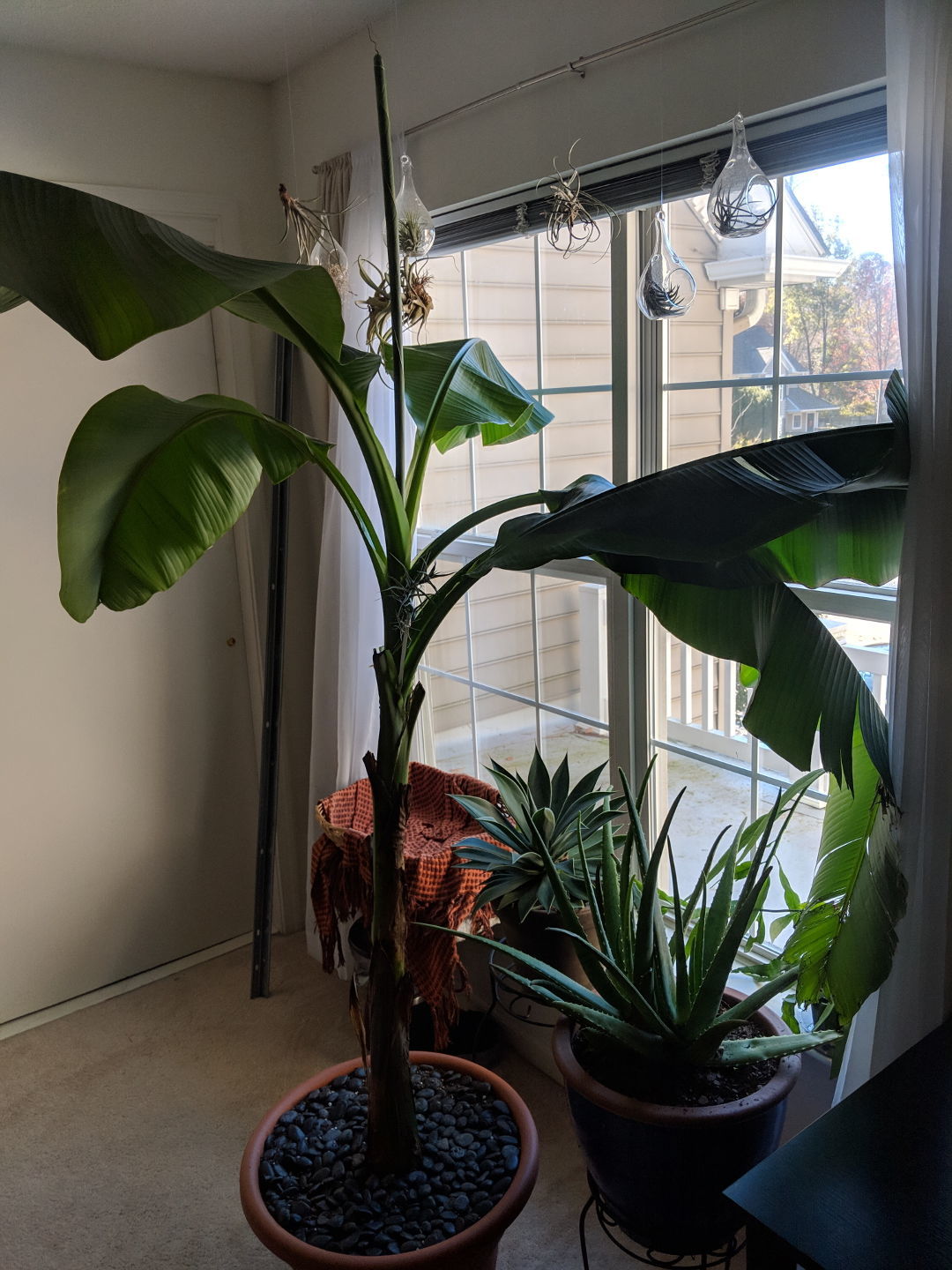 Bananas! The huge plant here is a Japanese fiber banana (Musa basjoo), which is actually one of the hardiest of bananas. It will overwinter outside in Zone 6, and maybe even Zone 5 if you give it good winter protection. But I like it as a houseplant, and it has done wonderfully indoors, not minding the low light at all. The only problem is that I live with cats, and they love chewing on the leaves. You can see the damage on the leaf hanging down on the right side of this picture. Luckily, it is nontoxic to cats and big enough that they can't possibly chew on all of it.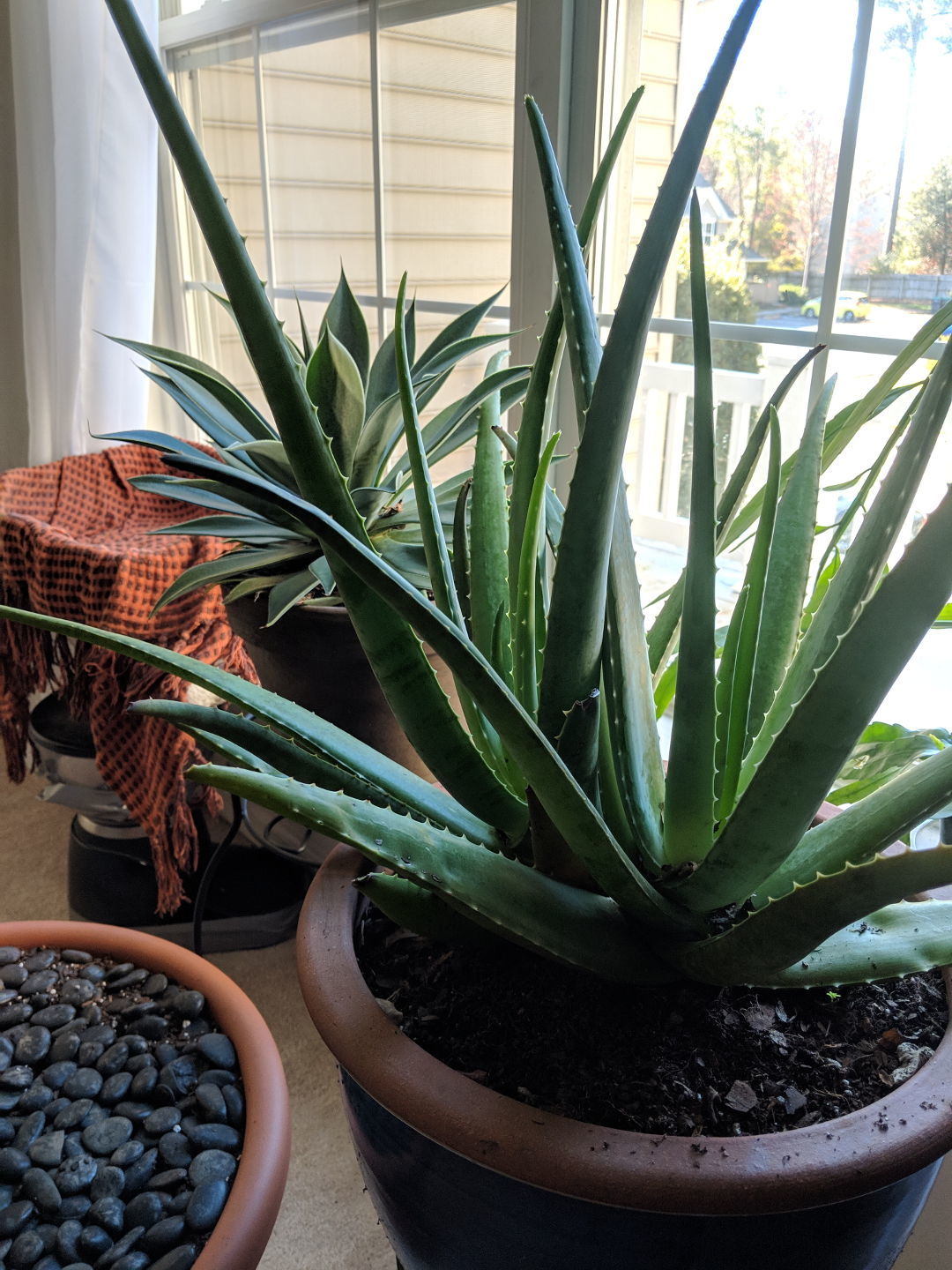 Aloe vera is a classic houseplant, but it also thrives for me outside in nearly full sun all summer. The extra sun helps it bulk up to a bigger, more dramatic plant quickly.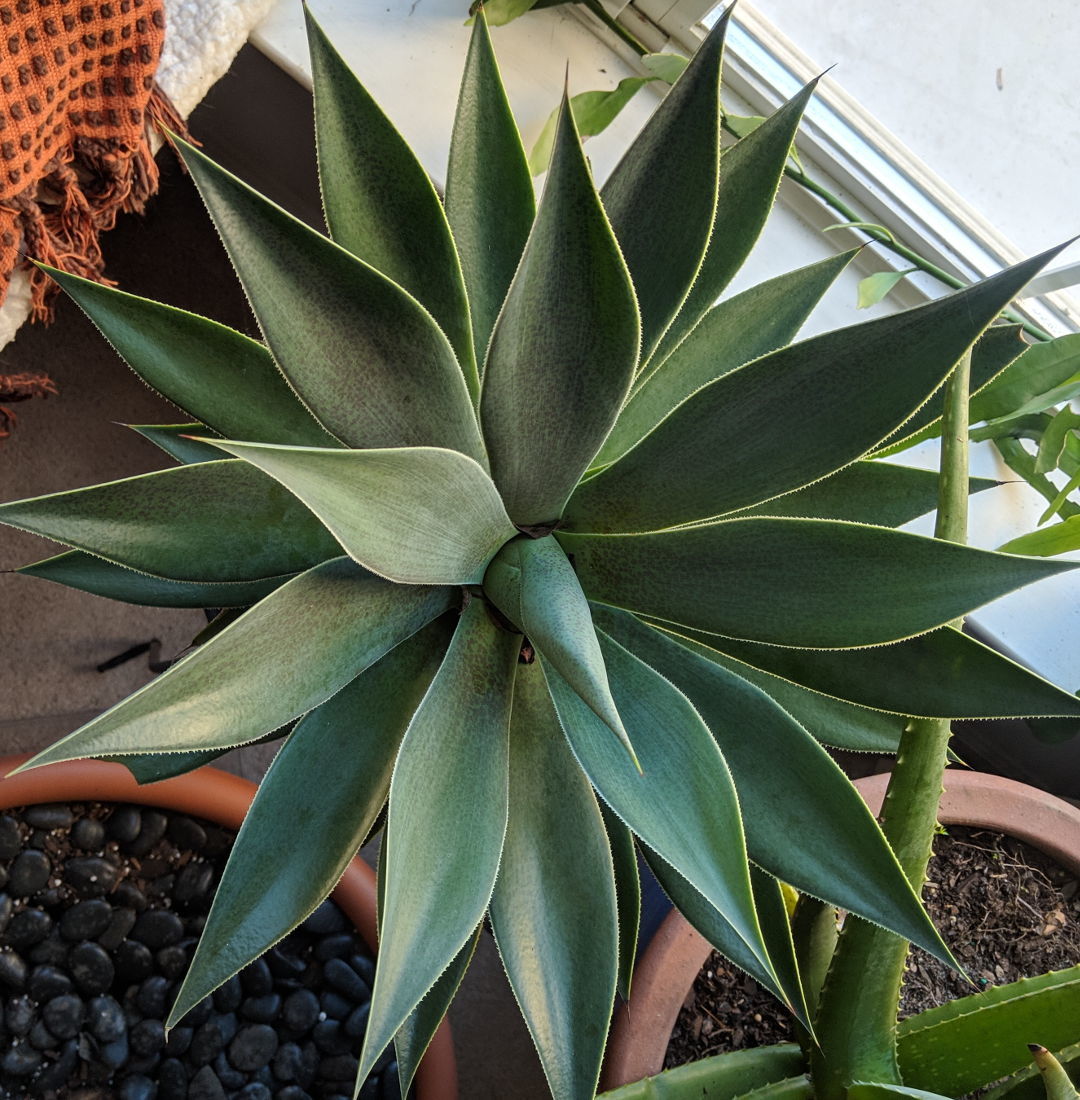 Mangaves are hybrids between agaves and the unusual genus Manfreda. The result are plants that look a lot like agaves but don't have the vicious spines and that are way more tolerant of wet weather during the summer. This Mangave 'Lavender Lady' looked lovely on my patio all summer and now is hanging out on the windowsill for the winter.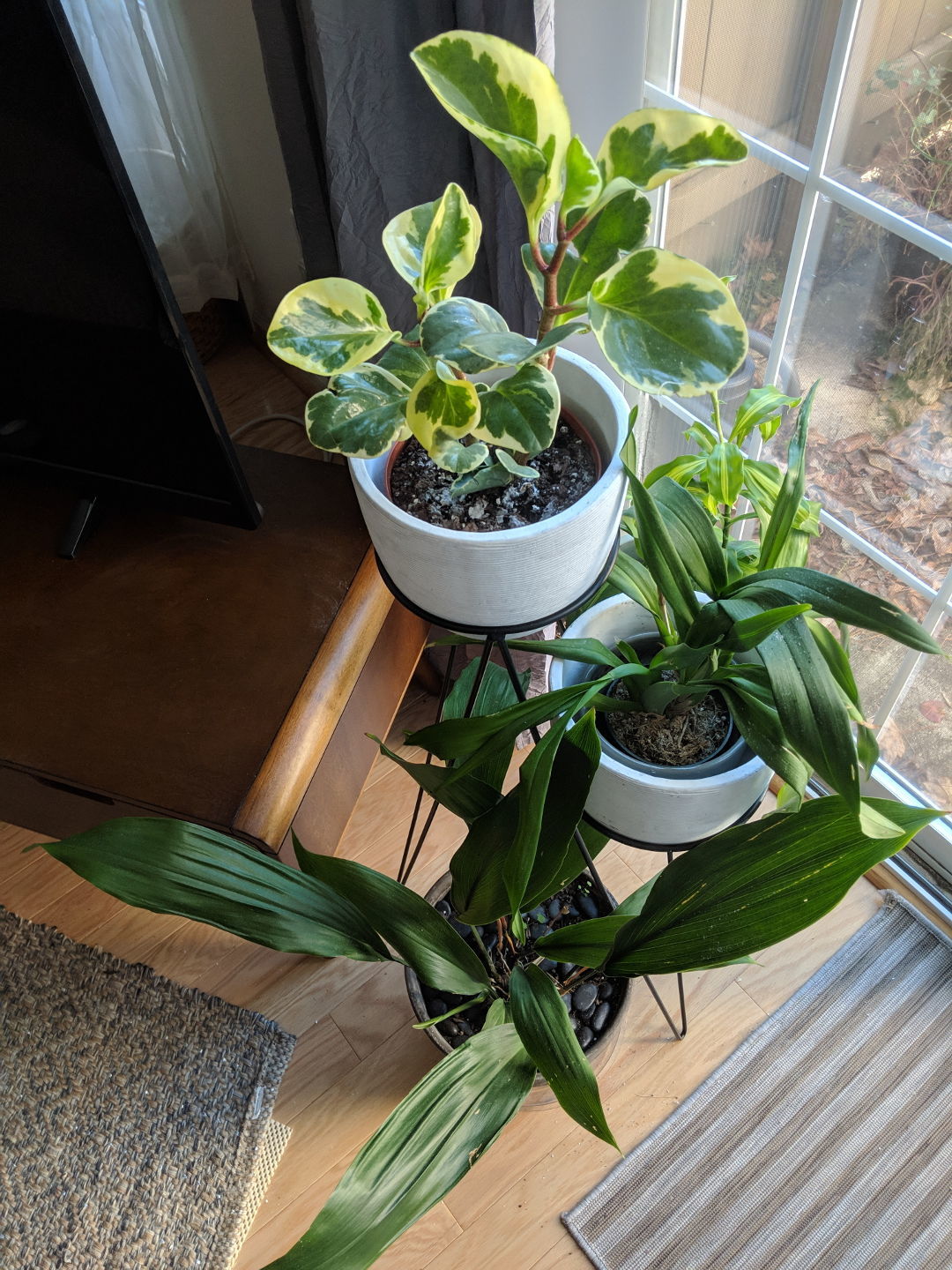 Having houseplants with cats that like chewing on leaves means finding things they'll leave alone and that are nontoxic. These plants are all nontoxic and not very appealing to cats and have done great as houseplants. At the top is Peperomia obtusifolia 'Variegata', at the bottom is a cast-iron plant (Aspidistra elatior), and there are a couple of orchids mixed in as well.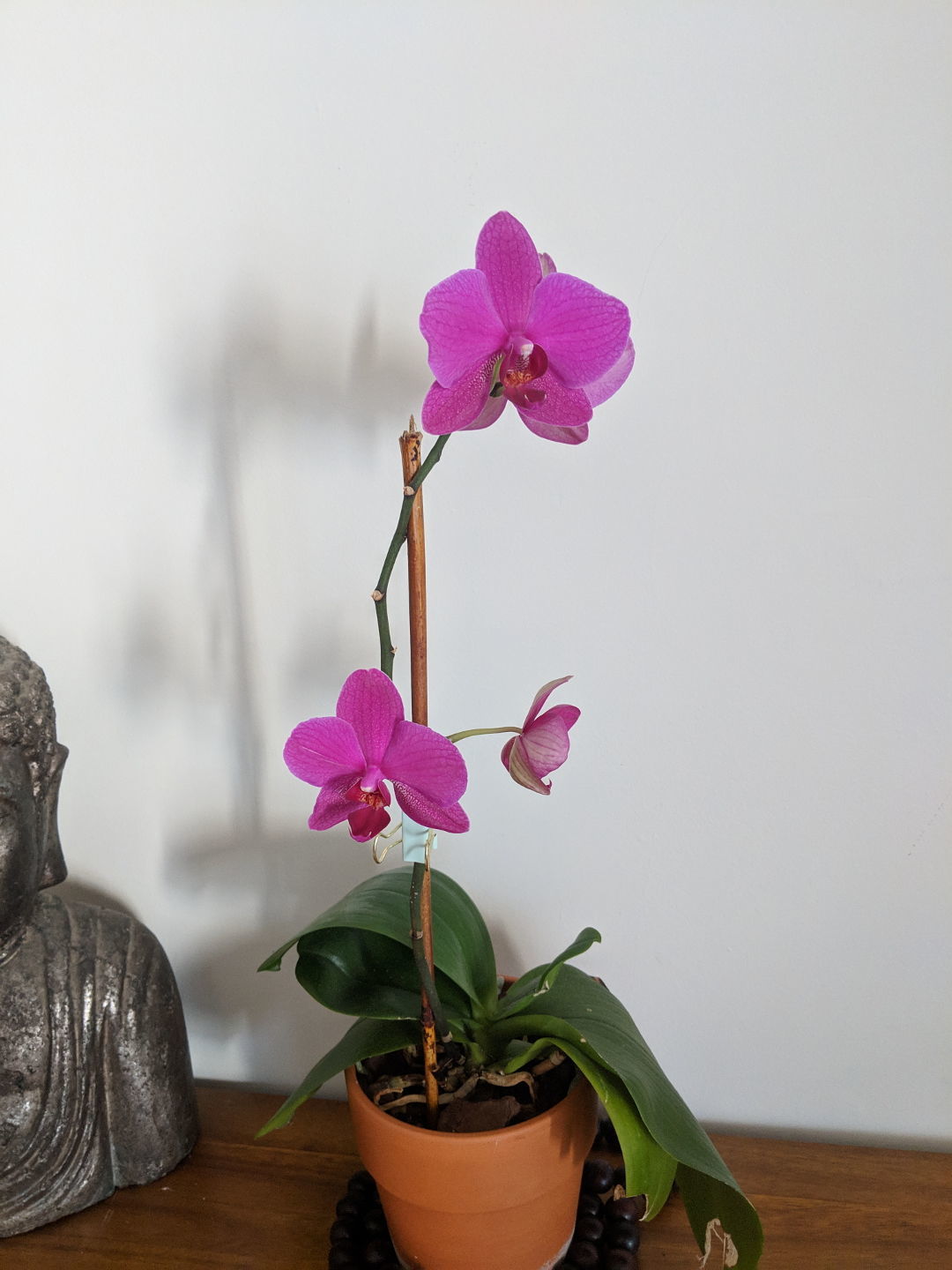 I'm not a great orchid grower. Occasionally I buy some cheap moth orchids (Phalaenopsis) in bloom, and when they stop flowering, I stick them outside on the patio in a shady spot and forget about them. Amazingly, that treatment often results in reblooming! I'm sure I'd get more if I fertilized and repotted, but I'm very happy with this!
Have a garden you'd like to share?
Have photos to share? We'd love to see your garden, a particular collection of plants you love, or a wonderful garden you had the chance to visit!
To submit, send 5-10 photos to [email protected] along with some information about the plants in the pictures and where you took the photos. We'd love to hear where you are located, how long you've been gardening, successes you are proud of, failures you learned from, hopes for the future, favorite plants, or funny stories from your garden.
If you want to send photos in separate emails to the GPOD email box that is just fine.
Have a mobile phone? Tag your photos on Facebook, Instagram or Twitter with #FineGardening!
You don't have to be a professional garden photographer – check out our garden photography tips!
Do you receive the GPOD by email yet? Sign up here.