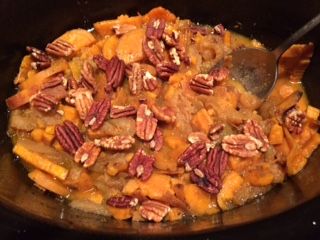 It's that time of year that we want to eat warming comfort foods. I try to use vegetables, fruits and nuts that are in season. This recipe features two of my favorites–sweet potatoes and apples–in a simple yet scrumptious dish. It is easily prepared in a crockpot, although it can be made in a Dutch oven or covered casserole in the oven.
I put this in the crockpot the other day and went out to stack wood. Everytime I came in the house, I was welcomed by the enticing aroma of sweet potaotes, apples and cinnamon. It's lovely to be able to have supper (well at least part of it) cooking while you work–and it is ready when you are done!
I first ate a dish similar to this–my friend and fellow gardener, Kathleen Connole, brought it to a potluck. Her version used brown sugar; by using apple cider, I am able to use less sweetener and the maple syrup adds a pleasing flavor.
I used a crockpot to make this and they all vary enormously in temperatures and cooking time, so you will have to check it every now and then–the same goes if you are cooking it in the oven in a covered pot or casserole. I'd say it was in the crockpot on high for and hour or so, and then on low for another hour. Also, note that when you turn the crockpot off or take the Dutch oven from the oven, the contents keep on cooking. So be sure not to overcook the potatoes and apples or they will be mushy.
My family enjoyed this recipe so much they suggested that I make it for Thanksgiving. I am considering adding a whole red onion, halved and sliced into rings–not sure if I will or not–although I know it would be tasty. It is perfect just as it is, however adding onion would give it a more savory dimension.
This makes a great side dish, however I can eat it for breakfast or as an afternoon snack. Make this for the ones you love over the upcoming holidays–it is comfort food. Happy Thanksgiving to you and yours!
Sweet Potatoes and Apples with Toasted Pecans
Lucky for me, my sister Doneth brought me 'Red Jewel' sweet potatoes up from South Carolina, since she knows I love sweet patooties. They inspired me to make this dish. While 'Granny Smith' would add tartness to this recipe and work well, they are not my preferred apple. I like 'Honey Crisp', 'Nittany', 'Pink Lady', and 'Gala' for texture and flavor; I do not like a mushy apple, especially eaten out of hand. 
I tested this recipe with 'Honey Crisp', which were sort of small in size. Although I used more apples (due to the size) than sweet potatoes–the idea is to use roughly equal amounts of sweets to apples. Walnuts or slivered almonds would work, although pecans are spot-on here.

As aformentioned, depending on ingredients, crockpot and oven temps this dish can cook in as little as 1 1/2 hours and it could take up to 3 hours, so start checking for doneness about 1 1/2 hours into cooking time.

Serves 6 to 8
3 medium-size sweet potatoes, scrubbed
5 small-to medium-size apples
3/4 cup apple cider
About 2 to 3 tablespoon pure maple syrup
4 tablespoons unsalted butter
Couple pinches sea salt
3-to 4-inch cinnamon stick, broken in two pieces
Generous cup of pecans, toasted
Slice the sweet potatoes crosswise into about 1/4-inch slices. Peel the apples if desired, quarter and core them. Slice each quarter into thirds–the apple slices should be a bit thicker than the sweet potato because they will cook faster.
Add the prepared veg and fruit to crockpot, Dutch oven or casserole. Pour the apple cider overall and drizzle in the maple syrup. Cut the butter into large bits and scatter over everything with just a few pinches salt and toss in cinnamon stick. Give ingredients a stir.
Put the crockpot on high or put the Dutch oven or casserole in a preheated oven at about 350 degrees F. Let cook covered, for about an hour. Carefully remove lid, give contents a stir, and stick with a fork or knife tip to check for doneness. Reduce crockpot to low and oven to about 300 degrees F and cover and cook for about another hour. Check for doneness after about 1/2 an hour if you are nearby. Turn the crockpot off or remove from oven while potatoes and apples still maintain their slices; you don't want them to disintegrate and get mushy (although it won't ruin flavor–it just won't look as nice–and texture will be mushy).
They can be made ahead and gently reheated. When ready to serve scatter toasted pecans over the top. Serve hot.