When we moved to our small farm in Minnesota in 1994, we told our son, who was five at the time, that he could grow anything he wanted in our garden. "I want to grow bacon," he responded. We did raise "bacon" as well as chickens that year but decided to take our vegetable garden to another level, as well. We opted to buy many of our transplants and seeds at nearby Seed Savers Exchange. This was our first introduction to heirloom seeds and the great bounty and wonderful taste that open-pollinated varieties provide. We have been disciples of heirlooms ever since.
Gardeners sometimes think that heirloom varieties are more susceptible to pests and diseases because, unlike many hybrids, they weren't specially bred to resist these threats. This isn't necessarily true. Heirloom varieties that are grown in the same location year after year will, in fact, naturally adapt to regional conditions, making them a hedge against pests, diseases, and changing environmental conditions. Of the hundreds of heirlooms that I've grown, these eight varieties have become regular fixtures in my USDA Hardiness Zone 4 garden, selected for their superb taste and ease of growing.
'Gold Medal' tomato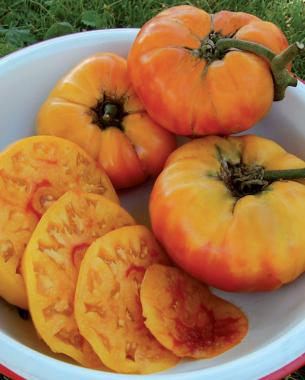 My wife, Pat, and I grow about six to eight different heirloom tomato varieties each year—from cherries to slicers to canners. 'Gold Medal', a fist-size, orange-red beefsteak, is my "sit-down-in-the-garden-and-eat-it-right-now" favorite. When I am able to display some degree of discipline, I eat it sliced on toast with a dash of olive oil and basil on top. This moderate-yield tomato is, for me, the singular taste of summer. Start the indeterminate plants inside, and transplant them as soon as the threat of frost has passed.
Days to maturity: 75 to 90
'Early Scarlet Globe' radish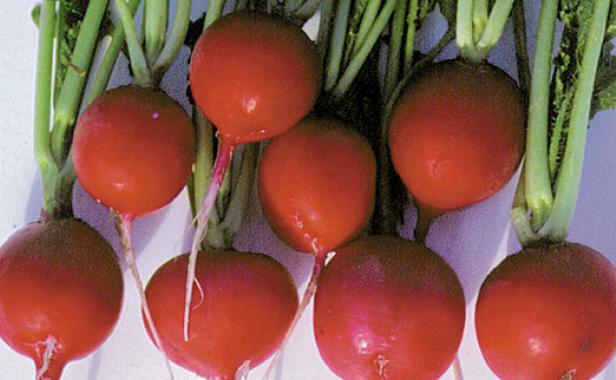 Spinach and radishes are the first things I harvest each spring, and this variety is one of the earliest to mature. Direct-sow the seed when the ground is workable, regardless of whether the last frost of spring has occurred. The 1-inch-diameter globes have a bright red skin and white flesh, and although I associate planting and eating radishes with a new spring garden, this variety can also be grown in fall. I like to serve 'Early Scarlet Globe' sliced and mixed into salads—that is, if the radishes ever make it into the kitchen. But I often do the same thing I did as a child, when my mother would sit with me and we'd eat them straight out of the veggie patch.
Days to maturity: 20 to 28
'Rattlesnake' snap bean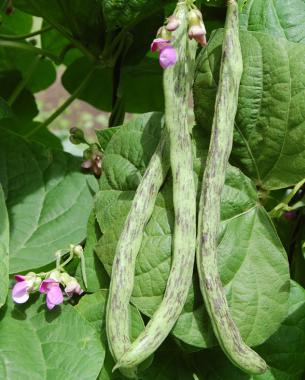 This bean gets its name from the dark purple streaks on its skin, which resemble the markings on a rattlesnake (the stripes magically go away, though, when you cook them). This variety is a vigorous climber that can reach 10 feet tall, so it requires some heavy-duty support. Other than needing something to climb on, 'Rattlesnake' snap bean requires minimal care and has good drought resistance. The beans taste great anytime of the year. I especially like freezing them, then adding them to soups in January to get a taste of summer in the dead of winter.
Days to maturity: 60 to 90
'Dragon' carrot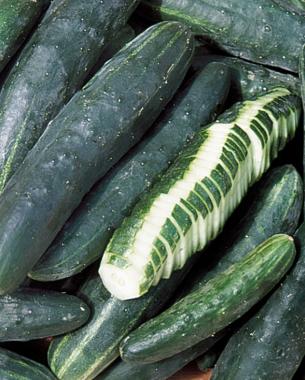 What's not to love about the bright red-purple skin of this attractive heirloom? Don't be surprised, though, when you cut into the spears and find a yellow-orange interior. Like most carrots, well-drained soil is a must. To ensure good drainage, I plant 'Dragon' in an old livestock water tank (but any large container or pot would work) that's filled with compost-amended soil. The sweet, slightly spicy flavor is best enjoyed when the carrots are roasted with other vege­tables, like potatoes, beets, squash, peppers, onions, and garlic.
Days to maturity: 90
'Japanese Climbing' cucumber
Last year, I picked cucumbers from this plant well into late fall. Because it's an abundant producer, be sure to check for fruit every other day when the plant is in full production. 'Japanese Climbing' cucumber is vigorous with strong grasping tendrils, so I grow it on both sides of a vertical fence to keep it off the ground. You can let the vines trail on the ground, but be sure to space the plants at least 6 feet apart. The fruit is tender, crisp, and slightly tart, and it can get up to 9 inches long. Eat it raw, paired with tomatoes, or in summer salads; for a nice surprise, try it lightly stir-fried in your Asian dishes.
Days to maturity: 58 to 65
'Jimmy Nardello' pepper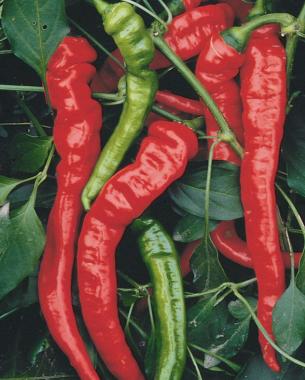 This family heirloom originated in the Basilicata region of Italy. 'Jimmy Nardello' produces a steady flow of 10-inch-long green and red peppers, with the fruit sometimes developing into a corkscrew shape. A mild, sweet-flavored pepper, our family will roast it with other vegetables or serve it stir-fried. Start the seeds inside and then transfer the transplants into the garden after the last frost in spring.
Days to maturity: 80 to 90
'German Extra Hardy' garlic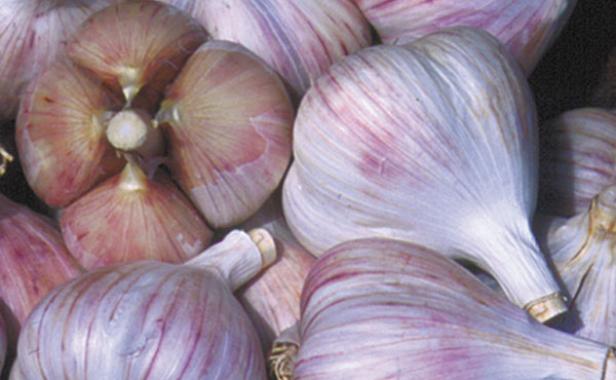 Two years ago, I grew 8,000 heads of garlic to sell as seed and of those varieties, 'German Extra Hardy' was (and still is) my favorite. A hardneck type, it grows good-size heads with four to seven thumb-size cloves apiece. This vigorous grower has long roots, which enable it to overwinter without heaving out of the ground. Plant the cloves after the first frost in fall, then mulch heavily. You will be able to harvest when the green plants start to yellow the following summer. The cloves have a strong raw flavor and are great for roasting. We now grow about 400 heads of garlic each year, knowing that about 100 of the best bulbs will be used as seed (each clove becomes a seed that can grow a new bulb).
Days to maturity: 90 to 150
'Mountain Rose' potato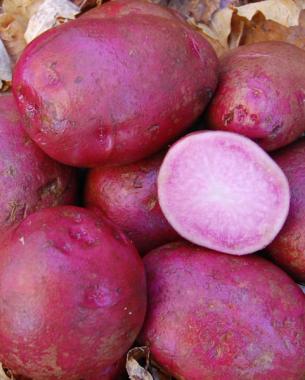 Most fruit in the garden is visible for all to see, so there is something mysterious in turning over a forkful of potatoes and discovering underground bounty—in this case, a medium-size, purple-and-red-skinned potato. 'Mountain Rose' is a high-yielding, versatile variety, suitable for frying and roasting, and it works well in any potato salad. The tubers also retain their rose color after cooking. I plant rows of 'Mountain Rose' in loose, well-drained soil and cover them with straw mulch. As the plant develops, I add additional mulch for water retention and weed suppression.
Days to maturity: 70 to 90