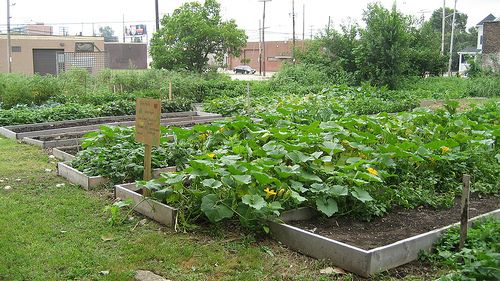 With the Victory Garden movement so fresh on the horizon, community gardens are becoming more popular than ever as people learn the many physcial and mental benefits of growing their own food.
The first obvious reason for belonging to a local community garden is if you're an apartment or condo dweller and the pots lined up on the balcony with a tomato plant and a handful of herbs has lost its charm. While gardening in containers is better than no gardening at all (and indeed has its merits), it can be disappointing for a gardener that would like to get down into the soil and plant rows (or other more creative shapes) with various garden veggies.
Another less obvious reason to consider becoming involved in a community garden is that although some would-be gardeners have yards that are more like shady groves. If you're interested in vegetables as opposed to hostas; we have a situation here. Veggies dig nothing more than the sun – 8 hours of it. Not every yard can fill that bill.
Sometimes brand new gardeners simply don't know where to start with planting, maintaining and harvesting a garden by themselves and would welcome a helping hand from the more seasoned green-thumbs in their area. Then there are those of us that have been planting gardens in our yard for years and still belong to a community garden in our town because it fosters fellowship and builds character when you hang out with people of your ilk.
One of the most endearing things about these gardens aside from the diversity of food and flowers is that the majority of these gardens are organic, which means you'll see butterflies and birds galore enjoying the gardens right along with you. It's a naturally enriching environment for children and can you think of anywhere better to spread out a blanket and have a summer picnic?
Community gardens can be put together by the city, neighborhood individuals, and groups like 4H or Girl and Boy Scouts. If it's a service oriented club, very often they'll plant extra rows of crops for their local food banks to benefit people in their region. If you're not aware of a community garden in your area, call the city for more information or ask at your local farmer's market.
If there isn't one in your community and you happen to have some time to give in the way of community service, please consider heading one up with neighbors, friends or your poker buddies. Your city and the world will be all the better for it.
In Addendum: It's very unfortunate that my own city is destroying our community gardens. They've decided that making room for yet one more summer function (read: paid classes) will drive more money for the town. I'm extremely disappointed that the city of San Ramon has made such a poor decision concerning our residents and the wildlife habitat in that area. We hope the Powers That Be will find another place for the people in this awesome suburban city to plant and continue to enjoy the pleasure of woking with the soil and growing their own fresh food.