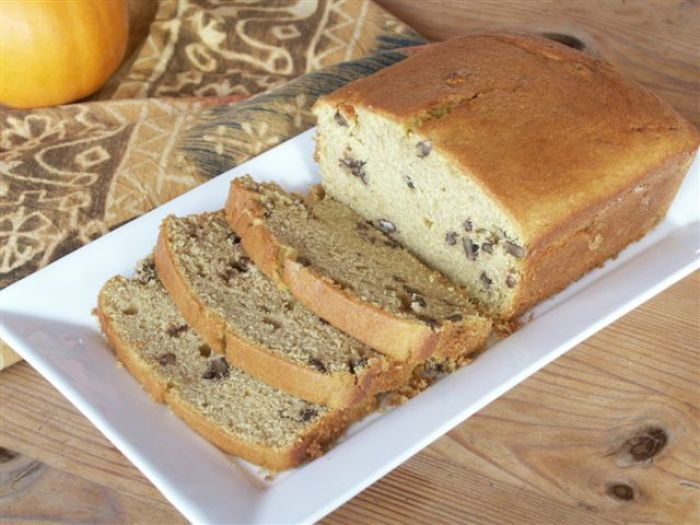 Ingredients:
2 cups unbleached flour
1 cup whole-wheat flour
2 teaspoons baking powder
1 teaspoon baking soda
1 teaspoon salt
1 teaspoon ground mace
1/2 teaspoon cinnamon
2 cups winter squash or pumpkin puree
1/2 cup milk
3 tablespoons pure maple syrup
1 teaspoon pure vanilla extract
12 tablespoons unsalted butter, softened (1 1/2 sticks)
1 1/2 cups sugar
5 extra-large eggs
1 cup chopped pecans or walnuts
This cake has a tender crumb, is not as heavy as the usual pumpkin bread, even though it uses part whole-wheat flour and it slices beautifully. The pureed winter squash or pumpkin gives it the golden color; use pecans or walnuts. You could make a frosting for it by combining a 3-ounce package of softened cream cheese with a few tablespoons of pure maple syrup and few drops of vanilla extract; combine ingredients to blend well and taste for sweetness and adjust with a little more syrup. This makes a thin frosting–just enough for two loaves. It is great served plain, just as it is, with a cup of tea or java. The recipe can easily be halved to make just one loaf, however, while you are at it make two and freeze one for later or give it as a gift. Sometimes I make smaller loaves for gift-giving–this recipe will make six 3 x 5-inch loaves.
Makes two 9 x 5-inch loaves or six 3 x 5-inch loaves.
Preheat the oven to 350 degrees F. Butter and flour two 9 x 5 x 3-inch loaf pans or six 3 x 5-inch loaf pans. Sift the flours into a bowl with the baking powder, soda, salt, mace and cinnamon; set aside. Mix the squash puree with the milk, maple syrup and vanilla extract and let stand.
Cream the butter. Beat the sugar with butter. Beat the eggs in one at a time until the mixture becomes light and fluffy, about 3 minutes.

Add the flour alternately in 3 parts with the milk and squash mixture. Stir in the chopped nuts if using them. Pour the batter into the pans, spreading it evenly. Bake smaller loaves for 40 to 45 minutes; larger loaves take 50 to 55 minutes. The loaf is done when the top is golden brown, the edges pull away slightly from the pan, and a cake tester comes out clean. Cool in pans for 10 minutes before turning the cakes out of the pans to finish cooling on baking racks.