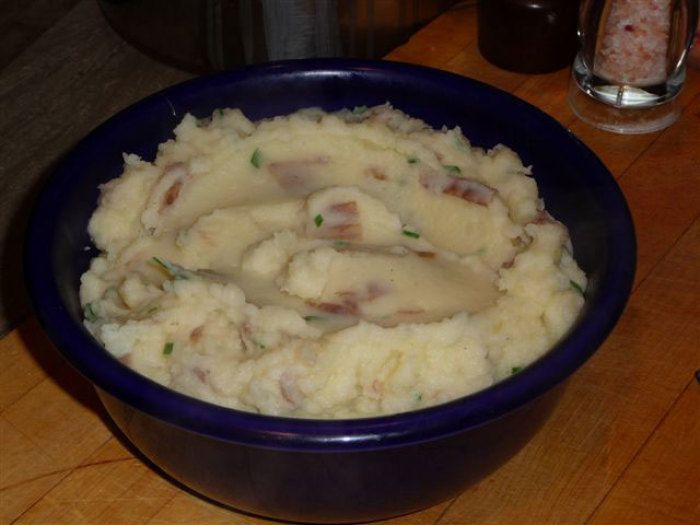 This is your basic mashed potato recipe that can go in many directions (see the instructions below for preparing root vegetable mash, colcannon, and champ). On my visit to Ireland, I found that Irish mashies had lumps and were not totally smooth. The Irish have many affectionate names for the potato: shpuds, spuddies, murphies, praities (pray-tees), and tatties (tay-tees). Around our house we call them tooties and find them to be a favorite comfort food.
| | |
| --- | --- |
| | |
| | Mash. |
Adding a little of the cooking water adds liquid without all of the calories of the cream or milk and butter and works quite well. For a few not-so-Irish suggestions, I love to squeeze a whole bulb of roasted garlic into them and use olive oil in place of the butter. I also like chopped fresh basil leaves or pesto stirred into the mashies. Tomaso took these photos while I was demonstrating how to make mashed potaotes.
Serves 6 to 8
Peel the potatoes, cut them into chunks, and cook them in lightly salted water at a simmer until they are just tender, about 15 minutes.
Drain the potatoes, reserving the cooking water. Rice or mash the potatoes together with a potato masher or a fork. Do not use a food processor.
| | | | | |
| --- | --- | --- | --- | --- |
| | | | | |
| Add the melted butter and milk or cream. | | Blend in the liquid. | | Season with sea salt. |
| | | | | |
Return the mashed potatoes to the pan off the heat. Add 2 to 4 tablespoons of the butter and about 2 to 4 tablespoons of the cooking water. Add milk, cream, or more cooking water to obtain the consistency of mashed potatoes you like. If you like them softer add a little more liquid; I found that Irish mash to be pretty stiff. Season the potatoes and heat through; they can be kept warm in a 300°F to 350°F oven for an hour or so.
VARIATIONS

Root Vegetable Mash
For an Irish approach you can substitute about half of any of the following vegetables in place of the potatoes to make a root vegetable mash: turnips, parsnips, carrots or rutabagas (called "Swedes" or Swedish turnip in Ireland); just cook the other root vegetables right in with the potatoes. I had the pleasure of eating most of these mash combinations, and they were really excellent—the orange carrot and potato mash was the most stunning and quite tasty.
Champ
| | |
| --- | --- |
| | |
| | To make champ, add chives or scallions. |
Prepare the mashed potatoes as directed above. Add about 1 cup of fresh chopped green onions (scallions) along with the butter and milk and gently heat through. I also had this prepared with snipped chives and with sautéed leeks.
Colcannon
Prepare the mashed potatoes as directed above. Traditional colcannon has cabbage or kale stirred into the mashed potatoes and heated through. The cabbage or kale is chopped and steamed or, sautéed until tender and then added to the potatoes. Sometimes a chopped leek is heated in the milk until tender and added. It can be held in the oven until ready to serve.