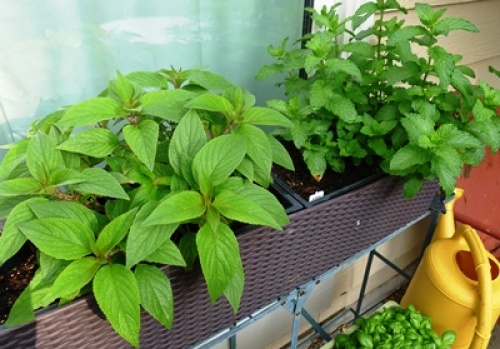 I think it was on a cold day in January that I daydreamed about sitting on the sunny patio, feet up, fountain gurgling and a refreshing mojito in hand. I finally made that dream come true after growing my own spearmint (Mentha spicata) to create the classic Cuban cocktail.
There are many kinds of mints to grow in your garden, and there are so many ways you can use them in your cooking, too. Instead of being distracted by chocolate mint, orange mint or even apple mint, I looked for the mint that would make the best mojitos. 
I planted one small container of spearmint on the highest shelf of a plant stand to protect it from small mammals and to keep it from going wild in my garden. On the other side of the self-watering container, I planted another sweet herb, pineapple sage.
The container gets morning sun, but then it's shaded during the hottest part of the day. These two herbs needed nothing more than watering when needed and a few feedings of a liquid soluble fertilizer through the summer.
Even if these weren't grown for their culinary uses, they make beautiful foliage plants. The pineapple sage's leaves are especially lovely and their fragrance was a nice addition to cut flower arrangements.
After my long gardening wait, the mint was ready to pick and muddle into one of the coolest rum drink recipes around. I made my mojito by crushing a handful of mint leaves together with a couple of wedges of fresh lime, added several tablespoons of white sugar (or more to taste), filled the glass with ice cubes, poured about a ½ cup club soda and stirred in about 1 ½ ounces white rum. More mint leaves and lime wedges served as attractive garnish. 
The pineapple sage has made for some interesting recipes, too. I've snipped the fresh leaves into fruit salads and tossed them into green salads for a surprising sweet complement to just-picked tomatoes. The pineapple taste has also added a nice touch to sandwiches used in place of ordinary lettuce.
Before the season's over, I plan to dry a good amount of both the mint and the pineapple sage. No doubt, these two sweet herbs will help me get through the winter until it's time to plant them again next year.