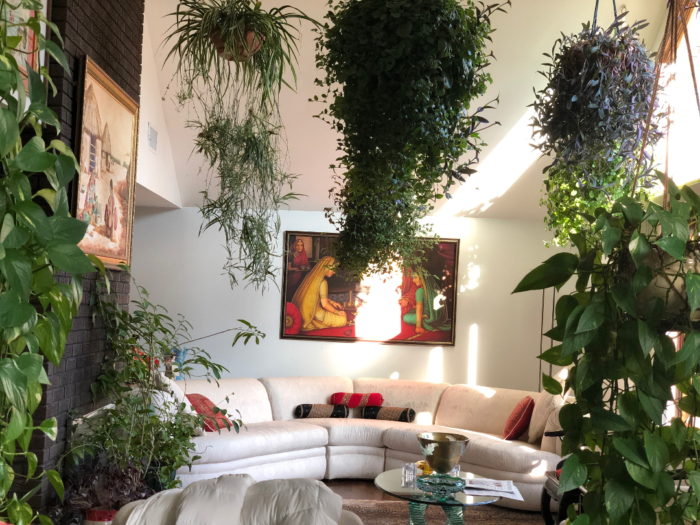 Surinder Chadha is welcoming us into his indoor garden today.
I live in northern New Jersey, where I have a large outdoor summer garden from May through October. Being an avid gardener, I also have an indoor winter garden from November through April. For indoor gardening, space is an issue. Luckily, my home has high ceilings, and I hang most of the large plants from the ceiling. Some hanging baskets are as large as twenty inches. Every year I have between 80 and 100 indoor plants, including multiple varieties of begonia, philodendron, yews, ferns, Tradescantia (Tradescantia zebrina), ivy (Hedera helix), geranium (Pelargonium hybrids), and spider plant (Chlorophytum comosum). In addition, I have a few very fragrant blooming plants such as queen of night and jasmine, as well as a collection of spring- and winter-blooming cacti, jade plant (Crassula ovata), ever blooming oxalis, pepperoni, snake plant (Sansevieria sp.), and a few other varieties.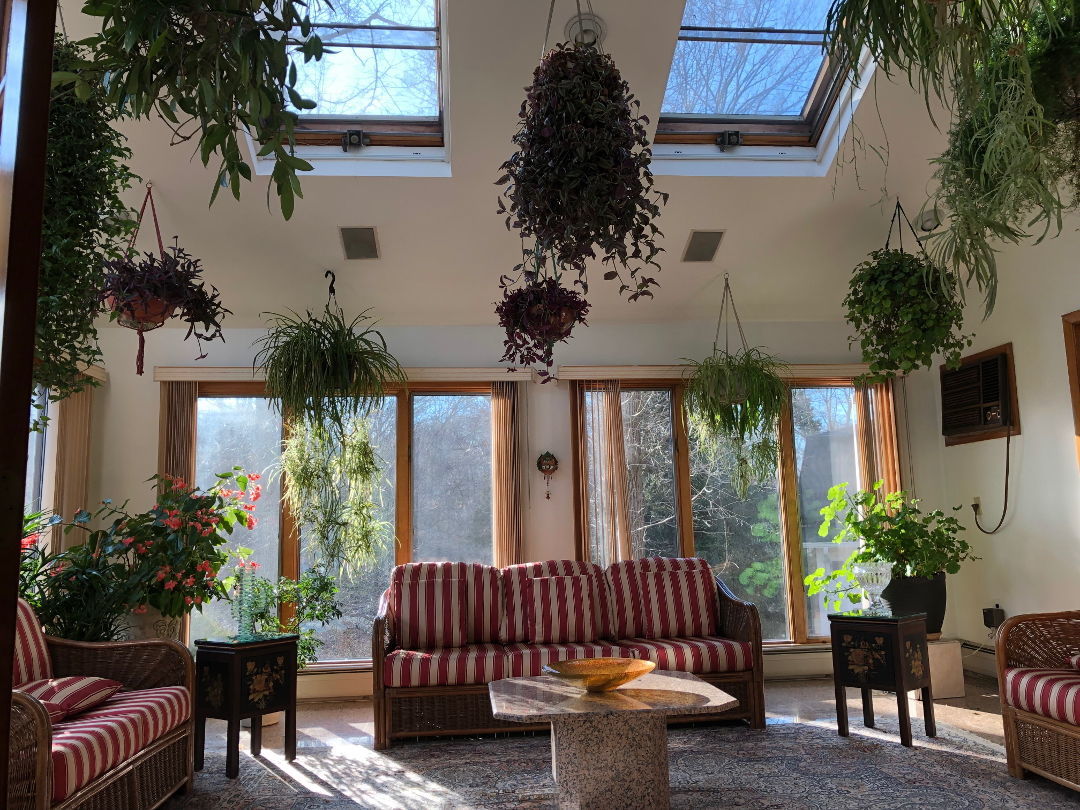 Surinder's indoor garden. The large windows and skylights keep that multitude of plants happy.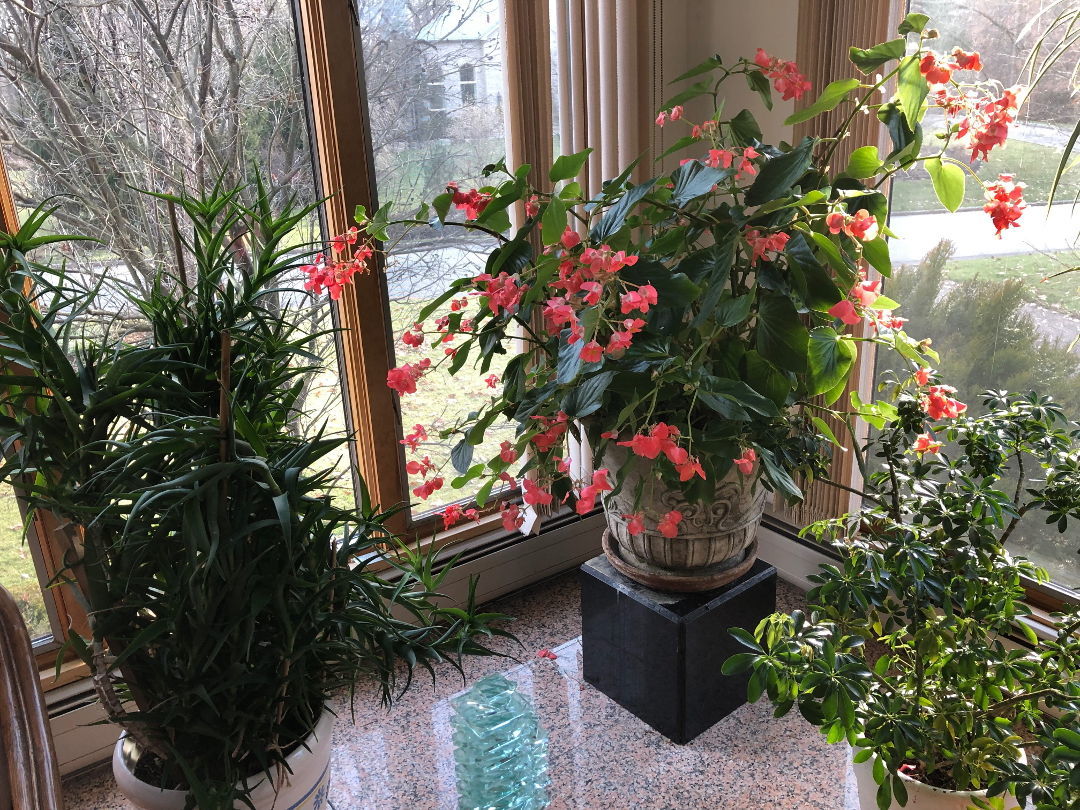 A large begonia gets enough light from these windows to stay in full flower. The contrast to the drab, winter view outside couldn't be stronger!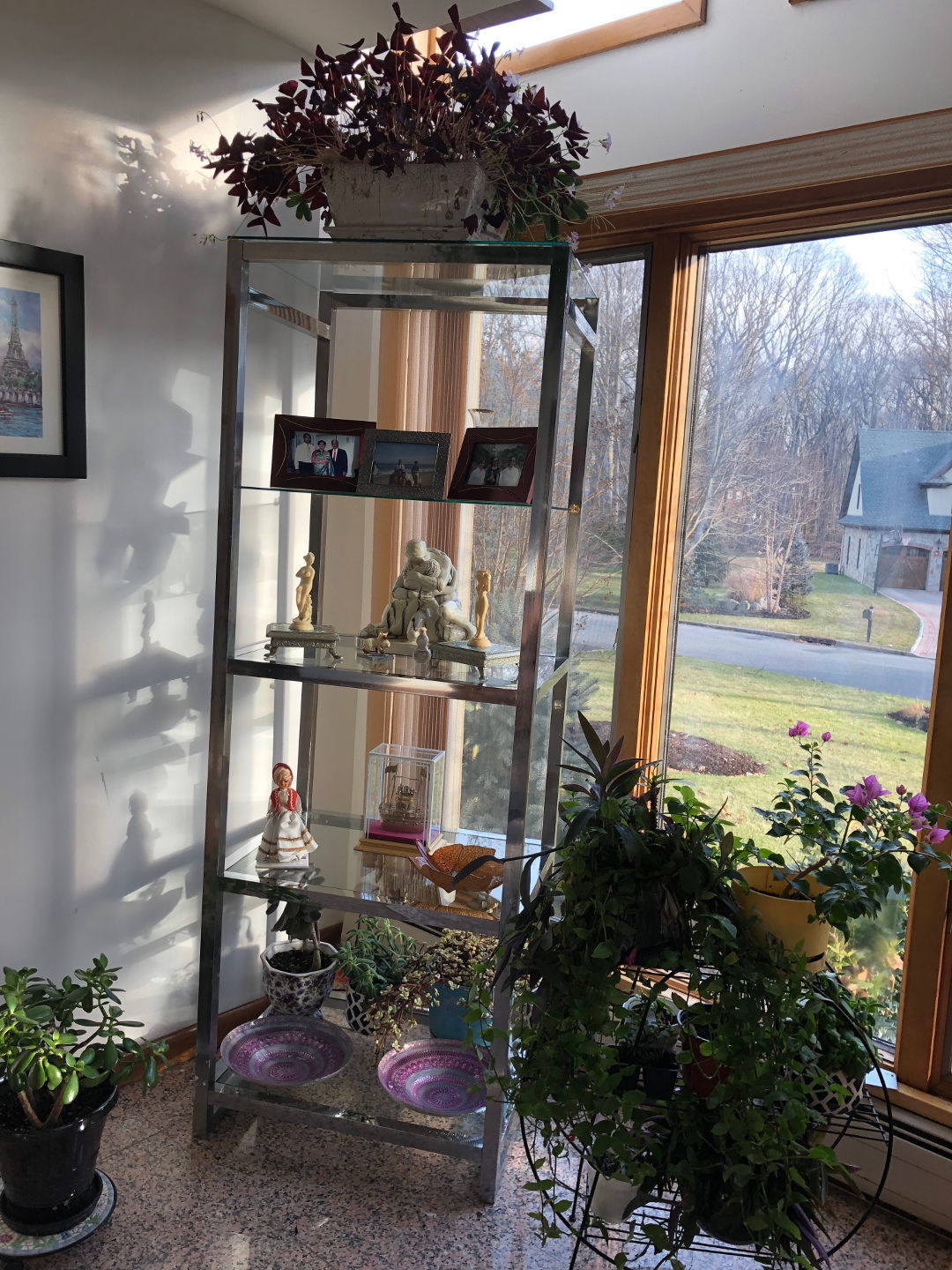 A flowering plant of Oxalis triangularis sits atop of shelf of beautiful treasures.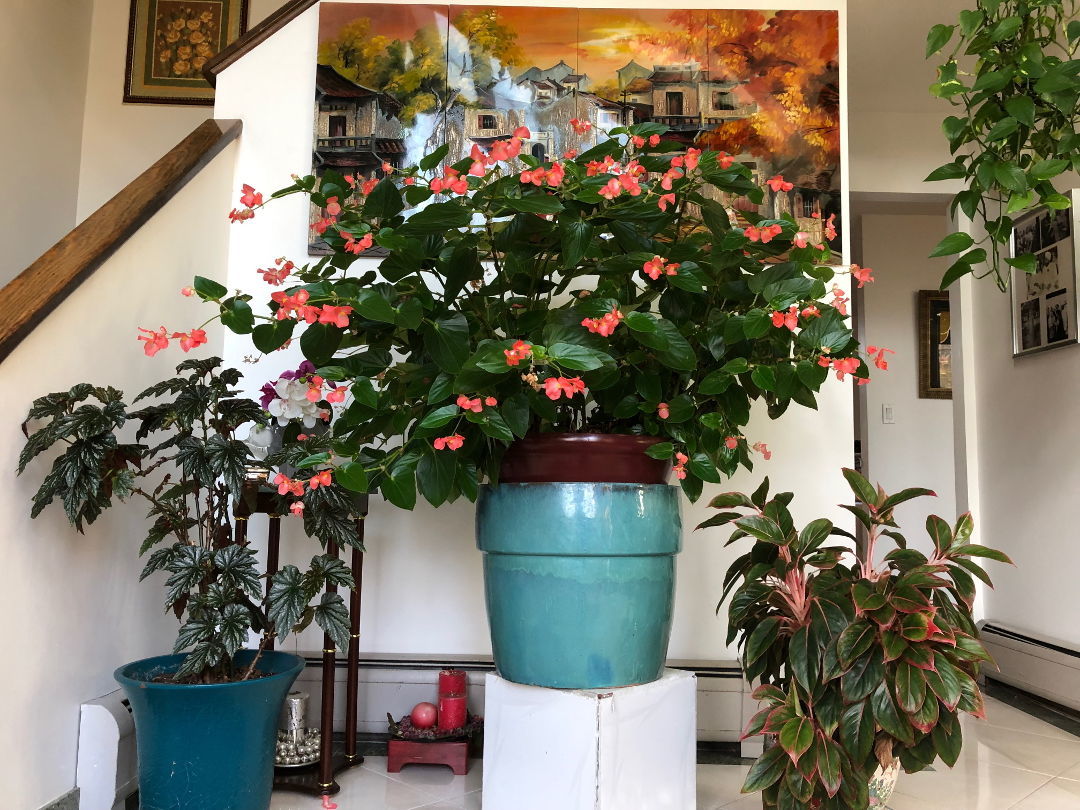 A blooming begonia takes place of pride.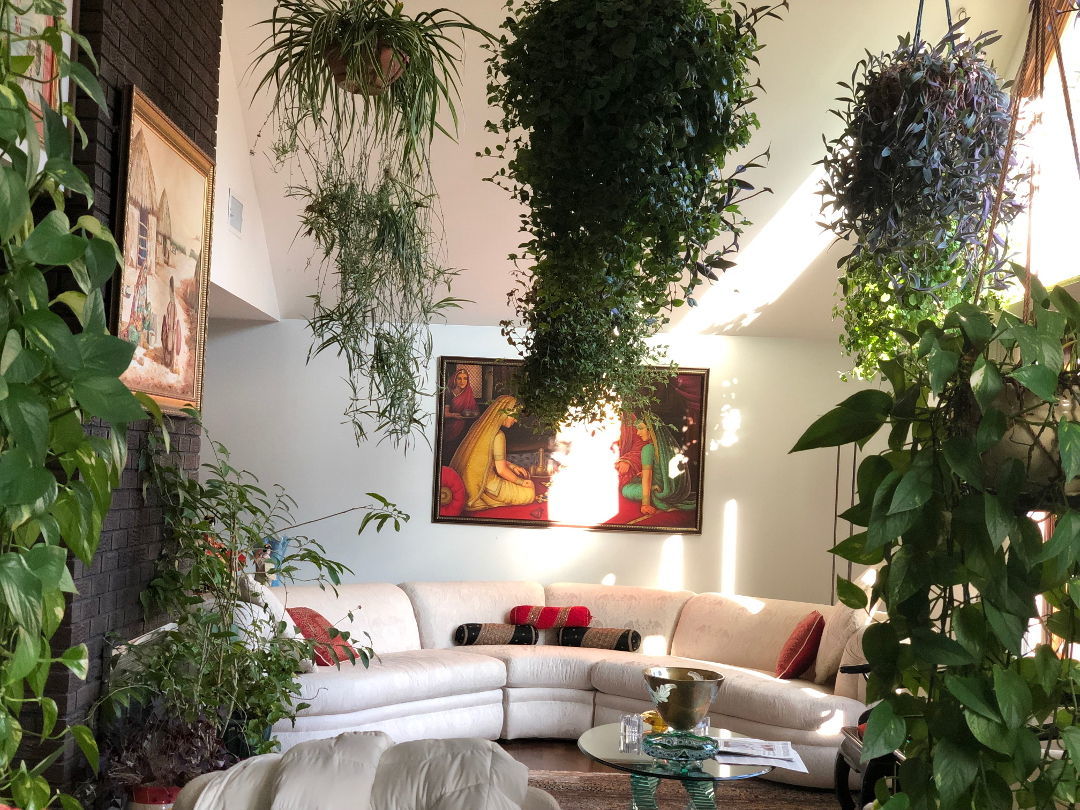 Plants tumbling down from hanging containers make this beautiful room feel like it is in the middle of a jungle. Not a bad trick when it is actually the middle of winter!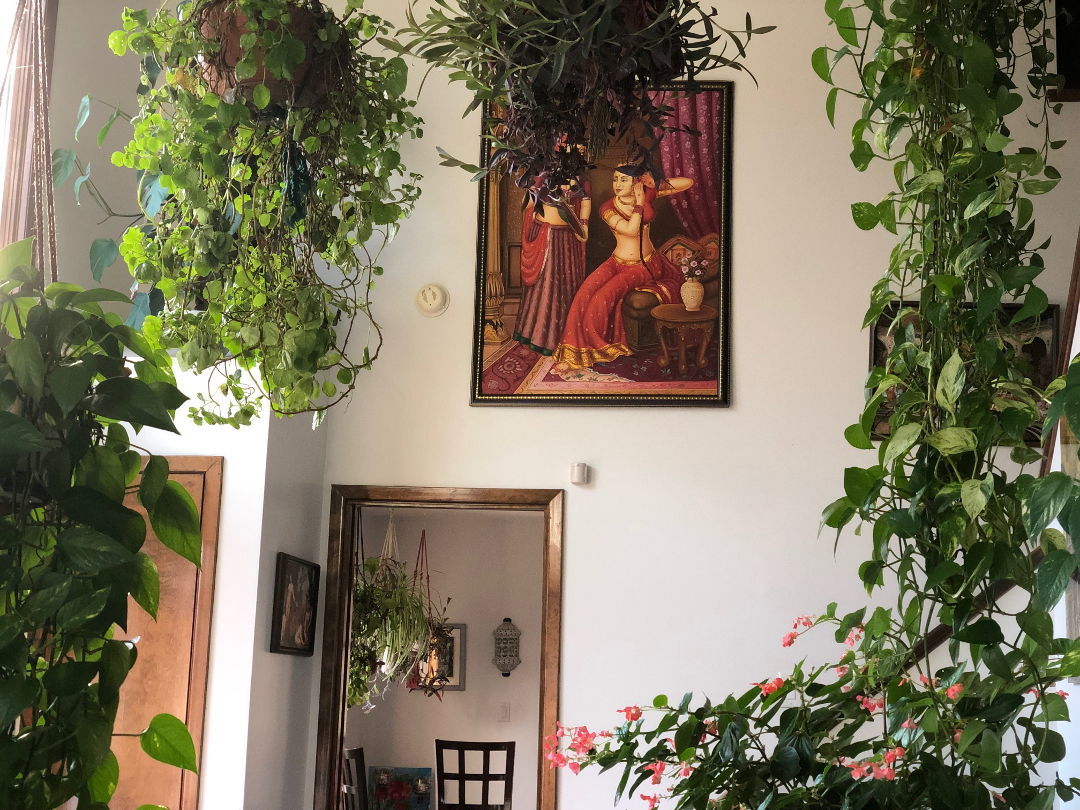 More lush, happy, hanging plants frame the view. If you want to recreate this look in your own home but aren't lucky enough to have as much light as Surinder, try starting with a pothos (Epipremnum aureum), which is the plant that is tumbling down the right side of this photo. It is incredibly tolerant of less-than-ideal conditions and can fill nearly any room with greenery.
Do you turn the inside of your home into a garden to survive the winter? Send us pictures. We'd love to see!
Have a garden you'd like to share?
Have photos to share? We'd love to see your garden, a particular collection of plants you love, or a wonderful garden you had the chance to visit!
To submit, send 5-10 photos to [email protected] along with some information about the plants in the pictures and where you took the photos. We'd love to hear where you are located, how long you've been gardening, successes you are proud of, failures you learned from, hopes for the future, favorite plants, or funny stories from your garden.
If you want to send photos in separate emails to the GPOD email box that is just fine.
Have a mobile phone? Tag your photos on Facebook, Instagram or Twitter with #FineGardening!
You don't have to be a professional garden photographer – check out our garden photography tips!
Do you receive the GPOD by email yet? Sign up here.