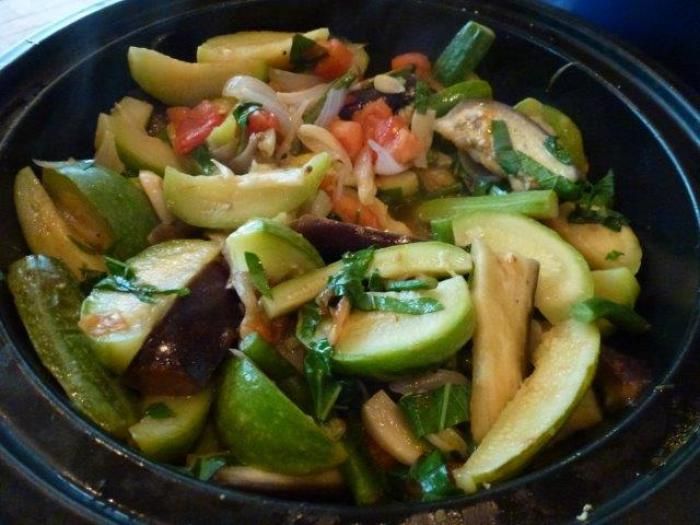 Ingredients:
Serves 6
2 to 3 tablespoons extra-virgin olive oil
3 small onions, cut lengthwise into eight wedges or 1 medium-to-large onion, halved lengthwise and sliced into 1/2-inch slices
About 1 1/2 to 2 pounds summer squash, if small cut into wedges, or sliced into 1/2-inch thick half moons
1 fresh bay leaf
4 to 5 cloves garlic, slivered
1 tomato, cored, quartered lengthwise and cut into 1/2-inch slices
1 small eggplant, cut into wedges, optional
Salt and freshly ground black pepper
Large handful of basil leaves, cut into chiffonade (ribbons)
Kalamata olives for garnish, optional
This is a quick and easy way to prepare squash and it is very tasty. Use yellow or green squash, crookneck, zucchini, patty pan, lemon, or what have you. Sometimes, I go for straight squash, other times I add an eggplant or a handful of green beans-you can mess around with this. I often prefer summer vegetables served European-style at room temperature. I like to prepare this dish early in the day and then let it come to room temp, with the lid ajar, in a cool place and serve it at room temperature for supper. It is a good do-ahead to take to a potluck.
Heat a heavy skillet or tagine over medium heat for a minute and then add the olive oil. Add the onion and stir for a minute or two. Add the squash and bay leaf and sauté the vegetables over medium heat, covered, for about 4 minutes (if using eggplant stir it into the squash after a minute or two), until they are crisp-tender; baby squash may need less cooking time.
Stir in the garlic and tomato and season with salt and pepper. Lower the heat, cover and cook 2 to 3 minutes longer. Turn off heat, toss in the basil and cover for 1 minute. Add olives if desired, taste for seasoning. Serve hot or leave lid slightly ajar and let cool to room temperature.