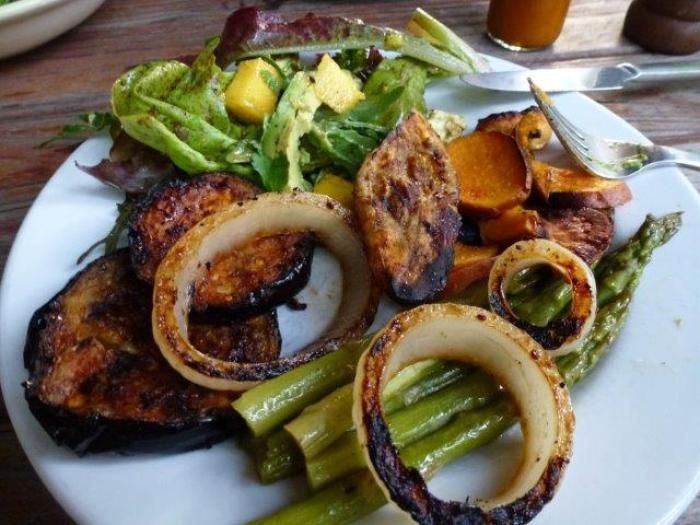 Once the weather warms up and the farmers' markets reopen for the season and our gardens start producing crops to harvest, the grilling season has begun! Vegetables on the grill are an easy way to fix dinner or entertain and there are infinite variations. Also, being outside cooking is more fun than being indoors–it is so hard for we gardeners to tear ourselves away and go inside this time of year–so why not just grill fix supper outdoors?
Last week, we took off the grill cover and cleaned up the grill and utensils, pulled out the charcoal chimney and the bag of hardwood charcoal. I do not recommend using the chemically soaked briquettes–as those things pollute the air we breathe and the food being cooked. Hardwood charcoal is easily started in a charcoal chimney starter with one sheet of newspaper and then transferred to the grill in 20 to 30 minutes. So while the charcoal is getting hot, the cook can prepare the veggies.
I use any veggies that are in season or are on hand, however I do have my most liked, tried and true. Eggplant and onion, sliced in rounds about 3/4-inch thick, are my absolute all-around faves. I also quite enjoy potato bundles–regular spuds or sweet patooties make me happy every time. Besides a little olive oil and salt and pepper, sometimes I add a sprig or two of herb, sliced onion or chile pepper and I like a bit of chipotle en adobo in with my sweet potatoes. This time of year, asparagus, green garlic, leeks, radishes, baby beets or carrots and new potatoes are readily available and are wonderful grilled. 
Most vegetables only need a brushing of good-quality olive oil and salt and pepper. However barbeque sauce is also tasty and fun. You can make a really quick and simple sauce by combining condiments on hand in the pantry and fridge. In a measuring cup combine about 2 tablespoons each: olive oil, ketchup; about 1 tablespoon each: tamari soy sauce, balsamic vinegar, water, coarse-grain or Dijon mustard, and optional 1 or 2 teaspoons pure maple syrup; mince or press a large clove of garlic if desired and depending upon how hot you like it–a few shakes of a Tabasco-like hot sauce. Stir well with a fork and taste; adjust as needed–add salt and pepper or it might need thinning with another tablespoon of water or a little more ketchup (my kids love it)–remember it will taste concentrated at this point.
We do have a grill basket-type thing so smaller pieces of vegetables don't fall through the grill grate. I make bundles for vegetables like asparagus and green beans or sliced potatoes. That way they don't fall through the cracks and each bundle is about one serving.
Leftover grilled veggies are a great addition to sandwiches the next day, or better yet, I chop them into bite-sized pieces and toss them with quinoa, rice or pasta, add some herbs and minced garlic, dress with a little olive oil, and voila, dinner from the grill two nights in a row!
Sometimes, I grill fruit–try exotics like pineapple, bananas, plantains, or in summer peaches or nectarines. Fruits grill quickly and can burn over high heat, especially because of their sugar content, so do these after the main course when the heat has died down.