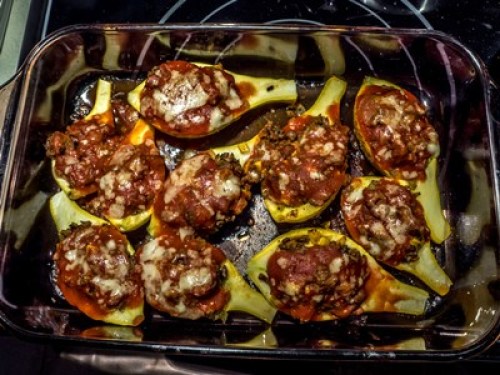 Zucchini is just one group of summer squashes that also includes yellow straightnecks, scallops, and yellow crooknecks. All of these squashes grow on short-vining bushes, pump out beautiful yellow squash blossoms and can be ready to harvest in as little as 40 days.
They're also quite prolific. That means when you add a few squash plants to the vegetable garden you'll need some kitchen inspiration. 
Here are some of my best ideas for enjoying zucchinis and yellow summer squashes while they're at the peak of perfection:
Chocolate squash cake has to be at the top of the list of ways to use summer squash. Zucchini or yellow squashes make a moist snack cake that easily hides the fact it's made from a garden vegetable.
Trade out large slices of zucchini for eggplant and turn it into a zucchini parmesan.
Shred the squash and mix with egg, bread crumbs and your favorite spices to fry up a big batch of zucchini pancakes.
Freeze zucchini slices to use this winter in minestrone soup and other cold-weather dishes.
A frittata loaded with fresh vegetables from the garden can include a layer of zucchini slices or chopped squash. Frittatas aren't just for breakfast, but make a great dinner, too. Leftover slices are handy for brown-bag lunches.
Stuff squash halves with any favorite meatloaf mixture or make them meat-free. Eat a few and freeze a few to grab and go this fall.
A tasty and easy afterschool snack uses sliced zucchini quarters to dip into ranch dressing.
Save for winter by shredding, filling freezer containers with 2 cups and freezing to make zucchini breads around the holidays.
Whatever you do, don't let a single summer squash go to waste! If there's just too many to use, donate the extra zucchini and summer squash to a food pantry in your neighborhood.
What are your favorite ways to use zucchini in your cooking? Please add your ideas here.