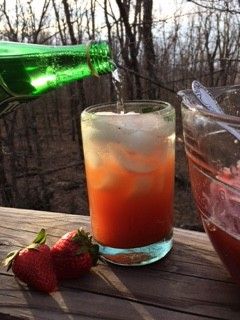 In my travels down South lately, I've been doing programs on capturing the essence of herbs. One easy, seasonal recipe that I have been preparing with an enthusiastic response is strawberry shrub with lemon balm. It is simple, mouthwatering and a blends flavors of the season.
Quick Shrub
Although many more traditional shrub recipes are left to macerate for weeks, some of the more modern-day recipes call for a brief maceration time. I find that these are quite good, especially when prepared with soft, seasonal fruits like strawberries, raspberries or peaches. Add fruity-flavored herbs to compliment the taste of the fruit; some favs are lemon balm, lemon verbena, orange mint, lemon basil, red-flowered monarda, and chamomile. Spearmint and anise hyssop also blend well with fruit. This is a delicious beverage when poured over ice and combined with equal amounts sparkling water. If using stone fruits, peel and pit them first.
I like to drink this in both non-alcoholic and alcoholic preparations–it misses great with vodka or rum in a collins glass; a splash in a glass of champagne is delightful; and it is good sipped on the rocks. I also use a bit mixed in a vinaigrette, and it is delicious served over fruit salad, ice cream, shortcakes and more.
Makes about 3 cups
About 2 generous cups sliced strawberries, or other soft fruit
1 cup honey
1 1/2 cups organic apple cider vinegar
Handful of fresh herb leaves, if desired
Wash, pick over the berries; hull and slice them into a bowl. Mash them with a fork or a potato masher along with the herb leaves and pour the honey over them, stirring well. Cover the bowl with plastic wrap or a kitchen towel and let them stand for 24 hours.
The berries will give off liquid. Strain the honey-berry mixture through cheesecloth or muslin; do not press on the crushed fruit. (Save the strained fruit for a smoothie or sauce).
Measure the strawberry-honey syrup-there should be about 1 1/2 cups. Add an equal amount of apple cider vinegar to the syrup (if there is only 1 1/4 cups syrup then just add 1 1/4 cups vinegar). Stir well and pour into a sterilized bottle or jar with non-metal lid. Label contents in bottle; keep out of reach of children. Most recipes that we have seen for quick shrubs recommend that they be stored in the refrigerator.