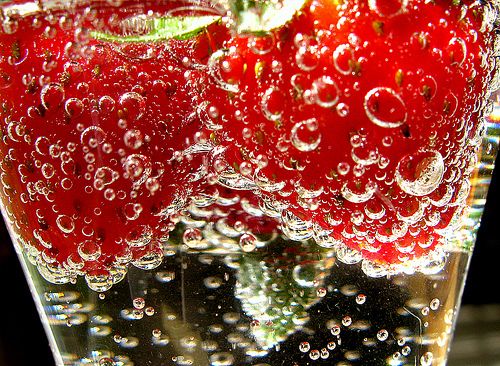 This summer my strawberry beds over-floweth with fruit! And now I'm glad that when I planted them I put on my big girl panties, closed my eyes, and pinched off all the very first blossoms. Painful; but incredibly rewarding. Removing all the first flowers gave the plants the vigor they needed to offer a bounty of strawberries this July. Although I think strawberry pots are attractive, I get more bang for may buck in a full strawberry bed.
We planted only one variety of strawberries this year; the everbearing Quinault. They're not the largest strawberry variety, but my family loves their sweet flavor. I don't know if it's me, but my Quinaults never mature with any true uniformity. Some end up small and oval, some have no definable shape at all, then there are those that actually look like the traditional strawberry. They're rather nondescript being of run-of-the-mill medium size, but they acquire a sweet, juicy, summer flavor. Which is, of course, the whole point to strawberries.
While the little berries are forming, I like to put straw underneath the plants. Not only does the straw act like a mulch and hold in the moisture (plus help deter weeds) but the fruit has something to rest on while the fruits are developing. Sometimes a bug or two will find them and make little holes that I don't find until I harvest the berries and turn them over. Still, by keeping them from direct contact with the soil, we end up harvesting more in tact strawberries than not.
To tell you the truth, I really enjoy my strawberry beds. They're not only functional for the fruit they produce, but they're ornamental, too. Strawberry plants fill in a bed handsomely and the little red fruits peeking out from underneath add great color to the garden.