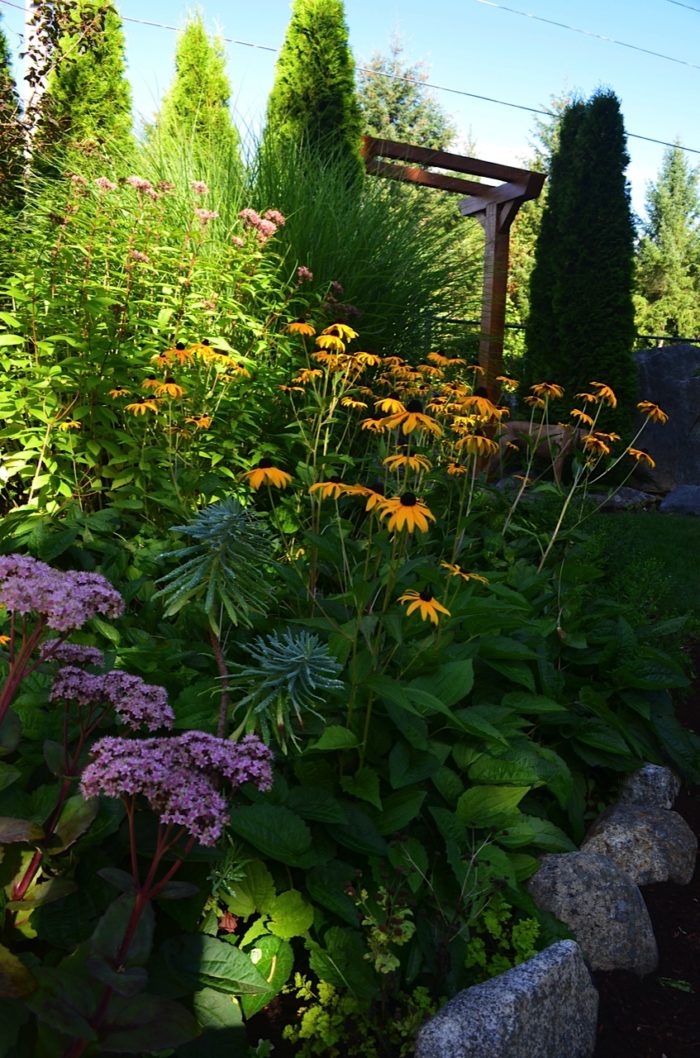 Today's photos are a continuation of our tour through Stella Carriere's garden. In case you missed it yesterday, she said, "I moved to this property in Cedar on Vancouver Island between Nanaimo and Ladysmith in the fall of 1999. Just a fraction under 3/4 of an acre, areas had been cleared for the house and septic field, leaving a good number of native cedar, fir, alder, and arbutus. Rather than cutting them down and designing the garden from a blank slate, the trees were left, including two clumps of big leaf maple suckers, and the garden was developed around them.
"The property has very little soil as I sit on a shale pocket and the native trees are very shallow-rooted but I work with what I have. What started as a sunny garden too hot to support hostas brought from my garden in Vancouver has now evolved into a shaded garden."
Stella, you only showed us the tiniest glimpse, from a distance, of your vegetable garden. We need an up-close tour ASAP!! Everything is amazing. Thanks so much for sharing!
——I know you all have some days off for the holidays…So go take a photographic stroll through the photos you took in your garden this year, and send some in to me! [email protected]….. Thanks!
Want us to feature YOUR garden in the Garden Photo of the Day? CLICK HERE!
Want to see every post ever published? CLICK HERE!
Want to search the GPOD by STATE? CLICK HERE!
**Check out the GPOD Pinterest page, where you can browse all the post in categories…fun! CLICK HERE!**