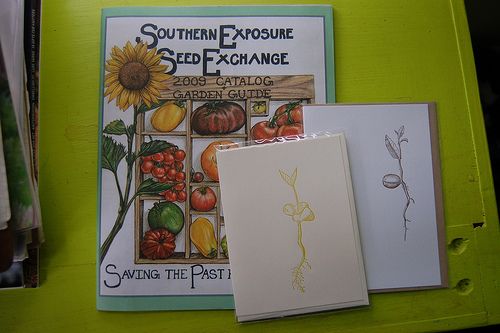 Come January our family will find us gardeners under a giant stack of catalogs next to our comfiest chair with some caffeine in hand and mumbling to ourselves ('course that part could just be me). This is what I affectionately refer to as "armchair gardening". Even if you've never heard of it, come winter, gardeners never need a lesson.
Eventually, that first stack of catalogs won't be enough and we'll need some fresh meat so-to-speak. What if we miss out on next season's perfect plant? So, the search for the that new plant or seed catalog begins.
We'll surf online, we'll ask other gardeners for references, we'll peruse every bookstore, and nursery to get a hold of that one catalog that we haven't had the chance to dog-ear. And why shouldn't we? There's gardens to plan, beds to prepare…gardeny goods to purchase.
I know paper catalogs don't sound very earth-friendly. But armchair gardening is an old school practice grounded in the tactile experience. Hey, I didn't make the rules. Scrolling through online garden catalogs is perfectly acceptable in the middle of the growing season. At that point you know what you're after, and you'll more than likely run into other garden goodies you have to have.
But to armchair garden properly, the catalogs have to be touched. They have to be flipped through front-to-back; back-to-front. They have to be circled, crossed out and then re-circled. They have to be shoved into purses, briefcases, and diaper bags. Plus, you have to slide down deep into the comfy-chair to really assess plant characteristics through pictures.
Some plant catalogs are so entertaining, they read like a good book. If you haven't experienced this you don't have a Plant Delights catalog lying around. If you get one, do not skip the fine print (seriously, Tony Avent has a fabulous sense of humor).
Anyway, now is the time to gather the catalogs and peruse your heart out because in a couple of weeks you'll want to have orders in on any bare-root trees, shrubs or roses you'll want for the coming year. Not to mention that you'll certainly want to get a jump on your veggie seed order – especially if they are heirlooms or rare. The seeds that you have to have go fast – I promise.