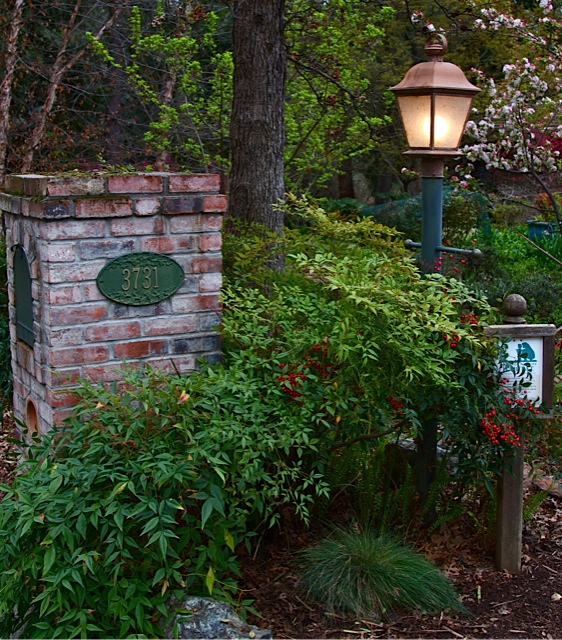 A special treat today–a new visit to Irvin and Pauline's garden in California! We've visited and enjoyed their beautiful garden so many times that I set up a page with all of their previous posts, HERE.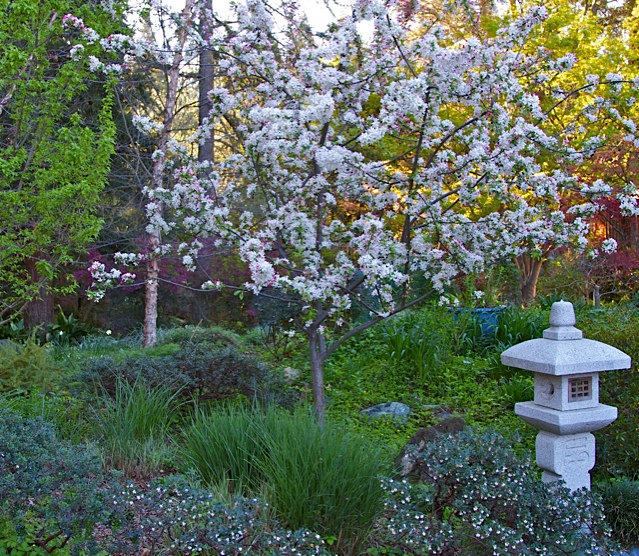 Today Irvin says, "Despite the California drought we are lavishing in the freshness and vibrant display of spring colors. Japanese maples with a mass of colored foliage gracefully dance in the spring breeze. Azalea plants bursting with blooms are exhibiting nature's resilience to challenging weather conditions. Azaleas' year-round greenery complements the beauty of the maples.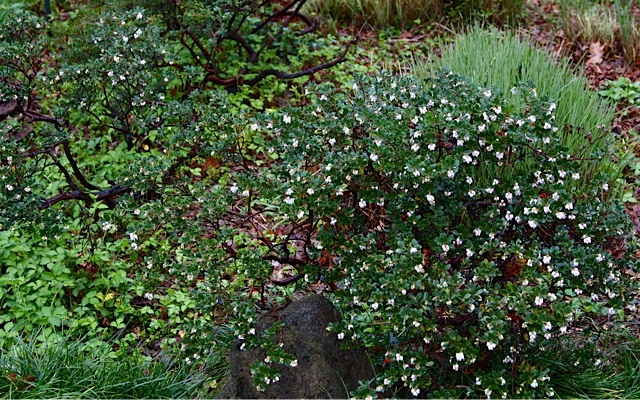 "In preparation for numerous reserved garden club tours in April, our time has been occupied in garden tidy-up, renewal, and amendment. First and foremost in response to the serious California drought, shredded cedar bark mulch has been spread throughout the garden. It serves to moderate soil temperatures, slow evaporation, and stretch the time between waterings. In addition to insulating plant roots from temperature extremes, it is an excellent insect repellent as its oil repels various ant species along with roaches, slugs, and snails.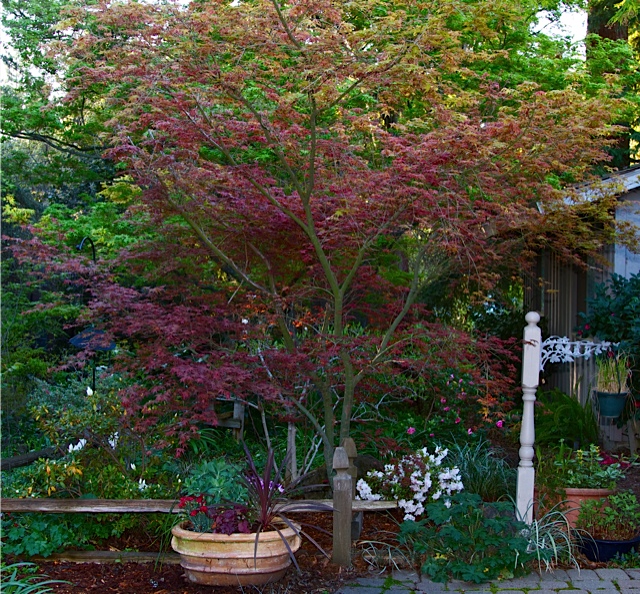 "At the garden entry heavenly bamboo (Nandina) is planted for its interesting foliage and sprays of spherical, two-seeded, red berries. It is deer-resistant and drought-tolerant, making it an ideal plant throughout our garden. Always spectacular, a beautiful flowing crabapple (Malus) with lavish clouds of white, pink, and red flowers serves to welcome spring visitors.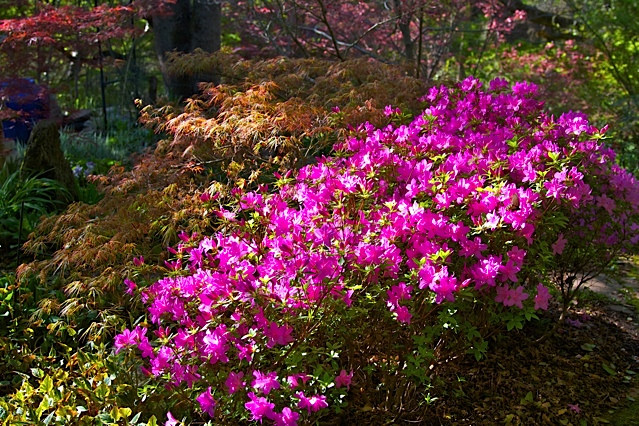 "For special interest we planted manzanita (Arctostaphylos) for its attractive shiny mahogany colored bark and interesting limb structure. Its urn-shaped flowers that vary from pink to white are popular with hummingbirds. Manzanita is very drought tolerant and evergreen, always looking green and healthy even in the hottest, driest part of the summer.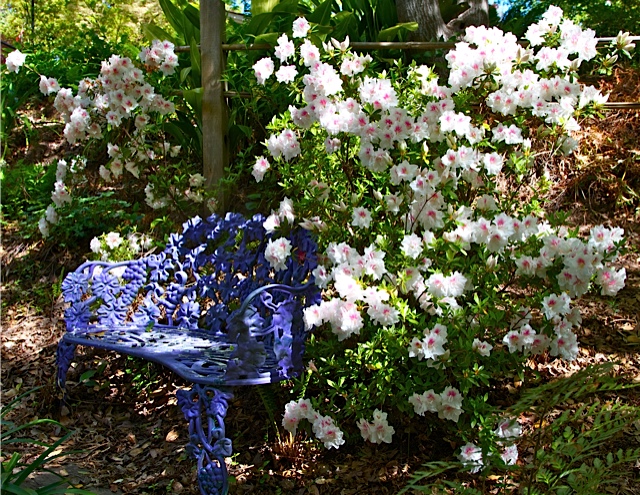 "Near the garden entry is a large bolder composed of apple-green serpentine which is the California state rock. Two grasses, variegated sedge (Carex morrowii 'Ice Ballet') and variegated Japanese sedge (Carex oshimensis 'EverColor Everdi'), have been added to soften the scene. Using the wooden structure of an old garden umbrella, we tried to add some zaniness to a section of the creek side garden. Not sure how this will be accepted by visitors."
As usually, I love it all. Thanks, Irvin, for giving us this latest tour!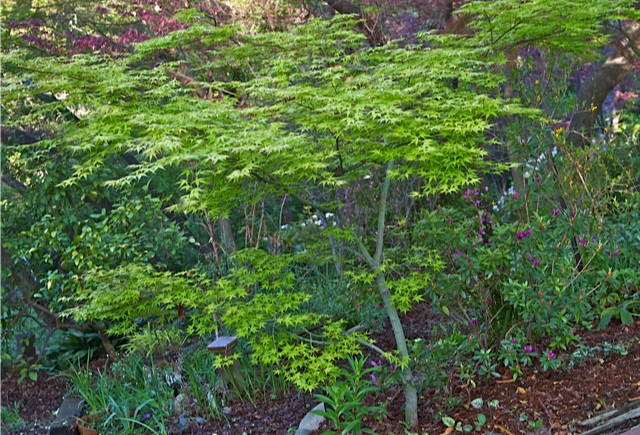 ****Tell us your garden story…. Email me with photos and words at [email protected]. ****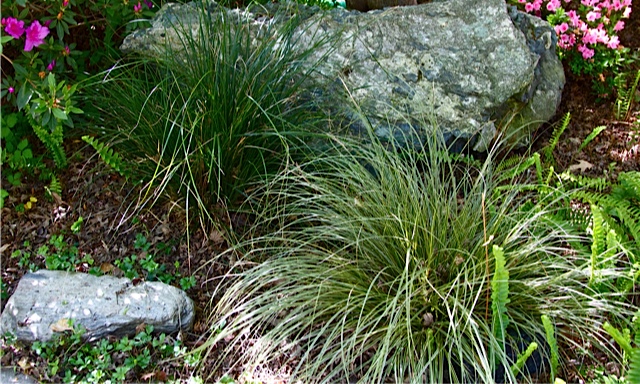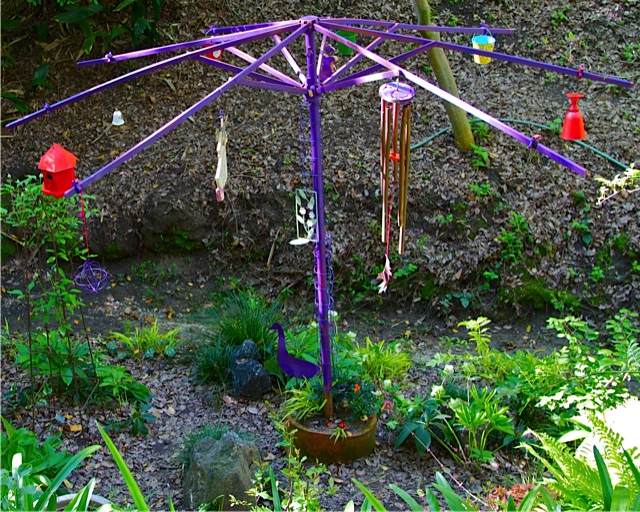 Want us to feature YOUR garden in the Garden Photo of the Day? CLICK HERE!
Want to see every post ever published? CLICK HERE!
Want to search the GPOD by STATE? CLICK HERE!
Check out the GPOD Pinterest page! CLICK HERE!