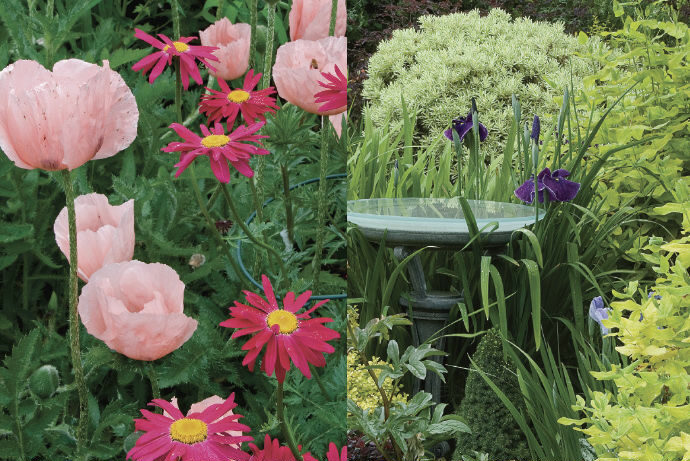 If you're bored with the time between fading spring ephemerals and blooming summer beds, you're missing out on an exceptionally beautiful period in the garden. The waking landscape offers rare design possibilities as it rises and falls through three consecutive waves of growth. Short-lived bulbs are followed by longer-lived spring combinations, which are tailed by blooms that extend into summer. Think back to last spring. Did you impatiently peek among the tulips' browning foliage for signs of emerging summer favorites? If so, you're probably not getting the most out of spring. You should be too pleasantly distracted by the season to be projecting into summer. Look over the following combinations, and consider adding some vernal vignettes to your garden. Next spring, you'll wonder why you hadn't done so already.
A warm color enlivens spring greens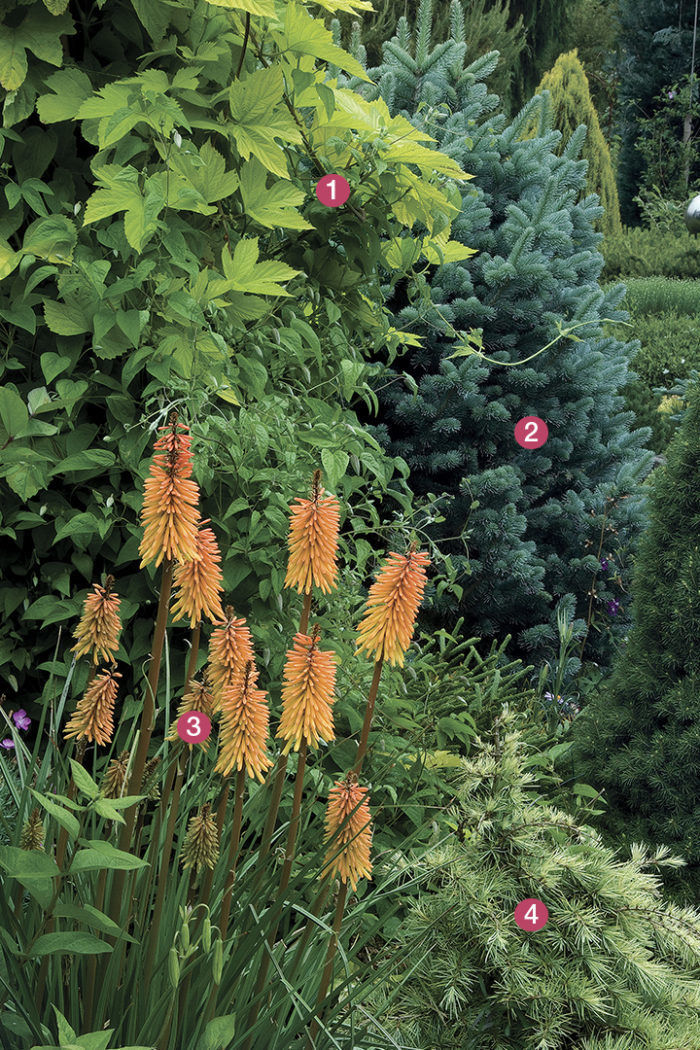 Most of the leaves in our gardens are green. A whole swath of green leaves creates a monochromatic display, which can cause the eye to glaze over. Hot colors are unusual in the beginning of the growing period, so tossing one into a mix of like-colored cool tones is a way to command attention. The red-hot poker in this combination adds some liveliness to a verdant monotony of spruce, hops, and deodar cedar. Dabbling warm or cool tones onto the other can make an early-season combination as vibrant as any later in the year.
1. Golden hops (Humulus lupulus 'Aureus', USDA Hardiness Zones 4–8)
2. Blue spruce (Picea pungens cv., Zones 2–8)
3. Red-hot poker (Kniphofia cv., Zones 5–9)
4. Deodar cedar (Cedrus deodara cv., Zones 6–9)
Set the stage for fleeting beauty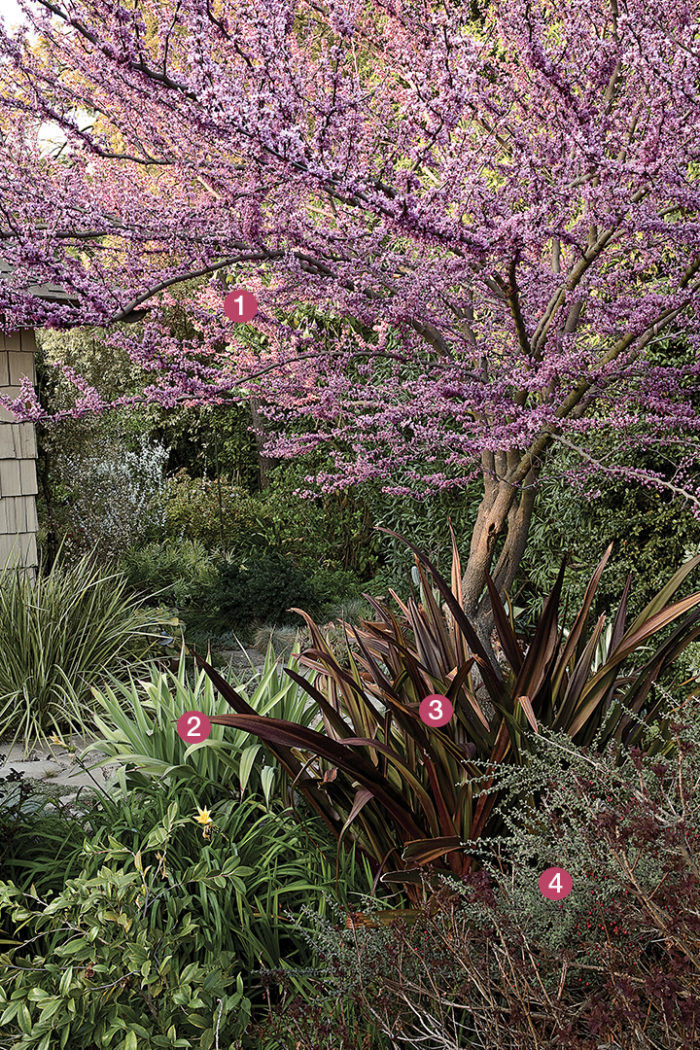 Though spring-flowering specimen trees are often the highlight of the early season, they shouldn't be left to stand alone. Counter their blossoms with a base of dark colors and foliage. If there were no corresponding weight to the design, the many little blooms up high on the tree would look like an awkward, pigmented haze. The pink-dappled branches of this redbud are complemented by cotoneaster, yucca, and New Zealand flax. These support plants balance the design: blooms up high, foliage down low. Come summer, when the redbud finishes its show and leafs out, the cotoneaster will bloom and the flax will stand out in contrast to the tree's heart-shaped leaves—an inversion of the earlier color and weight distribution.
1. Redbud (Cercis canadensis cv., Zones 4–9)
2. Yucca (Yucca cv., Zones 4–11)
3. New Zealand flax (Phormium tenax cv., Zones 8–11)
4. Cotoneaster (Cotoneaster sp., Zones 4–8)
"Early season" doesn't just mean "bloom season"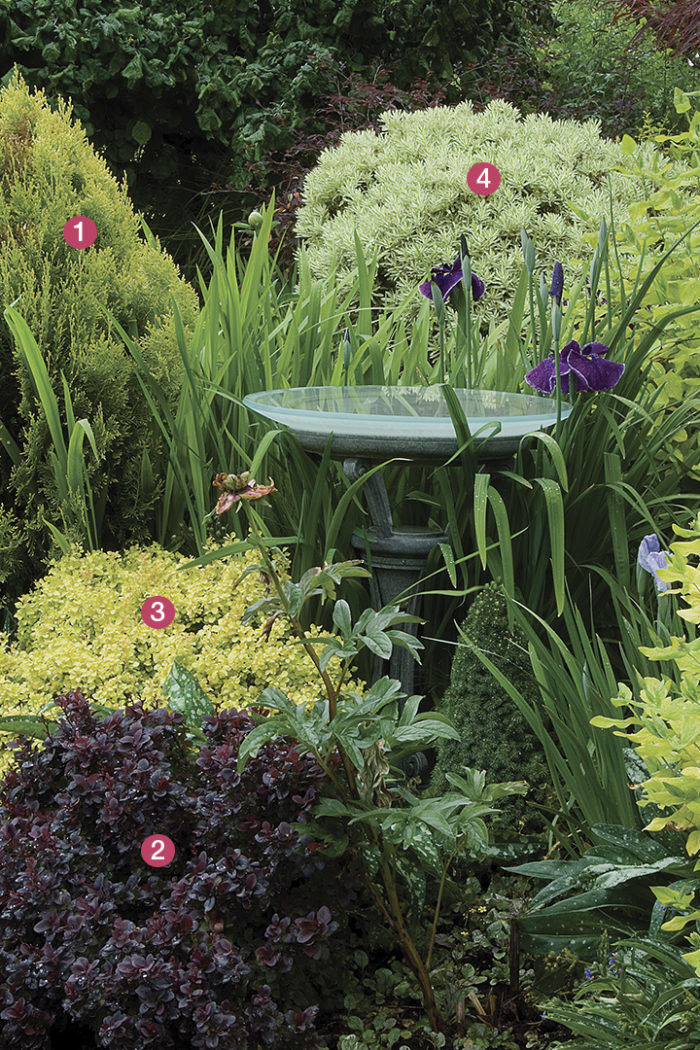 The textures and colors of young foliage add as much interest to the garden as blossoms do. Though barberries hold onto their leaves year-round, they push out new growth in spring, which makes them appear more fresh and vivid. Paired with the similarly refreshed false cypress and daphne, this arrangement becomes a demonstration of early-season renewal. Combine different types of leaves in springtime combinations, and watch as they flush out in crisp harmony.
1. 'Aurea Densa' false cypress (Chamaecyparis lawsonia 'Aurea Densa', Zones 5–9)
2. 'Atropurpurea Nana' Japanese barberry (Berberis thunbergii* 'Atropurpurea Nana', Zones 5–8)
3. Bonanza Gold™ Japanese barberry (Berberis thunbergii* 'Bogozam', Zones 5–8)
4. 'Briggs Moonlight' daphne (Daphne burkwoodii 'Briggs Moonlight', Zones 4–7)
*See invasive alert below.
An airy arrangement lifts the mood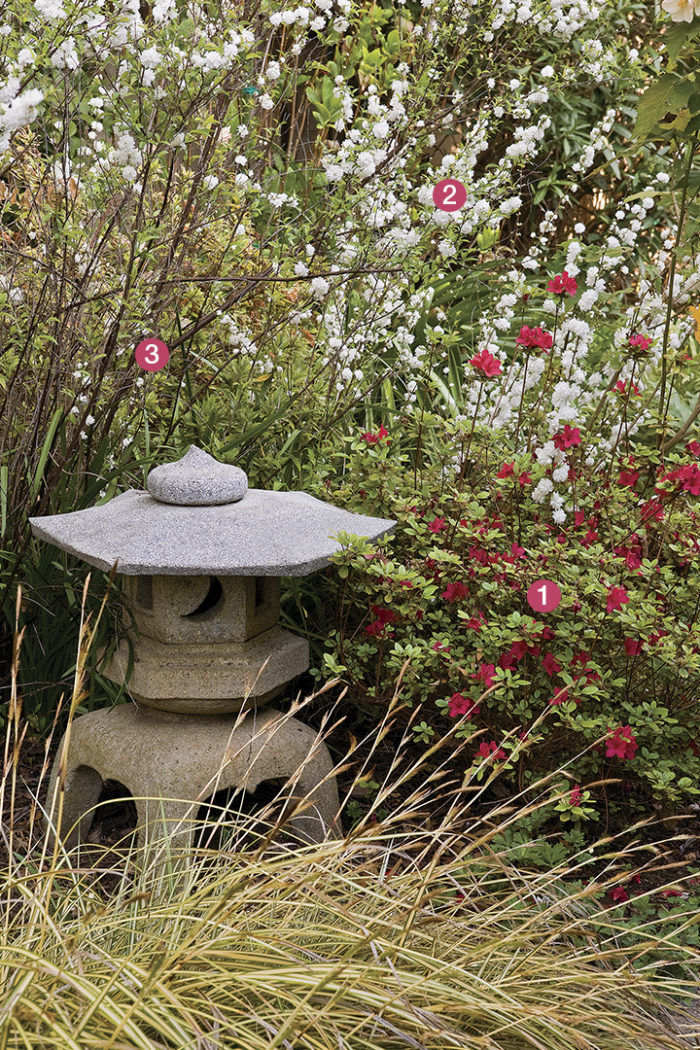 At this time of year, most branches are busy leafing out, so creating a light, airy look with shrubs is easy. Pair twiggy stems with swaying plants so that passing gusts can mobilize them; even the slightest sway can produce a dainty display of lightness. The flowers of this azalea and flowering almond appear in plenty. But because they're small and sit on relatively bare branches, they don't steal attention from the spirit house in front of them—the focal point of the design. The naked paperbush branches also add loft to this vignette. The flowers will eventually fade and the leaves will fill in the spaces left behind, but these long-limbed plants will remain to form a light backdrop to the heavy sculpture.
1. 'Hino-crimson' azalea (Rhododendron 'Hino-crimson', Zones 5–9)
2. 'Alba Plena' flowering almond (Prunus glandulosa 'Alba Plena', Zones 5–8)
3. Paperbush (Edgeworthia chrysantha, Zones 6–10)
Use this season to try new perspectives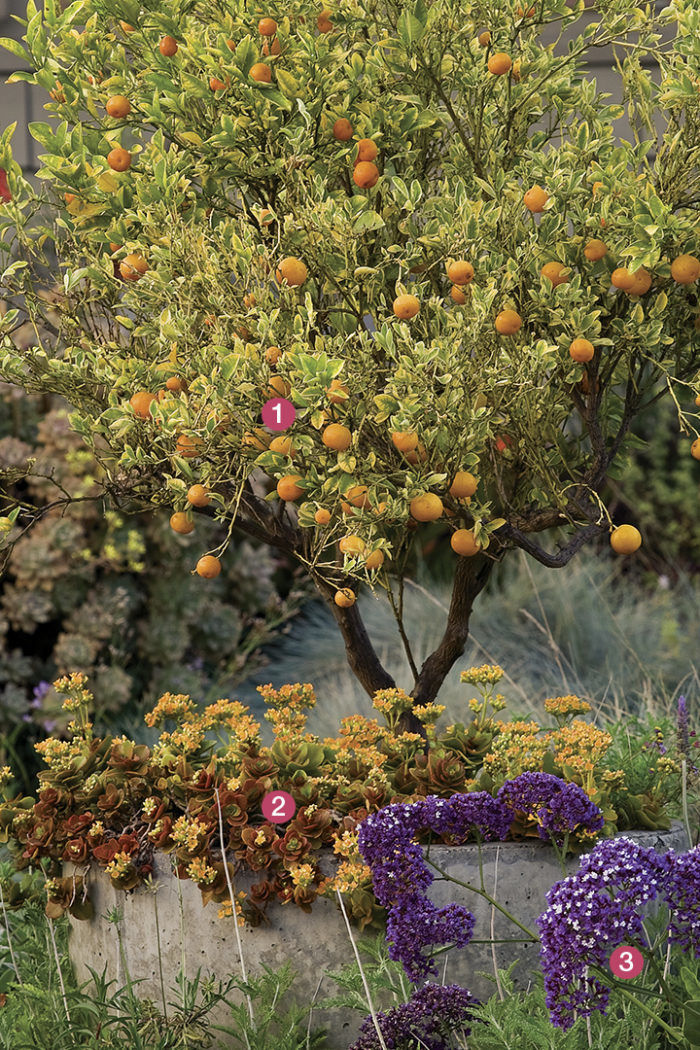 A solitary citrus tree growing in a terra-cotta pot is a common sight. This tangerine, planted in an extralarge concrete container, is a refreshing take on that conventional composition. The color of the fruit in the tree is repeated by the flowers of the sedum in the container base, making this combination a block of color rather than just a tawny floating canopy. The sea lavender planted at ground level provides a complementary contrast, adding to the overall drama of the scene. If there's something you've wanted to try in the garden, like a new plant, color, or design concept, this is the time to go for it. An early-season experiment might prove to be a showstopper, like this one. If not, it will be a thing of the past in a matter of weeks.
1. Tangerine (Citrus reticulata, Zones 9–10)
2. Sedum (Sedum sp., Zones 3–11)
3. Sea lavender (Limonium latifolium, Zones 7–9)
Intensify pastels with related hues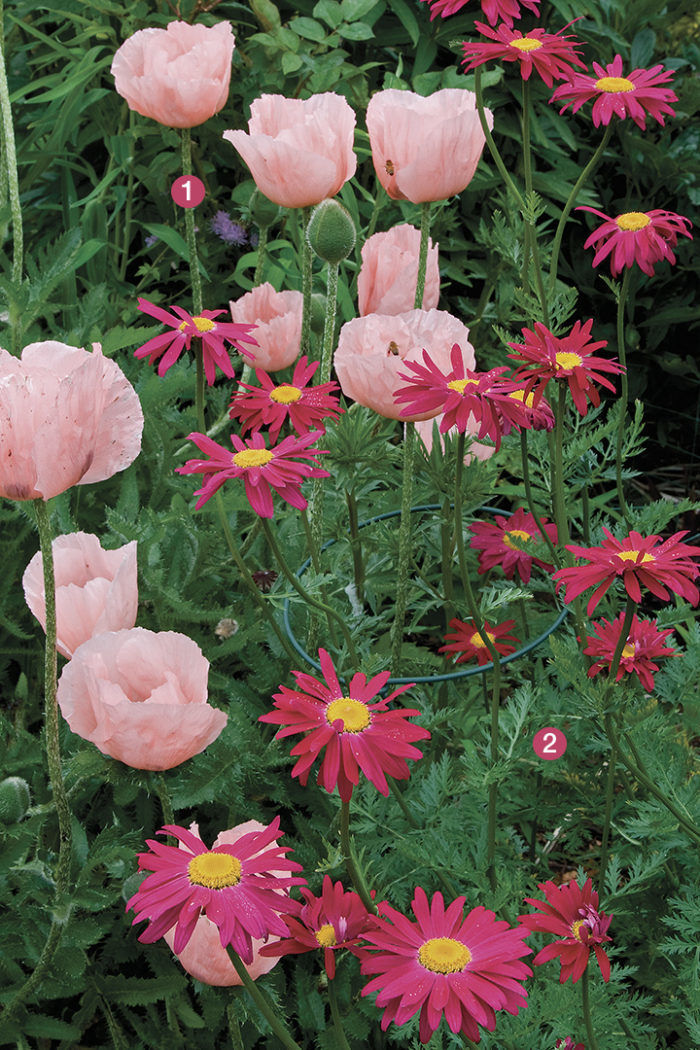 Designs limited to only pastels look best on fabric-softener packaging, not in flower beds. Pairing light colors with more intensely pigmented cousins keeps a combination from looking washed out. These pastel Oriental poppies are enlivened by the tanacetum's deep pink flowers with bright yellow centers, which provide exciting points of interest throughout the design. Once the poppies fade, the tanacetum will remain and be joined by other well-coordinated companions.
1. Oriental poppy (Papaver orientale cv., Zones 3–9)
2. 'Robinson's Red' tanacetum (Tanacetum coccineum 'Robinson's Red', Zones 5–9)
---
DESIGN TIPS
Four tasks worth your time
Apply new mulch wherever it's running thin.

Plant annuals where holes develop to provide continuity.

Switch the focus from fading focal points to containers and structures like trellises or bamboo obelisks, which can carry the garden through the seasonal transition.

Mark faded bulbs so that they aren't disturbed later in the year.
---
Antonio Reis is an assistant editor.
Photos: Allan Mandell; Saxon Holt
*Invasive alert: Japanese barberry (Berberis thunbergii)
This plant is considered invasive in AL, CT, DE, GA, IA, IN, KS, KY, MA, MD, ME, MI, MN, NH, NJ, NY, PA, RI, SC, VA, VT, WI, WV.
Please visit invasiveplantatlas.org for more information.