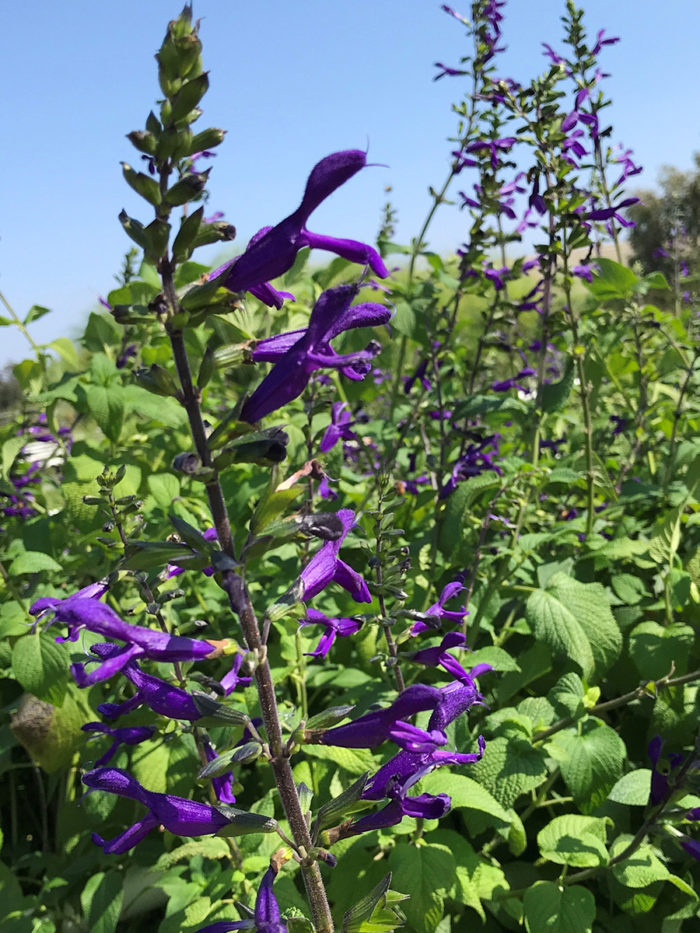 Salvias (Salvia spp. and cvs., Zones 5–11), or sages, can be grown for medicinal, culinary, or ornamental use. For gardeners wishing to beautify their ornamental beds and borders, there are a range of salvias available in various heights, hardiness ranges, foliage colors and textures, and of course bloom shapes and colors. Salvias are vigorous growers and are disease and pest resistant, with beautiful nectar-filled blooms adored by pollinators and hummingbirds alike. Most salvias are relatively easy to grow, but the following four are ridiculously so, even for novice gardeners. And yet they give spectacular results!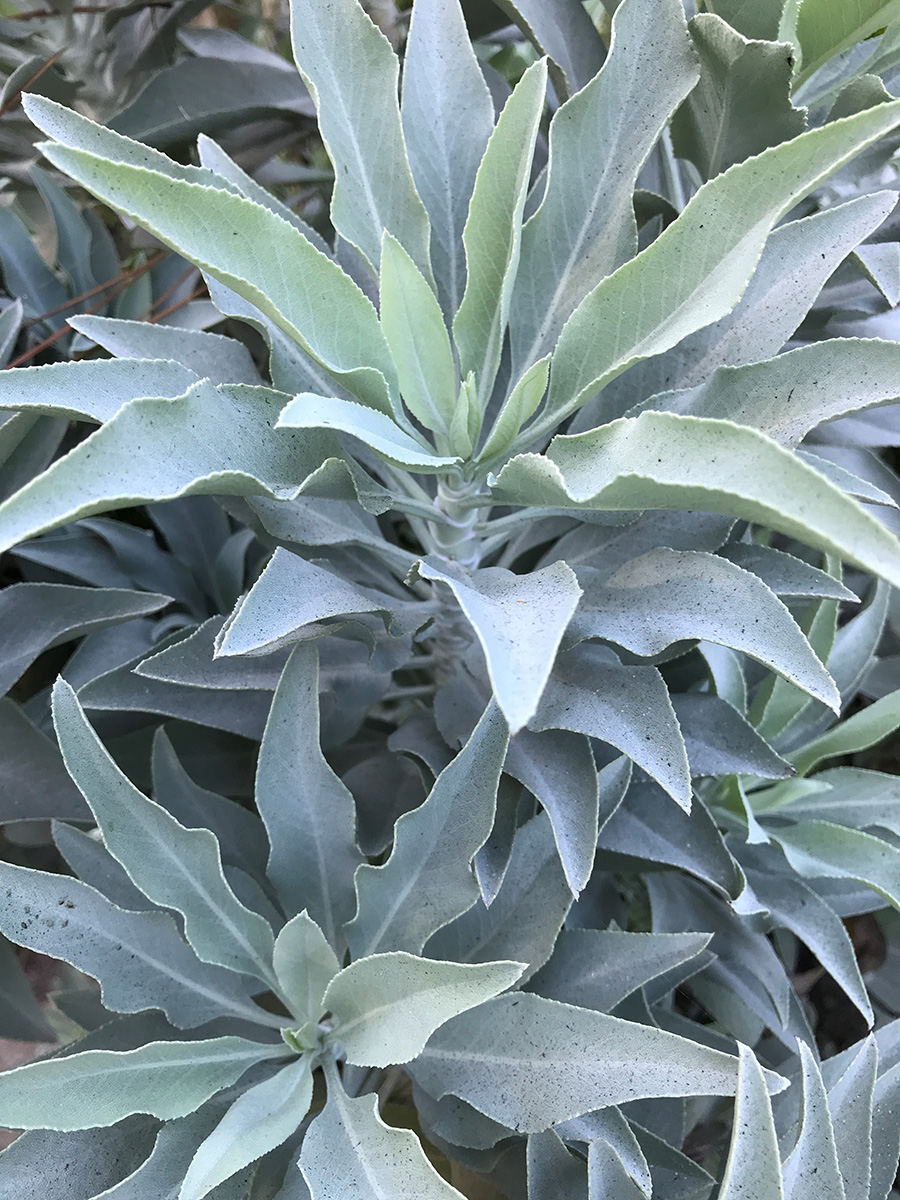 Compact white salvia
S. apiana 'Compacta', Zones 7–10
Compact white sage has all of the excellent qualities of the straight species on a plant half as tall. This evergreen California native is drought-tolerant, deer and pest resistant, and a hummingbird and pollinator magnet. It grows only 2 to 3 feet high and wide. Its habit is dense and bushy, with sturdy stems covered in whorls of pink-blushed and silver-white foliage that is powerfully fragrant. From late spring to summer, dainty white flowers bloom on slender, 2-foot-long flower spikes. Compact white sage is the perfect choice for a low-maintenance garden. Requiring little summer irrigation (watering every two weeks is adequate once established), a full-sun location, and excellent drainage, this beauty requires little but deadheading after it blooms to keep it compact and happy.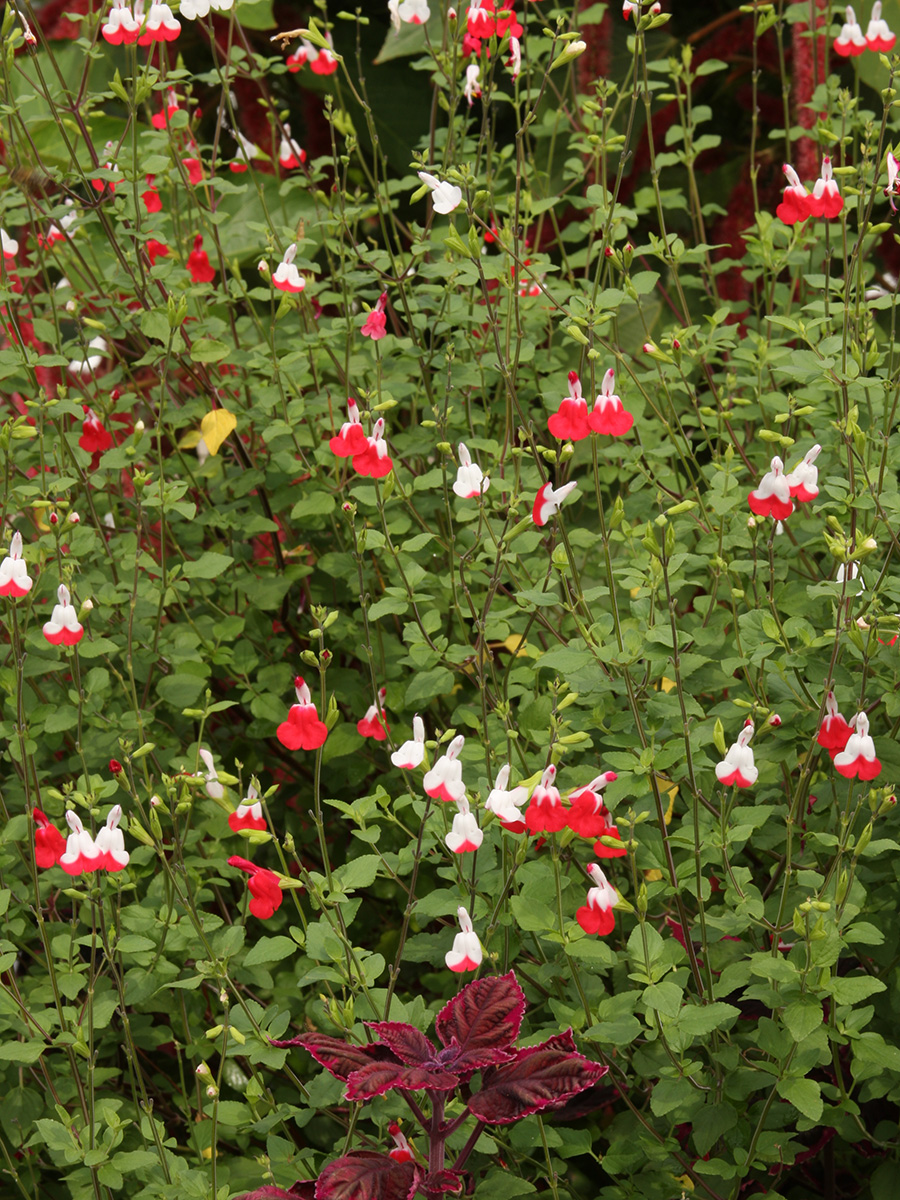 'Hot Lips' salvia
S. microphylla 'Hot Lips', Zones 7–11
Charming, indestructible, and undemanding! All year long, airy clouds of red-and-white bicolor flowers bloom in abundance on the 'Hot Lips' salvia in my garden, which delights the local hummingbirds and bumblebees. All I do is cut it back hard once a year in January or February to prevent it from becoming too rangy. Cutting it back is the most difficult thing about growing this salvia because it's constantly flowering, but I bite the bullet and shear it because I know that I'll be rewarded by a flush of vigorous, fragrant new foliage and bountiful blooms all the way to next year's pruning. Originally from Mexico and first introduced by the San Francisco Botanical Gardens, 'Hot Lips' salvia keeps it interesting by occasionally not producing bicolored flowers, instead blooming in all red or all white. This shrubby evergreen reaches 3 feet tall and 6 feet wide in full sun with regular to infrequent irrigation and performs best in amended, well-drained soil.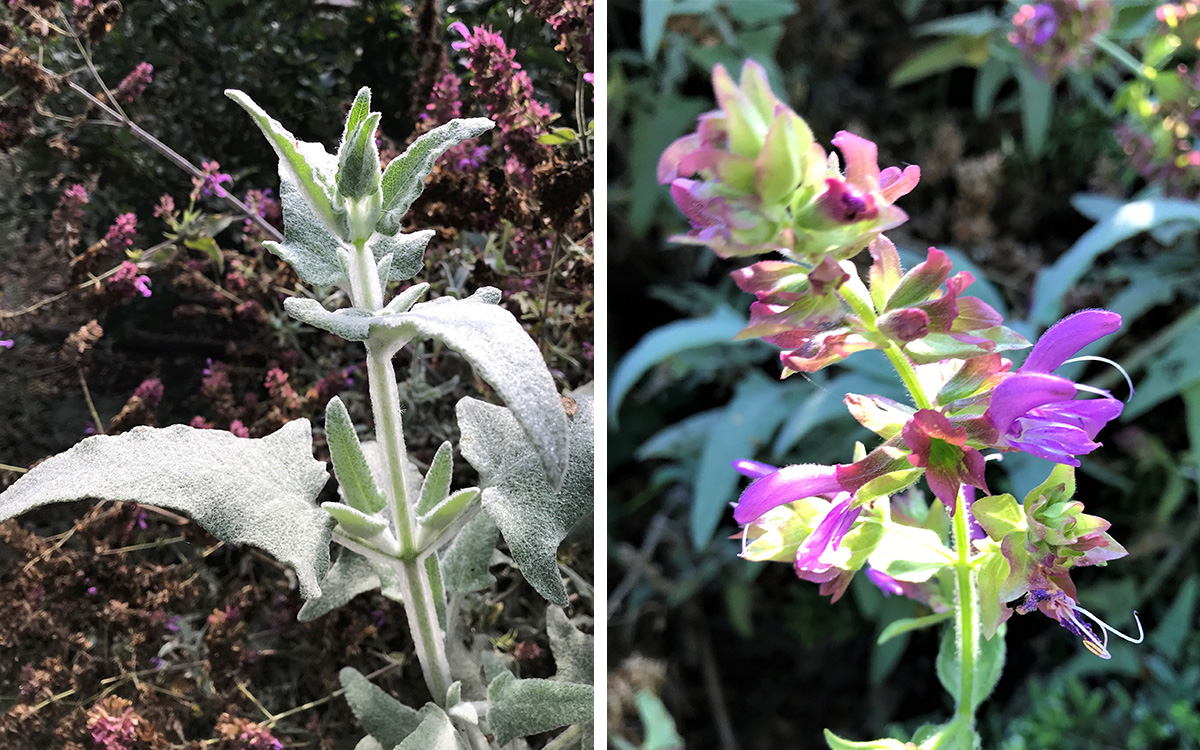 Canary Island salvia
S. canariensis var. candidissima, Zones 8–10
The stems and foliage of Canary Island salvia are bright, fuzzy, and silver white, and its habit is rugged and busy. It is a quick-growing perennial topped from summer through fall with an extraordinary display of gorgeous, 12-inch-long flower spikes. Atop the spikes are dusky magenta calyxes that hold lavender-blue, tubular blooms. This long-blooming Canary Island native is a dazzling sight at the back of a sunny border, reaching a striking 4 to 5 feet tall and wide in a single season. Like most salvias, Canary Island salvia is extremely popular with pollinators and hummingbirds and is also deer-resistant, snail-proof, drought-tolerant, and evergreen, requiring nothing more than hard pruning (to 2 feet tall) in late winter. This silver stunner is happiest when planted in amended, well-drained soil in a sunny location, and it requires little to no summer irrigation once established.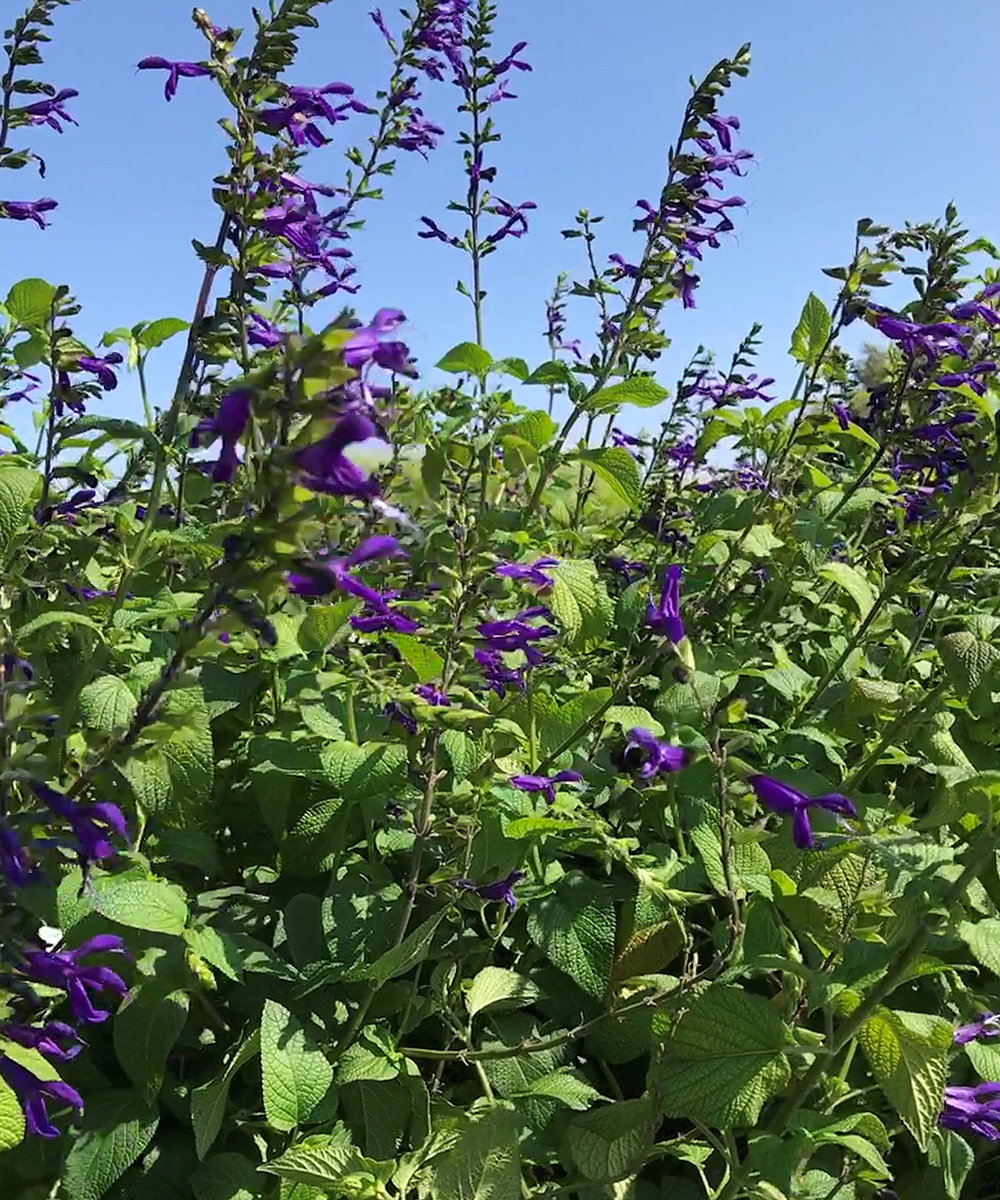 'Purple Majesty' salvia
S. 'Purple Majesty', Zones 7–11
Introduced by the Huntington Gardens in 1980, 'Purple Majesty' salvia is a cross between blue anise salvia (S. guaranitica, Zones 7–10) and Mexican scarlet salvia (S. gesneriiflora, Zones 8–11). It makes a fabulous, long-blooming addition to the back of the border. This multibranched, shrubby perennial is densely clothed in fragrant, rich green foliage. It reliably bursts into bloom in early summer with a profusion of graceful 8-to-12-inch-long flower spikes, which carry huge dark purple blooms. Flowering all the way through fall and adored by pollinators and hummingbirds, it also makes an excellent choice for a habitat garden. 'Purple Majesty' salvia reaches 4 feet tall and wide and prefers light shade inland, although it can take full sun in coastal areas. It does best with regular irrigation and compost-rich, well-drained soil. This salvia is evergreen in milder zones. Cut it back by half in late winter or early spring.
—Fionuala Campion is the owner and manager of Cottage Gardens of Petaluma in Petaluma, California.