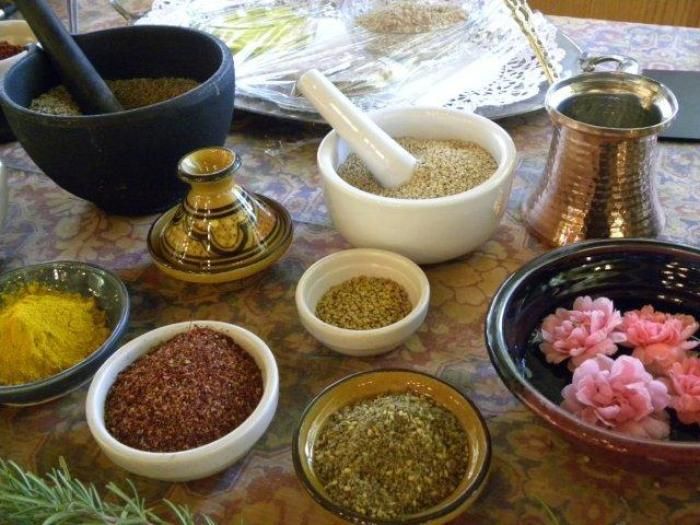 For the past five years or so, the Herb Harvest Fall Festival has featured countries surrounding the Mediterranean Sea, where many of our herbs originated. This fall we finished the circuitous journey around the Mediterranean region by highlighting North Africa and Egypt. Next year we will head south to study South Africa, land of aloes and scented geraniums.
Before dinner, there was a reception in the gardens prepared by members of the local HSA unit, not to mention bellydancing and drumming, followed by a full house at the Skillet Restaurant, where we served a Sumptuous Herbal Supper. The menu was as follows:
Menu for Herb Harvest Fall Festival 2012
featuring the countries of North Africa
Sweet Potato and Winter Squash Soup with Chickpeas
seasoned with spices of the Kasbah
Homemade Whole-Wheat Pitas
and Serenity Farm Sourdough Wheat Bread
served with Olive Oil and Dukkah
(ground peanuts & hazelnuts, sesame, cumin, coriander seed, garlic)
Chicken Bisteeya or Vegetarian Bisteeya
(Traditional Moroccan Pie filled with chicken, onions, eggs, almonds, rice and Ras-el-Hanout spice;
vegetarian option will have the same ingredients with fresh wilted greens added instead of chicken)
Trio of Vegetable Salads
(served family style on table)
Beets with Onion, Garlic, Olive Oil and Mint, Egyptian-Style
Sweet Carrots with Cinnamon, Orange and Fragrant Flower Waters, Moroccan-Style
Cabbage with Tabil and Preserved Lemon, Tunisian-Style
Orange Almond Cake with Apricot Coulis
Moroccan Mint Tea
(green tea with spearmint and sugar)
or Coffee
I am linking the trio of salads above–just click on them and it will take you to the recipes for these tasty seasonal salads with a hint of the flavors of North Africa.
The evening kicked off two days of herbal programs. Friday's emphasis was about gardening-related topics. The special speaker was Holly Shimizu, Director of the U.S. Botanic Garden and she spoke on 'Fragrance in the Garden'. Herbalist and head gardener at the OFC, Tina Marie Wilcox, gave an inspiring program 'Weeds in the Garden–Fighting to Win'. Suzanne Runsick, member of the Ozark Unit of the HSA showed the renovation of the Folk Kids' Mountain Garden. And I teamed up with Jeanette Larson, crafts director, shepherdess and amazing creative woman to teach about 'Preserving' demonstrating applesauce, hot sauce and sauerkraut. Her recipe for "Not-Your-Mother's Sauerkraut" inspired me to try and make kraut again–if it turns out–I will post the recipe.
Saturday featured a colorful tour of 'Great Plants and Gardens of North Africa' by Holly Shimizu and I demonstrated cooking a tagine and couscous the Moroccan way and we got to taste these recipes for lunch at the Skillet Restaurant. For 'Aromatic Condiments, Herb and Spice Blends from the Souq', I prepared preserved lemons, harissa, smen and the spice blends ras el hanout, dukkah and tabil, which we sampled at a parting tea.
I wanted to share a few of these recipes–I think you will truly enjoy them. Thanks to Sherri McCalla for sharing her photos for this event.