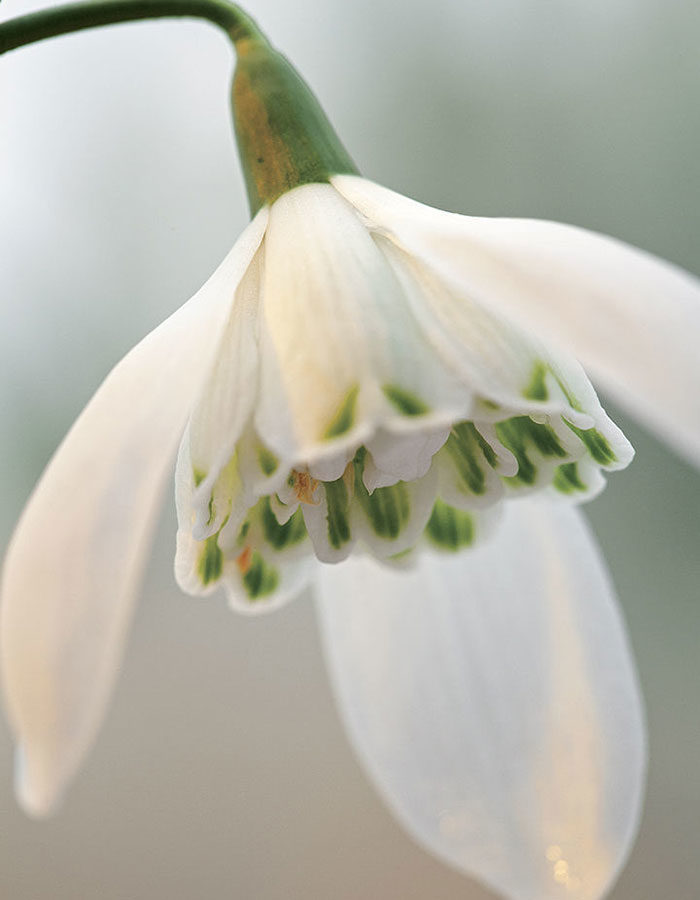 Passions are born in strange ways, and serendipity often plays a part. In December 1983, my husband and I purchased our home, not knowing that a treasure trove of snowdrops lay beneath the snowy landscape. Our house was the gardener's cottage for a large estate, and the gardener who lived there had planted thousands of common snowdrops (Galanthus nivalis, USDA Hardiness Zones 3–8), which greeted us that March with their delightful honey-scented fragrance. Those snowdrops were to become an important part of my personal and professional life.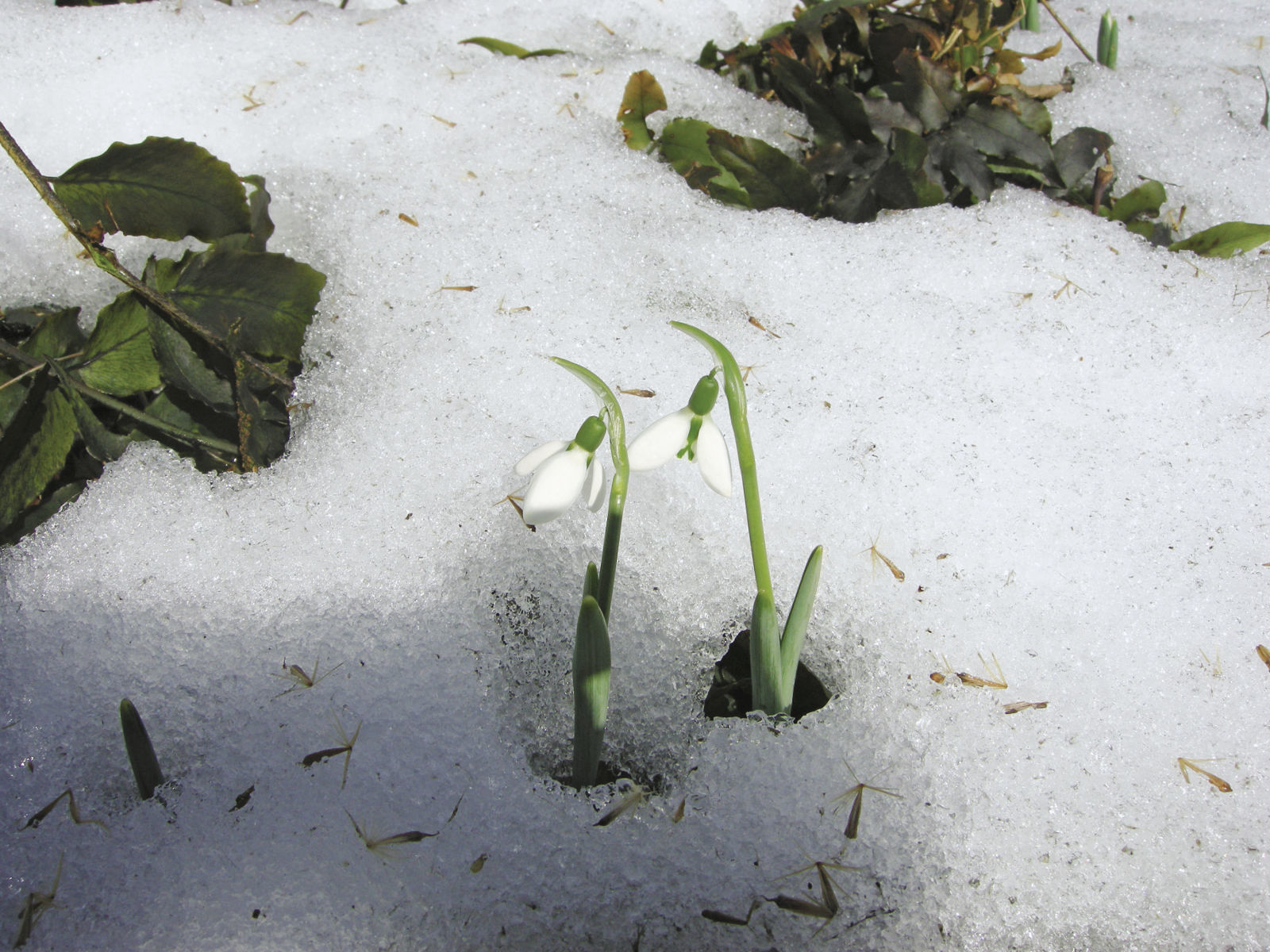 For me, the original and greatest appeal of snowdrops is their bloom time. I live on the side of a south-facing hill, where the soil heats up early, and common snowdrops begin to bloom in early February, just when I need some relief from the winter doldrums. I have since planted snowdrop varieties that bloom from October through March, but it is the bursting into bloom of thousands of snowdrops in early February that thrills me the most.
As I gained experience as a gardener, I was exposed to less common varieties and realized that their ornamental characteristics were as interesting as their bloom time was uplifting. Yes, they are small, and you do have to look at individual plants close up; but there are varieties that stand out when viewed from farther away if massed, and many are worth a closer look. Besides, most snowdrops are easy to grow in deciduous shade and multiply quickly to form striking swathes.
Whether you are new to growing snowdrops or would like to expand your collection, here are some exciting options for you to try.
The common snowdrop offers plenty of variety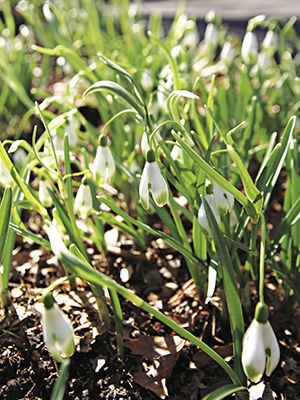 If you don't currently have snowdrops, then start with the common snowdrop, cultivated in England since the 16th century. The flowers have pure white outer segments (the correct term for a snowdrop petal), and the inner segments have bright green tips. The linear leaves are gray-green, and the plant is only about 4 inches tall. It is very easy to grow in almost all soil conditions, multiplies rapidly to form satisfying clumps, and is readily available both "in the green" and as a dried bulb. With a very small investment of time and money, you can enjoy masses of honey-scented white flowers in late winter.
If you are already growing the common snowdrop, you may want to expand your palette to include several other easy-to-grow and easy-to-find cultivars. Of the many cultivars selected from G. nivalis, my favorite is 'Viridapice', a vigorous, bold plant with green marks on the outer and inner segments. It multiplies for me almost as fast as the species and, at 5 to 6 inches tall, has a distinct presence in the garden. The double form of G. nivalis, 'Flore Pleno', is also lovely, if a bit disheveled. It is the earliest recorded snowdrop cultivar, with references to its existence in the early 1700s.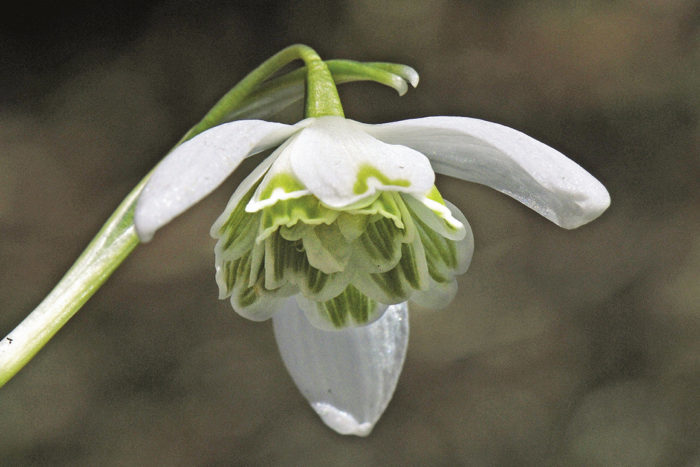 For an even more distinctive look, plant G. nivalis 'Blewbury Tart' or 'Lady Elphinstone', both double-flowered, vigorous growers. 'Blewbury Tart' points its mostly green, frilly double segments upward and definitely stands out in a crowd. It was discovered in a churchyard in Blewbury, England, in 1975 by snowdrop expert Alan Street. Although a prominent British journalist told him it looked like a squashed fly on a windscreen, Alan introduced it, and it has become a favorite here and abroad. 'Lady Elphinstone' is another venerable snowdrop, dating from 1890, and is one of a kind: Its inner segments are a lovely egg-yolk yellow. Sometimes the yellow takes a year or so to settle in, but it is definitely worth the wait.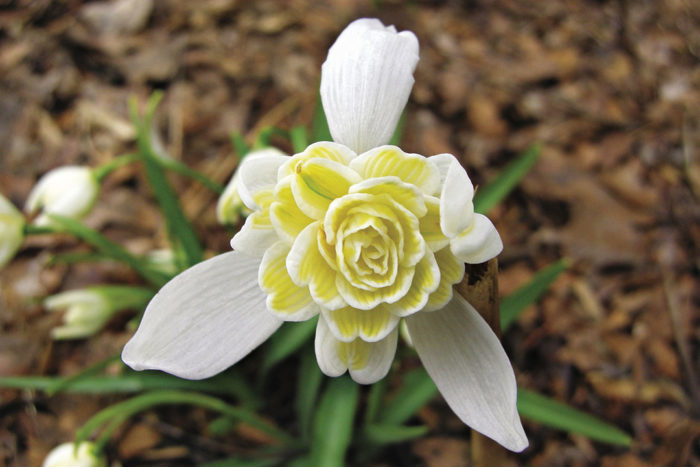 Other species and cultivars are worth searching out
There are 19 species of snowdrops in addition to G. nivalis, and many of them have produced cultivars and hybrids, resulting in over 1,000 named varieties. Most are not available in the U.S. due to treaty restrictions; however, a diligent search yields a nice collection. Here are five more I recommend for beauty and vigor.
Not only is the giant snowdrop (G. elwesii, Zones 3–9) larger than the common snowdrop, but also it blooms earlier, starting in midwinter. This species tolerates hotter and drier conditions, making it great for Southern gardens. Its broad, upright, blue-gray leaves surround large, well-formed flowers with two bold green marks on the inner segments. Lots of natural variation in this species produces powder blue leaves, a variety of marks, and bloom times anywhere from November to February.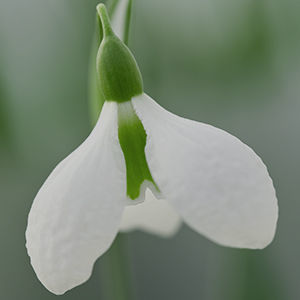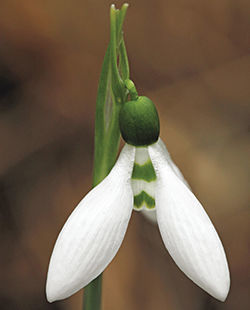 A hybrid snowdrop with dignified double flowers, 'Lady Beatrix Stanley' (G. 'Lady Beatrix Stanley') features a tightly packed inner rosette edged in green and a distinctive mark split into two elegant dots. It is easy to grow and multiplies well. 'Diggory' (G. plicatus 'Diggory') is a cultivar whose heavily quilted, pear-shaped, squared-off flowers make it recognizable anywhere. The wide, elegantly pleated leaves are characteristic of G. plicatus. Found in 1993, 'Diggory' became an instant, much-sought-after classic.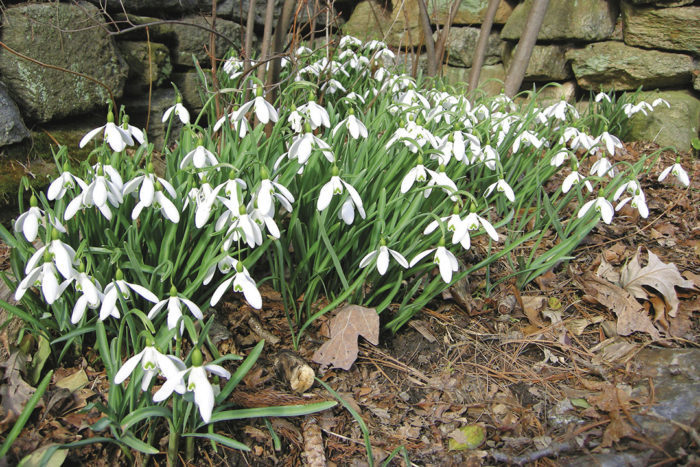 'Magnet' (G. 'Magnet') was selected in the 1880s and is still loved by collectors for its classic beauty and vigorous growth. It is instantly identifiable by its long flower stalk that allows the large blooms to sway in the slightest breeze.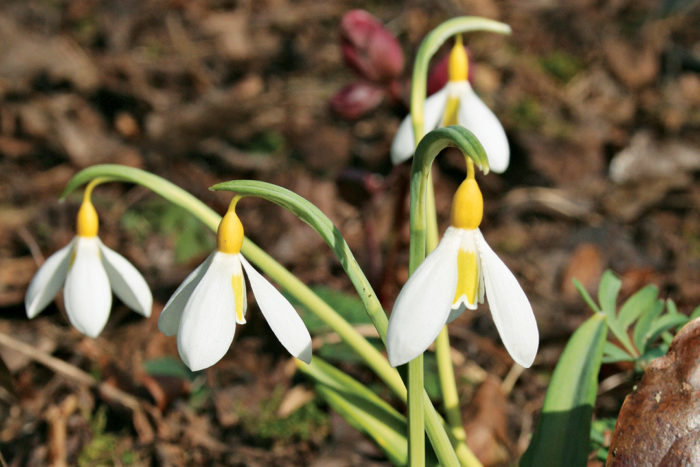 'Wendy's Gold' (G. plicatus 'Wendy's Gold') offers beautiful, large yellow markings on the inner segments and the ovary (the little cap above the segments), and wide, elegantly pleated leaves. It is much sought after for its beauty and vigorous growth. Other nice yellows available in the U.S. include 'Primrose Warburg' and 'Spindlestone Surprise'.
---
Three Ways to Purchase Snowdrops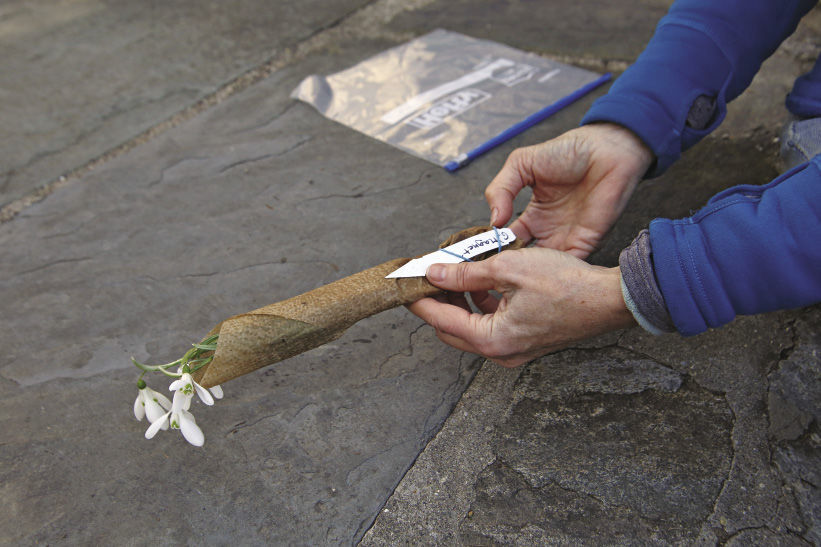 Dry: They can be purchased in fall as a dried bulb like a daffodil. Although this may be fine for inexpensive snowdrops like the common variety where every bulb does not have to be viable, it isn't recommended for more unusual, pricier types as drying can permanently desiccate the bulb.
Dormant: Occasionally, snowdrops can be purchased as dormant bulbs lifted by the seller in late summer and replanted immediately upon receipt. Success with this method is good except when the following winter is excessively harsh as the bulbs are not as established as spring-planted ones.
In the green: The best way to acquire snowdrops is called "in the green," which means as a blooming plant in spring. This gives the plant time to get fully established before winter and allows you to ascertain that you received the correct healthy plant. It is also easier to place it in your garden, because all your other bulbs will be visible.
---
How to Grow Snowdrops

How deep do snowdrops need to be planted?
I am not very precise with this, but the general rule is two times the length of the bulb.
When do snowdrops go dormant?
Snowdrops go dormant when it gets hot out, this year in May in the mid-Atlantic, but other cooler springs in June. There is no set rule. Snowdrops that bloom in fall keep their leaves over winter and go dormant the same time as those that bloom in spring.
How necessary is it to divide them?
They need to be divided only when they get crowded and stop producing as many flowers. They all grow at different rates in different conditions, so there is no set rule as to when this will be necessary. G. nivalis and its cultivars like 'Blewbury Tart' and 'Lady Elphinstone' reproduce quickly and benefit from dividing every few years. Clumps of all varieties can also be increased more quickly by dividing them and spreading the bulbs out.
Are there any special cultural requirements?
There are 20 snowdrop species coming from snowy, high-altitude mountains down to sea-level Greek islands. They grow in many different conditions. But some generalizations can be made about the most common species and their cultivars: G. nivalis, G. plicatus, G. elwesii, G. woronowii, G. reginae-olgae, and G. gracilis. They grow best in partial shade or deciduous shade (not under evergreens) in well-drained soil that is rich in organic matter. Soil pH doesn't matter, although you wouldn't want to go too far in either direction. G. nivalis grows almost anywhere and seems to like moist soil as much as average. G. reginae-olgae likes a sunnier spot. My customers report that in Southern climates that are too hot for other species, G. elwesii grows best.
How hardy are they?
No one has really come up with definitive answers on the cold hardiness of snowdrops in the United States. Snowdrop collectors tend to live in horticultural centers like the mid-Atlantic or the Pacific Northwest, and all snowdrops do well there. The Pacific Northwest is a lot like England, however, so I don't think it's a good testing ground for the rest of the country. The very cold weather in Pennsylvania last winter with no snow cover did not result in any losses of my established snowdrops. However, I covered my 2014 fall-planted dormant bulbs with ground leaves; then, as it got colder and colder, pine needles; and finally, for the -10°F nights, an insulated tarp. Fall-planted dormant bulbs are vulnerable the first year. My stock is exceedingly expensive, so I wasn't taking any chances. I took no precautions for established plants. I have a lot of avid customers in the Midwest, the upper South, and New England. They wouldn't keep buying if snowdrops didn't grow well there.
---
Carolyn Walker is the owner of Carolyn's Shade Gardens, a nursery in Bryn Mawr, Pennsylvania.
Photos: Carolyn Walker; Richard Bloom; Michelle Gervais; millettephotomedia.com; Joshua Mccullough
Sources: