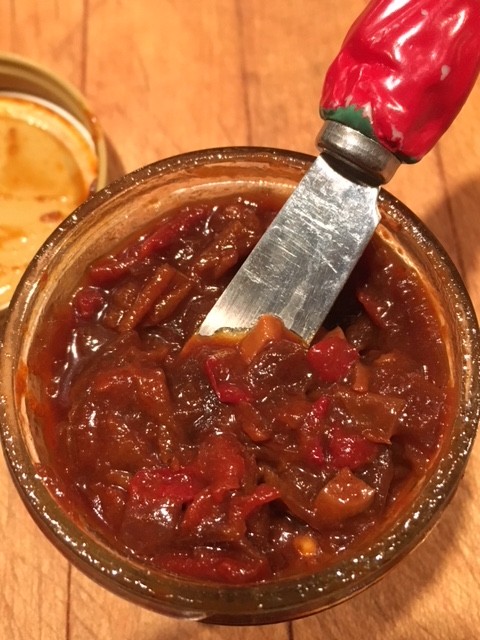 I have been eating chipotles en adobo for at least 20 years-I love their smoky, hot, bright flavor. I suppose I use them most in beans, soups and stews and especially smeared on the inside of a quesadilla. I also add them to enchilada and taco fillings or to the sauce. They are good in scrambled eggs as well as chilequiles. Sometimes I stir a bit into a mess of greens to add that smoky piquancy.
A favorite dish of mine is to heat garlic and chipotles en adobo in half-and-half cream and pour it over sliced, precooked sweet potatoes seasoned with salt and freshly ground pepper, in a casserole dish and bake in a 350-degree oven until hot and bubbling. Garnish with a little fresh green parsley or chopped cilantro.
Occasionally, I use chipotles en adobo on a sandwich, though more often I mix it with mayo and make my own chipotle mayonnaise. It is also good mixed with sour cream and used alongside Southwestern and Mexican dishes.
Below is my friend Kathleen Connole's recipe for making your own jalapenos en adobo. Although she calls for jalapenos, I have made this with a mixture of chile peppers from mild to the incendiary 'Carolina Reaper' and 'Trinidad Scorpio'. Try to use a mix so that it good and hot, though not killer hot. This is worth making! If you are using smaller or thinner-walled peppers than jalapenos the yield will not be as much.
Thanks for sharing Kathleen-great recipe! It is the perfect gift for chileheads. This recipe was first published in Capsicum, Herb of the Year 2016 by International Herb Association.
Smoked Jalapeños in Adobo Sauce
These are like the chipotles en adobo that you can buy in the can–-only better. Make your own chipotle mayonnaise by chopping some of this and adding it to mayo.
Makes about 2 pints
30 fresh smoked jalapeños, skins and stems removed
1 onion, diced
2 tablespoons olive oil
4 cloves garlic, minced
1 / 2 cup ketchup (good quality-–no high fructose corn syrup!)
1 / 2 cup tamari soy sauce
2 / 3 cup apple cider vinegar
1 cup water
Sauté onion in olive oil, using large, heavy bottomed saucepan over medium heat, until transparent; add garlic and cook a few more minutes. Add peppers and combined liquid ingredients. Cover and simmer over low heat, stirring occasionally, until sauce reduces to desired thickness. (Placing the pan lid slightly ajar keeps the hot pepper fumes from escaping, yet allows enough moisture to escape for the sauce to cook down.)
Pack into clean jars and keep refrigerated, or freeze. This will keep in refrigerator for several weeks.